[Editor's Note: Today we have a guest entry from longtime Uni Watch pal Rob Ullman — that's him at right — who's going to fill us in on a baseball museum that I hadn't even heard of before. Enjoy. — Paul]
By Rob Ullman
My pal Aaron Black and I booked a trip out to Denver last July, intending to climb a fourteener (Gray's Peak, in this case), check out some breweries, and take in a Rockies game at Coors Field. We did all that, plus we managed to find an amazing little surprise a block away from the stadium: the National Ballpark Museum, whose stated goal is to honor the 13 "classics" constructed between 1909-1915, along with Yankee Stadium (built in 1923). It's not a big space — only a few hundred square feet — but it still has an extremely impressive collection of memorabilia and artifacts.
We visited on a sleepy Tuesday afternoon, with a small group only seven or eight tourists. It was like walking through a baseball-themed antiques store, with ephemera displayed in every direction — pennants, programs, bobbleheads and small models of all the original parks. The museum's manager, Raelee Frazier, walked us around the space and provided a comprehensive explanation of the collection's many highlights, and was also knowledgeable about the other items we asked about.
Among the highlights (for all photos, you can click to enlarge):
•  These small models were very helpful in envisioning the footprints of these old parks. I found the one for the Polo Grounds (shown at far-left) especially eye-opening, as I'd never realized just how preposterously shaped it was for baseball. Damn thing was essentially a bathtub!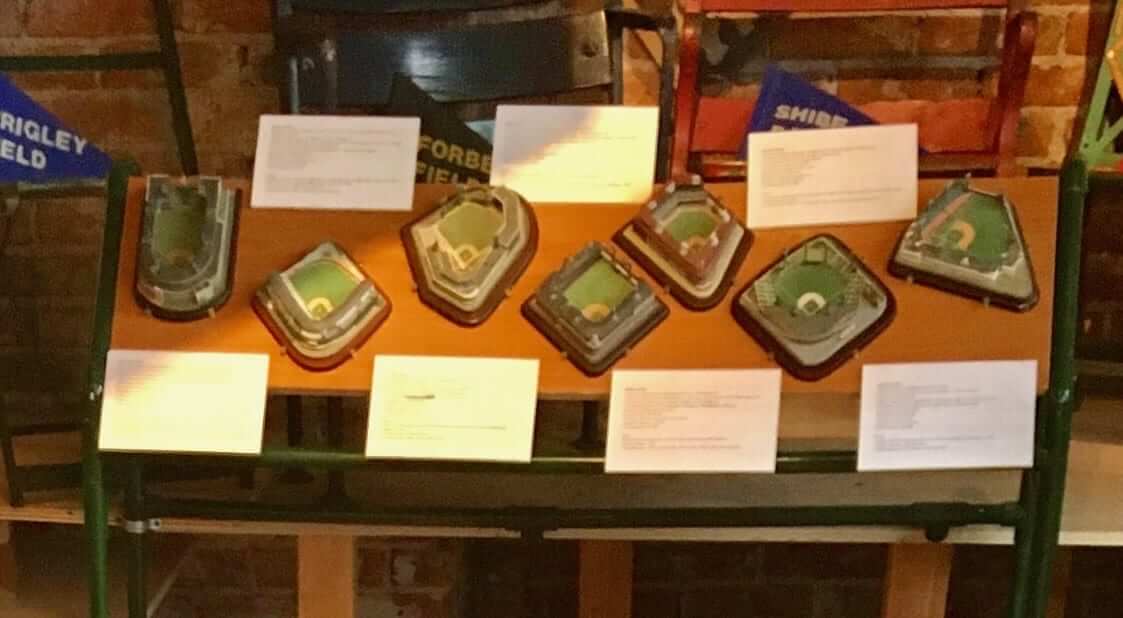 •  Here's Johnny Bench's locker key and a doorknob from Crosley Field in Cincinnati. I love the "CF" insignia on the knob:
•  There were seats from each of the old parks as wel, many of them with ornamental metalwork on the side. I always enjoy seeing touches like that. These two are from the Polo Grounds ("NY") and Crosley Field (Reds wishbone-C):
•  We all know that a lot of balls are hit against the Green Monster at Fenway Park. But this panel, pockmarked with dents, shows just how much abuse the wall takes:
•  Here's a drain cover from Yankee Stadium, which may have been the one that Mickey Mantle tripped over in the 1951 World Series, badly injuring his knee and sabotaging his career.
•  Wow: an unused ticket to Game Seven of the 1960 World Series at Forbes Field, famously won in walk-off fashion by the Pirates' Bill Mazeroski. Somebody really missed out! They keep a small piece of cloth over this ticket to prevent it from fading, only removing the cloth to show guests.
•  Also from Forbes Field: one of the actual arched windows from the entrance area of the park. That's me on the left, with Aaron next to me.
•  This usher's uniform from Fenway park was a hoot. It's difficult to imagine such formality these days.
There was also an extensive collection of uniforms, game-used baseballs, and signage relating to the Denver Bears, who played in Denver from 1955 through 1992. (Denver became a big league town in 1993, when the Rockies had their inaugural season.) Seeing the chain-stitched sleeve patch and striped stirrups on this Bears uniform — a "centennial throwback" worn in 1959 — was almost worth the price of admission alone!
You really get the feeling that what is on display is just the tip of curator Bruce Hellerstein's sports memorabilia iceberg. Towards the end of the tour, I asked if he had any pieces from the other Denver teams — specifically, a pair of the Broncos' infamous vertically striped socks. Sadly, he did not — but he did have an authentic orange-striped AFL referee's jersey:
All in all, the National Ballpark Museum is a must-see for any baseball fan visiting Denver, and as perfect a companion to a game at Coors Field as I can imagine.
•  •  •  •  •
The Ticker
By Alex Hider

Baseball News:  Here are a bunch of new MLB sock styles that Stance is planning for this season (from Ryan Lindemann). …  Braves catcher Matt Foley has a  pretty incredible batt knob decal  based on a classic Chris Farley sketch (from  Michael McGivern). … Black-on-black matchup between the Giants and White Sox yesterday (from BB). …  A new book about Casey Stengel is set to be released this week, and the publisher didn't play favorites with the cover. Stengel is wearing a Mets cap  in the original photo, but it's  conveniently cropped  on the cover so as to not upset Yankees fans. … MLB The Show 17, a video game, put buttons on some retro and fauxback unis that should be pullovers (from Robert Hayes). … Chicago-based TV station WGN is trolling Cubs opponents by photoshopping their logos (from Jennifer Hayden). …  Noah Petro  asks what is written on the brim of Mariano Rivera's cap  in this photo. According to this blog post, it probably says "God bless." … Texas wore some juicy throwbacks yesterday. They even paired them with  burnt orange batting helmets. According to Paul Kennedy, the Longhorns usually wear white.  … Lots and lots of stripes in this game between Wyoming and Colorado State (from  Chris Ruebel). …  Nice striped stirrups for Ole Miss softball yesterday (from  Derek Brownlee).


Pro and College Football News: Looks like these are the caps that players will wear on the sidelines this upcoming season (from  Moe Khan). …  Cool move by Packers TE Martellus Bennett, who will donate all the money he makes from his jersey sales. … Penn Station in NYC isn't the first place one would think to find cufflinks, but a shop called Tiecoon has some cool cufflinks with classic NFL team logos (from  Robert Brashear). …  A BYU player was spotted wearing a jersey with a  2015 Miami Beach Bowl patch during the team's spring game (from  Ben Knudsen). … Lots of uniform number changes for Arkansas.

Hockey News:  Nice look back at the soon to be demolished Joe Louis Arena in downtown Detroit "" especially a passage that mentions how the team used the old wooden boards to its advantage (from  Tris Wykes).

Basketball News:  You how it's really satisfying when two players with well-matched NOBs stand next to each other? Here's the uni-design version of that (from  Hit The Glass). …  South Carolina's Sindarius Thornwell (No. 0) lost his NCAA patch at some point during the game against Florida yesterday. There are shots of him  with the patch on  earlier in the game (from Casey Hart). … North Carolina had Jordan-branded Final Four caps yesterday (from Matt Estreich). … Although South Carolina is an Under Armour school, their Final Four shirts were made by Nike (from Chris). … Speaking of South Carolina, Gamecocks  coach Frank Martin was wearing an  Under Armour lapel pin  during a presser this weekend (from  Liby Tanner). … Has anyone else ever noticed that the striping on Kentucky's '92 jerseys and pants doesn't match up? (From Patrick Gretzinger).

Grab Bag:  Curling with old cars? Sure, why not (from Tommy). … Adidas' newest golf shoe is inspired by a classic from the Masters: the pimento cheese sandwich. The sock liner has a pimento cheese sandwich pattern, and the shoes come in a plastic green bag "" just like the sandwich. … The Buffalo Bandits of the National Lacrosse League wore  black camo unis this weekend against the Rochester Knighthawks, who wore white camo. More on that here (from  Nick Virgilio  and  Wade Heidt). … The Colorado Mammoth of the NLL wore special jerseys for "Lacrosse Out Cancer." The NOB  on top is the name of a person currently battling cancer, the NOB on bottom is the name of the player (also from Wade Heidt). …  Wareham High School in Massachusetts uses a logo inspired by the Minnesota Vikings (from  Paul Cafasso).