[Editor's Note: Today we have a guest entry from Omar Jalife, who has a rundown of the car designs for the upcoming Formula One season. "" PL]
By Omar Jalife
The 2017 Formula One season begins this weekend, making this the perfect time to take a look at all the new shiny liveries we'll be seeing during the year. Here's a team-by-team rundown, with each team's 2016 design shown after the team name.
McLaren Honda Formula 1 Team (2016)
They announced they'd be changing to their beloved orange livery, the one that gave the team its first win in 1968, and everyone was excited. They had used orange in the last decade, but only for preseason testing, and people were expecting a similar scheme, especially since the team lacks a title sponsor advertiser to dictate color on the car. However, this is how they decided to paint their car "" the orange is darker, and the black trim only makes the car look like a Spyker from 2007 than a McLaren from the '60s.
Scuderia Toro Rosso (2016)
Toro Rosso (owned by Red Bull) was the only team to feature a work of art. Since their inception they had sported the beautiful red bull by Jos Pirkner. Now, that has changed. Forget about the navy blue with red and gold trim that they have used for the last decade "" the cars are now painted like a Red Bull Cola can in a silver/blue/white livery. The car looks awful, but, at least you won't be confusing them with the Red Bull Racing cars.
Williams Racing (2016)
Williams has virtually no changes for this new season save for the full usage of the shark fin for commercial purposes. While other teams have painted the shark fin on a different color, some have maintained the scheme from the engine on it, but none has yet gone to the lengths of making it look like an ad.
Scuderia Ferrari (2016)
Ferrari doesn't change that much year to year, but the challenge always is finding where the Italian flag will be painted. Last year you could see it in the air intake above the driver, on the sides of the front wing, and on the sidepod deflectors. This year you can find it on the shark fin. Ferrari continues to use the red/white/black livery, with small modifications like eliminating the white line on the bottom of the chassis and cleaning up the mess that was the engine cover when black and white were used. Also, the rear wing is now predominantly white.
Red Bull Racing (2016)
No major changes for one of the top teams on the grid, except for some color removal due to advertiser-related changes on both the front and rear wings. The shark fins seem like a lost opportunity to paint the full Red Bull logo, but at least it doesn't clash heavily with the livery of the car like Sauber's.
Sauber F1 Team (2016)
When the team decided that driver Felipe Nasr would not continue in 2017 due to his lack of sponsor/advertiser, it had a great impact on the car's livery. You will notice the yellow is completely gone from the car, with white taking a more dominant place in the livery. Additionally, since this is Sauber's 25th season in Formula One, there are gold accents all around the car. Also, the black shark fin is a total loss to the livery "" looks like Sauber never figured out what to do with it. Maybe paint it blue, guys?
Sahara Force India F1 Team (2016)
When the team presented the VJM10 car for 2017, the only new thing about it was that the livery had more silver than in the previous year. This was the latest step in a long decline from their unique India-inspired livery from the first seasons. However, once the team struck a deal with an advertiser, the livery was quickly changed to pink. This is not the first time we'll see a pink car in F1 ""Brabham did it in 1992 "" but it won't be as memorable as the coolest pink racing car in history. On the plus side, the Force India cars will be easily found on the track.
Renault Sport Formula One Team (2016)
They had a slick-looking design, based on the colors from their brand, but Renault somehow decided that more black was needed in their F1 livery. They basically split the car in two: the front is yellow while the back is black with yellow accents along the engine cover and rear wing. Although we're not addressing fire suits in today's entry, it's worth mentioning in this case, as you may notice that the driver's legs (which are in the front part of the car) are also painted yellow, while their upper body will sit where the black part of the car starts.
Haas F1 Team (2016)
The only American team on the grid made just one change in their livery for their second season, changing from white to dark grey. The other exception is in the shark fin, which has a nice pattern (at least they tried to integrate it to the car) and is the only place where white is present.  
Mercedes AMG Motorsport (2016)
The silver arrows decided to avoid any drastic modification in their livery and kept things simple. The only real change is in how they incorporate the aqua color into the car: They used to have the sidepod completely in that color, but now the team is using lines, probably to give the sense of flow, from the front wing to the sidepod.
•  •  •  •  •
Click to enlarge
Lucky fella: Some people hate birthdays, some people love them. I'm in the "love" camp. I like that we each get a day that belongs to us, a day when the rest of the world owes us right of way. That feeling was instilled in me by my parents. We weren't a particularly religious household, so we didn't make much of a fuss over holidays, but we made a big fuss over birthdays. When I was little, my father taught me how his birthday, Jan. 23, reduced to "one-two-three," while mine, March 21, was "three-two-one." I always loved how our birthdays bookended each other like that. It seemed extra-birthday-special.
But why settle for one special day when you can stretch it out a bit? My birthday is today, but the place where I wanted to have my party this year isn't open on Tuesdays, so we had the party last night instead, as more than 20 of my favorite people joined me for pizza and drinks (see above). A birthday eve party, as it were. At some point I looked around the room and realized how incredibly fortunate I am to have all these people in my life, which is a great feeling to have on your birthday (or the night before, or, really, anytime).
Things got even better when a cake appeared. And not just any cake, but a malted mocha cake, baked by the Tugboat Captain herself. It had five blue candles and three yellow ones, for 53.
The festivities will continue today. One of my best friends has the same birthday as mine (same year, even), and he's having his party tonight, so I'll be on board for that one, plus I'm hoping to carve out some time from my workday for some other birthday pursuits. Apologies in advance if I'm not very responsive to emails, tweets, or comments today.
I'm proud to share my birthday with two of the greatest bluesmen who ever lived, pianist Otis Spann and guitarist Son House. Here's a track by each of them. (The harmonica player on the Spann track is James Cotton, who died last week. RIP.)
•  •  •  •  •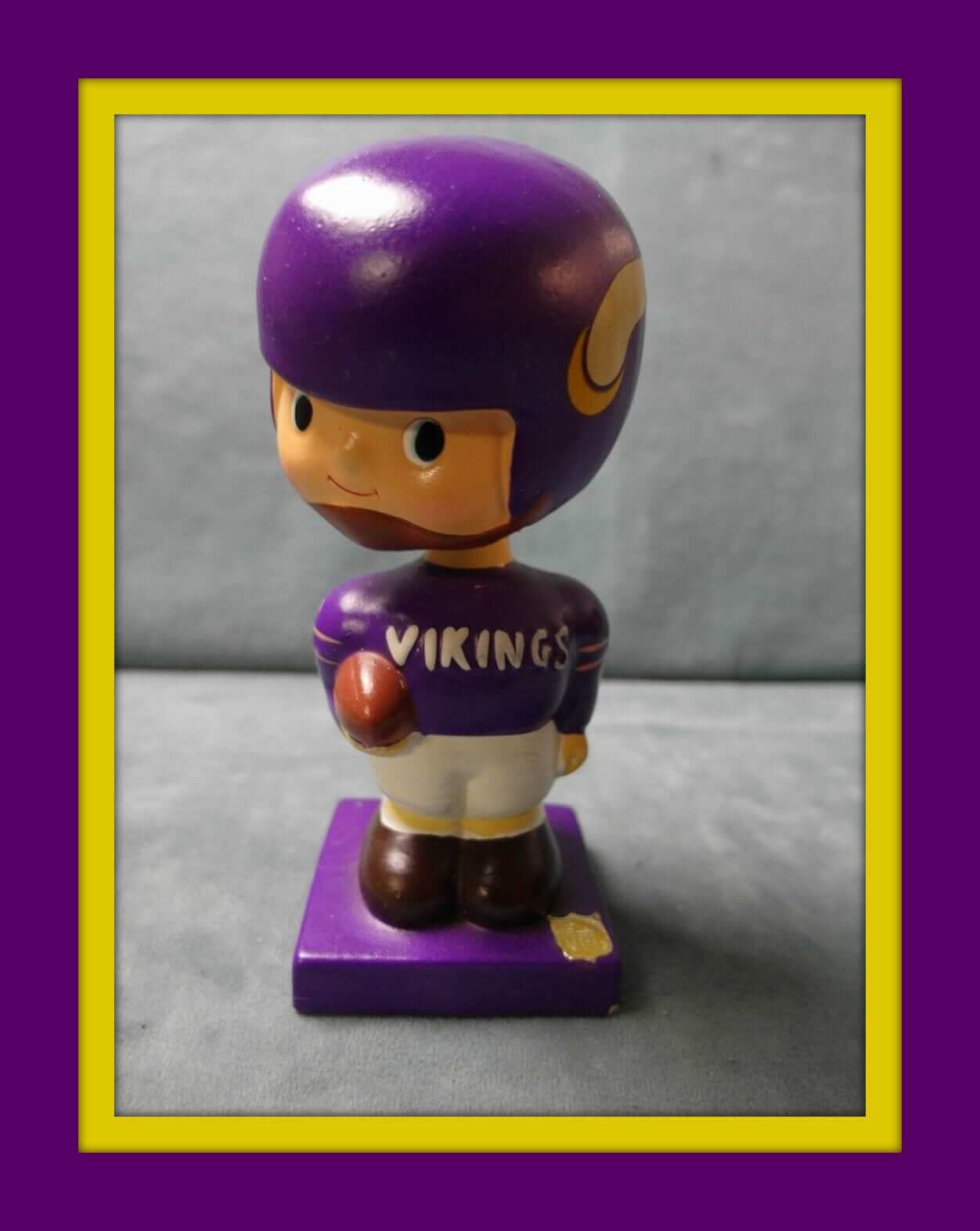 Collector's Corner
By Brinke Guthrie
In honor of Paul's birthday, today we're leading off with a nice purple Vikings bobblehead from the 1960s. This little guy seems to be in great shape given his age! He's from Japan with a square base and gold NFL logo on the corner.
Now for the rest of the week:
•  Here's a youth-sized Baltimore Colts three-quarter tee from Sears with some nice bold graphics.
•  Got one of these right here — an early-1970s NFL thermal mug. A must for any retro NFL collection.
•  Vikes quarterback Fran Tarkenton was "Frantastic" on this 1960s button.
•  Falcons fans still might not be over their Super Bowl loss, but they can lick their wounds with a copy of this 1966 inaugural-season media guide.
•  Speaking of the Falcons, here's a 1969 Chase & Sanborn Falcons coffee mug. The seller has several other teams, too.
•  Faultless marketed these San Diego Chargers golf balls in the 1970s.
•  Here's a Pat Patriot football-shaped water bottle from the 1970s.
•  This 1970s Milwaukee Brewers seat cushion was sponsored by Koss (headphones) and promoted "Major League Baseball In Wisconsin."
•  Really nice-looking 1970s California Angels dugout jacket here. Looks like the classic satin Starter design, but the listing says it's from Goodman & Sons of L.A.
•  Phillies fans will want to add this "Phil" doll to their memorabilia collection.
•  •  •  •  •
The Ticker
By Mike Chamernik

Baseball News: The Norfolk Tides will wear a memorial patch for longtime team executive Dave Rosenfield, who died last month (from Phil). … David Ross and his partner wore bedazzled Cubs uniforms last night on Dancing With The Stars (from @ajenkinsCLE). … Majestic is readying a marketing campaign with the slogan "My Team, My Colors" (from Tommy Turner). … Puerto Rico's WBC players have bonded over their blond hair dye jobs.

Pro Football News: Tom Brady's missing Super Bowl LI jersey has been recovered. It was allegedly swiped by a member of the international media, who may have also taken Von Miller's helmet after last year's Super Bowl. … As you can see in this clip, the 1971 Jets had a jersey that didn't have the thin green upper sleeve stripe. Also, in 1968, the Saints had inconsistent pants stripes. That screenshot comes from this video (from Chris Rocco). … Back in the late 1980s or early 1990s, the Ottawa Rough Riders held a new logo contest (a little more info here). Will Scheibler says that the design was never worn on the field, however. … The Saskatchewan Roughriders showed off the locker room and player facilities at their new stadium (from Wade Heidt). … Check out this late-'50s Colts/Packers shot. That's Big Daddy Lipscomb chasing Bart Starr. The Colts' uniforms have barely changed since then, while the Packers' have obviously changed a lot (from Pro Football Journal).

Hockey News: The Grand Rapids Griffins will celebrate a '90s Night on Friday (from Phil). … The Stars wore camo jerseys during warmups last night. … The Flames held a Design A Mask contest. … The Canadiens' Tomas Plekanec explained why he wears No. 14.

Pro Basketball News: Omri Casspi signed with the Wolves yesterday. He will wear No. 18, his usual number. … New blue plush-back seats will be installed at the Jazz's arena, replacing green plastic seats (from Jamie Homewood). … New logo and uniforms for the Adelaide 36ers. More info here.

College Hoops News: Lots of college teams are named the Wildcats, but there may be a connection between how Northwestern and Villanova got their names (from Michael Pantano). … New NC State coach Kevin Keatts was presented with an outdated jersey during Sunday's press conference. The Wolfpack, who wore these red jerseys this year, last wore that style of jersey in 2011 (from Rex Henry).

Soccer News: New navy kit for England (from Conrad Burry). … New uniforms for North Carolina FC of the NASL (from David Grzybowski").

Grab Bag: FBI director James Comey and NSA director Michael Rogers, testifying before the House Intelligence Committee yesterday, both had nameplate glitches yesterday. Both had an upside-down "W" instead of an "M," and Rogers had an upside-down "S" (from @ptakers and Chris R.). … New York City is holding a design contest for a new "I Voted" sticker. The previous design was created by a 10-year-old and introduced in 2013. … Washington D.C. replaced the distinctive brown ribbon signs at the entrances of federal buildings (from William F. Yurasko). … Hungary is considering a ban of Heineken's red star logo, due to the symbol's association with communist rule in the country. … Women sitting in the Texas Senate Gallery yesterday wore Handmaid's Tale-style red robes and white bonnets as a sign of opposition to new anti-abortion legislation.