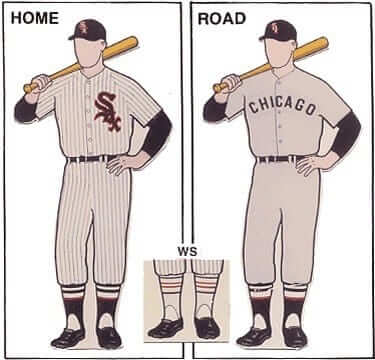 There are certain uniform variations and peculiarities that have become standard knowledge among the uni-scenti over the years. By now we all know that the Cowboys wore red, white, and blue helmet striping in 1976. We all know the A's managers and coaches wore white caps in the late 1960s and early '70s. And we all know that the White Sox changed from their usual black stirrups to special white stirrups for the 1959 World Series against the Dodgers.
Or did they?
I've always thought the White Sox lived up to their name in the '59 Series, and that's easily confirmed by looking at photos and video footage. Or, rather, it's easily confirmed by most photos and video. But reader Will Shoken was recently watching some video highlights from the '59 Fall Classic and noticed something interesting: While the Pale Hose did indeed wear pale hose in the first four games, they switched back to their standard black stirrups for Games 5 and 6. You can see highlights from those two games below (if the video doesn't start at Game 5, skip ahead to the 21:22 mark, and you can see the Sox wearing the white stirrups in Games 1 through 4 earlier in the video):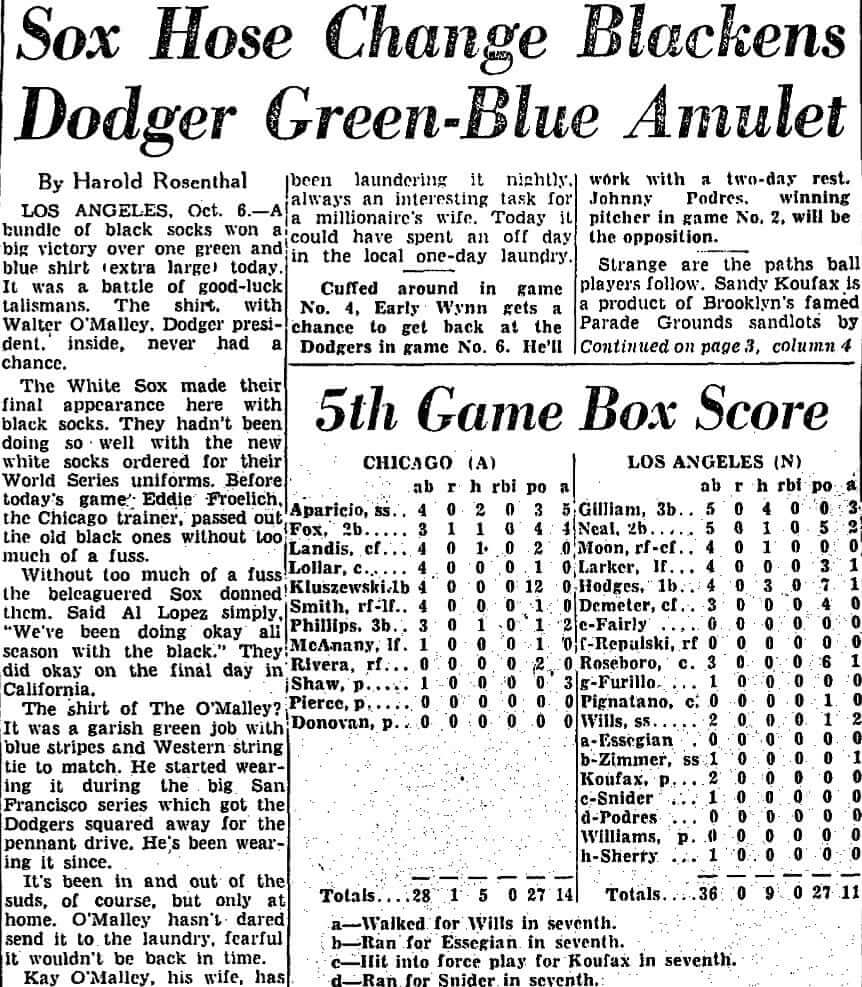 .
I hadn't been aware of that (or if I ever did know it, I had forgotten), and I couldn't find anything written about it online or in my personal library. So I consulted uniform designer/historian Todd Radom. Naturally, he had the full story, which is spelled out in this article (click to enlarge):
.

.
The short version is that the Sox were down three games to one and decided to go back to the black stirrups as a slump-buster move. It worked for one game, but then the Dodgers came back and won Game 6, ending the Series.
This updating of hosiery history has all been news to me. Did any of you folks already know about it?
(Big thanks to Will Shoken for bringing this situation to my attention, and to Todd Radom for providing the backstory.)
•  •  •  •  •
Photo by Mary Bakija; click to enlarge
Sunny Sunday: We've had a run of grey weather here in NYC, but yesterday was a sunny day, which made for a particularly picturesque scene with Uni Watch mascots Caitlin (left) and Tucker. Awwwwww.
•  •  •  •  •
Uni Watch Hit Parade: I've been listening a lot to Cut to the Chafe, the second self-released album by the L.A.-based punk band Thurst. The whole album is good, but the lead track, "Forever Poser," is an instant classic "" a hit single waiting to happen, with frontman Kory Seal leaning hard into his drone-heavy vocals and coming up with great lines like, "I've euthanized my youth." You can listen to the album here, and "Forever Poser" is below.
•  •  •  •  •
The Ticker
By Alex Hider


Baseball News:  Here's another good piece on Team Israel, including a passage that describes the players giving the team's mascot, Mensch on a Bench, a glass of Manischewitz wine before every game (from  Jerry Wolper). … Niko Goutakolis figured out a way to get that annoying New era logo off of his Mets cap. …  Chip Powell was watching Virginia and Clemson play yesterday and noticed the umpire was  wearing his chest protector over his shirt, but underneath his sport coat. Makes the ump look like a cyborg. … Looks like Alabama is using the Blue Jays' font on its jerseys (from  Blake Rios). …  Edside Manor  got his hands on a Nebraska stars and stripes hat. "39 stars, 15 stripes. Made in Taiwan. Close enough," he says. … Nicholls St. paired a tequila sunrise jersey with red pants yesterday (from Vincent Sbisa). …  The Berenstain Bears Get Itâ"¢ (from  Chris Flinn).

Football News: Mock-ups of the Falcons' new stadium include  murals of Reebok-era jerseys (from  Will Chitty). …  '70s Color Rush?  Check out this clip from a 1970 matchup between the Jets and Pats. The white unis the Jets wore that day didn't have any green trim or striping. Anyone know why? (From  Dave Miller.) … Pro Football Journal found a photo that shows Colts striping inconsistencies. …  Spotted at a vacation resort in Cabo, Mexico: A mannequin donning both Cowboys and Giants gear (from Justin Berdar). …  This blog post has a good breakdown of the Packers' recent uni history. … Whoever applied the heat-press numbers on this old Broncos jersey apparently used an old newspaper clipping of a Broncos gamer as an ironing pad (from  Broncos QB Club). …  Lane Horcher found this  awesome collection of gumball helmets  in his dad's basement. …  Is Ohio State planning on using its  throwback white unis  as the main road jerseys next season? (From  Daniel Bowen.)

Hockey News:  The Jets wore throwbacks yesterday against the Wild. TSN's graphics initially played along, but reverted to modern logos when the game began (from Martyn Bailey). … ICYMI: Here's what the Leaf's St. Pats throwbacks looked like on the ice Saturday. … The AHL's Tucson Roadrunners wore  cancer awareness jerseys  on Saturday (from our own  Mike Chamernik). … The Chicago Wolves of the AHL wore St. Patrick's Day unis on Friday and later raffled off the jerseys (from Steve Johnston). …  I get get behind this uni and mask combo on  Mike Liut, a goalie for the old Cincinnati Stingers of the World Hockey Association.

NBA News:  The Celtics wore their  gold-trimmed St. Paddy's day unis  again yesterday in Philly (from  Cole P.). … Apparently, Nuggets players love wearing their sleeved alternates (from Andrew). …  The Hornets are still trying to unload gear promoting their phantom All-Star game. Friend of the site  Steve Uhlmann  found that shirt at the Hornets' team store. … The Suns and Pistons went blue-vs.-orange yesterday, while the Spurs and Kings went purple-vs.-grey (from Zach Loesl).

College Hoops News: There was a  color-on-color tourney game  last night between USC and Baylor (from  Blake Rios). …  A protester flew a Confederate flag atop a  parking garage near tournament games in Greenville, S.C., yesterday. This weekend was the first time the state  had hosted  a tournament game since 2002, as the NCAA would not allow the state to host a game while the Confederate flag flew at the state's capital. … Check out the  thigh pad on Jerry Stackhouse in the 1995 Final Four (from  James Gilbert). … Here's a March Madness-style bracket to determine the best high school logo in the Dallas area.

Grab Bag: The Blues, a rugby team in New Zealand, were set to get special jerseys from Adidas for an upcoming tournament. The kits were supposed to include coordinates for the team's stadium, but  the coordinates actually point to a nearby prison . What's worse is that the team doesn't expect Adidas to fix their error (from Matt Manley). … Birmingham, Alabama is looking to pick a new logo and is seeking the public's opinion. … The winning players and coach of the AFLW — that's women's Aussie football —
will each receive an18-carat ring after the Grand Final this weekend (from Graham Clayton). … "I had previously theorized that driver Denny Hamlin wore a Jordan-branded/Simpson-made driver suit, and now I have definitive confirmation!" says David Firestone. … Also from David: Rookie funny car Jim Campbell is the first driver in any of the major racing series to wear a driver suit made by DJ Safety.
•  •  •  •  •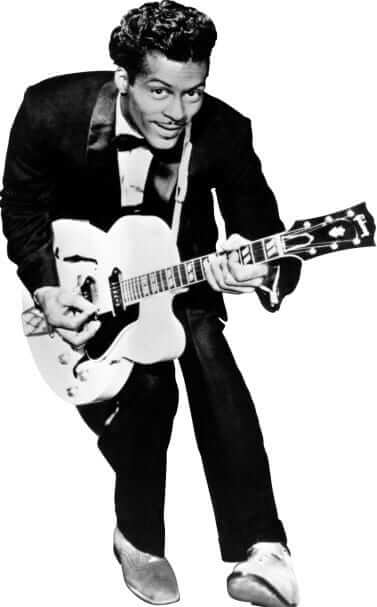 The best there ever was: Chuck Berry died on Saturday. For me, he was one of the greatest and most important artists America has ever produced, an artist who created not just a legacy but a dynasty. He invented rock and roll, and to my mind nobody has ever improved upon his execution of it.
Like most rockers of his era, Berry wrote mostly about girls and cars (his first hit, the great "Maybellene," brilliantly combined the two), but with a wit and ingenuity that few have ever matched. I've never fully understood how a black guy in his 30s was so good at writing songs that appealed to white suburban teen-agers, but Berry had the knack. And his guitar style, which included elements of blues and country, is the cornerstone on which an entire international youth culture and its attendant industry have been built.
Berry could be sly. His 1956 song "Brown-Eyed Handsome Man" reads like an early black pride anthem, and "Memphis, Tennessee," from 1963, starts out as a lament about a lost lover but then has a surprise twist in the final verse that still gets me every time.
Berry was no angel. Rock history is rife with unprintable and often unverifiable stories about him, but the stuff that's in the public record is damning enough. As a kid, he was sent to reform school for car theft and armed robbery. In 1962, at the height of his stardom, he was sentenced to 20 months in prison for taking a 14-year-old across state lines "for immoral purposes." Years later he served four months for tax evasion, and still later he took a plea bargain after cops raided his home and found videotapes of footage shot by a secret camera he'd installed in the women's room of a restaurant he owned. While his artistic accomplishments don't excuse those transgressions, neither do the transgressions negate the artistry. Like a lot of flawed geniuses, he was a complicated cat.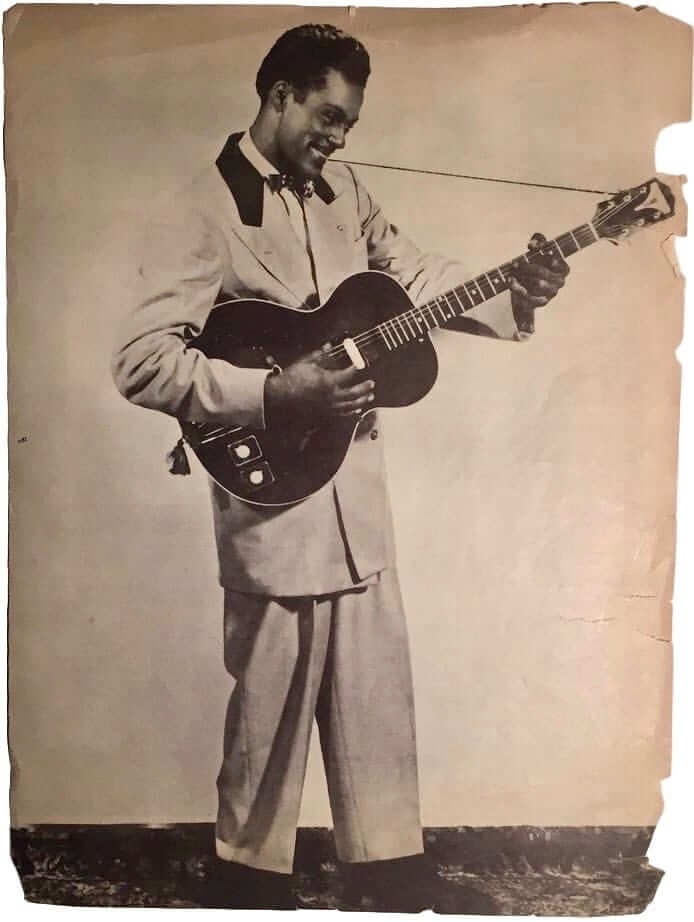 When I moved to New York 30 years ago, Berry would play here semi-regularly. By that time he'd developed a rep for playing with local pickup bands without any rehearsals, and also for sometimes engaging in what was charitably described as "erratic stage behavior," all of which sounded depressing. Reports indicated that this remained his standard live performance m.o. for the rest of his life (longtime Uni Watch reader/pal Jeff Ash wrote a review of one such show in 2009), so I never went to see him play. On some level, I regret that; on another, I think maybe I'm better off not having seen him as a shell of his former self.
From a sports perspective, it's worth mentioning that Berry's 1958 hit "Johnny B. Goode" was the entrance music for Mets closer John Franco throughout the 1990s and early 2000s. On the down side, it's always bugged me that the final verse of "Brown-Eyed Handsome Man" begins, "Two-three the count, with nobody on, he hit a high fly into the stands." Come on, Chuck — there's no such thing as a two-three count! Someone should have told him to change it to three-two, but I suspect you couldn't tell Chuck Berry anything in those days, if ever.
As a native of St. Louis, Berry was a Cardinals fan. In 2011 he threw out the first pitch prior to a Cards/Cubs game, and later that year he sang the national anthem prior to Game 5 of the NLCS between the Cards and Brewers. In both instances, he wore a Cardinals jersey. RIP.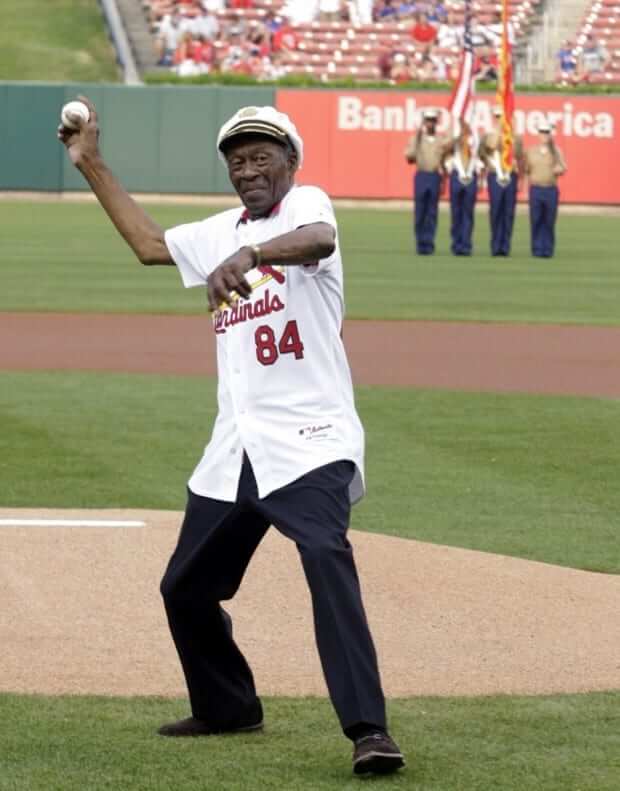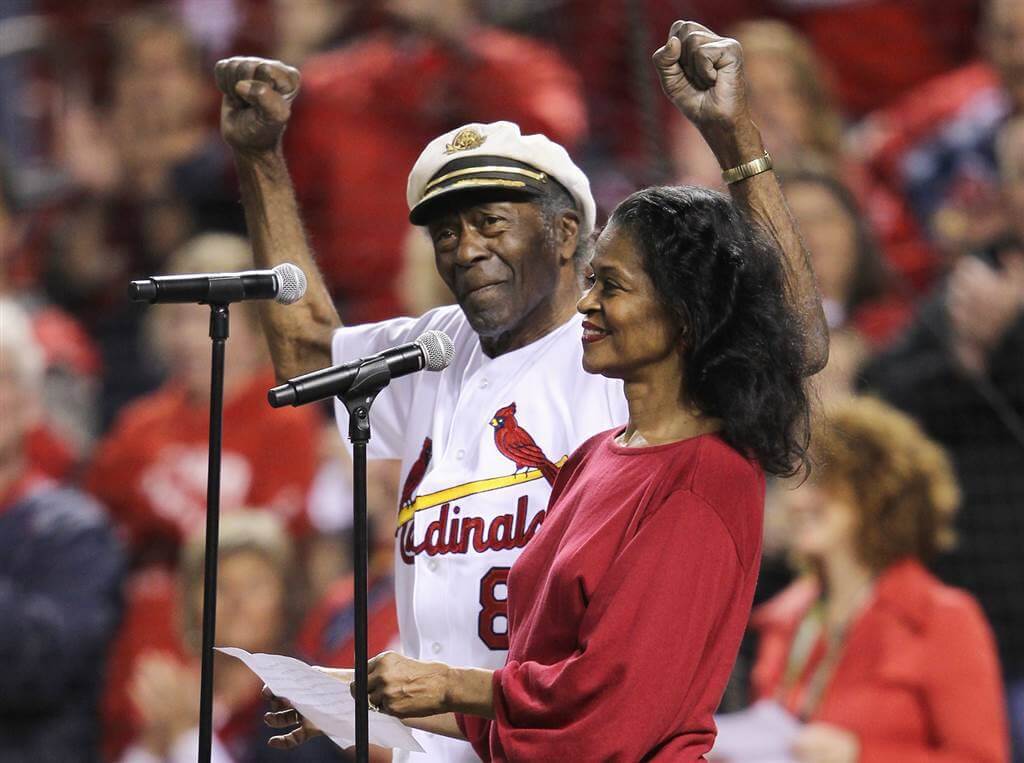 •  •  •  •  •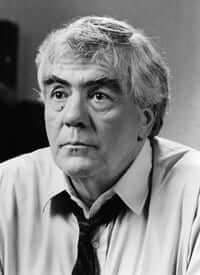 The best there ever was: The weekend's other notable passing was that of writer Jimmy Breslin, who died on Sunday.
I haven't had time to fully gather my thoughts on Breslin, but suffice it to say that he was one of the greatest — and probably the last — of the classic hard-bitten New York newspaper columnists. It was easy to view him as a caricature (the drinking, the smoking, the bluster, the shtick), but the reality is that he was a sophisticated wordsmith, an incredibly prolific author (his works include a book about the 1962 Mets and another about Branch Rickey), and a tireless advocate of the little guy. He could also be a real asshole when the mood struck him. Another complicated cat.
Breslin isn't the reason I got into journalism, but it would be fair to say that his work provided lots of inspiration along the way. I don't have even the teeniest fraction of his talent, but at a time when my fellow journalists and I have been branded as "enemies of the people," I'm proud to have shared his profession. RIP.