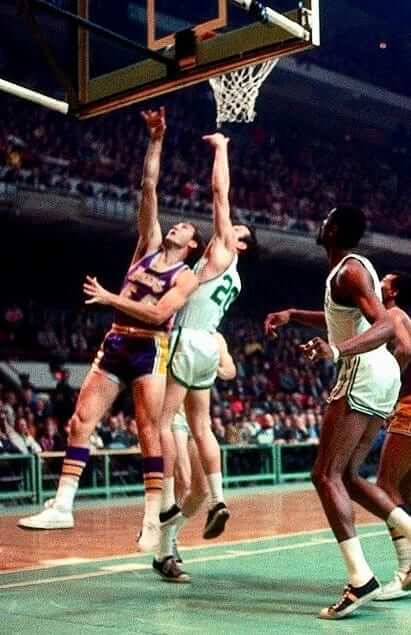 Longtime Uni Watch reader Jerry Wolper spends a lot of time researching his way through old Pittsburgh newspapers. Along the way, he often spots things that would be of interest to Uni Watch, and he recently came up with a doozy.
On April 24, 1968, The Pittsburgh Press ran a UPI wire story about the NBA finals that were then taking place between the Lakers and the Celtics (yes, the finals took place in April in those days). The first two games were in Boston, and the Celtics had won the first one. That set the stage for some gamesmanship during the lead-up to Game 2. As the article explains:
When the teams meet tonight in Boston Garden [for Game 2], there will be new nets attached to the baskets. … The Lakers claimed the strings on the Boston Garden nets were too long and too loose, enabling the ball to drop through quickly so Boston could get its fast break started an instant fast than it normally would with tight nets, which slow the ball down a bit.
Faaaascinating. Granted, I don't follow basketball as closely as I follow some other sports, but I'd never heard about "loose nets" allegedly being used to gain a tactical advantage.
I don't think we've ever covered basketball nets here at Uni Watch, but it's definitely a ripe topic. Among the questions that come to mind:
•  How has the net evolved over time? When was the last change or alteration to its basic design?
•  How long is the net supposed to be?
•  Is there any difference between the nets used in the NBA and the ones used in college?
•  Are today's nets made from natural or synthetic twine?"¨
We can answer some of these questions by looking up the rules. The NBA rulebook, for example, includes Rule II(d), which reads as follows:
Each basket shall consist of a pressure-release NBA approved metal safety ring 18″ in inside diameter with a white cord net 15″ to 18″ in length. The cord of the net shall not be less than 30 thread nor more than 120 thread and shall be constructed to check the ball momentarily as it passes through the basket.
The NCAA basketball rulebook has similar language. Rules 14.1 and 14.3 state:
Each basket shall consist of a single metal ring, 18 inches inside diameter, its flange and braces, and a white-cord, 12-mesh net, 15 to 18 inches in length, suspended from beneath the ring.

[…]

The cord of each net shall be not less than 120-thread nor more
than 144-thread twine, or plastic material of comparable dimensions, and constructed so as to check the ball momentarily as it passes through.
I was initially surprised the net can vary so much in length, but that probably allows for the differences in drape and "hang" as a net gets broken in. In other words, two nets made to identical specs could hang at slightly different lengths.
Who invented the basketball net anyway? We all know Dr. Naismith began by using peach baskets, but who decided to add the net? I haven't seen the net attributed to any particular person, but most sources seem to agree that nets were added in the late 1890s. This page, for example, includes the following:
The rules, of course, began being tweaked nearly from the beginning and the old peach basket was thrown out in favor of iron rims with netting as early as 1893 (though, interestingly, the first netted hoops had a closed bottom, so a long wooden dowel still had to be used to retrieve the ball for around a decade after the net was introduced, until someone finally got the bright idea of just using an open-ended net so that the ball would just fall through, no stick required).
It's been many years since I last shot hoops, but I played a lot of basketball as a kid — in gym class, on youth league teams, and just messing around outside with friends. I always liked the metal nets often found on playgrounds — the "ch-chink!" of the ball going through the net sounded even better than the "swish!" provided by traditional twine nets, and the ball seemed to get suspended in the metal nets for just a moment longer, which for some reason I found very satisfying.
I'm interested in hearing what you folks have to say regarding basketball nets, so feel free to explore this topic in today's comments.
Footnote: The Lakers won Game 2. But the Celtics won the series and the title.
(Big thanks to Jerry Wolper for another great historical find.)
•  •  •  •  •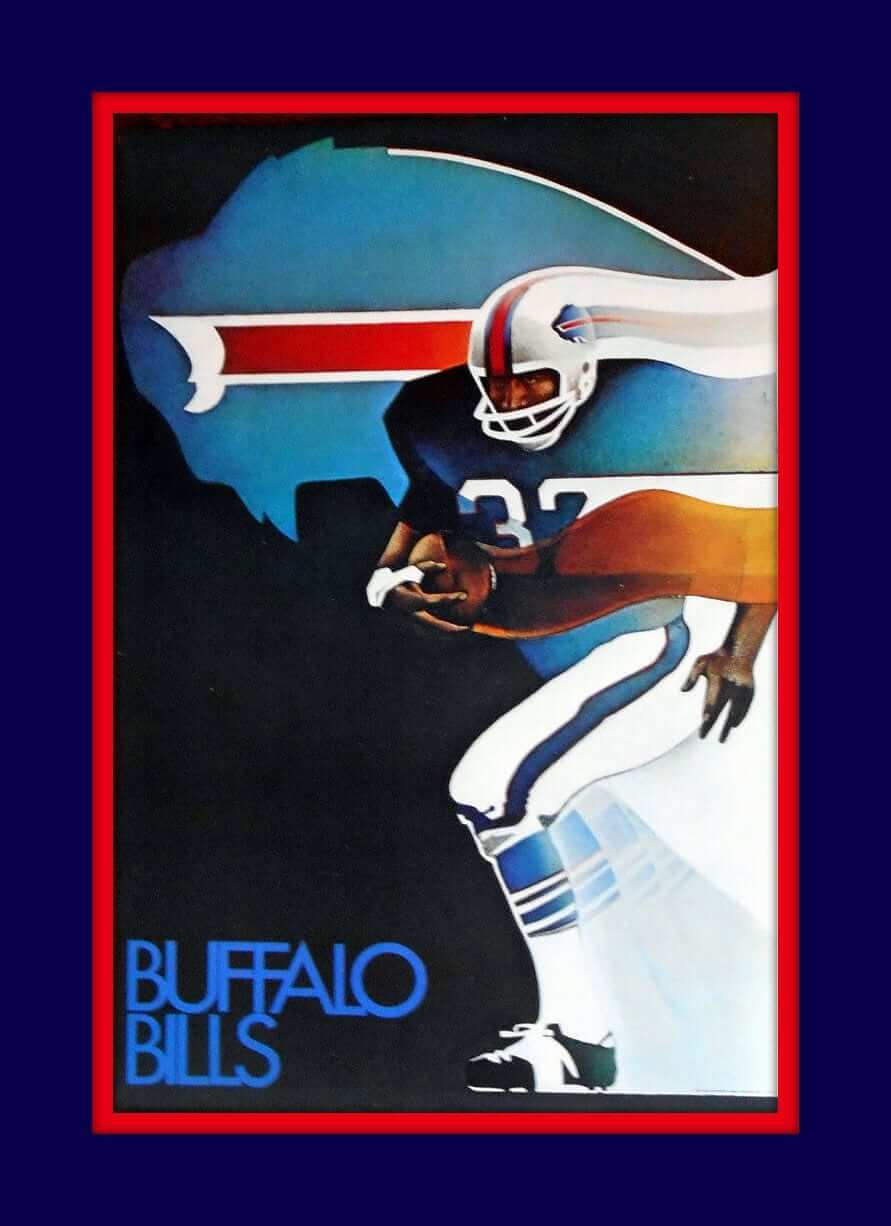 Collector's Corner
By Brinke Guthrie
And we're back with a Pi Day edition of Collector's Corner. Let's start off with this outstanding Buffalo Bills poster. This is obviously O.J., and the eBay listing says it's from 1974. I seem to remember having this poster prior to '74, but the Bills didn't go to that helmet design until that year, so it must be right. Needless to say, a classic example of 1970s NFL artwork.
Now to the rest of this week's picks (and I'll have a scoop of vanilla ice cream with that apple pie, please):
•  Jets fans! Hang this 1970s Sears cork board in your home office.
•  Speaking of the Jets, reader Andy Harris passed along this vintage photo of Jets coach Weeb Ewbank and former Mets skipper Casey Stengel celebrating the Mets' 1969 World Series win.
•  How about this Mickey Mantle pocket watch?
•  Here's a nice-looking Kansas City Chiefs stadium blanket. Listing says it's from the 1960s, but since it says "National Football League," probably more like early-'70s at the earliest.
•  Here's another NFL blanket — this time from JC Penney — but this one goes on your bed.
•  Nice-looking 1970s Pittsburgh Pirates enamel belt buckle.
•  This (Sears?) ad from 1974 shows the Dolphins' Dick Anderson and a future NFLer in uniform.
•  Take a close look at the cover art on this 1960s "Pro Tips" booklet, featuring some of the big pro football stars of the era.
•  Here's a variation on the classic Baltimore Colts prancing horse logo on a 1960s decal.
•  Look at the treatment the wings got on this Eagles youth helmet, made by Rawlings, from the 1960s.
•  This 1960s NFL St. Louis Cardinals Technigraph plaque is still in good shape!
•  •  •  •  •
Contest reminder: In case you missed it over the weekend, Phil is running a contest to design new World Baseball Classic jerseys and caps for Team USA. All the details are in this post. Get your designs in to Phil.Hecken@gmail.com by this Friday, March 17, midnight Eastern. Get crackin'!
•  •  •  •  •
Click to enlarge
KRC update: The latest installment of Key Ring Chronicles is about a guy with three metal items on his key ring, each from a notable juncture in his life. Check it out here.
•  •  •  •  •
The Ticker
By Mike Chamernik

Baseball News: All Hiroshima Carp players will wear Hiroki Kuroda's No. 15 on Saturday. … Yesterday Paul was wondering what cap Hank Williams was wearing in this photo. It was a Nashville Volunteers cap (from Ronnie Poore). … Today, 32 companies supply MLB with bats, up from only five manufacturers two decades ago (from Tommy Turner). … "Dodgertown was built on the site of a former U.S. Naval Air Station in Vero Beach, Florida in 1953," says Mike Clary. "The dugouts at Holman Stadium weren't completed in time for the opening of spring training games." … Giants OF Michael Morse appears to be taking pants-hiking lessons from teammate Hunter Pence (from Chris Mayberry and @SheilaWSF).


NFL and College Football News: Are you a designer looking for a new gig? Always wanted to live in Cleveland? The Browns are looking to hire a graphic design coordinator. Cue the joke about a helmet design (from @LouiseBrooksFC). … Virginia Tech will have two single-digit defensive tackles next season: Tim Settle with No. 4 and Ricky Walker with No. 8 (from Andrew Cosentino).

Hockey News: Lightning goalie Peter Budaj has a new mask design featuring his alter-ego: Ned Flanders dressed as Thor. … The Milwaukee Admirals will wear first responders jerseys on April 1 (from Chad Jorgenson). … Reprinted from yesterday's comments: Here's a good film from 1951 about the jobs NHL stars held during the summer (from reader Jet). … During the 1965-66 and 1966-67 seasons, the Bruins scrapped their black home jerseys and wore gold instead. Kenny Kaplan remembers that they often chose to wear their white jerseys at home. … The Devils will wear their green-trimmed throwbacks on March 16 — the day before St. Patrick's Day. … Here's a shot of a Canucks player spray-painting his stick black. "It's believed a black lower section makes it harder for a goalie to track the pucks," says @TheGoalNet45.

NBA News: During the 1960s the Celtics switched from a radial wordmark across the chest to a more horizontal one. In 1968, Larry Siegfried still had the old version (from JP Baillieul). … A Bucks blogger took a look at the team's uniforms from the last two decades. … The Raptors wore MLSE Launchpad warm-up tops last night. That refers to a Toronto youth sports facility (from Zach Loesl).

College Hoops News: Here's the court design for this year's Final Four. … Instead of Valparaiso, a Vanderbilt logo was used during a PTI segment on Bryce Drew's legendary game-winner in 1997 NCAA Tournament (from Chris Fyfe). … In the same vein, instead of a Mount Saint Mary's University logo in this graphic, ESPN showed Mount St. Mary's College (look between Minnesota and Nevada). Here is the correct logo (from Ed Kalas).

Grab Bag: Drexel lacrosse has a new St. Patrick's Day helmet (from Jackie Treehorn). … Roman Mars, host of the design and architecture podcast 99% Invisible, ranked government logos from best to worst (from Adam Herbst). … A few golfers at the Arnold Palmer Invitational this week will have Palmer's colorful umbrella logo on their clothes and equipment. … New logo for the Aldi supermarket chain.
•  •  •  •  •

What Paul did last night: Last night I saw Uncertain, a documentary about the tiny town of Uncertain, Texas (yes, that's really its name), and three of its more interesting residents.
It's one of the best movies I've seen in a long, long time — spectacularly beautiful, evocative, thought-provoking, and very entertaining. The three main characters are all seeking some sort of redemption — sometimes for things they've done, sometimes for things that have been done to them. While each of them is a familiar type (an ex-con, a directionless kid, etc.), none of them is a cliché. The cinematography is spectacular (miles better than what you see in most documentaries), and the pacing and editing are superb. Uni Watch's highest rating.
As of today, Uncertain is only playing in NYC and London. But over the next week or so there will be screenings in Nashville, Chicago, Seattle, and Corpus Christi. If you live in or near those cities, I can't recommend this one highly enough.
Here's the film's website, the review that prompted me to see the film, and the trailer. Don't miss.