By Phil Hecken with Shannon Shark
A couple weeks ago, news began spreading that the New York Islanders, whose lease with Barclays may terminate (either by the Islanders or by Barclays — both of whom have opt-outs) sooner than expected, the City of Hartford made a pitch to host the team's games (at least on an interim basis), should the team find itself homeless in the future. Sadly, the Islanders haven't so much resembled a professional hockey team over the past several decades, between sucking, having hustlers "own" the team, and a aging arena eventually deemed unfit for play. The team packed its bags and moved from the once proud (and home to the Four Time Consecutive Stanley Cup Winners) Nassau Coliseum a couple years ago, joining the Brooklyn Nets in Barclays. That hasn't worked out all that well either: amazingly, when Barclays was designed and built, no one thought to make the place fit for hockey.
Anyway.
I tweeted something about the Islanders and Hartford, and my buddy, Mets Police head honcho Shannon Shark and I began to have a little back-and-forth about the Islanders, a possible move to Hartford, and … if they were to move, what kind of uni changes might the team make. Very quickly, the conversation turned to…
…the "Fisherman."
For those of you who are millennials (kidding), that's one of those really bad jerseys introduced in the 1990s (1995 to be exact) that was so awful, it was hated almost from the get-go. It's actually gained "cult" status in some circles, and I love it in the "it's-so-bad-it's-good" kind of way. In fact, it's actually the basis for my Uni Watch Membership Card:
The jersey itself is awful — the colors, the "waves," the asymmetrical numbers and non-aligned nameplate. So hated was it from the introduction that fans almost immediately called for a "return" to the classic Islander jersey, with the even more classic orange and blue "island" logo, complete with NY (and the "Y" forming a hockey stick). The team at first balked, but eventually relented, swapping out the "Fisherman" logo for the classic NY logo midway through the second season:
They'd keep that for another year and a half, eventually returning to the more classic logo and colors.
As a HUGE Islander fan growing up (and not only did I grow up literally 10 minutes from the Coliseum, I went to dozens of games during their Stanley Cup years), I was one of those clamoring for the return of the classic logo and colors. But I realized, with time, that maybe the team was onto something — the awful jersey did produce two very good logos — the "fisherman" logo itself, and the secondary "lighthouse" logo (which depicts the Montauk Point light). The problem was, the team jettisoned their classic (associated with four Stanley Cup wins) logo and put the new logos on one of the worst sweaters ever to grace NHL ice. Predictably, almost everyone hated them.
Back to Shannon — we started discussing the fisherman at length, and could it be possibly "reused" — but in classic Islander colors — should the team move to Hartford? In the course of our discussions, Shannon actually mentioned he owns a "fisherman" jersey. I said, "Ok, we gotta put something together for Uni Watch" and one thing led to another. I'll now turn this portion of the post over to Shannon, with this thoughts on the jersey:
. . . . . . . .
The Potential of the Fisherman
By Shannon Shark
Phil, I'm here to defend the potential of the fisherman. Not the actual fisherman, but the potential of it.
Before we go further, I am a traditionalist. The New York Islanders should play on Long Island, and wear what they wore when they were born (we can argue about minor tweaks, but blue and orange with the crest that has Long island on it.)
That being said, the fisherman was not as bad as some other things we have seen in sports (the 49ers black, the Islanders black).
I bought this jersey in 2015 off eBay when the Islanders brought the fisherman back for a warmup jerseys.
I would have bought a new one if they had made them available for sale (they might have auctioned them, but I just wanted to go to NHL.com and hit click). I'm a fan of what I call uni-corns — the one-off uncommon jerseys. I have several in my closet (several New York Giants throwbacks that the SF's did, a Rays fauxback, several Cubs throwbacks from their Wrigley 100 celebration season, and of course Mets everything) that we should cover some weekend. Anyway, since I couldn't easily get this uni-corn, I solved my craving by going on eBay and grabbing this replica.
As a goof it is fun to wear. As a good looking piece of attire, it is not. However, the fisherman has potential. Where it went wrong was the color swap and the wavy lines. It looked like a jersey that was trying way too hard to be 90's cool.
Let's break down the individual pieces. Let's look at just the fisherman without the distractions of the colors and the waves.
It's kind of a cool idea. The fisherman looks tough (the actual Gorton's fisherman that it was compared too isn't as rugged). It's nautical which works with Long Island. The stick in his hand looks right. You aren't scoring on this guy.
There's probably a way to keep the traditional Islanders word font, but the I and the S do give nice balance.
Now let's look at the lighthouse:

It's nice. Probably would have made a nice chest crest.
COLORS: What if we did the fisherman on the traditional Islanders colors? Well, that looks even worse.
What if we did the fisherman in the Hartford Whalers colors? That could be interesting, especially if the Islanders spend some temporary time there before someone figures out a new permanent home. Do they have lighthouses in Hartford? Maybe the lighthouse on a crest in Whalers colors.
THIRD JERSEY POTENTIAL: My first choice is no third jerseys. If we must have one, yeah let's do the fisherman. Someone with better photoshop skills can help us out here and mock up what it might look like in either traditional Islanders colors or in Whalers colors if that happens.
Islanders, just go home to Nassau and dress properly. Otherwise we need someone to mock up the Quebec City Insulaires (they have lighthouses) or do the fisherman in KC Royals blue.
. . . . . . . . . .
Thanks, Shannon. I agree — the fisherman and the lighthouse BOTH have potential. Now, my photoshop (or really "GIMP") skills have disappeared since I switched to a Mac back in 2011 — and I never really picked them back when I returned to using a PC a few years later. But my MS Paint skills aren't too shabby. Let's see how the fisherman or the lighthouse would look on a traditional Islanders jersey:
OK — not too shabby. How about the lighthouse?
We appear to be cooking with gas here.
Now, neither of these is as classic as the original Islanders' NY logo — but (especially if the team were to move to Hartford) either could probably used there, especially since a logo with the outline of Long Island probably won't work for an inland city in another state. True, there aren't any lighthouses in Hartford (nor is Connecticut the State an island), but barring a name change, this could certainly work.
It just goes to show you that a bad jersey can still contain a good (serviceable anyway) logo. And a decent logo on a good looking jersey works quite well.
I'm with Shannon on this point though: the Islanders should play on Long Island and wear what they were born in. But it's kind of fun to speculate on the "what might have been" or "what could still be" as long as the team's future home is in flux. Maybe the fisherman can't be saved, but let's hope the once proud franchise can have a good, permanent home on Long Island in the foreseeable future.
One last thought: this exercise was interesting an another way — and might be worth exploring more fully in the future — what OTHER logos (on any team in any sport) are no longer being used that might be resurrected on a "better" jersey in the future? Have there been any "good" logos that simply jettisoned merely because they were part of an overall overhaul that was lousy? There have got to be some out there, right?
Let's hear your thoughts in the comments down below.
.

.
Pens & Flyers Stadium Series
Last night, at Heinz Field (home of the Pittsburgh Steelers), the Pittsburgh Penguins and Philadelphia Flyers hooked up on an outdoor game. We'd already seen both teams' uniforms (special ones, of course, for this game) revealed, so that wasn't a surprise — but I did watch most of the game and it was actually quite good looking.
Because a football (or baseball) field is obviously much larger than a hockey rink, teams will do different things in the area surrounding the rink to "fill in" the empty space. I loved how the Penguins created a sort of visual "Clemente Bridge" EDIT: Per the comments, it's meant to honor the Fort Pitt and Fort Duquesne Bridges:
In the Battle of PA…

West side = best side.

Let's Go Pens! pic.twitter.com/QXK1hhQqBf

— Pittsburgh Penguins (@penguins) February 25, 2017
The great outdoors. pic.twitter.com/GkkMbas6jI

— Pittsburgh Penguins (@penguins) February 26, 2017
The Penguins wore gold sweaters, socks and helmets, and black pants. The numbers were done in "Steelers" number font with a similar, kind-of military NOB font.
Ready for the 3rd period. Game back on. LET'S GO PENS! pic.twitter.com/pEEX9jbfvl

— Pittsburgh Penguins (@penguins) February 26, 2017
They had the SS patch on the right shoulder and a "keystone" City of Champions patch (featuring four "Stargell" stars — for their four Stanley Cups) on the left shoulder:
The @Penguins win the Battle of Pennsylvania, 4-2! #StadiumSeries pic.twitter.com/bLZSGj8Zo9

— NHL on NBC (@NHLonNBCSports) February 26, 2017
The Flyers went with all black uniforms, with orange nameplates and black numbers outlined in white. I thought they looked good, but I will admit it was difficult to make out the numbers on long shots. They might have done better to make the numbers solid white (or even orange outlined in white):
#StadiumSeries coming up next…

📺 @nbc
📻 @933wmmr
🍿 https://t.co/6YFTCsoMZa pic.twitter.com/DYn1glqYIt

— Philadelphia Flyers (@NHLFlyers) February 26, 2017
It was easier to read the Flyers' giant TV numbers (since they were mostly on the orange arm stripe). Both teams, of course (and is the tradition of the stadium games) had huge TV's:
#Flyers fall to the Penguins, 4-2. #PHIvsPIT

Next game: Tuesday vs. COL, 7pm. pic.twitter.com/APY7TFMibP

— Philadelphia Flyers (@NHLFlyers) February 26, 2017
Tweeter The Goal Net noticed the Flyers' helmet manufacturer's logos were orange:
@PhilHecken @UniWatch – the manufacturer's logos on #Flyers helmets tonight are orange. I don't think ever seen colored ones before #🥅 pic.twitter.com/VeRiQxcCXu

— TheGoalNet (@TheGoalNet45) February 26, 2017
Good shot here from Funhouse of the (standard) varsity jacket worn by the Penguins coaches:
@PhilHecken Good-lookin' game at Heinz Field. And you can go ahead and buy me that coat. pic.twitter.com/XLxv20F7Jr

— Funhouse (@SportsFunhouse) February 26, 2017
All in all, a fun game (maybe not so much for Flyers' fans) to watch, with good contrast, and decent lighting and conditions. I always enjoy these outdoor games.
Hey man, nice shot! pic.twitter.com/CizpSSXxWk

— Pittsburgh Penguins (@penguins) February 26, 2017
.

.

Shout Out To Gotham
Uni Watch reader and friend, Mark Healey, started a project back in 2005, with the goal of bringing "true independent coverage" to New York baseball: Gotham Baseball.
Over the years, GB has been and is many things; a print magazine, a popular website and message board, a podcast, and a multi-platform product with a digital magazine and podcast component. But really, it's a celebration of New York Baseball. The "past, present and future of the New York game", as their tagline goes.
Mark explains, "We had our fans from the get-go, as Amazon.com tabbed us as one of the Top 10 New Magazines of 2005 (and the only sports magazine on the list), We published as a print-omly product from 2005-2008, and to out great pride and joy, the entire run was selected and is now part of the permanent archive at the National Baseball Hall of Fame and Museum's A. Bartlett Giamatti Research Center in Cooperstown, NY. Over the years, projects have come and gone, but Gotham Baseball is still here."
Mark's current publishers at The Wave newspaper have agreed to give Gotham Baseball a home in print; a weekly column in The Wave newspaper, and he's in the process of re-designing GothamBaseball.com and bringing back the Gotham Baseball LIVE podcast.
If you don't already (and I'm guessing not a lot of you do), why don't you check it out and give Gotham Baseball a few more followers: on Facebook, on Twitter and on Instagram.
OK? OK!
.

.
T-shirt reminder: Paul here. In case you missed it this past week, our latest T-shirt, designed by the great Todd Radom, is now available. Check it out (click to enlarge):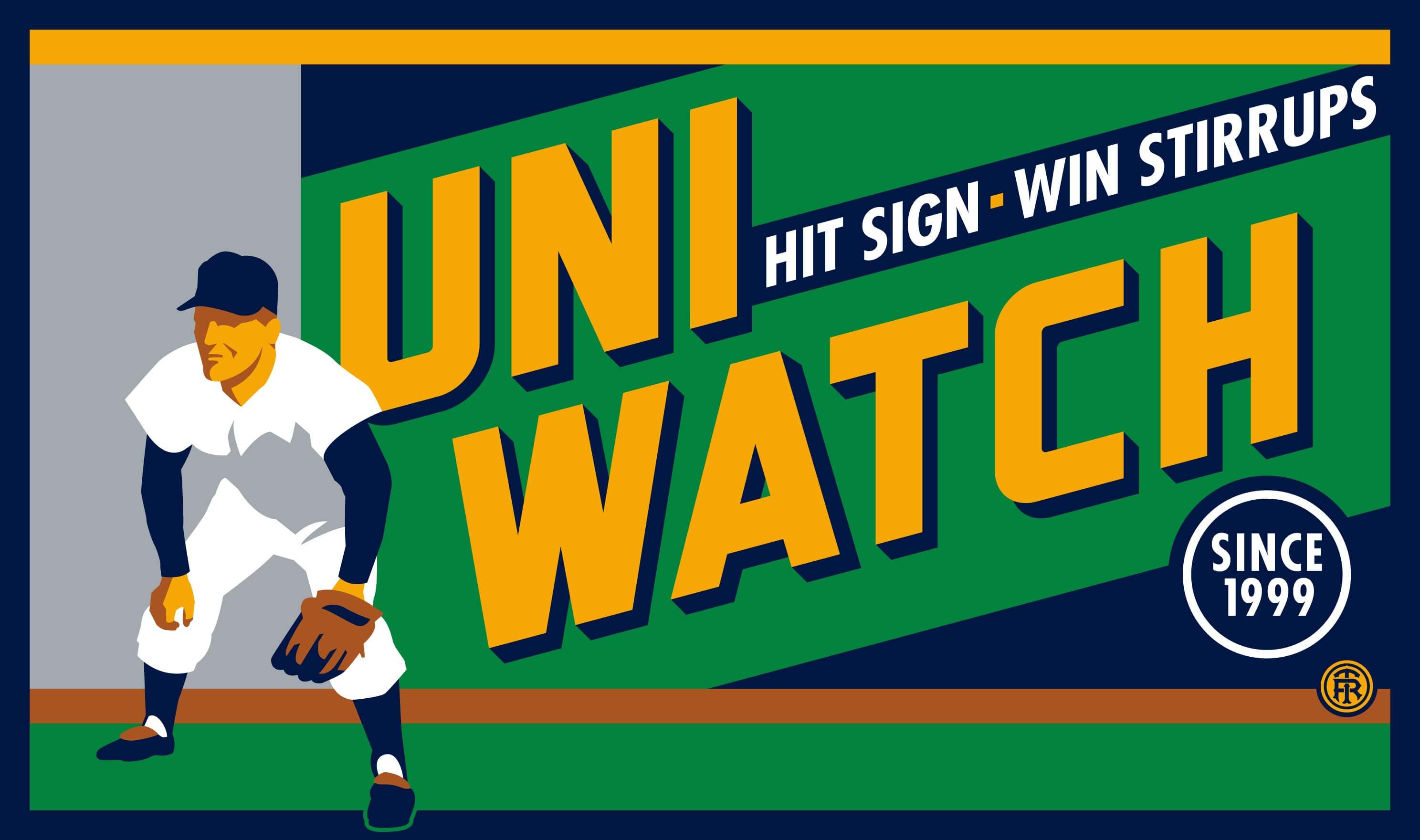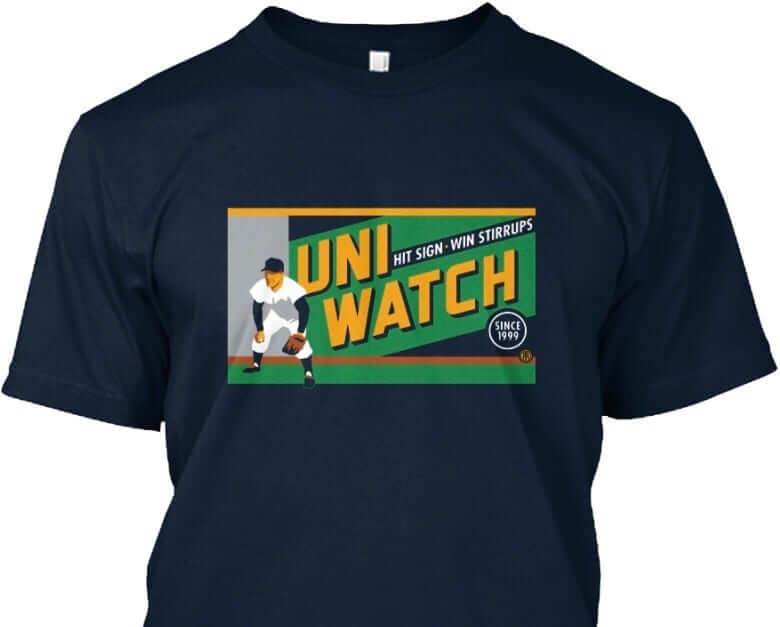 The design takes inspiration from the old Abe Stark sign at Ebbets Field, which read, "Hit Sign, Win Suit." Please note that we're using the shirt fabric color to fill in the dark portions of the design — the outfielder's cap, sleeves, stirrups, and shoes, and the dark parts of the sign behind him. We think it looks best on Teespring's dark navy shirt, which is the version shown above. But you can also order the shirt in black (yes, go ahead and make all your BFBS jokes), in which case the design will look like this: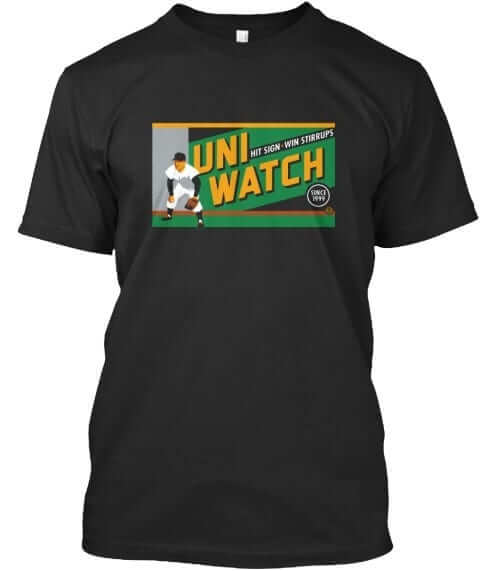 There's also an American Apparel short-sleeved version and a long-sleeved version, both of which come in a slightly lighter shade of navy. You'll be able to see all of this on the ordering page. Just make sure you choose the shirt and color you like best.
The shirt is available here through next Friday, March 3. My thanks, as always, for your consideration.
.

.
In Case You Missed It…
Earlier this week (Thursday, in fact), Paul released his latest ESPN column, "What have we learned so far from the NBA uniform ads?," which (as the name implies), looks at five things we've learned so far from the NBA's uniform ad program.
If you haven't had a chance to check it out, here ya go. Definitely worth the read if you haven't already.
.

.
Uni Watch News Ticker
By Phil

Baseball News: The Alma College "Scots" have some interesting uniforms: their uni numbers and letters have a plaid pattern (via Paul, from Alma Scots Baseball). … Ron Santo's birthday was yesterday, and Bruce Menard posted one of the best photos I've ever seen of him from a Spring Training game. Love the palm trees and windbreaker under jersey. … The Tampa Bay Rays broke out their new ST caps yesterday (from Drew Gentry). … Dear God I hope this isn't a new trend: UMich baseball pants have stripes that only partially go down the leg (from TJ Hudge). Didn't we learn anything about truncated stripes from the D-Bax, who already jettisoned that look? … For the first time yesterday, Eastern Michigan broke out the pinstripes (from EMU Baseball). … Think this year's MLB "St. Paddy's Day" caps are going to be bland and boring? If these are correct for the National League and the American League (from Ed Kendrick), then the answer is "yes." What ever happened to creative, team-specific SPD caps? It's not like they'll look any worse with regular ST jerseys. Let's hope these are just "for sale" and not necessarily what teams will wear on March 17. … Here's a great shot of the Los Angeles Angels (of Anaheim) of Los Angeles first ever spring training (from Bruce Menard). … Looks like the home plate umpire was wearing a Postseason patch in yesterday's Mets/Nats spring training game (good spot by [insert name]. … Will the Baltimore Orioles have an all black helmet option this year (notice, those are both double flappers however). Still, good spot by Cory Forsyth. … The New Era ad in the Mets dugout shows the "defunct" spring training cap (from Will Goldman). … Not sure how official this hoodie for Long Beach State Baseball is, but I like it (from Finding Nostalgia). … "Oof that @NewEraCap logo on @MLB caps has to go," says Eric Trager, who asks, almost rhetorically, "Why does a company with a product monopoly need that placement?" … Probably (like the Yankees) just a 'first ST game thing," but the Cubs wore their white pins and regular season (no "AZ patch") caps yesterday (from Jake Smith). … Here's a pretty good look at the "detail" on the numbers of the Spring Training jerseys (from Missouri Locker Room). … Here's a really nice vintage Dodgers "8 Pennants" pin (from Dave).


NFL/College Football News: CROSSOVER ALERT (also posted in hockey): Steelers equipment Manager Pat Noone and Penguins equipment manager Dana Heinze created a special Steelers/Pens hybrid helmet for the Stadium Series (from Mike Slavonic). … How would a USC baseball logo look on a USC helmet? No, not that USC — the Gamecocks. … "regarding your recent post about a team from Wales with an Auburn logo, many British teams reuse American team logos," says Andy Reed. "There is a Leicester based team (home of socccer champions) which is inspired by the Texas Longhorns." … The Detroit Lions won't unveil their new uniform set for a couple months, but that doesn't mean there aren't some new concepts out there. Most of these suck, but the Lions would do well to do something similar to this the great Brandon Moore has come up with. … Dan Pfeifer tweeted, "Even pylons are doing everything possible to avoid concussions nowadays," and his linked story showed a helmet atop a pylon. But the linked story, "Arizona signee My-King Johnson will be the first active openly gay scholarship player in FBS history," is interesting too: not because Johnson is openly gay, but it's news because he's the first openly gay player in FBS history. … Holy crap — check out Richard Sherman's jersey swap collection (from Keyvon). … "At the Pittsburgh airport" (there is a Franco Harris mannequin commemorating the "Immaculate Reception"), says Wayne Jones. "It kills me that the TV numbers are the wrong font on Franco's Steelers jersey." Here's a still of that jersey in action. … "Came across an interesting photo of Raiders defensive lineman Charles Philyaw from the '70s showing him with a headband that appears to attach to his sunglasses," says Bill Kellick. … Ohio State will certainly wear alternate uniforms this fall, but what will they look like? A few options (from Andrew Lind).

Hockey News: CROSSOVER ALERT (also posted in football): Steelers equipment Manager Pat Noone and Penguins equipment manager Dana Heinze created a special Steelers/Pens hybrid helmet for the Stadium Series (from Mike Slavonic). … Not quite a crossover alert, but Kris Letang's new candy bar has the Pittsburgh Pirates 1990s road wordmark on a Pittsburgh Penguins sweater (from Derek Reynolds). … Yesterday, the Johnstown Tomahawks wore Johnstown "Chiefs" (from Slap Shot) sweaters (via Alan Saunders). This must be a thing now, as the Milwaukee Admirals did the same thing about a week ago (from Keïth"). … This is cool: Look at how the Buffalo Sabres crest changed slightly over the years (from TheEichelTower). … Was Brooks Laich wearing #23 sweater but #22 on helmet? (from Tyler Stern).

NBA News: Anthony Morrow won't wear ex-Bull Derrick Rose's No. 1 after backlash (from Kelby Phillips). According to this article, "Anthony Morrow says he wants to change his jersey number after receiving angry tweets from fans. … This is the second time this season a new Bulls player has dealt with anger from fans, via social media, for trying to wear Rose's old number." … Did the Wizards inadvertently reveal a uni advertiser? Conrad Burry found this picture of the Wiz' mascot featuring an ad for "Clean Well," and notes it could be an ad patch, but also cautions the company is not local. … Here's the Saturday roundup from Zach Loesl: Color-on-color between Cleveland and Chicago; Color-on-color between Atlanta and Orlando; Color-on-color between Charlotte and Sacramento; Color-on-gray between Minnesota and Houston; and, Brooklyn wearing white on the road.

College Hoops News: Yesterday, the University of North Carolina Tar Heels wore white on the road at Pitt (from Ben Trachtman). According to a retweet from James Gilbert, Pitt requested to wear retro blue uniforms on Sr. Day." … Jimmer Vilk thought it was a great matchup, other than his "I LOVE BIG NUMBERS" hangup. … Yesterday's ticker included this shot of possible new UCLA and Cal unis (unconfirmed at this time — they may just be placeholders). Timothy Phillips writes, "Here are some screen shots out of the upcoming season UA catalogue. Both Cal and UCLA are only featured once in the same jersey that ran in Saturday's ticker but it appears they will become an UA school in the future. The UCLA jersey is known as the Retro, not sure if they will stick with a classic look or be forced to don some of the atrocious unis like they had under adidas." … ISU and Baylor went color vs. color yesterday (from Sedge). … The Rhode Island Rams had a "unique" look yesterday — almost looks like part of their Rams logo is on the waistband (from Clint Richardson). … Yesterday, Boston College had the numbers of their three seniors on the court: #2, Connar Tava; #5, Garland Owens; and #15, Mo Jeffers (from Andrew Cosentino). … Kansas had some 1950's "inspired" throwbacks last night (from Bill Stevens). Here's some pics. … Nevada and UNLV went color vs. color last night (from Bill Nutt). … Tweeter Brandon saw this photo and asks, "Possible new Nebraska red uni to the right of the stage. A companion to their white script jersey?"

Grab Bag: There was a good story on the history of the sports bra on Only A Game on NPR yesterday, points out Joe Makowiec, entitled "From The 'Jockbra' To Brandi Chastain: The History Of The Sports Bra." … "If you are interested in stories about banners for non-athletes. I'm spending my Saturday afternoon at a concert," says Mike Styczen. … "The sports/talk radio station where I work at in Eau Claire, WI, just got a new logo," says Lukas Hoffland.
.

.
And that's it for today. Thanks to Shannon Shark for all his contributions to the "Fisherman" article — give him a Follow on Twitter; and don't forget to give Gotham a follow on your preferred form of social media. I'll be back next weekend, but until then…
Follow me on Twitter @PhilHecken.
Peace.
.. … ..
"At first I thought Vancouver's jerseys had polka dots on them. When I zoomed in I said to myself, "Ah, polka *triangles*"¦"
If they're supposed to signify raindrops, why not just use raindrops?"
— Jimmer Vilk
.

.