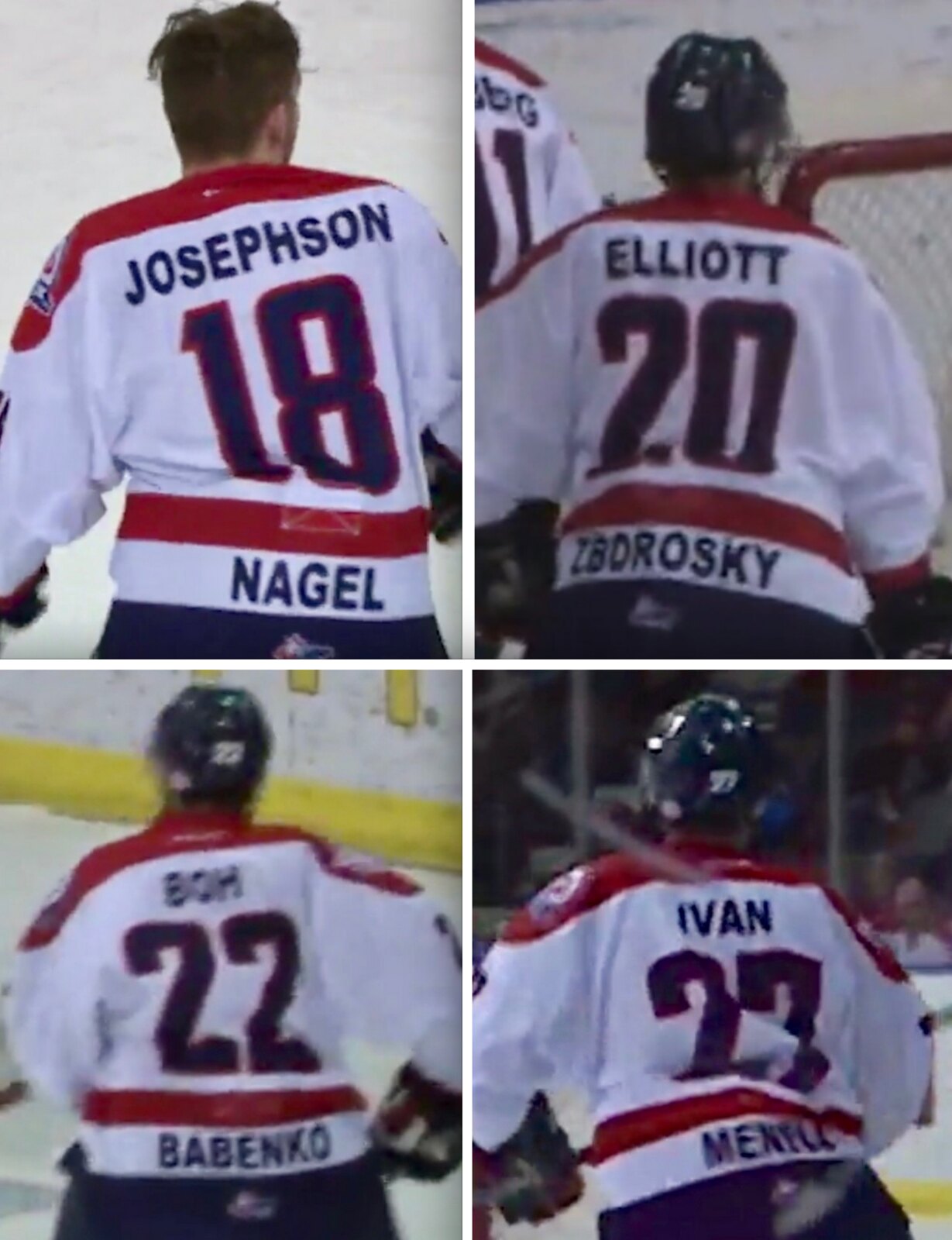 I've been writing about uniforms for nearly 18 years now, but sometimes I still see things I've never seen before. Take, for example, the players shown above, who play for the WHL's Lethbridge Hurricanes. They appear to have been wearing two NOBs — one in the usual spot and one down near the hemline. What's up with that? Are these double-decker FNOBs? Some sort of jersey advertising? Maybe season ticket-holders got to have their names added to the jerseys?
Nope, nope, and nope. Those screen shots are from last Sunday, when the Hurricanes wore 1997 throwbacks. That throwback promotion included something I've never seen before: The players wore their usual uniform numbers and two NOBs. The top NOB is the name of the player who wore that number back in 1997, and the bottom NOB is the name of the current player.
Weird, right? Seems like a lot of work for a major junior team to go through, plus you have to wonder how many of today's fans still remember or care about the players from 20 years ago. Then again, the Hurricanes did win the WHL championship that year, so maybe the fans do have a special place in their hearts for those players.
The problem with this approach (aside from it just looking weird) is that some of the current Hurricanes wear numbers that apparently weren't worn in 1997, so those players had the drop-down NOB for themselves but didn't have a corresponding upper NOB for their 1997 counterparts.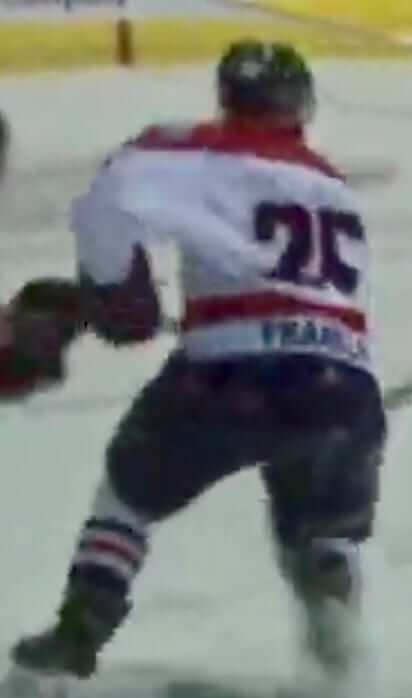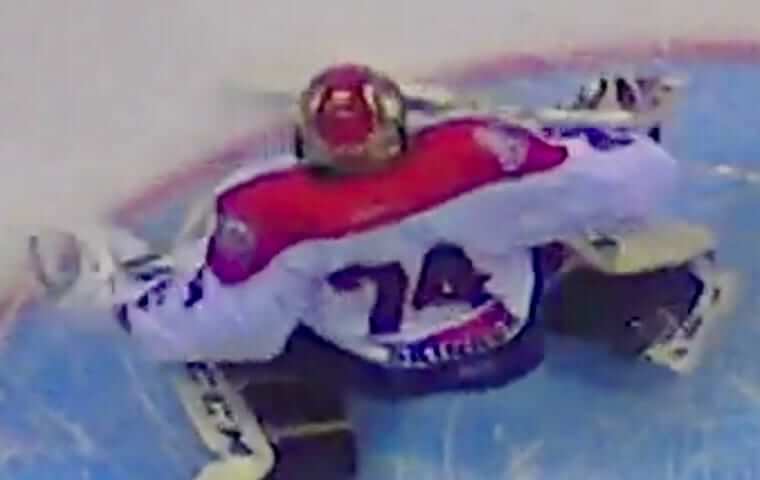 I appreciate the thought behind this gimmick, but I kinda think there has to be a better way. At the very least, they should swap the NOB positions and make it current player on top, old player on bottom, to avoid having the blank top spot like I just described. (Having the blank spot on the bottom would be much preferable to having it up above the number, methinks.)
Still, it's an intriguing idea, and something genuinely new (at least to me). What do you folks think of it? Would you want your favorite team, in any sport, to try something like this?
You can see the video from which I took these screen shots here.
(My thanks to Wade Heidt for bringing this one to my attention.)
•  •  •  •  •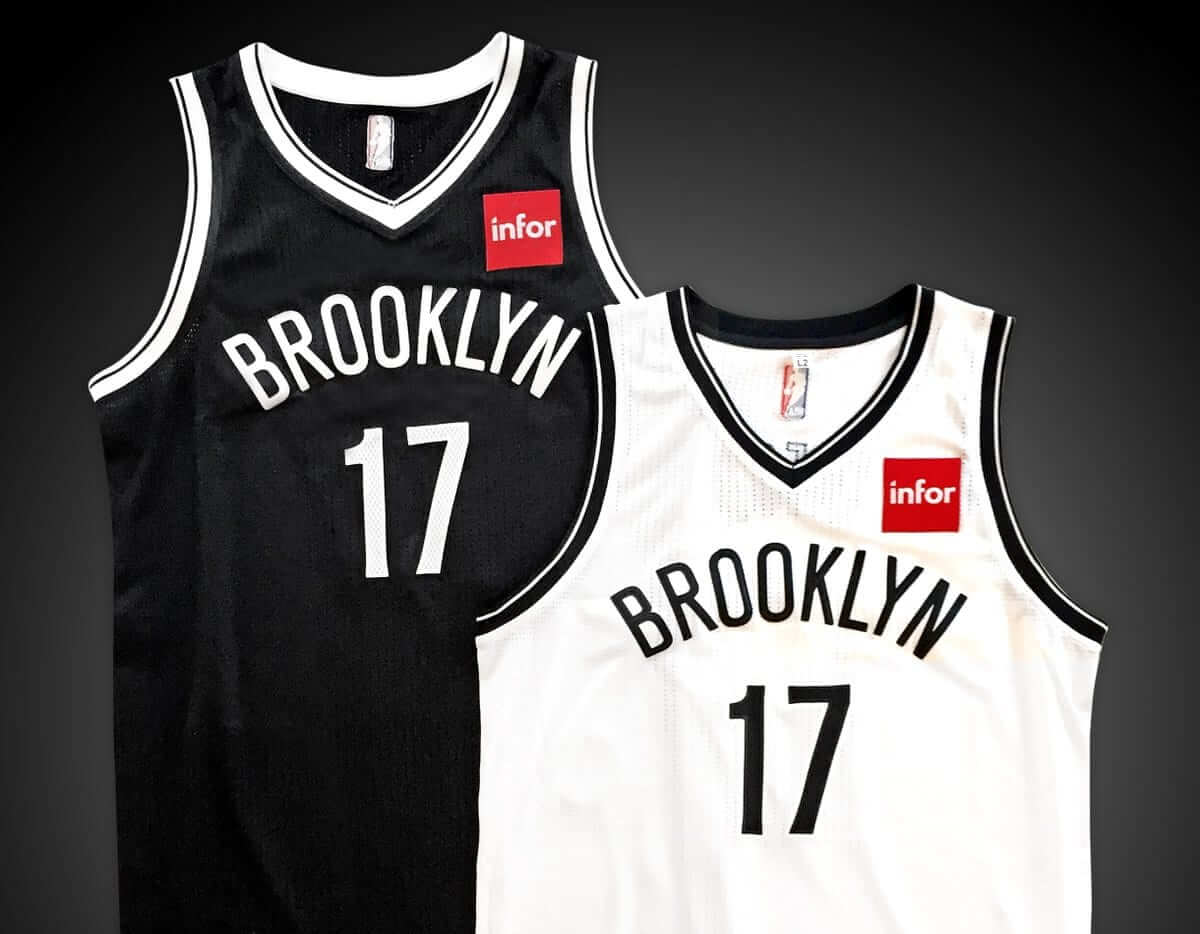 Late-breaking NBA news: Shorty after today's entry was posted, the Nets became the latest NBA team to announce that they'll have a uniform advertiser next season. The ad patch will be for Infor.
More on this tomorrow.
•  •  •  •  •
Candy break: I like Snickers and I like hazelnuts, so I was curious to try the new Snickers & Hazelnut bar, which launched in December. Nobody in my neighborhood seemed to be carrying it, but I finally found one yesterday.
My curiosity about this product was heightened by the fact that hazelnuts are a loaded topic for Mars, Inc., which owns Snickers. The company is owned by the famously secretive and somewhat eccentric Mars family, whose fondness for hazelnuts (particularly as compared to peanut butter) is spelled out in Joël Glenn Brenner's awesome 1999 book The Emperors of Chocolate: Inside the Secret World of Hershey and Mars. Here's a key passage from that book (it's semi-lengthy but worth it, trust me):
"You want to know why Mars doesn't make any products with peanut butter?" asks Alfred Poe, former marketing director of the [Mars] candy division. "It's because the family doesn't eat peanut butter. They don't like it. (John, Forrest Jr., and Jackie didn't eat peanut butter and jelly sandwiches growing up; they were raised in England, where peanut butter is despised.) In the early 1990s, Poe succeeded in convincing Mars to give peanut butter a try, but his PB Max candy bar didn't last long. Launched in 1990, the Mars brothers yanked it from the market just two years later, even though it had reached [annual] sales of $50 million, an impressive performance by most companies' standards. Mars continues to manufacture peanut butter M&M's, the only other peanut butter product in its repertoire. But even that candy languished for ten years on the drawing board before the Mars brothers gave permission for its launch, and marketing executives say the brothers continue to be hyper-critical of its performance.

On the other hand, Poe continues: "You want to know why they're so hung up on hazelnuts? Because they eat hazelnuts! It doesn't matter if Americans like peanut butter and despise hazelnuts. They're going to do what they're going to do."

Dozens of hazelnut-based products have been tested in the Mars kitchens over the years, and according to one food chemist in Hackettstown [site of the company's headquarters], the Mars brothers believe Toffifay — a hazelnut candy manufactured by Germany's Storck GMBH — is one of the best in the business, even though Toffifay sales have never topped $50 million."
Later on in the book, there's this:
The [Mars] brothers didn't eat peanut butter growing up, so they never recognized its allure for Americans. Fanfare, a European candy bar made with hazelnut paste, is a family favorite. American hate hazelnut paste, and tests of Fanfare have always failed in the United States. But that doesn't stop the brothers from repeatedly proposing hazelnut products, each of which fails at the product testing stage.
So with all of that as a backdrop, let's turn our attention to Snickers & Hazelnut, beginning with the name. It's not "Snickers with Hazelnuts," or "Hazelnut Snickers," or "Snickers Hazelnut" (the format used for the Snickers Almond bar) — it's Snickers & Hazelnut, which is really weird. It's like Tony Orlando & Dawn or something.
The explanation for the odd name can be found in the ingredients listing, where it turns out that peanuts are the third item listed; hazelnuts are fifth. So this is basically a standard Snickers bar with a few hazelnuts tossed in for window dressing.
This also explains the little illustration at one end of the wrapper, which shows a hazelnut and two peanuts:
By contrast, the Snickers Almond ingredients listing includes no peanuts, just almonds (although I wish it had a few more almonds). Similarly, its packaging only shows almonds, not peanuts. (Snickers Almond, of course, is just a slight tweak of the old Mars bar. But I digress.)
And how does this new candy bar taste? Before I answer that, I should say that I like Snickers, and I really like Snickers Almond. With that in mind, I'd say the new Snickers & Hazelnut tastes…
… very much like a regular Snickers bar. In other words, it tastes pretty good, but not in a particularly new or remarkable way. The hazelnuts don't taste or feel appreciably different or even discernible, at least not in the bar I ate yesterday. It would be interesting to do a blind taste test between the regular Snickers and the new hazelnut variation, but there's only so much candy I can eat. Need to detox a little before trying that, but I'll get around to it. Still, Snickers & Hazelnut makes for a fascinating new chapter in the Mars family's obsession with hazelnuts.
•  •  •  •  •
Keeps on ticking: I tallied up my 2016 tax receipts last night, which means it's time for my annual post about my pocket calculator.
So: In February of 1996 I left my last office job and began working from home. I took a few items with me from my office, including a cheapo pocket calculator that probably cost $1.99 at most. I'd already owned it for at least a year when I took it home with me.
That was 21 years ago. I've never changed the battery (nor could I, even if I wanted to "" it's a solid one-piece case that can't be opened). But the calculator still works.
Granted, I don't use it much anymore. It gets a workout on the one night per year that I tally my expense receipts, and I turn it on maybe two or three other times per year, max, but that's about it. Still, it seems pretty amazing that the battery hasn't died.
This year, as in so many previous years, I'm thinking, "Okay, so now it's finally gonna die." But it'll probably prove me wrong again. See you back here in a year.
•  •  •  •  •
The Ticker
By Alex Hider

Baseball News:  It appears that the spring training caps will have grey underbills this year. They've been black in the past (from  David Goodfriend). … Speaking of the spring training caps, here's a piece on how the Mariners are reviving their old trident logo (from Alissa Katz). … File this under "Welcome Wagon": The Royals put a Phillies wordmark on the dugout during the 1980 World Series (from  Scott Criscuolo). … The Puerto Rican team in the Caribbean Series had a coach and a player wearing Cincinnati Reds helmets, instead of the standard "PR" helmet (from Harrison Huntley). … Looks like Western Kentucky is using the old Twins font for a baseball team wordmark (from  Trent Steffes). … FAU  will wear a fauxback with some nice placket lettering and some awful collarbone horns this year (from  Cody Junot).

NFL News:  It appears that ESPN blurred out a beer logo in this Twitter graphic of Rob Gronkowski (from  Adam Vitcavage). …  Check out the weird facemask for former Atlanta Falcon Ray Brown. "Looks like Julian Edelman's beard," says Ray Hund.  …  Proof that the Rams should have never ditched yellow for athletic gold (from Pro Football Journal). …  Also from  Ray:  Check out Mad Magazine's take on NFL uniforms, circa January, 1972. … Clayton High School in Wisconsin appears to be poaching the Chicago Bears logo (from  Karl Greenfield). … Here's how Trayton Miller  imagined  NFL teams as soccer teams.

Hockey News: Lots of rainbows in the NHL last night in honor of "Hockey Is For Everyone" Month. The Penguins updated their Facebook avatar, and Evander Kane had a rainbow NOB, to go along with the rainbow tape job on his stick, durig pregame warm-ups (from  The Goal Net). …  The Blues shared what appeared to be rejected uniform concepts on Twitter yesterday (from  Joey). …   The Panthers' equipment manager had a Reddit AMA the other day, and explained why the Panthers and Stars went white-on-white a while back (from  Josh Coles). … New Leafs goalie Curtis McElhinney has a new mask with a vintage logo (from Aloysius Koufax). …  The Edmonton Journal ran a poll, and most Oilers fans prefer orange jerseys (from  Moe Khan). … Lots of Hartford Whalers merch is for sale at the Hartford airport. But Benjamin Utter spotted this this T-shirt, which actually shows the logo for the Plymouth Whalers, a now-defunct major junior team. Odd that Reebok would make a shirt showing them as an NHL team. … Phil Kessel of the Penguins was showing only two sock stripes, instead of the usual three, last night (from Jeff Perilman). … Former Blackhawks coach Billy Reay has an awesome sweater in this photo (from  Ray Hund). …  Ray  also sent along a collection of hockey-themed New Yorker covers.

NBA News: There's no way to link directly to this, but ESPN.com's Celtics beat reporter says, "Jonas Jerebko broke his nose during a collision with teammate Jaylen Brown in Sunday's win over the Los Angeles Clippers. Jerebko is expected to wear a mask when Celtics open a four-game road trip on Wednesday in Sacramento."

College Hoops News: Color-on-color games are now extremely common in the NBA, and they're becoming more common in the NCAA as well. Case in point: Wake Forest and Notre Dame went color-on-color last night, with the Irish wearing their gold alternates for the first time this season (from  Andrew Cosentino). … Another color-on-color game: Northwestern and Illinois (from  Brent Yarina).

Soccer News: New red third kit for US Men's National soccer team, with another kit, for the Gold Cup, possibly on the way (from  Tyler Moss and Robert Hayes, respectively). … New home kit for New York City FC  of the MLS. … The LA Galaxy will unveil a new secondary jersey today (from Phil).