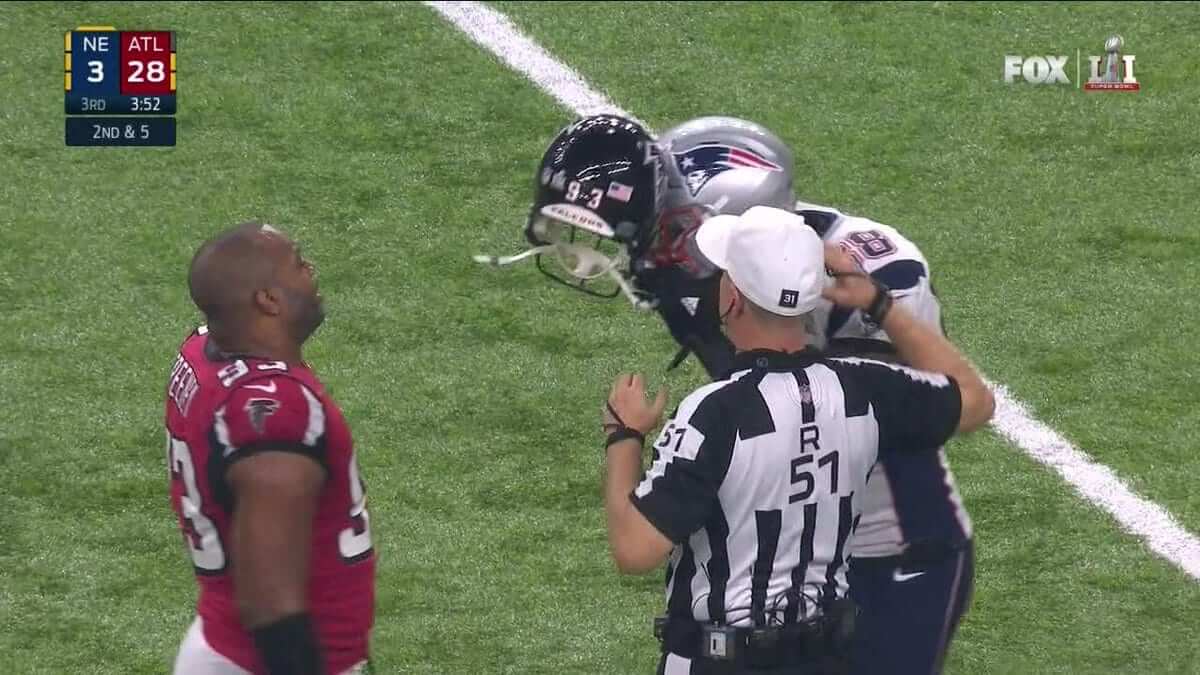 Click to enlarge
Weird scene in the third quarter of last night's Super Bowl, as Falcons defensive end Dwight Freeney and Patriots tight end Martellus Bennett somehow got their facemasks interlocked. Here's how it looked in real time:
So far this is my favorite #SuperBowl highlight. (cc: @UniWatch @PhilHecken) pic.twitter.com/gI2liABlEt

— Damon Hirschensohn (@nevadapackfan) February 6, 2017
In other notes from the final game of the NFL season:
•  Pats quarterback Tom Brady was wearing a hand-warmer pouch (although it was rotated toward his backside), an odd accessory to be using at a warm-weather site with the roof closed:
•  In another odd development, Pats coach Bill Belichick wore a completely blank pullover — no Pats logo or lettering, no Nike logo creep, no Super Bowl logo:
As you can see there, Belichick did wear Nike track pants. He did wear a Pats sweatshirt during pregame warm-ups, but not during the game.
Several people told me his game pullover was actually inside-out, but that's not right. For starters, the zipper pull on his collar was on the right side, which wouldn't be the case if the garment had been inside-out. During the postgame press conference, where the lighting was different, it became much more apparent that the pullover had previously had a Patriots logo, which had apparently been removed:
Turns out he had worn this same pullover, with the telltale stitching where Flying Elvis had been removed, during practices last week: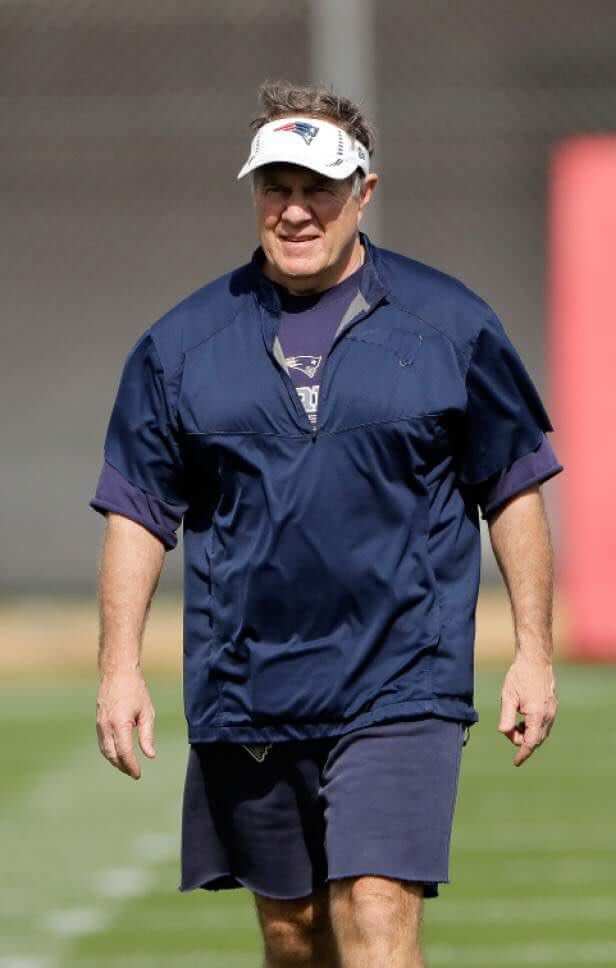 Lots of people asked me if Belichick was trying to stick it to the league for some reason. I have no idea, but I'll ask around. Lots of people also asked if he'll be fined. I honestly don't care, so I won't ask around about that, sorry.
•  Speaking of missing logos, Brady appeared to be breathing Ethier during the postgame activities:
•  And speaking of Brady, he believes that the jersey he wore during the game was stolen. (Update: It actually wasn't stolen. The equipment staff moved it.)
•  Neither team wore captaincy patches. I didn't have time to check on how often that's happened in the "C" patch era. Perhaps Jay Braiman, our resident Super Bowl number-cruncher, can check on that and report back to us.
•  In an odd move, the NFL promoted the game's livestream on NFL Mobile by showing the Falcons wearing white Reebok-era uniforms.
Watch #SB51 LIVE on NFL Mobile.

Only with Verizon: https://t.co/UdSxtWadoy pic.twitter.com/RRSKqsHZG3

— NFL (@NFL) February 5, 2017
•  While this isn't a Super Bowl thing per se, it appears that the Pats recently made an adjustment to their helmet logo decals:
@UniWatch small change, but it looks like the patriot face on the helmet decals went from silver to clear sometime after Oct pic.twitter.com/NsGUSlzJro

— Pro Line Designs (@prolinedesigns) February 6, 2017
And that's a wrap. Congrats to the Patriots and their fans. How long until pitchers and catchers?
(My thanks to Grady Bing, Kenneth Fields, Joe Gemma, and Timmy Shannon for their contributions.)
•  •  •  •  •
So this happened: I'll let this one speak for itself.
•  •  •  •  •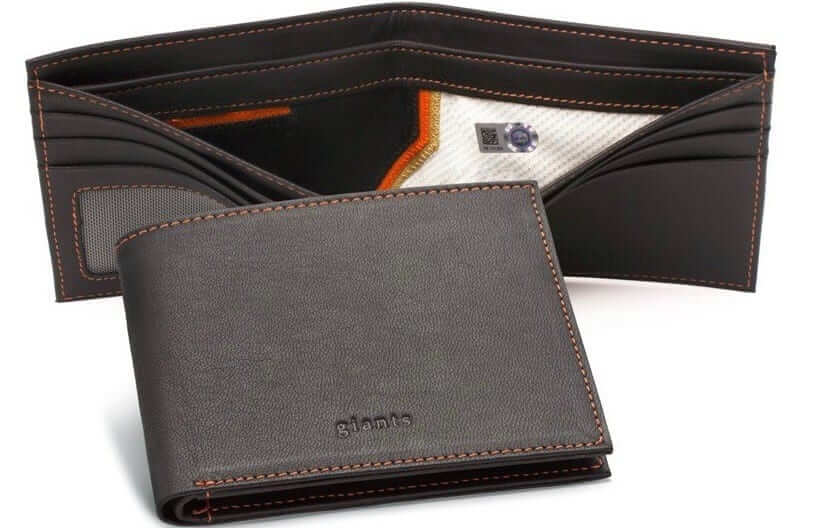 New advertiser shout-out: As you may have noticed in the right-hand sidebar, the folks at Tokens & Icons are advertising their leather wallets, which are lined with swatches from authenticated game-used jerseys. I mentioned these in my annual holiday gift guide two months ago and also gave away one of the wallets in our 2016 year-end raffle (where it was the most-requested item on people's raffle wish lists), so I'm really happy to them advertised on the site. They're available for most MLB, NFL, and NHL teams, and also for several major colleges (scroll down a bit a mouse over the wallet photos to find the "Collegiate" selection on this page). I hope you'll consider them for your shopping needs. Thanks.
•  •  •  •  •
KRC update: The latest installment of Key Ring Chronicles is about a Swiss army knife. Check it out here.
•  •  •  •  •
The Ticker
By Alex Hider


Hockey News:  The Caps wore white at home yesterday against the Kings. That's the second straight game that the Kings have worn black on the road (from  Nas.) … The Pittsburgh Blackhawks? Or Chicago Penguins?  (From  The J Factor). … Good workaround by the makers of this Kris Letang candy bar, who used what looks like the Pirates' '90s wordmark instead of a Penguins logo (from  David Shucosky). … This cool time-lapse video shows Bridgestone Arena moving from Preds hockey to Arenacross motorsports.

NBA News:  All of these are from Zach Loesl: GThe Raptors and Nets went color-on-color in Brooklyn yesterday. … The Thunder and Trail Blazers also went color-on-color. …   The Nuggets and Spurs  went color on "color" on Saturday. … Grizzlies coach David Fizdale wore a memorial pin for former  National Basketball Coaches Association executive director Michael H. Goldberg. … Not sure if we've seen advertising on this part of the scorers' table before. … Finally, has anyone noticed how  Madison Square Garden's  backboard posts are super skinny?

College Hoops News:  Hakeem Olajuwon wore Nos. 34 and 35 while playing in college at Houston. Anyone know why he switched? (From  Bubbi Lucas.) … Wake Forest and Georgia Tech went color on color on Saturday (from  James Gilbert). … Color-on-color matchup between the Penn State and Northwestern women "" with the Wildcats in pink (from  Travis Clemens).

Grab Bag: WWE designed football helmets for some of its biggest superstars (from  Yancy Yeater). … There's a meme circulating on social media that features strange Atlanta Falcons uniforms. …  Air Force lacrosse is taking a page out of the football team's book and wearing "Sharktooth" helmets this season (from  Jared Buccola). …  Looks like there are some inconsistencies on Egypt men's national team's's kit (from  Donald Wine II). … Here's the logo for the eight-team Australian Football League women's competition, which started this weekend (from Graham Clayton).