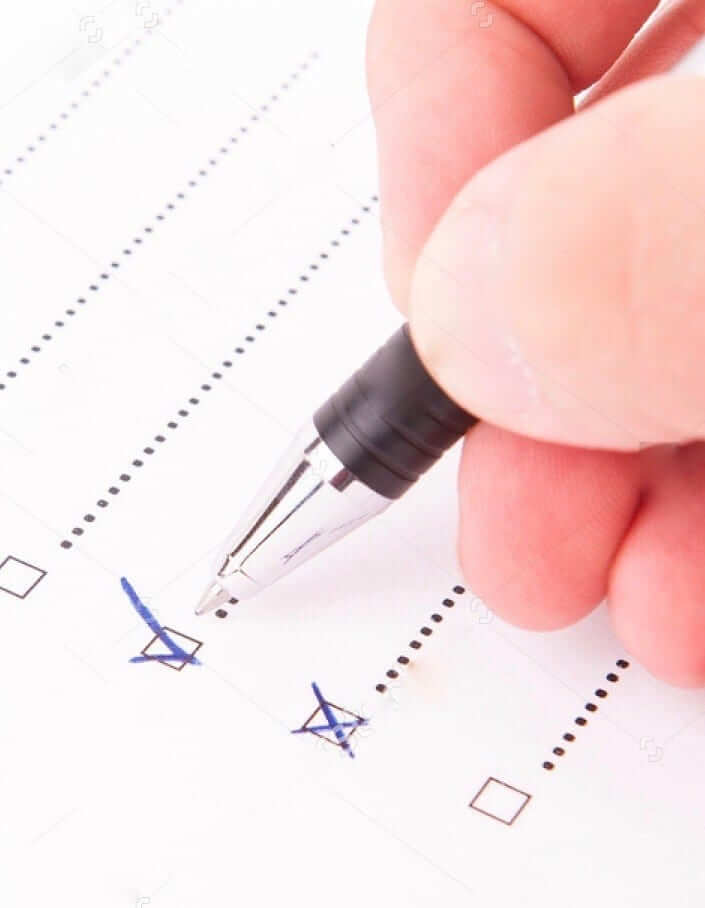 I want to go off-uni today and discuss a topic that's been on my mind lately. It started when I recently donated blood, as I do every two months. As usual, I had to fill out a form with dozens of questions, which meant I had to fill in dozens of boxes. For some reason that got me thinking about the various ways to fill in a box on a form, and how some of those ways are more satisfying than others.
The way I see it, there are four ways to fill in a box on a form:
1. A check mark. For many years, this was my preferred option. There was something about making the two-stroke check mark — ka-CHECK! — that I found very satisfying.
A side note: Most check marks go from left to right (like the one in the photo shown above). But I've occasionally seen people do a check mark that goes from right to left, like this. That looks completely backwards to me, I guess because our culture is used to reading and writing from left to right, so having the check mark leaning to the left feels wrong. Several sources on the internet indicate that this "backwards" check mark is commonly used by left-handed people, but I'm lefty myself and have never done this type of check.
Also worth noting: If you're filling out a form on the internet and have to click on a box, you usually end up with a check mark, but it's always fully within the confines of the box. Does anyone actually draw check marks like this? Or, as I suspect, do human-drawn check marks always extend beyond the box parameters?
2. An X. Sometime in the last two years or so I switched from using check marks to X marks. I can't really explain why — the X just started seeming more satisfying, even though it's clearly slower and less efficient (you have to lift your pen off the paper in order to start the second stroke).
Again, I'm pretty sure nobody stays within the confines of the box. Hell, going outside the box is practically a small transgressive thrill, right? I also like the "X" to be asymetrical and imperfect, which feels like an organic counterpoint to the staid blandness of the official form being filled out.
3. A ticking mark. I refer here to a simple diagonal stroke. I've never liked this method — feels like a lazy, half-assed attempt at a check mark — although I know it has its adherents. Definitely faster and more efficient than the other methods, for what that's worth.
Also: Does anyone do a "backwards" version of this method, as some people do for a check mark? If so, I've never seen it.
4. Filling in the box. Not sure I've ever observed anyone taking the effort to carefully fill in each box, like on a bubble form, but it's certainly an option.
So those are the four primary methods. Did I overlook another possible option? Which one do you prefer to use? if you're left-handed, have you ever done the "backwards" check mark?
ӬӬDiscuss.
•  •  •  •  •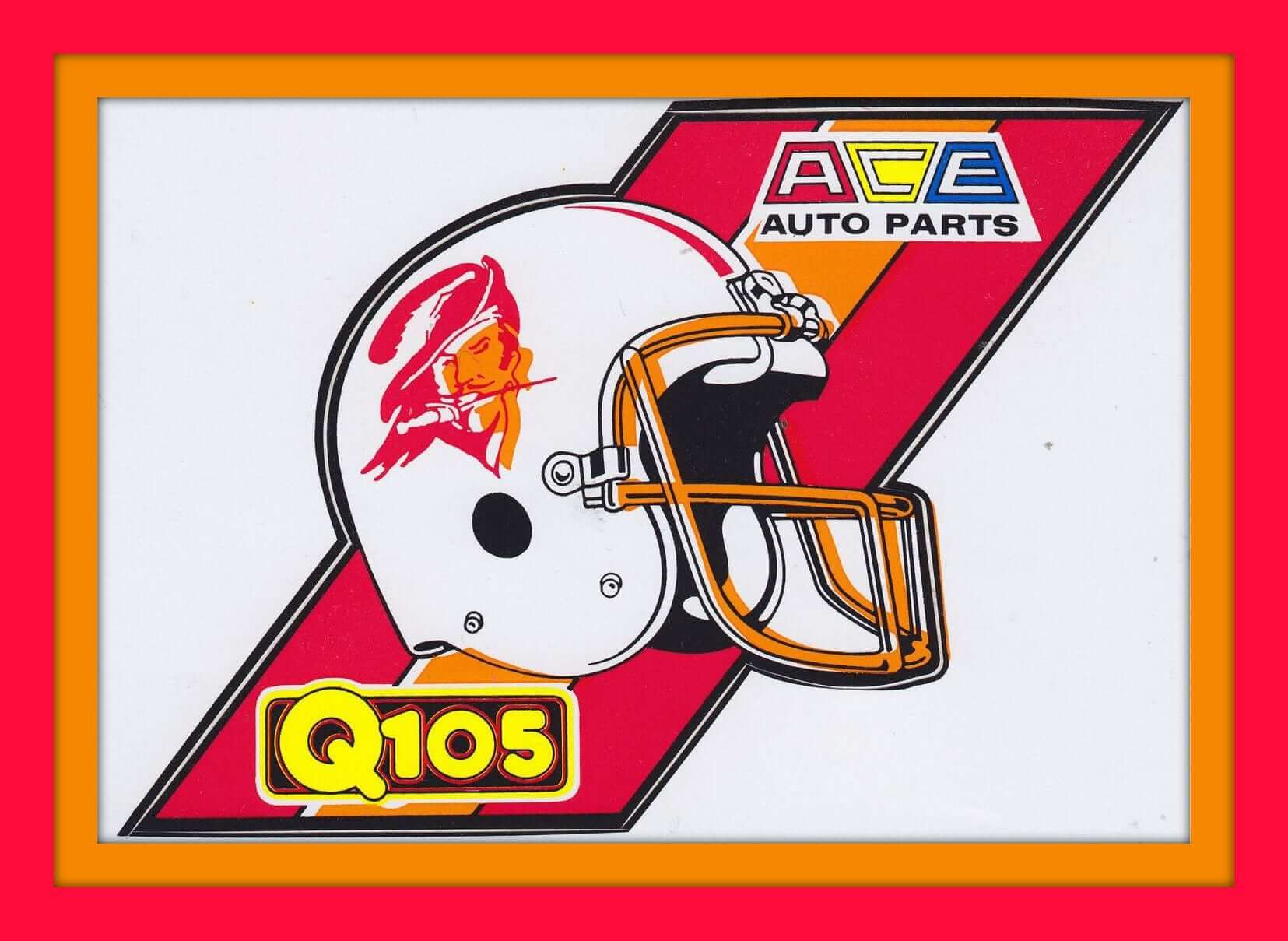 Click to enlarge
Collector's Corner
By Brinke Guthrie
Back the Bucs! ACE Auto Parts and Q105 of Tampa Bay were behind this 1970s Bucs sticker. Looks like the color registration was just a tad off, but Bruce looks plenty fierce anyway. And that radio station still has the same logo today!
Now for the rest of this week's picks:
•  Check out this 1960s New Orleans Saints bobble — in perfect condition!
•  Pro football teams were stuck on Chiquita bananas — says so right in that print ad!
•  Here's a really nice promo item I've never seen before: All 26 (at the time) NFL teams are represented in this cap patch collection. Each patch is 2″ and they're all mounted in what looks like an official league catalog. [As a catalog collector myself, I love this one. Too pricey for me, otherwise I'd definitely bid on it. Great find! "" PL]
•  I clearly recall this Dallas Cowboys poster hanging in the Sanger-Harris department store's NFL Shop in Dallas, in the fall of 1971.
•  This bevearage glass has the NFL shield and Eastern Division helmets on it and looks like a promo glass. No sponsor's mark, though.
•  Interesting-looking 1970s New York Football Giants bumper sticker. Why put so much tiny player detail on there when you're never going to see it from the road?
•  Another Giants item: Who here likes this stylized "NY" logo from the mid-1970s, as shown on this gumball helmet? I like it myself. Why won't they do a throwback of this one? [Probably because that was a miserable period for the team. They went 5-9, were in the midst of their nomadic/homeless period (a year at Shea following two years at the Yale Bowl), and were generally viewed as an aimless, bumbling franchise. Not a fondly remembered era. "" PL]
•  Now that is one cool-looking retro Eagles sticker. from the "National Decalcomania Corp." of Philadelphia, PA. Speaking of the Iggles, here's a nice kids' Sears sweatshirt to take a look at.
•  Did someone say Sears? Check out this 1970s Vikings zip-front sweater.
•  Ah, just look at the colors on this Air Coryell-era Chargers pennant. While the powder blues can't be beat, this is a close second.
•  •  •  •  •
Click to enlarge
KRC update: The latest installment of Key Ring Chronicles has a uniform component. It's about a button from a fire department dress uniform, and also a St. Anthony medal (see above). Check it out here.
• • • • •
The Ticker
By Mike Chamernik

Baseball News: A few sporting goods stores in Kansas City are taking orders for custom Yordano Ventura memorial jerseys, with "RIP" stitched under the numbers (from Phil). … Tennessee baseball's Twitter account ran a photo yesterday of pitcher Zach Linginfelter, who had a good amount of patching and stitching done to his pants (from Phil). … A bunch of participants at Braves fantasy camp wore Dale Murphy's No. 3. … A new study shows that jet lag can have a significant effect on MLB players.

Pro and College Football News: Arthur Blank supported both of the teams he owns at the NFC Championship game on Sunday, wearing a nifty Falcons tie and a pin for Atlanta United FC, a MLS expansion team. The teams will share Mercedes-Benz Stadium after it opens in the fall (good spot by Douglas Ford). … In the spirit of Conrad Burry's annual playoff brackets for each sport, Todd Hough made his own tracker. … LSU football recruits are being given outdated jerseys.

Hockey News: Earlier this month the Hurricanes hosted a Make-A-Wish recipient with a compromised immune system. His Hurricanes surgical mask wouldn't stay on right-side up. "Pictured here, it's upside-down, as compared to the logos on the backdrop," says Elena Elms. "I never noticed that the logo even had an upside/downside myself." … Utica Comets goalie Thatcher Demko will wear neon-accented pads on Friday (from Ryan Biech).

Basketball News: The Jazz wore navy at home last night as the Thunder wore their sleeved white unis on the road. Also, the Nets wore black alts at home against the Spurs, who wore white (from Zachary Loesl). … The Knicks' Lance Thomas will wear a mask after fracturing an orbital bone last week. … A Milwaukee community group is looking to acquire the old MECCA floor and use it in an outdoor basketball court (from Jeff Ash). … Someone on the Bucks game staff drinks from a water bottle with an outdated team logo (from Scott McMichael). … An ad at a D.C.-area grocery mistakenly used a Wizards logo instead of a Capitals logo (from Josh Claywell). … Nevada will wear pink uniforms this week as part of Coaches vs. Cancer. Here's another look (from Damon Hirschensohn). … The WWE was in Cleveland last night, so Brock Lesnar's "Suplex City" shirt featured the Cavs' "C" (from Vaughn Johnson).

Soccer News: FFA — that's the Football Federation of Australia — has new logos for its A-League, W-League, and Y-League (from @j_foreigner). … European soccer, along with rugby, Aussie Rules, and Gaelic games, have seen numerous examples of teams facing off wearing colors that were too similar (from George Chilvers).

Grab Bag: Many Chicago bars have Old Style signs hanging out front. In the mid-1970s, the brewing company gave the signs out to bars for free, and even offered to install them. … Tom Arnel ran in a relay on the Occoneechee Speedway Trail in North Carolina. It used to be an old dirt race track where Richard Petty used to drive. … New name and logo for the University of Arkansas at Little Rock. … Aston Martin may be introducing a new logo. … UNC lacrosse goalie Brian Balkam had a ball go through his helmet during a scrimmage (from Tris Wykes). … "During a race, NASCAR uses several flags to communicate what's happening to drivers and fans," says Trevor Williams. "With a new format that includes winning stages within the race, this is the first time I have seen a 'stage checkered flag that is green and white instead of black and white. However it may been used in All-Star races where there are a lot of stages, but I don't watch those."