Barring a surprise, the uniforms shown above are the ones we'll be seeing in Super Bowl LI two weeks from now. The NFC is the designated home team this time around, and there's no reason to think the Falcons won't choose to wear red, which means the Patriots will wear white.
It's not the greatest uniform match-up, mainly because Atlanta's design is a clown show. New England's would be perfectly acceptable if not for the ridiculous side panels (although they definitely get bonus points for the striped socks).
As usual, longtime reader Jay Braiman has wasted no time in compiling his annual compendium of Super Bowl uniform minutiae. I hereby turn the floor over to him:
Assuming the Falcons wear red, that would make them the third team to wear two different primary jersey colors (other than white) in Super Bowl games, after having worn black in Super Bowl XXXIII. The Patriots (red and blue) and Broncos (orange and blue) are the others. This does not count the Eagles, who wore different shades of green in their two Super Bowl appearances, or the Seahawks, who wore different shades of blue.

Speaking of different shades of the same color family, just so we can start another debate about that, this is either the seventh (counting only the same or similar shades) or the 10th (counting all shades of the same color family) time that one Super Bowl team's primary jersey color — in this case, the Falcons' red — is a trim color for the other team (primary jersey only; not counting alternates). Limiting to the former, the primary-color teams are 5-1 against the trim-color teams; expanding to the latter, the record swells to 8-1. Here's the list:

Same/similar shade:

• SB XII: Dallas (blue primary) def. Denver (blue trim)
• SB XXI: NY Giants (blue primary) def. Denver (blue trim)
•  SB XXVI: Washington (red primary) def. Buffalo (red trim)
•  SB XXXVII: Tampa Bay (black trim) def. Oakland (black primary)
•  SB XLIII: Pittsburgh (black primary) def. Arizona (black trim)
•  SB XLVIII: Seattle (blue primary) def. Denver (blue trim)

Expanded to different shades of same color family:

•  SB XX: Chicago (blue primary) def. New England (blue trim).
•  SB XXIV: St. Louis (blue primary) def. Tennessee (blue trim).*
•  SB XXXVIII: New England (blue primary) def. Carolina (blue trim).

*The Titans, of course, used blue as both primary (navy) and trim (powder) colors.

The Falcons are the seventh team to have a major uniform overhaul between Super Bowl appearances (the others are the Patriots twice, Giants, Broncos, Seahawks, Rams, Eagles; this list doesn't count the 49ers, who changed back before returning to the Super Bowl). These teams are 3-4 (Patriots are 1-1) in their first Super Bowl appearance in the "new" uniform design.

This is the fourth year in a row (first time that's happened) that neither team's helmet logo includes any letters of the alphabet. It happened three times in a row one other time, from SB XXVI to XXVIII (Washington/Bills and Cowboys/Bills twice). This is also the fourth year in a row, also an unprecedented streak, that the left and right sides of both teams' helmets are mirror images of each other.

This is only the fourth time that both teams have no striping or other decal down the center/crown of the helmet. The other three were SB IV (Chiefs/Vikings), XXXVI (Patriots/Rams), and XXXIX (Patriots/Eagles).

Assuming Atlanta's Matt Ryan starts the game for the Falcons, he will be the first Super Bowl starting quarterback to wear No. 2. After he starts, the only number from 1-19 never worn by a Super Bowl starting quarterback will be No. 6.

Tom Brady is one of 11 different Super Bowl quarterbacks to have worn No. 12 (5 of those, Brady included, in more than one game), by far the most, and this is the 25th Super Bowl in which at least one of the starting quarterbacks will wear No. 12. Those QBs are 15-12, including Brady's 4-2. That also includes three games in which both starters wore No. 12 (Roger Staubach and Bob Griese in SB VI; Terry Bradshaw and Staubach in SBs X and XIII).

In addition to Ryan's No. 2, Nos. 1, 4, 18 and 19 will be the only numbers worn by only one Super Bowl starting quarterback (two of those in more than one game and one of those for more than one team).

This will be the third time that the difference between the two starting quarterbacks' numbers is exactly 10. The quarterback with the higher number won both of the previous times (Doug Williams [17] over John Elway [7] in SB XXII, and Peyton Manning [18] over Rex Grossman [8] in SB XLI). Overall, starting quarterbacks wearing double-digit numbers are 14-11 against those with single-digit numbers.
And that, my friends, is some serious uni-centric number crunching. Let's please have a round of applause for Jay (along with the inevitable fact-checking of the items he might have miscalculated and the sniping over certain items that are open to interpretation). Nice job, as always!
Not mentioned by Jay: All but one of the past 12 Supe winners have worn white. This has led some fans to ask me, "Will the Falcons choose white, just to be safe?" I'm fairly certain that the answer to that is no. But we'll find out soon enough.
•  •  •  •  •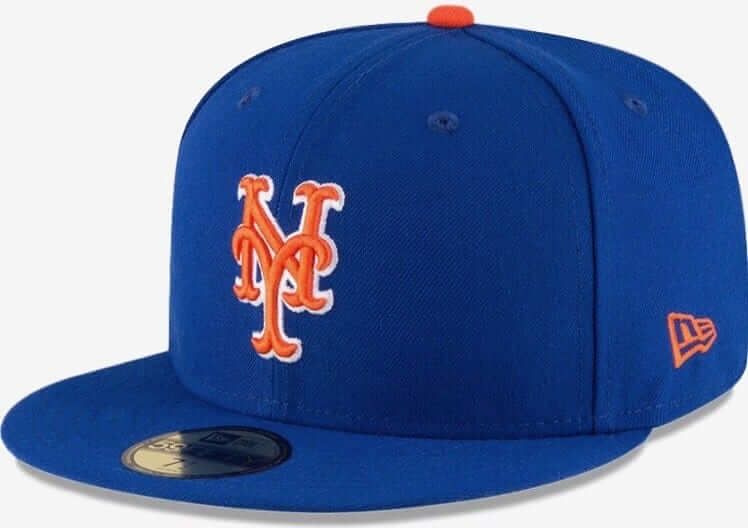 Mets/QBC update: The cap shown at right is the Mets' new home alternate cap. It replaces this cap, which is basically the same thing but with a different-colored brim. The new cap is the same as the Mets' primary cap, but with the completely pointless white outlining on the logo (and, of course, the even more pointless New Era logo creep, but that's a separate issue).
This new cap is one of several issues we'll be discussing on Saturday at the Queens Baseball Convention's uniform panel, which I'll be chairing. Panel participants include uniform designer/historian Todd Radom; Mets uniform number savant Jon Springer; Mets stitcher Russ Gompers; Mets game-used jersey collector Nick DiSalvo; and our own Phil Hecken.
Doors open at 11:30am, and our panel will run from 2-3pm. Further info and tickets here.
• • • • •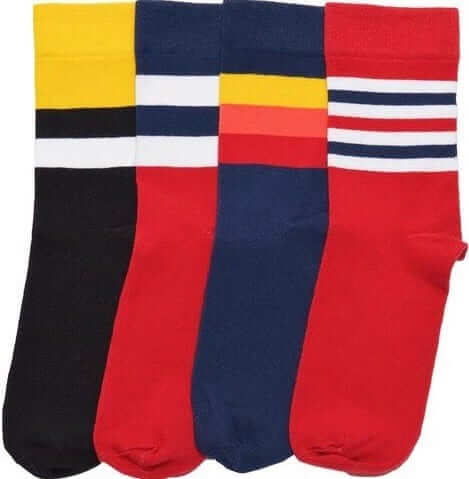 StripeRite update: The first batch of StripeRite socks, which had sold out, is now back in stock. Three of the four designs from the second batch remain available as well.
•  •  •  •  •
The Ticker
By Alex Hider

Baseball News:  Fake news: Fox Sports  ran a story titled "Yankees First Team to Number Uniforms" yesterday. Of course, we all know  the 1916 Indians were the first team to wear uniform numbers (thanks Phil). … JUCO school  Lower Columbia Red Devils will wear an alternate jersey with that includes the  zip code for Longview, Washington "" the town in which the school is located. Anyone know of any other team that uses a zip code on its jerseys? (From Michael Carman.) …  Check out this old FAU cap based on the '80s White Sox batterman logo (form  Hem). … Brewers GM David Stearns got married this weekend and had a Miller Park cake at his wedding (from Mike). … Ronald Kremer sent along a photo of his grandfather, Frank Kunkel, when he played for the Williams Crushers, a local St. Louis team, back in the early 1920s. The uniform is notable for having a plaid pattern, similar to what the Brooklyn Robins and New York Giants wore in 1916.

NFL News:  Three-digit uni alert: Ziggy Ansah of the Lions wore No. 275 on his jersey in a commercial for a pizza chain (from  Jeffrey Sak). … There were lots of NFL shield soda displays in grocery stores around the country yesterday (from  Kevin Kielczewski  and  Rob Warner). …  Jonna Zwiep  sends along a forgotten tidbit from the 2007 NFC Championship game. With frigid temperatures in Green Bay, Giants equipment manager Joe Skiba added a layer of sheepskin in the players' helmets for extra warmth against the sub-zero temperatures in Green Bay. You can see a bit of sheepskin poking out of the earhole of the helmet in this photo.

College Football News:  … Uniformswag gave its Uniform of the Year award to  Air Force's alternates   (from  Bill Schum). … St. Norbert College, a DIII school near Green Bay,  will have four new uniform combinations next season (from  Brian Kerhin).

Hockey News:  If the video game NHL 17 is correct, it would appear  that the Penguins will be wearing yellow helmets with their Stadium Series jerseys (from  Gav). … Red Wings G Jared Coreau appeared to tape over the maker's mark on his goalie mask yesterday (from  Superyan). … A Minnesota fan wore a Wild/North Stars frankenjersey the other day. Just stick to the right side, buddy (from Tony Tengwall). … The Bridgeport Sound Tigers of the AHL appear to sell ad space on their helmets (from David Wilock). …  KHL All-Stars were given a team jersey on Sunday "" except for Enver Lisin, who wore the jersey for his team,  Salavat Yulaev (from  @TovarishchLisa).

Basketball News: Hall of Fame inductee and longtime Ranger Ivan Rodriguez received a personalized jersey from the Dallas Mavericks on Sunday (thanks  Mike). … One Raptors fan is wearing his team on his sleeve "" and all over the rest of his jacket. That guy is apparently known as a Raptors "superfan" (from  Mike). … The Los Angeles D-Fenders of the D League will become the South Bay Lakers after this season (from  Andrew Beckner). … Michigan wore blue at home on Saturday against Illinois. That move was in response to an Illinois' Maverick Morgan referring to the Wolverines as a "white collar team" (from  Stephen Ceruolo). … Awesome lettering on this vintage Tulane warm-up top (from  Craig Bates).

Grab Bag:  A member of the Arsenal medical staff was carrying a bag with Champions League branding the other day but taped over the logo because the Gunners were playing a Premier League match (from  Collin Pearce). …  Yahoo Sports shared this  video about short-lived sports logos yesterday (from Jamie Burditt). … Couple of racing notes from David Firestone: Kyle Bush is wearing the same suit he wore last season "" only the Sprint Cup patch has been replaced with the new Monster Energy Cup Series logo. Busch and  Sebastian Vettel swapped helmets after Sunday's Race of Champions. …  Here's a behind-the-scenes look at boxer Canelo Alvarez's personal logo and the designer behind it (from  Gabe Oppenheim).