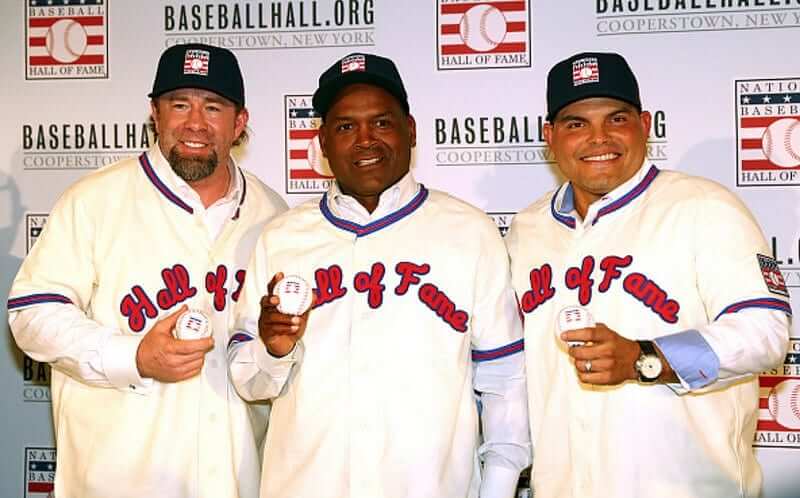 By now we know the routine: Each January there's a new class of Baseball Hall of Fame inductees. And that means each January, like clockwork, we have to see the new inductees wearing those miserable Hall of Fame jerseys. That was the case yesterday in Manhattan, where Jeff Bagwell, Tim Raines, and Ivan Rodriguez appeared at a press conference (see above).
Does anyone like these jerseys? Seriously, anyone? They look like a cross between Little League rejects and something you'd see marked down 70% at a tourist trap gift shop. They have no visual connection to the Hall of Fame's logo, or to anything else I can determine. Frankly, I think having middle-aged men wear jerseys over their street clothes is silly to begin with, but these particular jerseys make the spectacle a lot worse. The whole thing is an embarrassment.
Each year around this time I think, "No way are they gonna keep that design next year. They'll definitely have something new by then." But then it never happens. I've finally accepted the reality that they have no intention to change the design.
So it's up to us to change it for them. That's my challenge to all you concept designers out there: Please, for the good of the game and the greater good of the uni-verse, redesign the Baseball Hall of Fame's jersey. Send me your designs by the end of next week, which should be more than enough time to come up with something good. You can't possibly do worse than what they're using now.
I have friends who work at the Hall. I've never discussed the Hall's jersey with them, because I don't want to put them on the spot regarding their employer (although I assume they find the design as cringe-worthy as I do), and I didn't tell them I'd be writing about this today. But I promise to send them the best entries I receive from you folks. Get crackin'.
Update: Phil reminds me that he tackled this same issue two years ago, and presented some possible new designs. But I think we can do better. Get crackin'!
•  •  •  •  •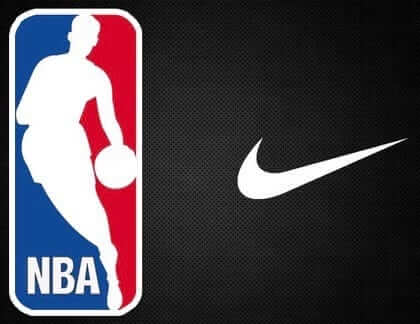 Meanwhile, over at the mall: As you know, I don't usually care about the retail/merch side of things. Still, there are some interesting developments on that front, at least in the NBA. Earlier this week there was the news that lower-priced NBA replica jerseys will no longer be sold at brick-and-mortar stores starting next season. And now it appears that that's not the only squeeze being put on retail shops.
I heard yesterday from a guy I've known for years. He runs a decent-sized sporting goods shop, and he recently received a letter from Nike, informing him that he will not be permitted to carry Nike's NBA product starting next fall. The letter, which he showed me, included the following:
Compared to current distribution, we are dramatically reducing the number of retailers that will carry NBA licensed products produced by Nike. Unfortunately, under this distribution model we have determined that we will not allocate Nike NBA products to your account.
"I just attended the Sports Licensing and Tailgate Show in Las Vegas," said my sporting goods source, "and every retailer I spoke to said they received the same letter. We think there are only about 100 or so retailers who will be carrying NBA from Nike. Even some of the larger accounts were shut out. This business is getting more difficult every day with Fanatics throwing their weight around and just bullying these companies into exclusive deals. It's a shame, too, because Nike used to be one of the best and easiest companies to work with."
I don't buy any of this stuff, so none of this makes a difference in my life. But it might in some of yours. Assess as you see fit.
•  •  •  •  •
ESPN reminder: In case you missed it yesterday, my latest ESPN column is about the new Schutt F7 football helmet, which is shaping up as the next major leap in helmet evolution. Check it out here.
•  •  •  •  •
Culinary Corner: I've always loved mussels. They're delicious, hearty, and fun to eat. But for some reason I never got in the habit of making them at home. Which is nuts, because mussels are easy to cook and ridiculously inexpensive. Like, you almost can't afford not to buy them.
So a few months ago I decided to work mussels into my dinner routine. The Tugboat Captain and I have enjoyed mussels four times since then, most recently two nights ago. Here's how we did it.
1. I went to my local fishmonger and bought three pounds of mussels. Most sources seem to think one pound per person is enough, but I figure it can't hurt to get a bit more, especially since mussels are nearly free. The three pounds cost me $9. (Or to put it another way, the protein for this meal — which ended up feeding two people and according to many sources would actually be enough to feed three people — cost less than a decent steak for one.)
2. Most folks say you should debeard the mussels before cooking, and a few people also recommend letting them soak in a mixture of water and either corn starch or flour, which supposedly gets rid of any sand and grit inside the shells. But both of those issues appear to be more applicable to wild mussels. Most mussels today are farmed, and the ones I've been buying have had no beards and no grit. So all I've been doing is putting the mussels in a colander, giving them a good rinse with tap water, and going through them to discard any that are broken or open. After doing that the other night, here's what I had (for all of these, you can click to enlarge):
3. While I was dealing with the mussels, the captain chopped up some onion, sliced up some garlic, and diced some green chili pepper (which you can see just barely peeking out under the garlic):
4. In a big pot over medium-high heat, we melted some butter (how much? I dunno — maybe a coupla-ish tablespoons) and used it to sauté the onion, garlic, and pepper until soft and fragrant — just a minute or two.
5. Then we poured a can of beer into the pot and raised the heat to high. (You could also use white wine, red wine, stock, or just about anything.)
6. Once the beer came to a boil, we added the mussels and then covered the pot.
7. After about three or four minutes (sorry, this was not a high-precision operation, and that's one of the nice things about mussels — they're very forgiving), we peeked in the pot and found that the shells had opened, which meant they were done.
8. We squeezed about half a lemon into the pot, stirred everything with a big spoon to distribute the broth, and served the mussels with some bread (for sopping, don'tcha know). There were enough mussels for each of us to have three helpings. Easy, inexpensive, delicious — a win-win-win!
•  •  •  •  •
The Ticker
By Paul

'Skins Watch: In a case argued before the Supreme Court this week, most of the justices appeared to be willing to extend trademark protection to derogatory terms. If they rule that way, that would restore trademark privileges for the 'Skins.

Baseball News: The Mets' now-discontinued snow white pants are being used at Mets fantasy camp (good spot, Phil). … Marlins Park is being transformed into a racetrack (from Phil). … New softball uniforms for Elon University. … Here are some photos of newly elected Hall of Famers Ivan Rodriguez and Tim Raines wearing uniforms we don't usually associate with them during minor league rehab assignments. … Some Dodgers players — wearing Dodgers T-shirts and trucker-style Dodgers caps — appeared on a 1985 episode of the TV show Body Language (from Jeff Wilk).

NFL News: Remember KFC's recent ad campaign featuring KFC-styled football uniforms? Popeye's is doing something similar, and their campaign feature Hall of Famer Jerry Rice wearing a Popeye's football helmet with a chicken-bone facemask (thanks, Mike). … If the Raiders move to Las Vegas, perhaps they could make some small adjustments to the Chargers' now-mothballed "LA" logo. Meanwhile, some folks are speculating whether the Raiders should change their name if they move, which seems like a pointless exercise — no way are they gonna change. In fact, maintaining their name while "sailing" from Oakland to L.A., then back to Oakland, and then to Vegas just reinforces their pirate-like identity.

Hockey News: The Devils will apparently be wearing their green-trimmed throwaback uniforms on Jan. 26 (from Megan Brown). … Here's the story of why former Rangers great Rod Gilbert wore No. 7 (from Seth Horowitz). … Some Detroit Tigers players were wearing Red Wings jerseys the other day. … An update to the NHL 17 video game includes new uniforms (from Andrew Kosek).

NBA News: The Wizards wore their stars/stripes alternates two nights ago (from Richard Green). … A Toronto Raptors hockey jersey? Sure, why not. … Zachary Loesl notes that Dejounte Murray of the spurs always has the wasitband of his shorts rolled down.

Soccer News: Third kits for Juventus, Bayern Munich, Real Madrid, and Manchester United have all leaked (from Christos Daglis). … Here's an interview with the guy who designed the new Juventus logo (from Lawrence Benedetto). … Target is now a major MLS partner and will be the shirt sponsor advertiser with the league's new Minnesota United FC franchise. Further info here. … New uniforms for Independiente del Valle (from Trevor Williams). … A pro soccer player in Guam proposed to his girlfriend during a goal celebration. After scoring on a bicycle kick, he took off his jersey, which showed off the "Marry me?" shirt he was wearing underneath. "The official gave him a yellow card," says our own Mike Chamernik. … Tottenham Hotspur's new kit may have leaked (from John Muir).

Grab Bag: Here's a really great project devoted to San Diego-area sheriff's badges, police patches, and so on. Very nice stuff. … Nice article and photo gallery about a 70-year-old Cleveland bowling alley. I'll have to check that out the next time I'm out that way (from James Mason). … In a related item, my friend Chris Erikson pointed me toward this listing for an old-school bowling alley up in the Catskills that's available for sale. Tempting! … The International Cricket Council has issued new helmet rules for international matches. … New logo for the tech company Mozilla. … Golfer Phil Mickelson is wearing a logo of himself, based on his famous Masters jump (from Kyle Key).