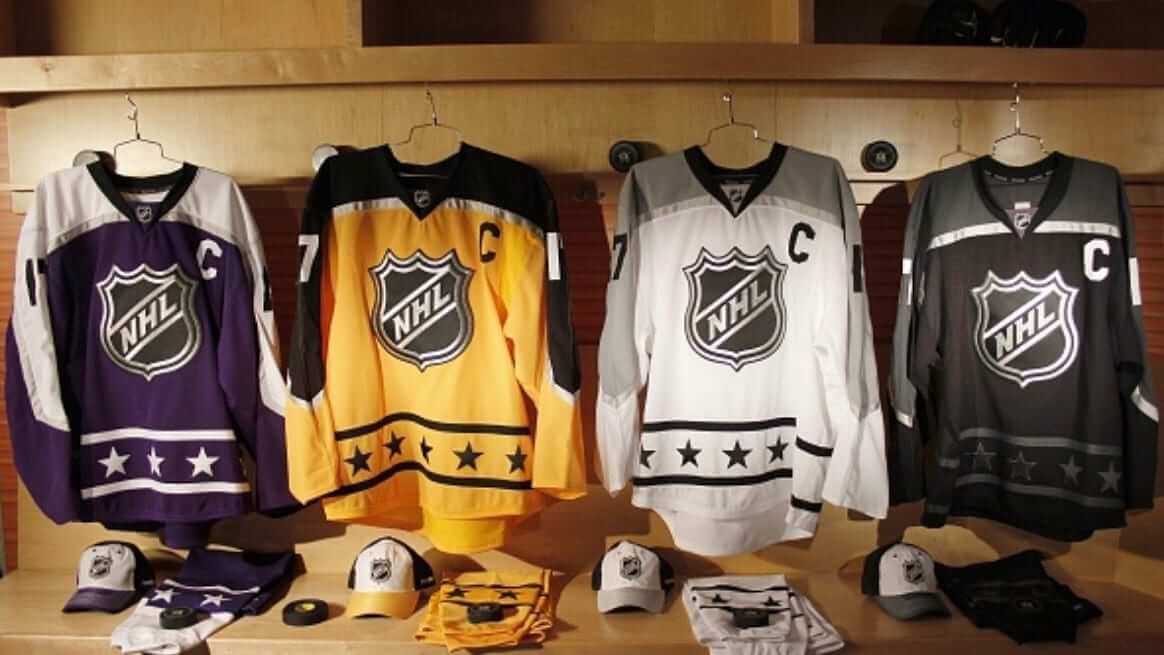 For all photos, click to enlarge
The NHL All-Star Game is coming up on Jan. 29 (aka "the Sunday when there's no postseason football"), and yesterday the jerseys were revealed. The league is once again going with four teams that will play a three-on-three "tournament," and the four uniform colors are based on the uni history of the host team, the Kings: purple for the Central Division, gold for the Atlantic Division, white for the Metropolitan Division, and black for the Pacific Division, with silver-trimmed NHL logos on the front.
Here's a shot that shows a mix of front and rear views, along with a close-up of the NOB and number treatment. The typography is supposedly based on the famous "Hollywood" sign: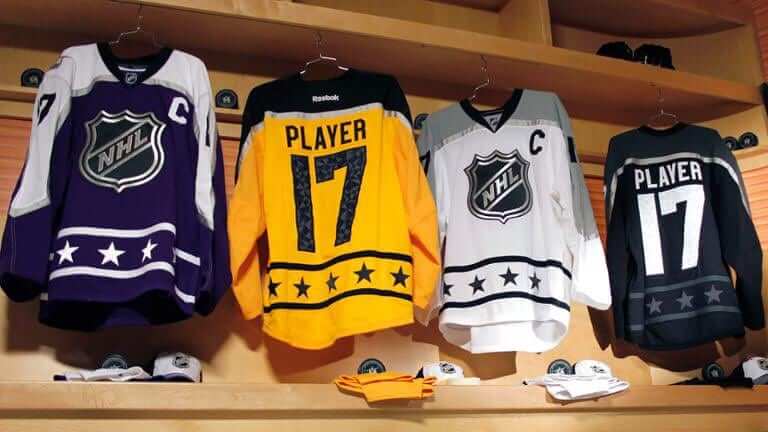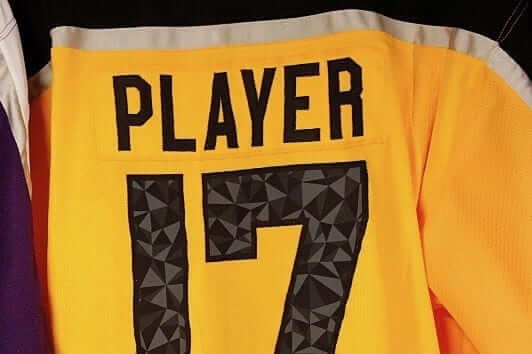 Other notes:
•  This year's All-Star logo appears as a patch on the right shoulder, and each player will wear the logo of his usual team on the left shoulder.
•  Quoting from the press release: "Each jersey features a band of stars that is reminiscent of the uniforms worn in NHL All-Star Games from 1989-91." Here's what those looked like:
•  Quoting further from the press release: "Each of the 10 stars [on the jersey] represents a decade in the 100-year history of the League. Four stars on the socks represent the four divisions in the NHL today." Oh please, enough already. Look, people: It's an all-star Game — we know there are going to be stars on the fucking uniforms, and we're all fine with that. You don't have to invent these nonsense "storytelling" narratives to justify every little detail of the design. Jeez.
If you can get past marketing mumbo-jumbo, the designs are perfectly fine, if a bit conservative. I'm surprised that the NHL is sticking with the simple "league logo on the chest" approach. Since the Kings are the host team, why not put a crown on the logo or something like that? Then again, it's a big improvement over the neon-trimmed designs of a few years ago.
There are some additional photos here. As you can see, a few of them provide a hint of the sock design, but there's no sign of the pants or helmets, and so far we've seen no full-body photos or even full-body mock-ups. This is part of the depressing trend of only showcasing the jersey because that's the only part of the uniform that's for sale. Come on, NHL — at least pretend to treat us like fans who'll be watching a game, not just customers who'll be (you hope) buying an overpriced polyester shirt.
•  •  •  •  •
The Ticker
By Paul

Baseball News: Several readers have noted that retail Rockies caps appear to have a new shade of purple. Hmmmmm. … New uniforms for Minnesota Crookston (from Derek Martin). … New cleats for USC and TCU (from Denis Costello and Ivor van Esch). … New logo set for the Down East Wood Ducks. While it fits several aspects of the boilerplate Brandiose approach (funny animal with furrowed brow? Check! Blunt object serving as a makeshift bat? Double-check!), at least the duck is smiling instead of growling. No teeth, either! I assume Brandiose charged extra for that. Uniforms to follow in the spring. Additional info here and here. … The Cubs are using a "World Champions" logo that I think is a real stinker. For starters, it's not very Cubs-y and doesn't fit at all into their visual program. And what's with the "0" and the "6" being larger than the "2" and the "1"? Oh, and for some reason an insurance company thinks it has something to do with all of this, but that's a separate issue (logo brought to my attention by Nicolas Schiavo, although he thinks the logo is good!). … A player from my favorite team is among several players who've been named as New Era "brand ambassadors," and if you can say that with a straight face, you're way ahead of me.

NFL News: Here's the first Super Bowl LI soda display that I've seen. … And here's one for this Sunday's Packers/Cowboys game. … The Westport Pioneers statues in KC has been outfitted with Chiefs jerseys in advance of this weekend's playoff game (from Ryan Atkinson). … The Packers have been using WR Ty Montgomery, who wears No. 88, as a running back. They'll probably have to give him a new number next season, but for now he's the subject of an excellent trivia question. The answer can be found here. … A new development-style pro league, founded by Tom Brady's agent and expected to debut in the summer of 2018, will feature 18- to 21-year-old players who haven't attended college. What could possibly go wrong? Not the uniforms, I'm sure. … With the Chargers apparently set to pull the trigger on their move to L.A., here's a humorous take on that storyline that you might have missed last week.

College Football News: You can vote on ECU's best uniform of 2016 (from Stephen Wright). … New uniforms for Mount Union (from Adam Myers). … Here's a shot that shows Clemson LB Ben Boulware with his nameplate badly off-center. Almost looks like there had been a JrOB or RNOB that was removed (from Phil). … Early version of Pete the Penguin — or maybe just, you know, any old penguin — shown on this 1942 Youngstown State ticket stub (from Robert Hayes).

Hockey News: "90s Night" jerseys upcoming for the Macon Mayhem of the SPHL (from Jeff Vinton). … Former NBA player Allen Iverson, appearing at a news conference yesterday to announce his involvement with a 3-on-3 basketball league, was wearing a camouflage Blackhawks cap (from Matt Bond). … The Blackhawks had bowling shirts, complete with "C" and "A" designations, for an event last night.

NBA News: With Chinese New Year upon us, the Raptors, Wizards, Warriors, and Rockets will all be wearing uniforms to mark the holiday — first time for the Raptors, repeats for the others. My ESPN colleague and friend Thomas Neumann, who edited my work for many years and is now a reporter on the international beat, has written a great piece about how those jerseys play into the league's Asian business strategy. … Fauxbacks vs. sleeved alts for last night's Cavs/Blazers game in Portland (from Zachary Loesl).

College Hoops News: Cool throwbacks today for Miami (from Jason Lefkowitz). … Here's an ECU NOB with some extremely tight letterspacing. … Larry Bird-era throwbacks last night for Indiana State. … Love the sleeve patch on this old Ohio State warm-up top. Here's a different warm-up uni with a similar patch (from Mike Knapp and BSmile, respectively). … Very cool Michigan Agricultural College throwbacks for Michigan State.

Soccer News: Beautiful new primary kit — well, except for the big honking ad on the chest — for the Portland Timbers (from Jason Schwanz). … What if Premier League badges looked like NBA team logos? (From Vicious Sid.) … New uniforms for the Urawa Red Diamonds. Larger view of the primary and keeper designs here (from Jeremy Brahm).

Grab Bag: Starting Lineup figurines are making a comeback. … New helmet and gloves for Dominican University of California lacrosse. … Speaking of lacrosse, lots of college teams have new gloves (from Jason Eich). … Buncha auto racing stuff from David Firestone: New driver suit for Clint Boywer, new suit and footwear for Danica Patrick, NASCAR has broken down drivers' 2016 performance by paint scheme, Darlington is now "the Official Throwback Weekend of NASCAR," and a new gallery devoted to car history has opened at the NASCAR Hall of Fame. … Check out the Hawaii men's volleyball team wearing jerseys with a Hawaiian flag theme (from Jeremy Brahm).