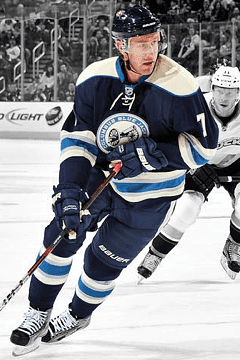 With hockey fans already nervous about what the Reebok-to-Adidas changeover will mean for NHL uniforms next season, a Minnesota Wild article in yesterday's Minneapolis Star Tribune (helpfully brought to my attention by reader Luke H.) included the following news:
Multiple sources tell the Star Tribune that all NHL teams will be permitted to have only home and road jerseys next season as Adidas takes over for Reebok as the official outfitter of NHL uniforms.

There will be no third jerseys, in order to make the initial implementation of new sweaters easier.

The Wild is in the midst of deciding whether to go with red or green home sweaters. If the Wild chooses green, which sounds probable, the jersey likely will be slightly redesigned from the current third jersey.
The report was quickly confirmed by SportsLogos.net poobah Chris Creamer (among others), who then reported that the Oilers will promote their orange alternates to primary home uni status next season and that the Devils will have new uniforms.
That's a lot of info to process, and it has led to lots of questions, some of which are only tangentially related to the "no alternates" policy. Let's shift into FAQ mode:
Is this "no alternates" policy permanent?
No. It should last only one season.
How many teams are affected?
According to NHLuniforms.com, 17 of the 30 NHL teams currently have alternate uniforms. So this no-alts policy will affect a little more than half of the league. If you're a fan of, say, the Canadiens or Stars, it won't make much difference, except as it pertains to your favorite team's opponents.
Has the NHL ever done anything like this before?
Yes. When the Reebok Edge template was introduced for the 2007-08 season, teams only had home and road uniforms — no alternates. By the following year, however, alternates were being used by 18 of the league's 30 teams (and the year after that, the number was up to 22 out of 30). I'm sure the same thing will happen this time around.
What about the Winter Classic and other outdoor games?
It's a safe bet that they'll still have special uniforms for those games. For the 2008 Winter Classic, which was played in the middle of that 2007-08 "no alternates" season, the Penguins and Sabres still wore throwbacks. "No alternates" doesn't necessarily mean "no one-offs."
What does it mean when then say they're doing this to make "the initial implementation of new sweaters easier"? Reebok and Adidas have the same corporate ownership "" isn't that easy enough?
You'd think so, right? I'd love to know more about which issues are at work here — like, are they talking about gameday logistics? Retail/merch concerns? Something else? Not sure. Trying to find out.
For those 17 teams that currently have alternate uniforms, will they simply scrap those alternates and stick with their current homes and roads?
Some teams probably will. The Rangers, for example, will no doubt just mothball their retro alts for a season. But other teams may have choices to make. As noted in the Star Tribune article, for example, the Wild are pondering whether to go with their home reds or alternate greens as next season's home jersey, and the Oilers have already made a similar choice by redesignating this season's alternate as next season's home uni. What about, say, the Capitals — might they redesignate their throwback alternates as their home primaries? And people are already speculating about what the Hurricanes will do. Which other teams might be pondering their options? All good food for thought and fodder for discussion.
This is stupid "" Adidas is losing out on lots of alternate jersey sales!
Maybe, maybe not. But why should any of us care about Adidas's balance sheet? That's not our concern. Instead of calling them stupid, let's give them credit for doing something that doesn't follow the usual depressing pattern of cranking out extra product just for merch/retail purposes.
How many teams will be getting new uniform designs as part of the Adidas changeover?
I don't know. As noted above, the Devils reportedly have a new look in the works, and I imagine we'll see a few other teams with new designs as well, just as we would in any other year. Just as the NFL's shift from Reebok to Nike in 2012 didn't result in a larger-than-usual number of uniform design changes, I don't necessarily expect the new NHL's new deal with Adidas to result in large-scale changes. (By contrast, I do expect the NBA's new deal with Nike to result in a lot of changes, but that's another subject for another day.)
Will teams all wear the three Adidas stripes on their game jerseys?
I don't know. But if I had to bet, I'd say no.
Okay, but the NHL is moving ahead with ad patches, right?
Actually, no, there's no indication of that.
I wouldn't mind losing the alternates if they went back to wearing white at home. Are they gonna do that?
I don't think so, unfortunately.
Any thoughts of your own? Discuss.
•  •  •  •  •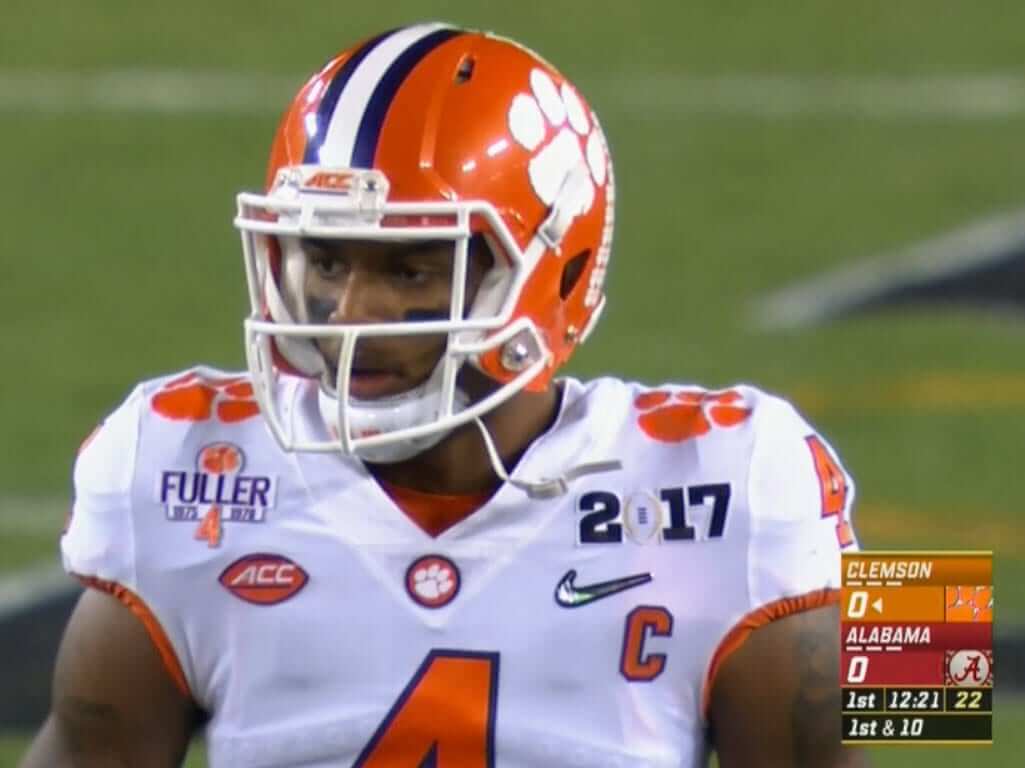 Screen shot by @SportsFunhouse; click to enlarge
College football goes out with a bang: Jeez, you think Clemson quarterback DeShaun Watson was wearing enough bling for last night's national championship game against Alabama?
Aside from that, it wasn't a particularly uni-notable game, except for 'Bama linebacker Reuben Foster have a glitch with his striping tape: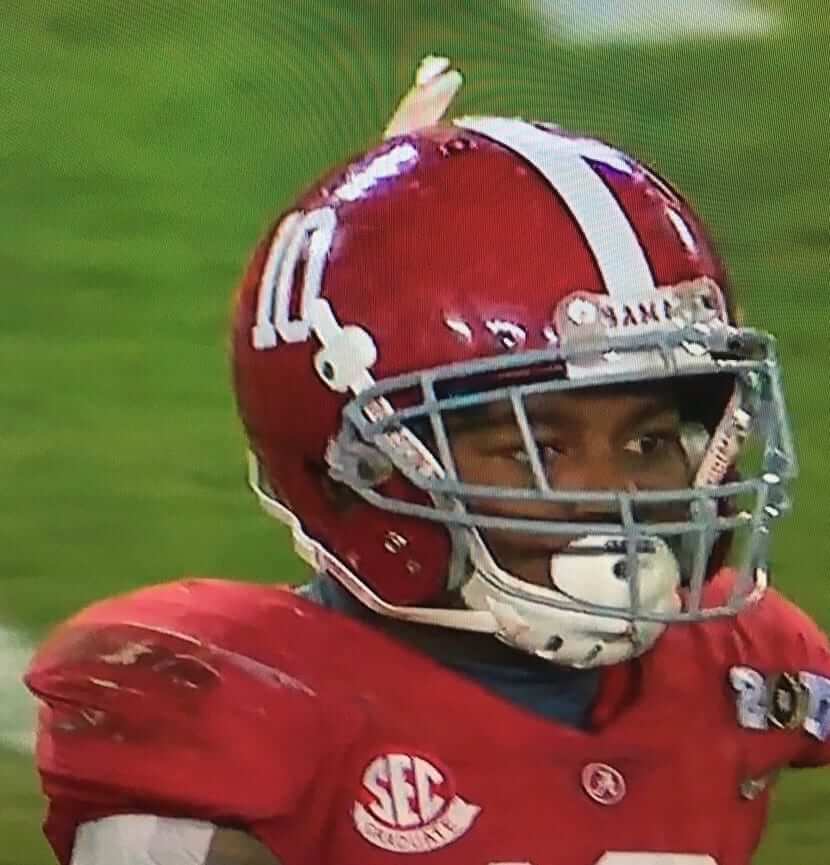 •  •  •  •  •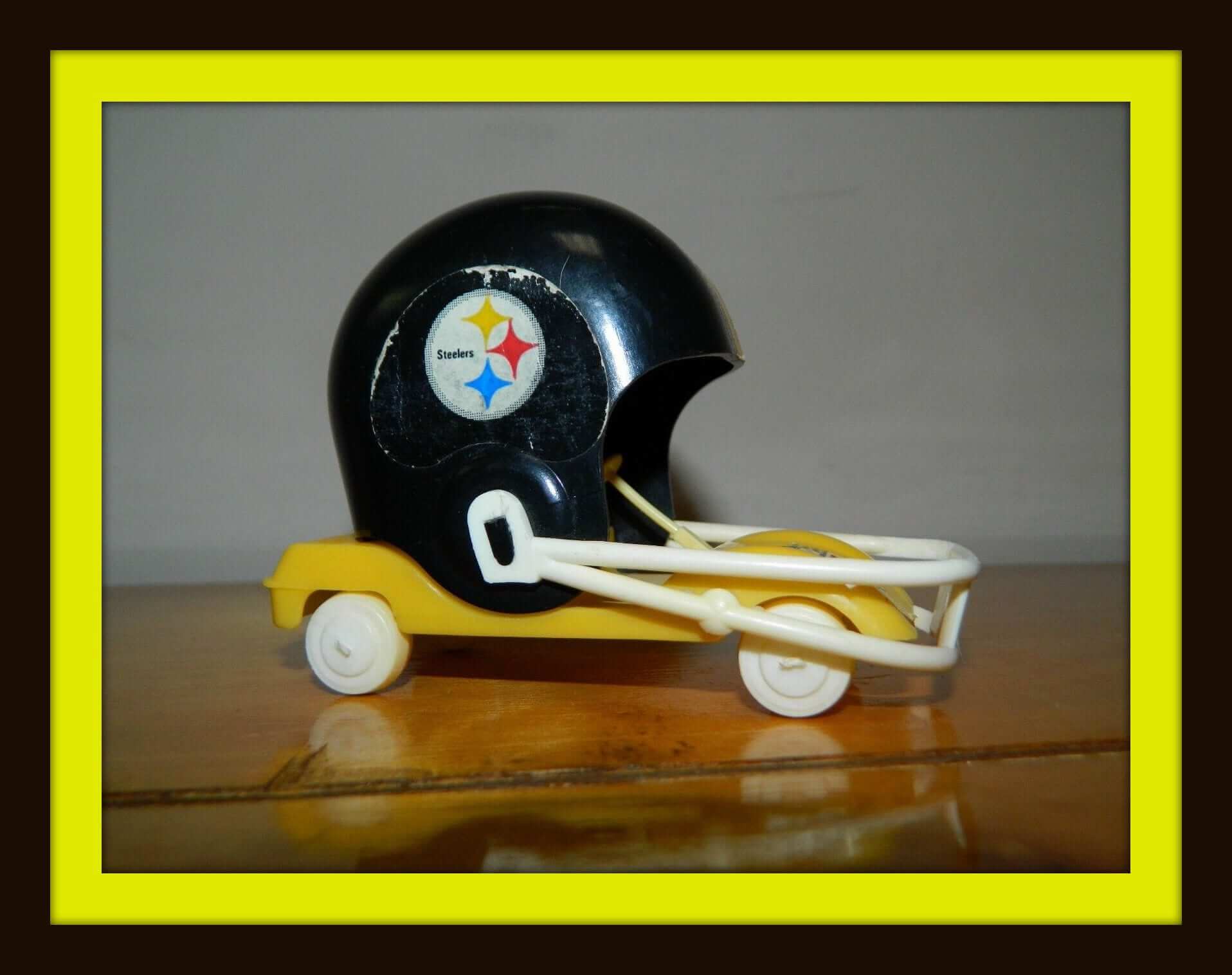 Collector's Corner
By Brinke Guthrie
The NFL playoffs are in full swing, with the participating teams taking their best shot to reach the Super Bowl. One of those teams is the Steelers, who represented here on a classic-looking NFL helmet buggy. And if you look at the auction listing, you can see that they accurately omitted the logo on the other side of the helmet. Good job!
Now for the rest of this week's picks:
•  Here's a press pin/tie clasp commemorating the Joe Willie Super Bowl from 1969 in Miami.
•  Most excellent-looking Montreal Expos toque here, eh?
•  Another week, another look the Eagles font on this 1970s pin. What's interesting here are the helmet wings — they're almost right, but not quite detailed enough. Does that ever bother you, when they're not precise with the design?
•  Seahawks fans toted around this late-1970s-1980s team umbrella. Didn't need it during home games back then, of course, since the team played in the Kingdome, but Seattle is a rainy place, so an umbrella is still handy.
•  I bet this Bobby Orr action figure sold like hotcakes in New England way back when.
•  This 1970s New York Football Giants helmet lamp would look good at Uni Watch HQ, no doubt.
•  Now why would this 6″ display pin say "Islanders New York" rather than, uh, "New York Islanders"?
•  When I spotted this 1970s Dolphins belt buckle, I thought it had a DIY vibe to it, but no — flip it over and there's your Officially Licensed Product logo right there.
•  Here's a patch for the Atlanta Falcons cheerleaders, of all people. Note how they imaginatively they worked the team logo into the lower part of the "F."
•  Don't see too many items that say "Phoenix Cardinals," but that's what it says on this pennant.
• • • • •
Raffle results: The winner of the Pillbox Bat Company raffle is Peter Piroso. He has chosen navy pinstripes as his bat design. Congrats to him and thanks to all who entered. More raffles coming soon.
• • • • •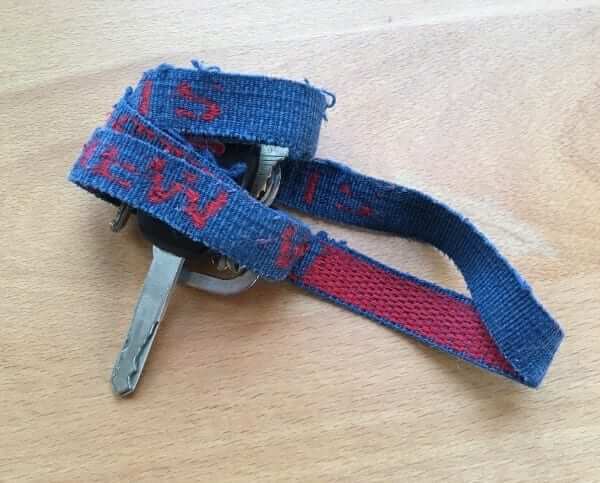 KRC update: The latest installment of Key Ring Chronicles is about a somewhat tattered cloth lanyard. Check it out here.
•  •  •  •  •
The Ticker
By Paul

Baseball News: Here's a promo clip that shows several glimpses of the Indians wearing navy jerseys with red pants (and also, unfortunately, shows lots of fan-made Wahoo signs). … Here's some rare color footage of the Giants' last game at the Polo Grounds (from Chris Flinn). … New uniforms for the Kia Tigers, a Korean team (from Dan Kurtz).

NFL News: Steelers DE L.T. Walton wears No. 96, but check out his helmet number from Sunday's playoff game. The bottom of the 9 and top of the 6 both tore off, leaving him with something that looked like double-zero, or maybe a percent symbol (from Jason Pratt). … Anthony Bowyer was traveling for business in Tbilisi, capital of the former Soviet republic of Georgia, and was surprised to see that one of the local political parties had adopted a variation on the Texans' logo. "I was able to track down some rank-and-file party members, but none had heard of the Houston Texans or had a particular interest in the NFL or American football," he says, so it's a bit of a mystery. … Speaking of politicians making use of NFL logos, New York Gov. Andrew Cuomo gave a state of the state speech yesterday in Buffalo and used a graphic based on the Bills' old "standing buffalo" logo. I initially thought, "Eh, that could be any buffalo," but then I compared it, and it really does seem to be the team logo. … For the 1979 AFC Championship Game, the TV intros for the Steelers' players show them wearing Pittsburgh Pirates caps (from Marc Viquez).

College Football News: If you've been looking for a ranking of Syracuse's 12 best football uniforms, today's your lucky day (from Bryan Prouse). … Here's a faaaaascinating article — disturbing, too — about what happened to a Stanford player's brain after he took a big hit. He was wearing a sensor-equipped mouthguard, which provided researchers with a wealth of data. Recommended.

Hockey News: 1990s throwbacks upcoming next weekend for the Missouri Mavericks of the ECHL (from @RockChalkDisc). … The Jets wore some very nice throwbacks last night. Lots of additional photos here.

Basketball News: Deadspin has written an article on Bucks G Jabari Parker's shorts, which expose, in the writer's words, "miles of leg just hanging out." They mean that in a good way (from Jeff Ash). … Want your shorts to be shorter? Roll short shorts legs and roll your waistband. That's St. John's F Tariq Owens (from @bryanwdc).

Soccer News: New NWSL team: the North Carolina Courage. No word on whether they'll be getting a celebrity endorsement from Dan Rather.

Grab Bag: Unfortunate logo for the Vermont maple syrup industry, which looks like a guy taking a leak. … The Georgia Swarm — that's a box lacrosse team — have three flags on their helmets, for their American, Native American, and Canadian players (from Noah Muszall). … New lacrosse uniforms for Missouri Valley College (from @BobE_22lax).