Click to enlarge
Amusing NOB juxtaposition during yesterday's Giants/Packers Wild Card game, as Green Bay wide receiver Davante Adams and New York cornerback Eli Apple had some serendipitous positioning. Kudos to reader Bill Kellick for capturing the moment.
In other news from Saturday's and Sunday's playoff games:
•  The Packers never wear captaincy patches during the regular season, because they rotate their captains each game. But they always add the "C" patches for the playoffs, when they choose one set of postseason captains. The patches made their annual January reappearance yesterday.
•  Prior to the game, Giants wideout Odel Beckham Jr. wore a Lawrence Taylor sweatshirt for pregame warm-ups.
•   Giants wideout Tavarres King, who wears No. 15, wore teammate Larry Donnell's No. 84 winter hat on the sideline.
•  Similarly, Steelers wideout Antonio Brown, who wears No. 84, wore teammate James Harrison's No. 92 hat.
•  It kinda looks like Steelers offensive coordinator Todd Haley may have cut a hole in his sideline hat in order to accommodate his headset.
•  During pregame warm-ups prior to that game, Dolphins wide receiver Jarvis Landry wore a Ricky Williams jersey with alligator skin-patterned numbers.
•  Turning to Saturday's action, here's an item that Phil had in yesterday's Ticker, but just in case you missed it: At the Raiders/Texans game, Oakland owner Mark Davis wore a shirt with the old NFL logo.
I knew he drove a van from 1997 and used a phone from 2003 but this millionaire can't even get a new @RAIDERS shirt. @UniWatch @PhilHecken pic.twitter.com/794K2AkUi1

— Dustin Smith (@DustinCSmith) January 7, 2017
(My thanks to James Burditt, Andrew Cosentino, and Stephen Hayes for their contributions to this section, and thanks again to Bill Kellick for the splash photo.)
•  •  •  •  •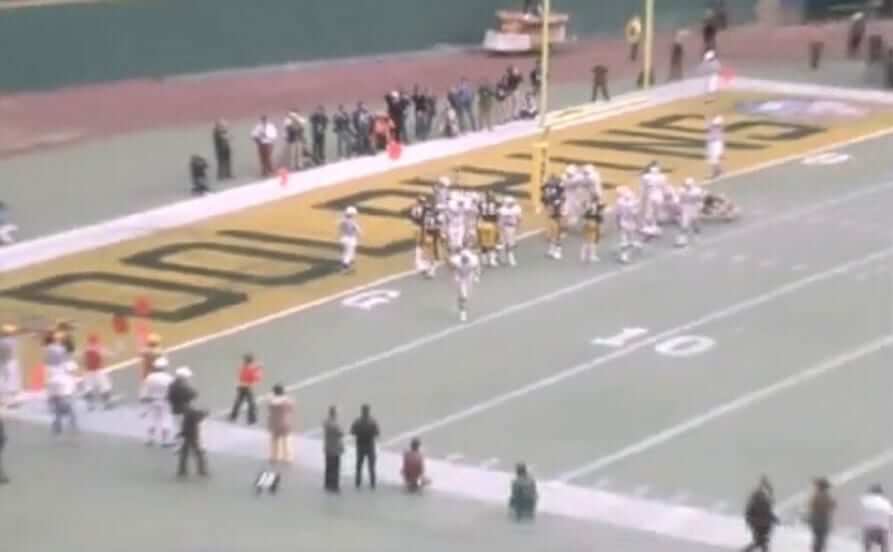 Being a gracious host: With the Steelers and Dolphins facing off in Pittsburgh two days ago, several readers noted that one of their previous playoff meetings in Pittsburgh — the 1972 AFC Championship Game — featured the Dolphins' team name spelled out in one of the end zones (albeit in Steelers colors).
That would never happen today, of course, but it was actually fairly common (or at least not altogether uncommon) when I was growing up. There are lots of examples shown in this SportsLogos.net discussion board thread.
The visiting team's name sometimes also appeared on the padding around one of the goalposts (and the padding was important in those days, because the goalposts hadn't yet been moved to the back of the end zone). You can sorta/kinda see that in this shot from the 1973 NFC Championship Game, which featured the Cowboys hosting the Vikings at Texas Stadium in Dallas (click to enlarge):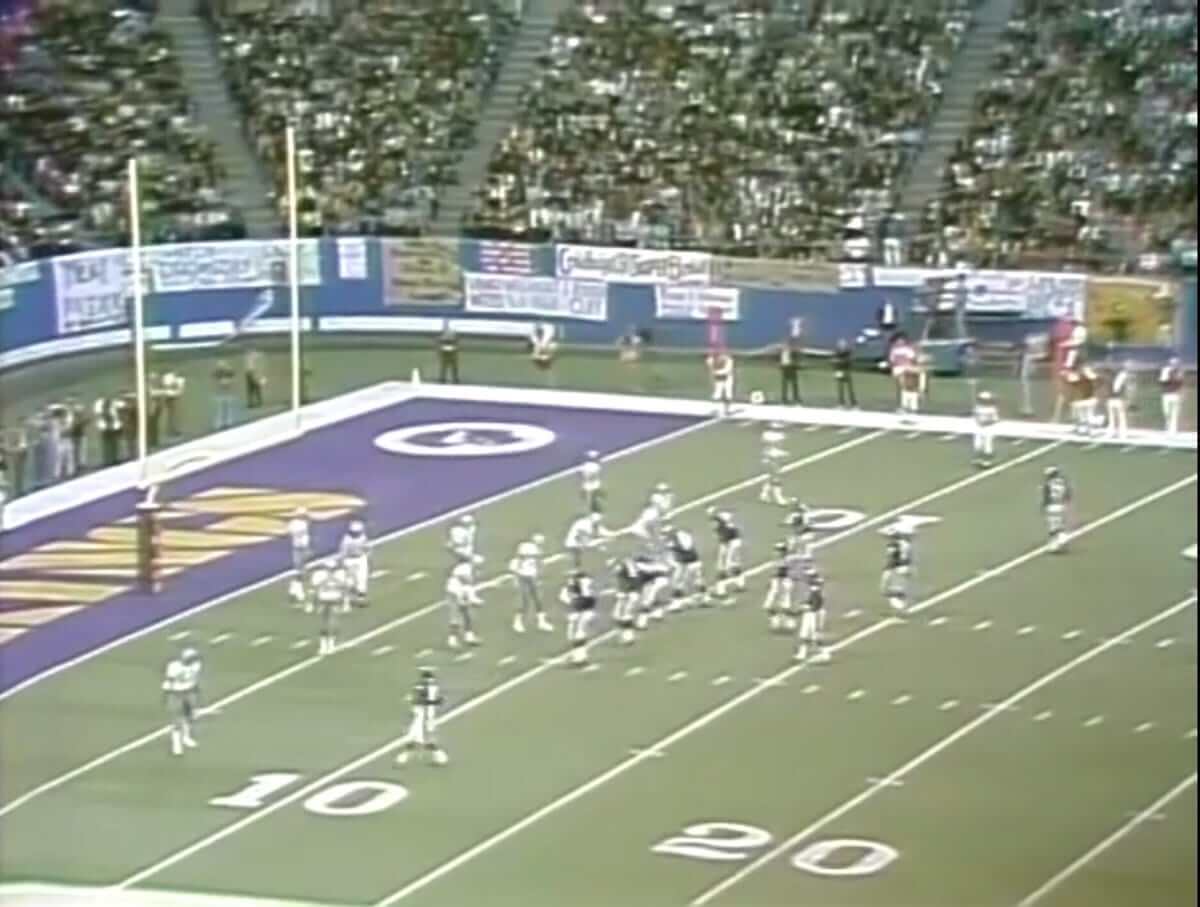 All of this seemed perfectly natural at the time. After all, both teams were playing, and it seemed gracious and sportsmanlike for the home team to acknowledge the visiting team, plus it was a way to promote both teams and, by extension, promote the league. But if you've never seen it before, it probably seems weird, or even nonsensical. One guy on Twitter was astonished that it had ever happened and told me that it felt like giving up part of the home-field advantage. I dunno — seems to me that having 80,000 screaming hometown fans would outweigh a word painted in one end zone, but what do I know.
So here's a question to ponder: Would it bother you if your favorite team painted its opponent's name in one end zone each week? Would it feel like giving aid and comfort to the enemy? Would you enjoy the variety of the ever-changing designs?
Also: If anyone know of additional examples of this phenomenon (aside from the ones shown in that SportsLogos.net thread), I'd be interested in seeing them — preferably with visual documentation. I'd also like to know when the practice fell out of favor and stopped.
• • • • •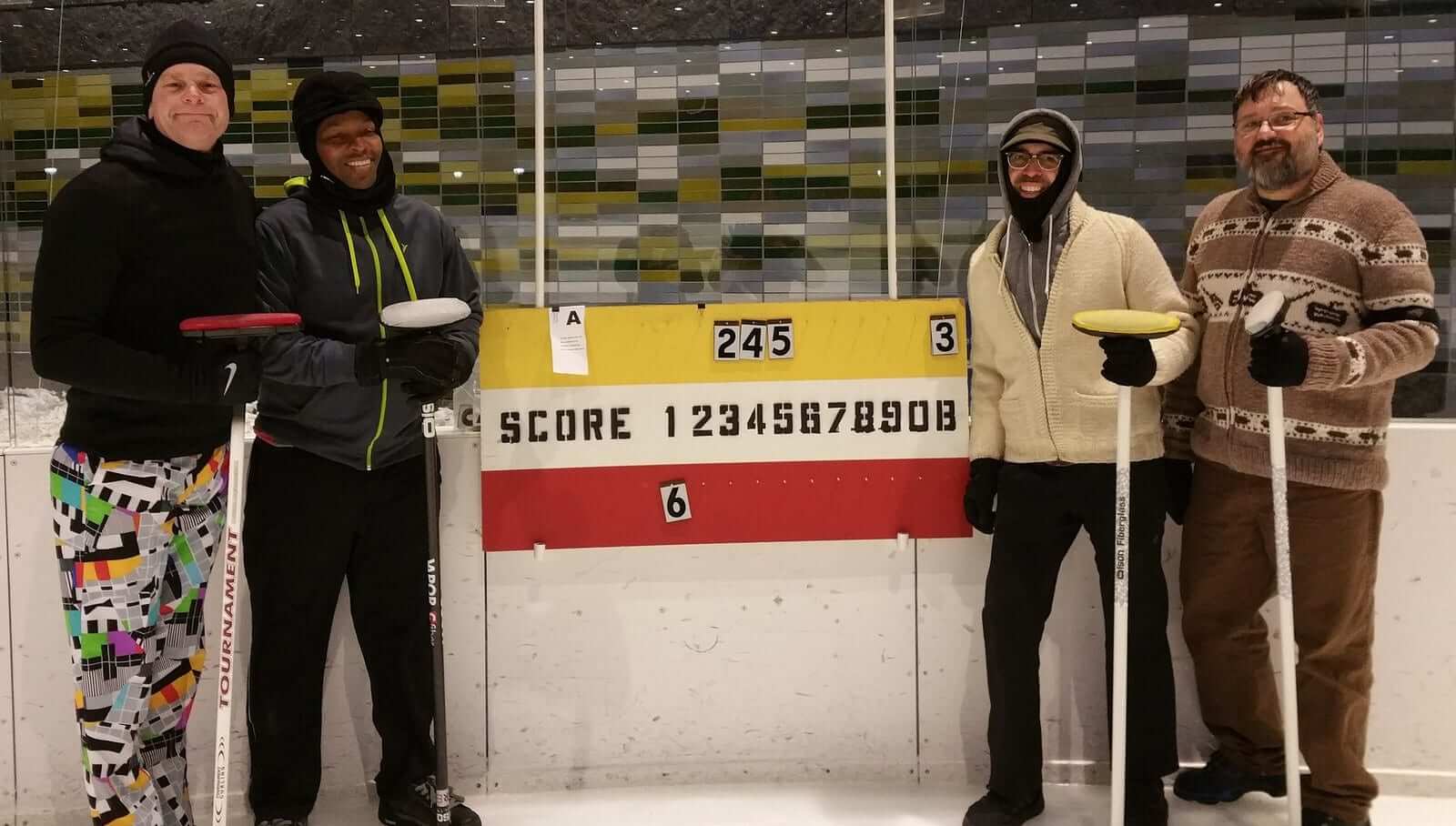 Curling update: Despite some seriously cold weather and some truly terrible ice, my curling team won again last night, 5-1. That wraps up the season for me — my three teammates will play on through mid-March, but I only signed up for nine weeks. Our record during that span was 7-2 — not bad! Big thanks to Phil for being such a great skip, and to Omoy and Doug for being such excellent teammates.
• • • • •
Raffle reminder "" LAST CALL: Today is the final day to enter the raffle for a custom-painted baseball bat from the Pillbox Bat Company. Details here.
• • • • •
The Ticker
By Alex Hider

Baseball News: Anyone know anything about this obscure 1980s Detroit Tigers logo? I don't think I've ever seen that logo before "" or the wordmark, for that matter. (From Christian M. Zummer). … Check out this early photo of the Louisville Slugger bat factory "" if that's what it really is. Those scare quotes raise some doubts (from Buckner's Knees). … Last Tuesday's episode of the TV show NCIS: New Orleans featured a scene with a vintage framed New Orleans Pelicans jersey visible in the background. The Cardinals-style jersey design is likely due to the team being affiliated with the Cards from the 1940s through the 1970s (from Chris Adams).

NFL News: Seahawks' WR Doug Baldwin wears No. 89 in honor of recently retired receiver Steve Smith (thanks Mike). … Weird that Tony Romo is the only player wearing a Color Rush jersey in this promotional poster (from Frank McGuigan). … Jamie Burditt was going through old photos when he found a shot of Vince Lombardi and Tom Landry, then assistant coaches with the Giants. Interesting that the "NY logos on their jackets don't match — Yankees-style for Lombardi, Mets/Giants-style for Landry. … The uniforms in this 1961 Packers/Giants game look a lot like the ones from yesterday (also from Jamie). … It's hard to imagine a time when teams provided menswear accessories to media members (from BSmile). … Looks like Batman and the City of Gotham poached the Packers' logo back in the day (from Aaron McHargue).

College Football News: Here's what Alabama and Clemson will be wearing for tonight's national championship game. … White pants are on their way for D-III Mount Union (from Adam R. Meyers). … Just about all D1 offensive linemen wear knee braces during practices, and most wear them in games as well, but there's isn't much evidence that they actually do any good (from Jason Hillyer).

Hockey News: We have our first on-ice look at the NHL centennial patch on the Penguins' jerseys (from Jerry). … Speaking of the Penguins, they wore white at home yesterday (from David Shucosky). … You might already know that the Flames wear a Canadian flag on their left shoulder and the flag for the province of Alberta on their right shoulder. But Sean Robbins points out that the Flames' AHL affiliate, the Stockton Heat, wear an American flag on their left shoulder and a California flag on their right shoulder. … The Rangers' Nick Holden wore an old jersey with a Reebok vector logo to a charity appearance a few weeks ago (from Mike Engle). … The Bakersfield Condors of the AHL played a (rainy) outdoor game on Sunday. They wore warm-up jerseys with a Kern County (California) seal, and wore these sweaters during the game (from Brent Nelson). … The Regina Pats wore Blue Jays-themed jerseys on Friday night (from Shawn Anderson). … Jonathan Toews lost a bet to Patrick Kane on the World Junior Championship game and had to wear Kane's Team USA jersey from the 2014 Olympics (from Marc-Louis Paprzyca).

NBA News:The Kings wore black at home last night, with Golden State wearing white on the road (from Zach Loesl). … The Cavaliers are already selling Kyle Korver jerseys, but this promotional Tweet doesn't include a gold championship tab on the back collar (from Kevin J. Chmura).

College Hoops News: Color-on-color matchup on Saturday between Louisiana-Monroe in maroon and Louisiana-Lafayette in sleeved greys (from Travis Webb). … Wisconsin (red) and Purdue (grey) also went color-on-color Sunday (from Beau Parsons). … Fauxback uniforms the Providence women (from Joey Misdemeanor). … Not quite sure what's going on in this 1950 UNC game program, but I dig it (from James Gilbert).

Soccer News: Anyone else know the meaning behind the number design for teams in second-tier English soccer this season? (From Steve in Florida.) … Atalanta forward Alejandro Gomez wore a Frozen-themed armband to mark his daughter's birthday (from The Boot Room).

Grab Bag: Cyling note from Paul Holdsworth who provided a rundown of what every team will be wearing in the UCI (Cycling) World Tour this year. … Back in 1989, Mizuno developed a women's volleyball unitard that looked a lot like a one-piece bathing suit. Japanese women's star Motoko Ohbayashi, who wore the unitard in competition, recalled, "It was easy to move in. However, with the unitard alone, it could look like you were wearing underwear, so we had to wear a body suit (for the top with sleeves) and leggings (for the legs), so it was really difficult to go to the bathroom with the unitard on" (from Jeremy Brahm).
• • • • •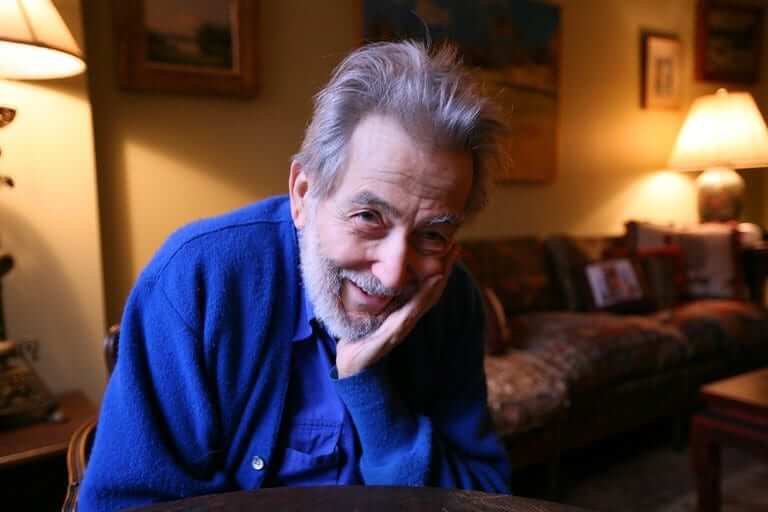 A life well lived: Whenever I start writing for a magazine or website, there's usually someone on staff who I really admire, someone who makes me think, "Shit, I can't believe my byline gets to run alongside that byline!" When I started writing for ESPN's Page 2 back in 2004, for example, Hunter S. Thompson was also writing for P2. Granted, his powers were pretty diminished from their long-ago peak, but still — shit, I couldn't believe my byline got to run alongside Hunter S. Thompson's byline!
When Uni Watch began as a column in The Village Voice in 1999, I thought, "Shit, I can't believe my byline gets to run alongside Nat Hentoff's!" At that time, Hentoff had been America's preeminent civil libertarian journalist for a generation, writing obsessively and brilliantly about the Bill of Rights and, especially, the First Amendment. His column was usually the first thing I read each week in the Voice. He also had a deep history in the jazz world, both as one of the scene's top writers and also as the A&R director for the Candid Records label (I'm listening to an LP he produced as I write this, and I have lots of albums for which he wrote the liner notes). He wasn't just someone I admired; he was one of my heroes.
Nat Hentoff died on Saturday at the age of 91. He hadn't written for the Voice since 2009, when, like all the other grown-ups at the paper, he was laid off. I hadn't kept up with much of his post-Voice work, but his death still feels like a major loss. He had deep, deep principles that he always stuck to, and he was really good at articulating them. I didn't always agree with him, but I always respected him, and there were lots of times when I was faced with an issue and thought to myself, "Hmmmm — how would Nat Hentoff respond to this?" I didn't always do what I thought he would do, but it was always useful to run the situation through my internal Hentoff filter. It was sort of like using him to be (or at least shape) my conscience.
Hentoff was, for the most part, a leftist, but not in the doctrinaire sense. He took controversial stances by steadfastly opposing abortion rights and hate speech statutes, for example. In short, he was a complicated cat, and the many facets of his persona were nicely captured in a really great 2013 documentary, called The Pleasures of Being Out of Step. Here's the trailer:
I never got to meet Hentoff at the Voice (I rarely ventured to the offices, and I'm not sure he did either). But one Saturday night about a dozen years ago I stopped at a storefront newsstand in the West Village and there was my hero Nat Hentoff, buying the early edition of the Sunday paper. He chatted a bit with the proprietor, who asked him if he'd finally started using a computer. Hentoff said his electric typewriter had always been fine and he saw no reason to change.
I thought about approaching him and telling him how much I admired him and his work, but then I thought better of it and the moment passed — something I now regret. He had a really interesting life, and I mourn his death. RIP.