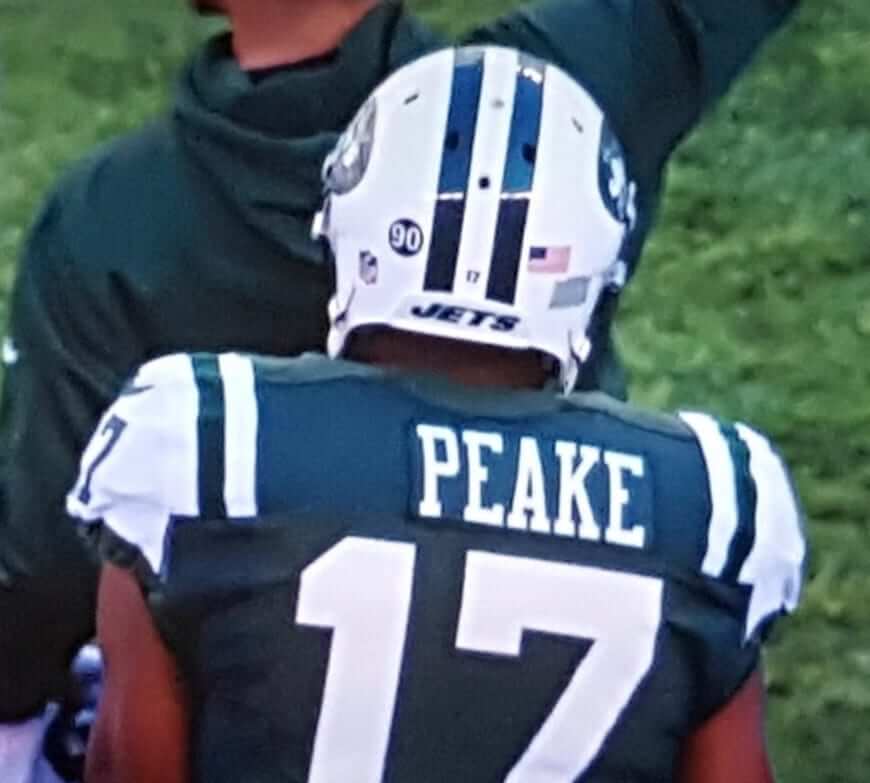 Click to enlarge
The Jets can't seem to do anything right, a state of affairs that was nicely symbolized by wide receiver Charone Peake's laughably off-center nameplate in yesterday's game against the Bills. It almost looks like nameplate had once had a first initial that was later removed, although I'm not aware of anyone else named Peake having played for the Jets.
Peake is a rookie, so the photographic record on him is not particularly deep. I was able to find only one rear-view photo of him in a green jersey, from a preseason game back in August. His nameplate back then was fine:
There are several rear-view shots of him in a white jersey, none of which show anything amiss with his nameplate, so yesterday's glitch was apparently a one-time thing. Weird.
In other news from the final Sunday of the regular season:
•  The Bengals went mono-black.
•  The Titans went mono-blue.
•  The Dolphins went mono-aqua — woof.
•  The Bucs wore red-topped socks — except for kicker Roberto Aguayo, who wore black-topped socks (click to enlarge):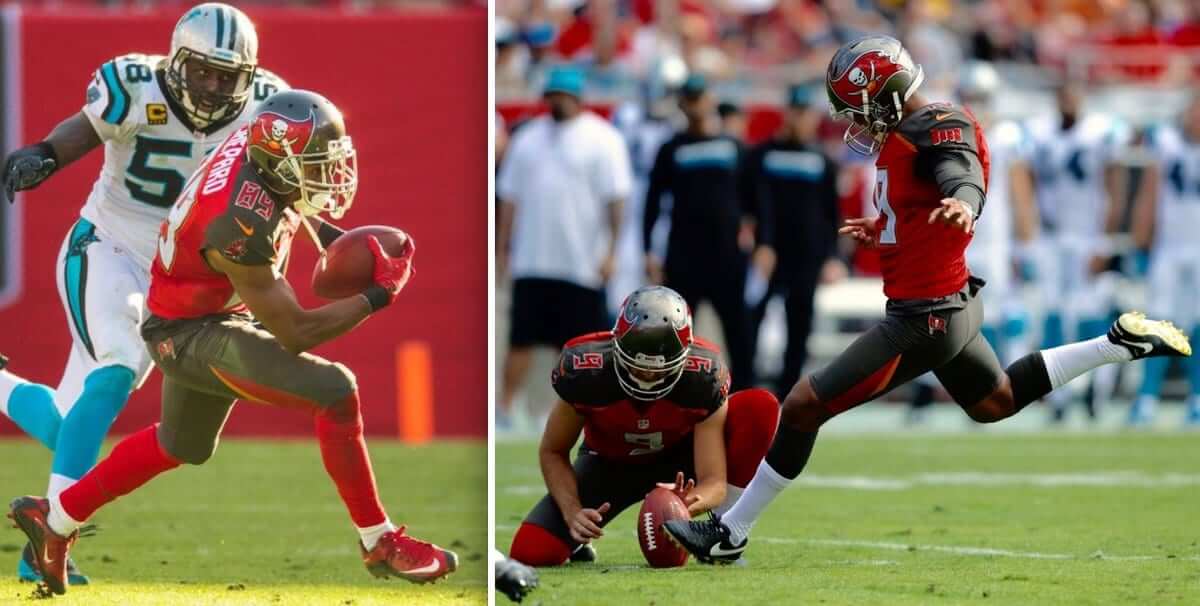 •  At least one of the end zones in Tennessee looked a bit off. Anyone know what that was about?
•  Boys with toys: Broncos cornerback Aqib Talib tore the gold necklace off of Raiders wideout Michael Crabtree's neck.
Aqib Talib been listening to a lot of Run The Jewels this week https://t.co/1qoXUH6wVO

— Barstool Sports (@barstooltweetss) January 1, 2017
•  Vikings wide receiver Cordarelle Patterson wore socks featuring himself: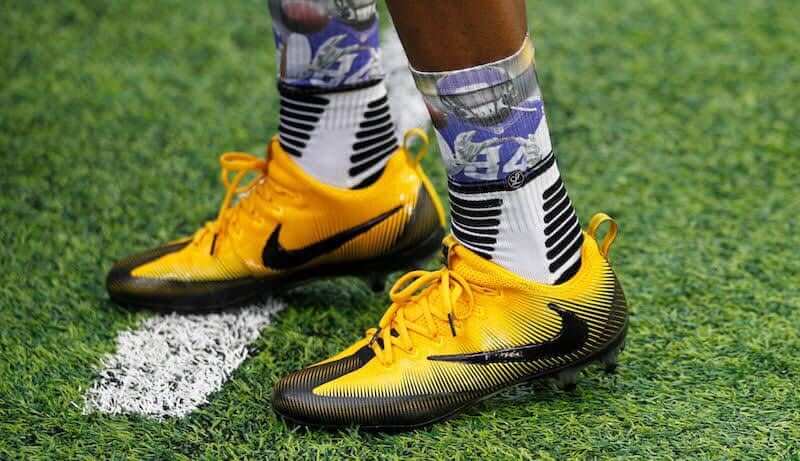 •  At U.S. Bank Stadium in Minnesota, the Vikings/Bears game was briefly upstaged when protesters hung a banner urging stadium sponsor advertiser U.S. Bank to divest from the Dakota Access Pipeline (further details here). One of the protesters was wearing a Brett Favre Vikings jersey.
•  Only one team wore white at home: the Rams.
•  Here's a list of players who protested during the national anthem.
Sorry, didn't have time to compile postgame jersey swaps this time around. Enjoy the rest of your long New Year's weekend.
(My thanks to all contributors, including Chris Herman, Tony Shiffman, and our own Mike Chamerinik.)
•  •  •  •  •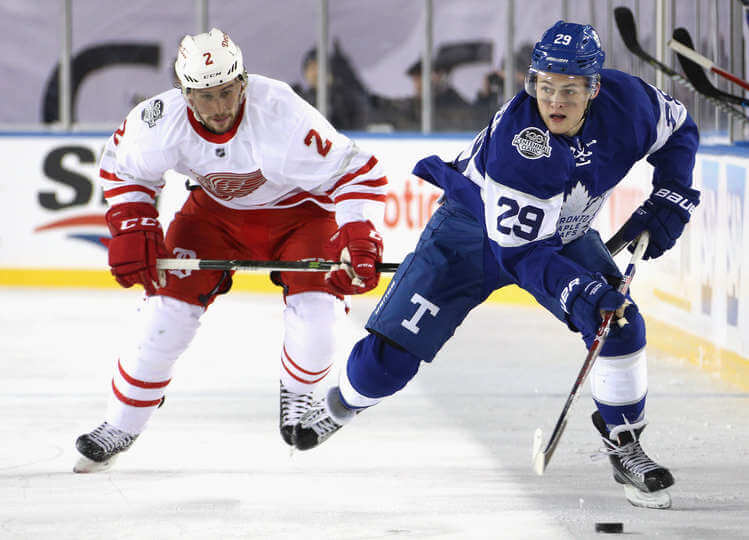 Click to enlarge
Let's do it again in 2117: The NHL's Centennial was held yesterday. Uniform-wise, I thought it was largely a wash — both teams looked okay, but I thought both uni designs had major flaws (the Wings' unnecessary silver trim, that big honking "T" on the Leafs' pants, etc.). Also, many fans complained that the shade of blue used for Toronto's pants didn't match the blue used for the jersey and socks. Lots of additional photos — like, more than 500 of them — here.
Today: the Winter Classic — weather permitting.
•  •  •  •  •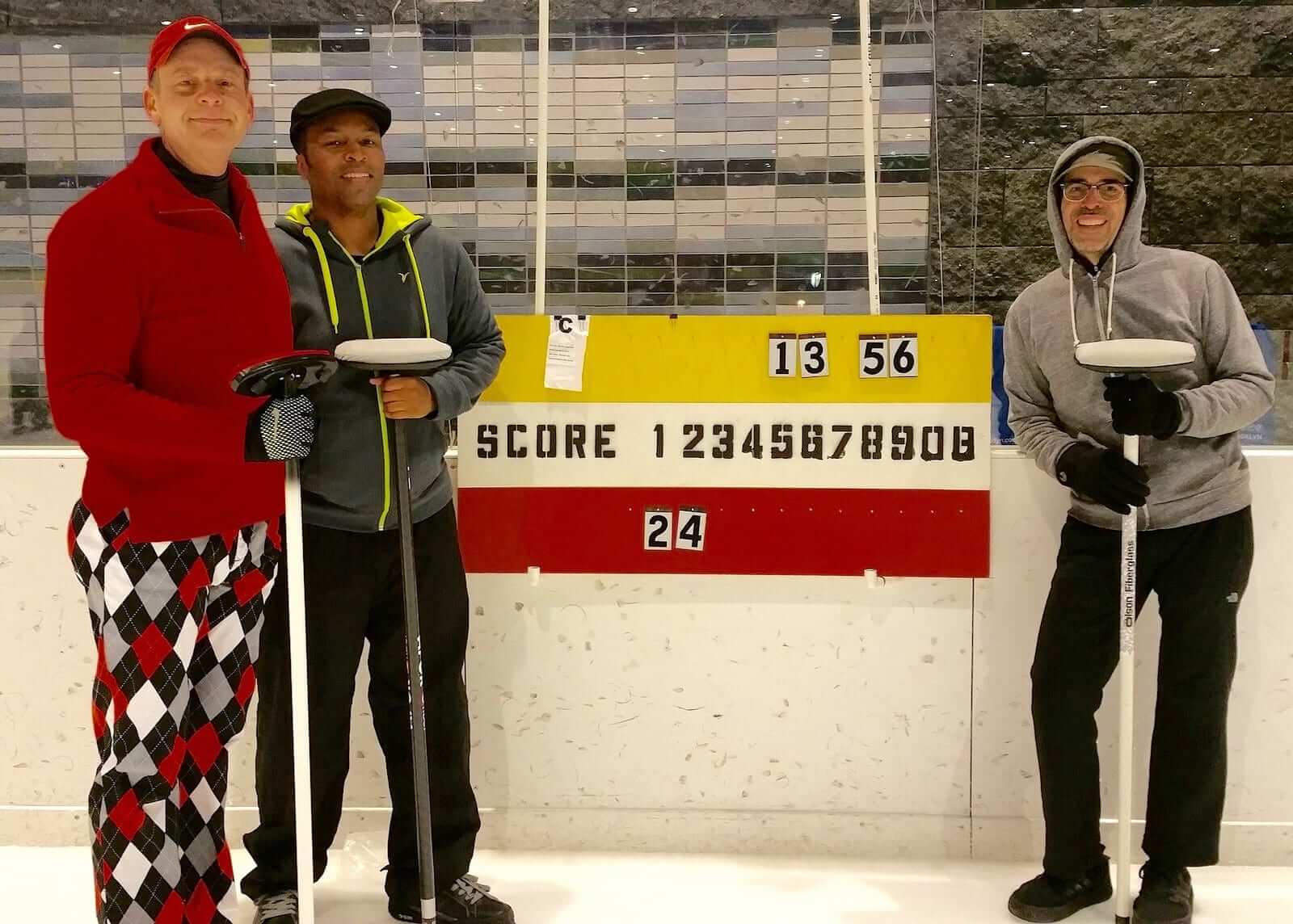 Click to enlarge
Curling update: Another week, another win, as we scored five in the first end and then coasted to a 9-2 victory. This one didn't count in our league standings (a lot of people were out of town for the holidays, so this week's games didn't count), but we still played really well. In fact, this was probably the best I've ever curled — the rocks were doing pretty much everything I told them to do. Very satisfying!
•  •  •  •  •
The Ticker
By Paul

Baseball News: New 20th-season logo for the Fresno Grizzlies. … Here's a quiz on Cubs logos through the ages. "The playlist provides links to similar quizzes for the Yankees, Phillies, Angels, and Washington football," says Dustin Semore. … Youngstown State used to have a vest with a penguin chest patch.

College Football News: The Tampa police force will have special badges for the College Football Playoff championship game. The badges include the CFP logo, which frankly seems pretty messed up to me. Police officers are public servants, and their uniforms should never include commercial logos or other forms of advertising (from James Gilbert).

Hockey News: UMass-Lowell goalies have some interesting backplate designs. Garrett Metcalf is 6'3″ is nicknamed "Giraffe," so his backplate shows a giraffe facing a barrage of pucks, while Tyler Wall hails from Leamington, Ontario, home to a major tomato processing plant, so his backplate features a tomato (from Tris Wykes). … Wayne Gretzky played less than a season with the Blues, but he showed up yesterday for the Winter Classic alumni game. "It was cool seeing him in the throwback Blues uniform, which he did not wear during his time with the team," says Wade Heidt. … Also from Wade: Toronto participants in the Centennial Classic alumni game wore a current Leafs uni with a centennial logo, and Lanny McDonald wore a helmet similar to his old Northland model. … The Carolina Hurricanes' emergency goalie is their equipment manager, Jorge Alves, who got into Saturday night's game. His mask design, which he painted himself, features his fellow equipment staffers, including the guy who sews the lettering onto the jerseys (big thanks to Elena Elms). … The WHL's Seattle Thunderbirds and Portland Winterhawks went color vs. color on New Year's Eve (Wade Heidt again). … All NHL teams are adding the league's centennial logo as a right-sleeve patch. Here's how it's been worn by the Penguins, Ducks, Flyers, and Caps, and here's where various teams are wearing it relative to their sleeve numbers (from Moe Khan and Wes Smith). … Gotta love this completely awesome photo from the Maple Leafs' 1928 training camp (great find by Marc Viquez). … The Senators are now wearing an anniversary patch.