Got a note yesterday from reader Crispian Routh, as follows: "Now that the Color Rush games are mercifully over, it got me thinking. What if the Thursday games were Throwback Thursdays instead? I know the NFL's one-shell rule makes it harder to do throwbacks, but what if that rule was abandoned?"
Crispian is far from the only NFL fan to have said, "I wish they'd done Throwback Thursdays instead of Color Rush." Literally dozens of people have told me the same thing, and I actually said the same thing myself in the little bio graf at the end of one of my recent ESPN columns.
But Crispian went a step further: He mocked up how this season's Thursday games could have looked if they'd gone with a throwback program. I'll let him explain:
Using uniform graphics from the Gridiron Uniform Database, I reimagined all of the Thursday games (excluding Opening Night, but including all three Thanksgiving Day games) and the Christmas Day game in throwback unis.

I realize not everyone will agree with my uni choices. Some teams, like Denver and San Diego, had multiple great unis to choose from; Dallas fans probably don't want to see their "jinxed" 1970s blue jerseys; and some prefer black cleats over white cleats, or vice versa. Also, there are two teams, Houston and Carolina, that don't have throwbacks to choose from, so I used unis from their first seasons, including their inaugural season patches.

Quibbles aside, the point was to just show how much better throwback games would look compared to the Color Rush games. You can be the judge.
To see the difference between reality and Crispian's fantasy, here's a graphic showing all of this season's Thursday-night uniform pairings as they actually looked, followed by a graphic showing the same teams in his proposed throwback pairing (click to enlarge):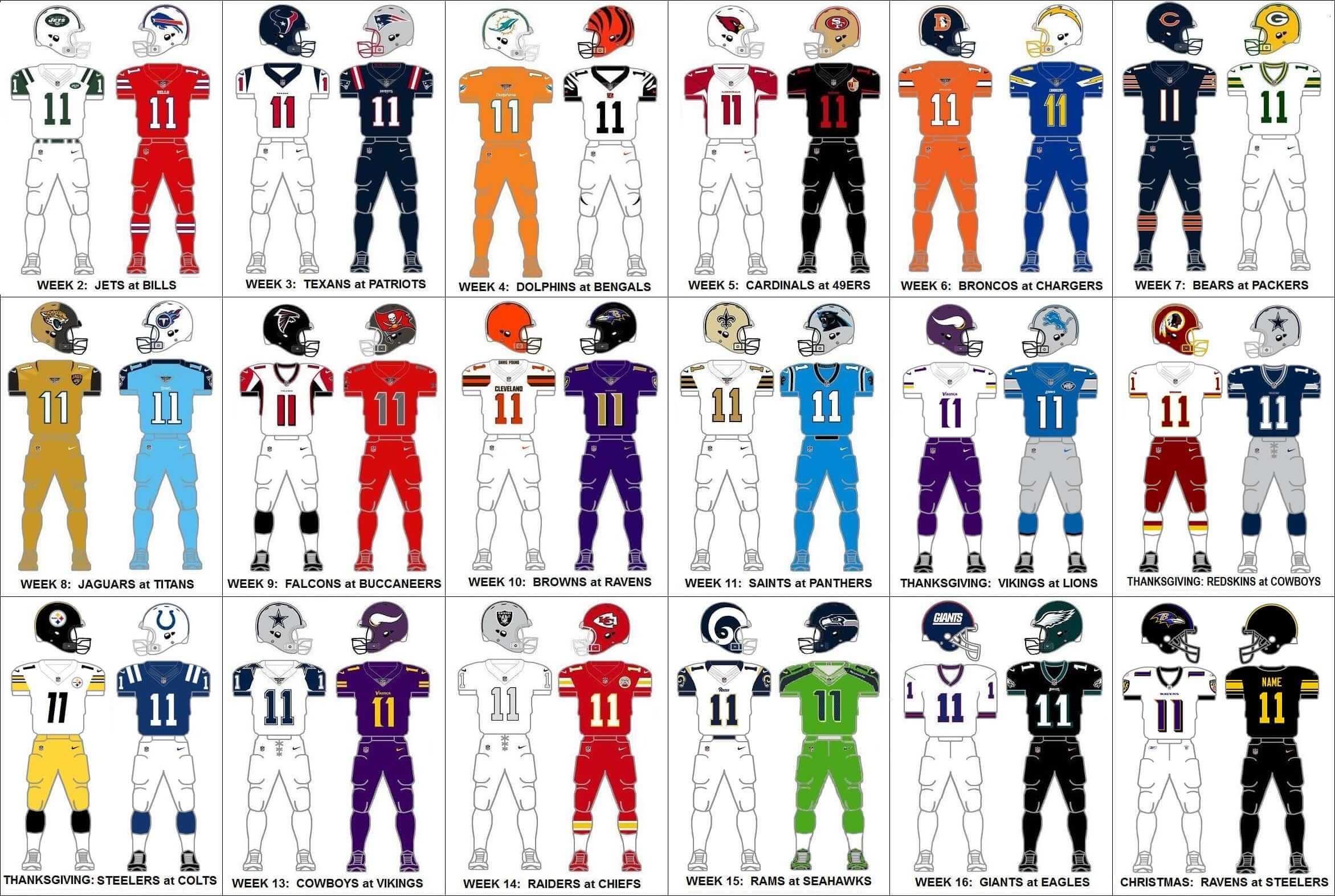 .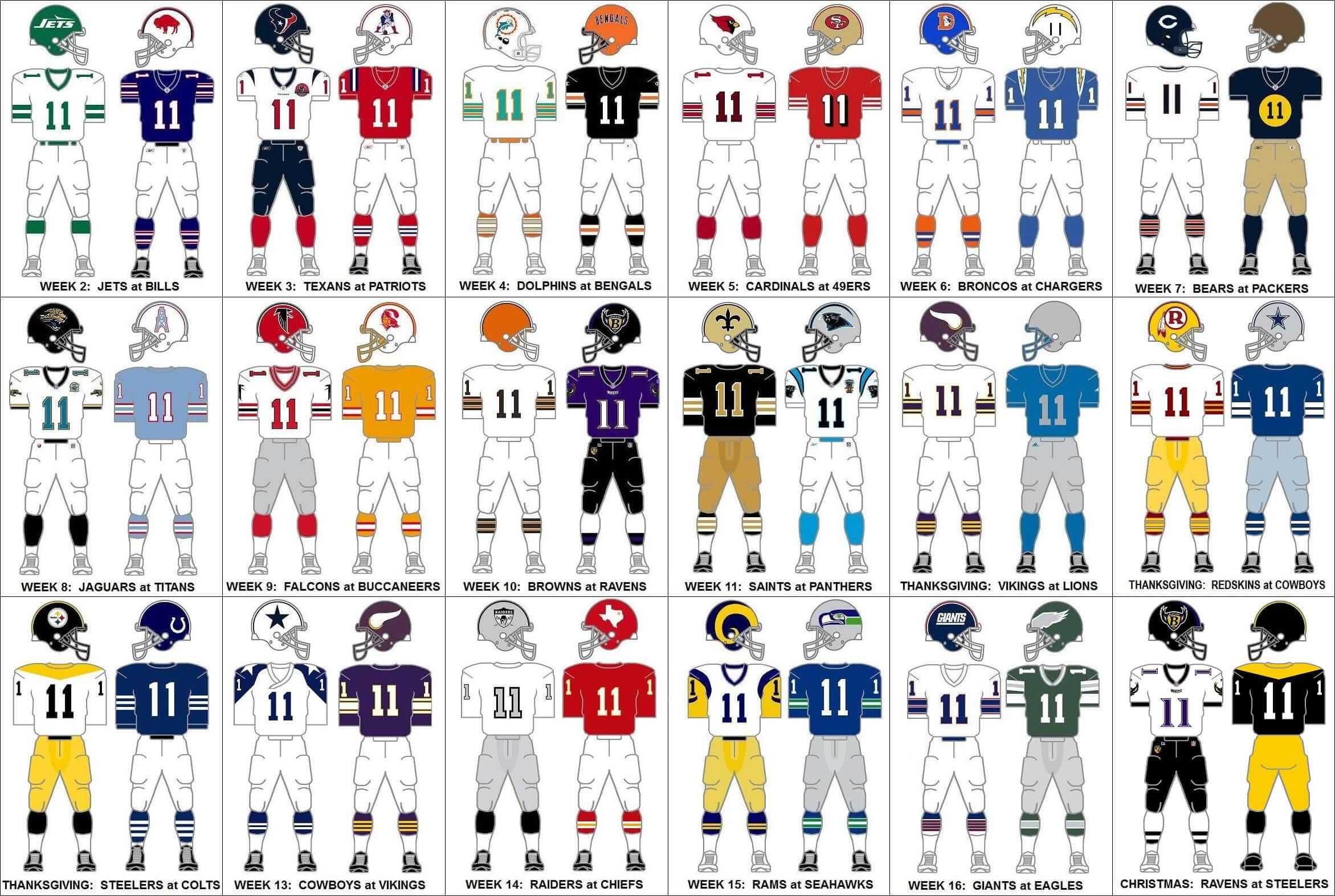 A few thoughts on this:
•  One might argue that this isn't really a fair fight, since Crispian conveniently suspended the one-shell rule for his imaginary throwbacks but Nike didn't have that luxury for the real Thursday-night uniforms. (Yes, I'm actually sympathizing with Nike. Someone take a screen shot!)
•  That said, even if the one-shell rule had been suspended this season, it's still a no-brainer: The throwbacks look better than the mono-tards. (And "Throwback Thursdays" is a few jillion times less cringe-inducing that "Color Rush.")
•  Regarding the Texans and Panthers: Instead of going with their existing uniforms and inaugural season patches, I'd suggest going with Houston's original white prototype helmet and Carolina's original prototype uniforms. These would be more along the lines of phantoms than throwbacks, but it would still honor the throwback spirit of reviving an old design.
Nice job by Crispian to show us how this could actually play out. Like he said, you can be the judge. What do you folks think?
•  •  •  •  •
Lord of the rink: Last night I watched a PBS special about the great architect and furniture designer Eero Saarinen (the whole thing is embedded above). He's most famous for designing the Gateway Arch in St. Louis, the TWA terminal at JFK Airport, and the womb chair (I was lucky enough to grow up with one of those in our living room), but he also designed lots of other stuff, including Yale University's hockey arena, which opened in 1958. I didn't know anything about this arena, but it has an amazing exterior and a really interesting series of wooden rafters on the inside.
The TV show spends a few minutes talking about the arena (that segment begins at the 34:57 mark). At one point one of Saarenin's old associates explains, "Saarinen sent people out from his office, all over the country, to look and see what a great hockey rink would be like. They came back and said, 'They're all horrible! They're all just barns with ice in the middle." So I guess that was the state of mid-century hockey arena design.
The show is really good. Watch the embedded version shown above!
•  •  •  •  •
The Ticker
By Paul

Baseball News: Reader Erick Kriewaldt found these Brewers and Packers "Mug o' Nuts" containers in his grandparents' attic. "My grandma thinks they're from either the late '70s or early '80s, when my dad and uncle were growing up," he says.

NFL News: When the 1959 Colts won the NFL championship, the players each received a gold Rolex watch. … Here's a really good spot regarding a small inconsistency with the Chiefs' uni numbers. … I put this in the baseball section, but I'll put it here as well: Erick Kriewaldt found these Packers and Brewers "Mug o' Nuts" containers in his grandparents' attic. "My grandma thinks they're from either the late '70s or early '80s, when my dad and uncle were growing up," he says. … For years I've had this photo of Bucs QB Doug Williams's "shark tank" helmet, but I'm not sure I'd seen an in-game shot of it until now (from Jacob M). … Speaking of crazy facemask rigs, check out what Cardinals OL Dan Dierdorf wore after breaking his jaw in 1977 (from Donovan Moore). … There's an emoji for Chargers QB Philip Rivers, and for some reason it shows the lightning bolts on his jersey as being red (from Jared Buccola). … Here's a seat cushion from the 1964 NFL title game between the Browns and Colts. I didn't realize seat cushions existed back then. When were they invented? (From Dave Robertson.)

College Football News: Here's what Pitt will be wearing today for the Pinstripe Bowl (from Jerry Wolper). … In a related item, here's a video clip on what Northwestern will be wearing for that game (from Matthew Simpson). … A North Texas player in yesterday's Heart of Dallas Bowl had one of the wing decals on his helmet peeling off. … Here's Youngstown State's patch for the FCS championship game (from Robert Hayes). … Each player in the Gator Bowl will get a customized bobblehead of himself (from Michael Rich). … Temple went with stars/stripes helmet graphics for yesterday's Military Bowl (from John M.). … Here's what Colorado will be wearing in the Alamo Bowl. … Florida players went bowling last night. Their attire was Jordan Brand, if you care about such things. … Baylor and Boise State went grey vs. white last night in the Cactus Bow. … In a related item, a Boise State player had some helmet decal issues last night in that game.

Hockey News: When the calendar turns over to 2017, all NHL teams will be adding the NHL centennial logo as a jersey patch. Here's how it looks for the Blue Jackets (from @BenKehoe). … An Adidas-made Penguins practice jersey has surfaced on eBay, and SportsLogos.net honcho Chris Creamer has confirmed that it's legit. Of course, it's only a practice jersey, so it's hard to care too much one way or the other. Wake me when there's an Adidas game jersey to see. … Members of the Red Wings' 1997 Stanley Cup championship team had a reunion, complete with jerseys and championship-anniversary patches (from Adam Globerson). … More on the Red Wings reunion: Nicklas Lidstrom wore a jersey with a captain's "C," which annoyed Dustin Burns. "Lidstrom was wearing the "A" in 1997," he says. "He didn't become captain until 2006-07." Steve Yzerman, who was the captain of the '97 squad, also wore the "C" at the reunion. … Wade Heidt was watching the Spengler Cup tournament in Davos, Switzerland, and noticed that the penalty box seating is pretty plush. … Blues G Jake Allen has new gear for the Winter Classic (from David Lee).

College and High School Hoops News: DePaul's heavily slanted back uni numbers make it hard to center the NOB (from Joe Ringham). … Note the discrepancies on the team in white. Some players have sleeves, some don't. Different number fonts, too. "That's a JV game by Meadowbrook High School in Ohio, my mom's alma mater," says Ian Lee. "My dad explained that this is because players like No. 33 are on both the varsity and JV teams. So to save time, they play the JV game in the varsity jersey."

Grab Bag: Interesting story on the fabric used on British train seats (from WIlliam Yurasko). … During a 1988 Aussie rules football game between Sturt and Port Adelaide, Sturt player Andrew Underwood had emergency repairs made to his jumper with masking tape (from Graham Clayton). … Love the precision of this schematic for a U.S. Border Patrol patch (big thanks to Dave Lang).