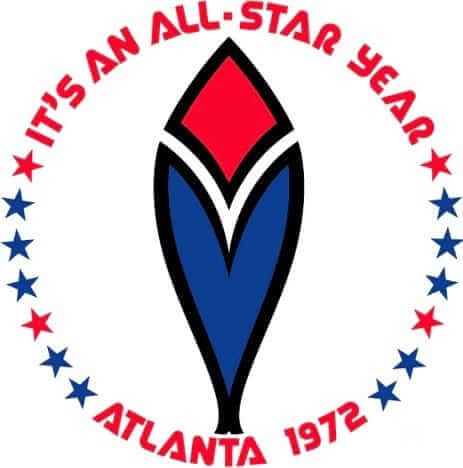 Greetings, people — happy post-holiday! Hope your extended weekend was as good as mine.
Reader Ferdinand Cesarano's weekend included watching the 1972 MLB All-Star Game, and he spotted some uni-notable moments. For starters, there were two instances of my favorite All-Star Game trope — players who for various reasons had to wear another team's batting helmet. I already knew that the '72 ASG featured Red Sox catcher Carlton Fisk wearing a Brewers helmet and Expos pitcher Bill Stoneman wearing a Cubs helmet, but Ferdinand spotted two additional examples, beginning with Giants shortstop Chris Speier stepping up to the plate in an Astros helmet (sorry about the blurry image quality, but the source video isn't great):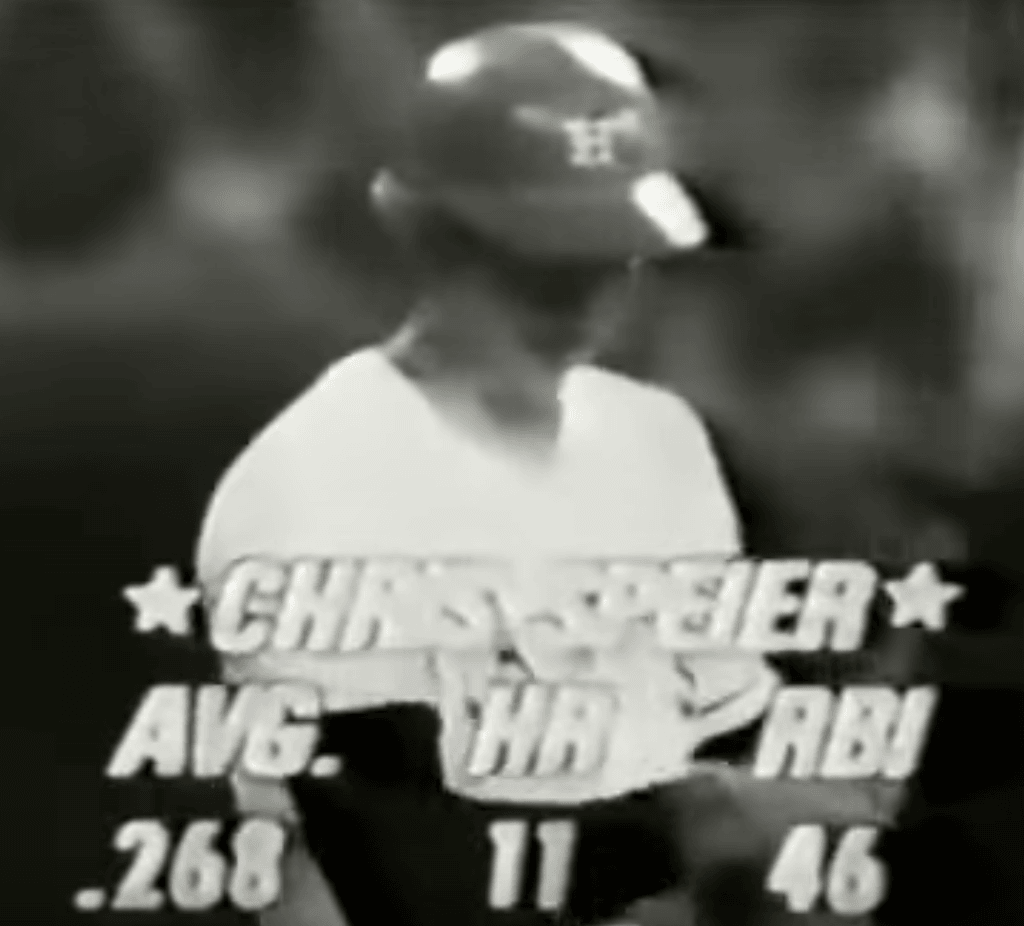 Ferdinand also spotted Tigers pitcher Mickey Lolich coming to bat in a Royals helmet: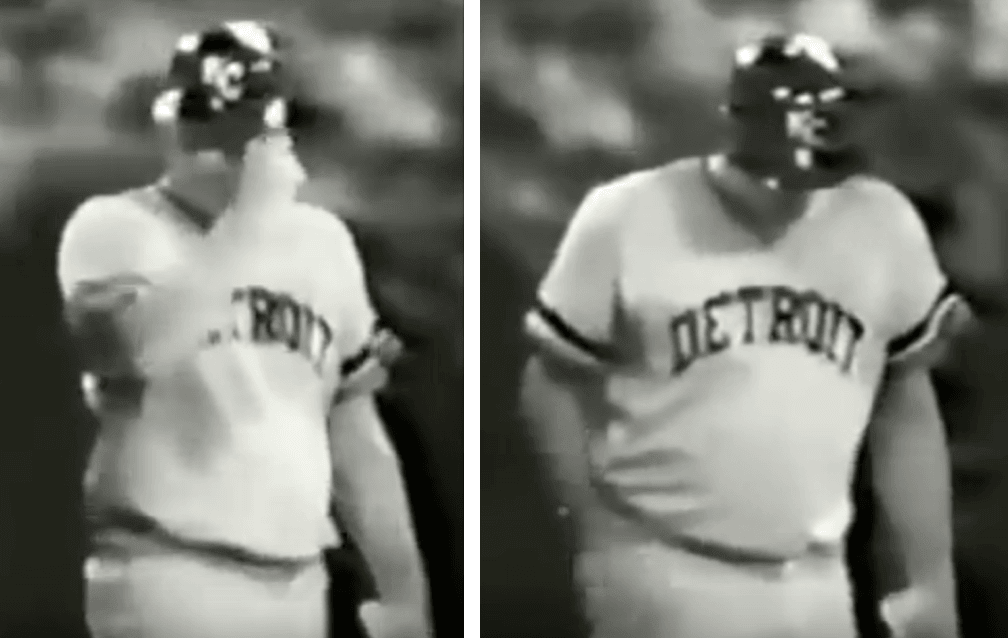 Remember, this was 1972 — a year before the DH rule went into effect — so American League pitchers were still hitting and still had their own helmets. But maybe Lolich didn't bother to bring his to Atlanta for the game.
Ferdinand also picked up on another uni-notable detail from that game. Let's take another look at that photo of Fisk: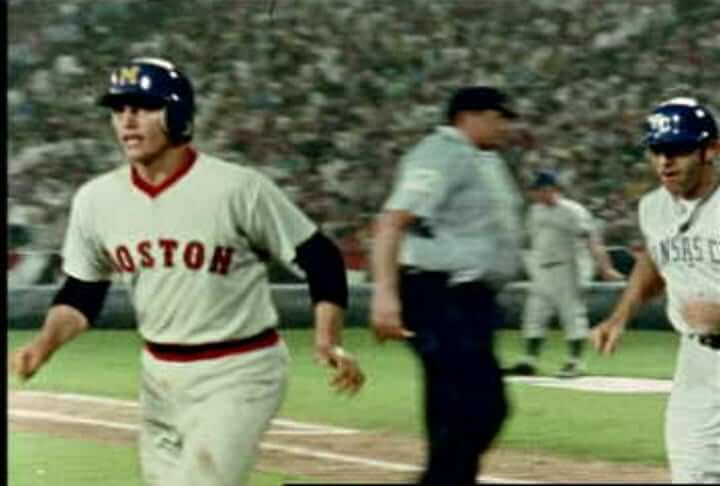 As you can see, he was wearing a pullover jersey and sansabelt pants. Lots of teams were moving to that format in the early 1970s, of course, but the interesting thing about that from a Red Sox perspective is that those newfangled uniforms were making their debut in the All-Star Game. Broadcaster Curt Gowdy mentioned this when Bosox outfielder Carl Yastrzemski came to bat in the top of the 4th:
I hadn't realized (or maybe just hadn't remembered) that the Sox made the double-knit switcheroo during the '72 Midsummer Classic. But sure enough, the changeover is noted in Bill Henderson's guide, and Dressed to the Nines shows the Sox wearing both the old and new uniform styles in 1972, although it doesn't note the date of the changeover.
For those keeping score at home: The Pirates did something similar in 1970, as they changed from flannels to double-knits for the second half of the season — immediately after the All-Star Game. The timed the changeover to coincide with the opening of Three Rivers Stadium (which had been slated to open on Memorial Day weekend, but construction delays pushed the grand opening back to mid-July).
The White Sox also made an in-season uniform change, in 1990. The new uniforms had been slated to debut in 1991, but the team started wearing them late in the 1990 season — the final year of the old Comiskey Park.
But I digress. Big thanks to Ferdinand for sharing the fruits of his holiday video watching with us.
•  •  •  •  •
For all photos in this section, you can click to enlarge
Shell game: While taking a walk on an outer-Brooklyn beach yesterday, I came upon a really cool oyster shell. We've all seen oyster shells with multiple layers, but in this one you can see each super-thin individual layer that was added to the shell as the oyster grew. The layers look like leaves in a book, or layers in filo dough. They also reminded me of the rings in a cross-section of a tree. Would it be possible to assess the oyster's age by counting the layers?
•  •  •  •  •
Attention reader Pete Fey: I received the payment for your membership (thank you!) but didn't receive a follow-up email with the details of what you want for your card design. Little help..?
•  •  •  •  •
The Ticker
By Paul

Baseball News: Awesome craft project here: Someone on Reddit's mom made a really cool scarf that tracks the Yankees' 2016 season, with different-colored stripes for home wins, home losses, road wins, and road losses (big thanks to Cody the Chicken).

NFL News: Cowboys RB Ezekiel Elliott wore an Emmitt Smith jersey prior to last night's game against the Lions. … Here's a video showing how a Browns helmet is manufactured at Riddell's factory (from Peter Kuzdal). … Here's a good look at Lions QB Matthew Stafford's one-fingered glove, which he's wearing to protect a dislocated finger (thanks, Phil).

College Football News: Motorcycle cops in Orlando have Miami Hurricanes-themed helmets (from Big Dooky). … Update on that last photo: Commenter Mike says, "The Orlando police that escort the teams around for the bowl games have their bikes and helmets dressed in stickers of the team they're assigned to. Here's a pic from when Mizzou was at the Citrus Bowl a few years ago." … Vanderbilt and NC State went color vs. color in last night's Independence Bowl (from Chris Mycoskie). …One Mississippi State player in yesterday's St. Petersburg Bowl appeared to have a much darker helmet than everyone else had. … When Nebraska plays Tennessee in the Music City Bowl this Friday, the Cornhuskers will be wearing a helmet decal supporting the Gatlinburg fire victims. This is the latest in a pretty strong new trend of teams supporting a cause that's more associate with their opponents than with themselves (from Lee Wilds). … Here's what Boise State will be wearing tonight for the Cactus Bowl (thanks, Phil).

Hockey News: Some great old uniforms and documents here. Those are all related to Bill Kodatsky, who played for a number of minor league teams in the 1940s and '50s (from Dave Kuruc). … Love this old NHL Starter jacket ad (from J. Walker). … The AHL was using the white-at-home format this season, but is now switching the dark-at-home for the rest of the season. The ECHL does something similar, switching after its all-star game.

Grab Bag: A controversy erupted around a Taiwanese high school when students marched in a parade wearing Nazi uniforms. … If you like abandoned buildings as much as I do, you'll love this website devoted to abandoned sites in the southeast (from my buddy Rob Walker). … Trash talk, racist taunts, and dirty tactics are apparently rampant on the Australian national cricket team.