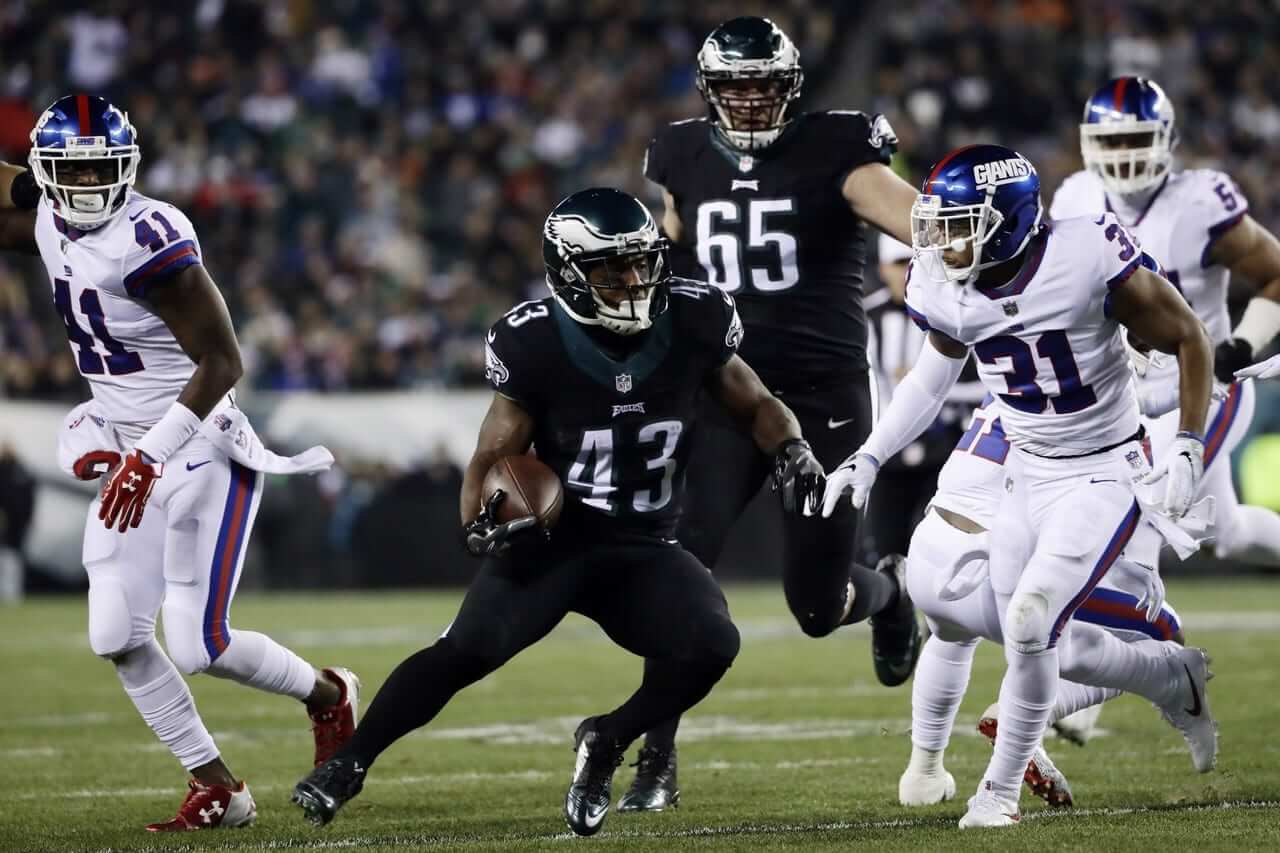 Click to enlarge
The Giants wore their Thursday-night throwbacks last night. I'll leave it for others to debate last night's "Giants" helmet mark vs. their usual "ny" mark (I like both of them), but I've been saying for many years that the Jints' white jerseys should be trimmed in blue, not red, so it was nice to see them going back to that, if only for one game.
The game featured several uni-notable bits, all of which were helpfully spelled out for us in the following tweets:
@PhilHecken Good detailing with the letter fonts on the Giants jerseys tonight. Look at each J, especially. pic.twitter.com/B2O4ydaHES

— Funhouse (@SportsFunhouse) December 23, 2016
Wow the #Giants even had the proper throwback numeral font for the back of their helmets @UniWatch pic.twitter.com/It4RXZfuSS

— Joe Giza (@JoeGiza) December 23, 2016
@PhilHecken @UniWatch interesting that Giants captains have 2 different color patches for color rush. 4+ years in blue. Others have red. pic.twitter.com/iIw9lGLVdZ

— JJ Sledge (@doublejphotoLA) December 23, 2016
@PhilHecken …and @UniWatch #NYGvsPHI pic.twitter.com/f4N3poJWJg

— Curtis Galvin (@CurtisGalvin) December 23, 2016
Eli Manning wearing @Nike cleats tonight that include grass taken from his high school football field. #GiantsPride pic.twitter.com/F9z9mhkpUN

— New York Giants (@Giants) December 22, 2016
Meanwhile: A blog I'd never heard of before, called Pro Sports Rundown, posted a piece about how the Giants ended up wearing white last night. Here's the key info:
Nike presented a red jersey and pants combination for its initial pitch to the Giants brass. … John Mara, president, CEO, and co-owner of the Giants, said: "This meeting is over. We are not going with this." The feeling simply was that the color red was not indicative of the iconic Giants "look" that has stood the test of time.

[…]

The second jersey and pants combination that Nike presented to the Giants was a blue combination. … Mara's thought process was that "[the Giants] can suffer through this one game" if they spun it as an ode to "Big Blue" and the "Big Blue Wrecking Crew."

[…]

After signing off on this look, after a couple of months, John Mara developed a case of cold feet at the very last minute, right before the permission forms were due to Nike. Mara told [equipment director Joe] Skiba: "I can't do it." At this point, Skiba's imminent fear was that the Giants were going to be "the only one out of 32 teams not [participating in Color Rush]." Mara explained to Skiba that he did not want this completely blue Color Rush uniform, worn for one night, to damage the organization's iconic, timeless look.
So then they came up with white as a last-minute solution. The real story here is how Giants team ownership finds the Color Rash program as ridiculous as so many of us do.
(Special thanks to Mark Gonillo for pointing me toward the Giants/Mara story.)
•  •  •  •  •
Click to enlarge
Friday Flashback: What you see above is the jersey that the Knicks will be wearing on Christmas Day. Look at all that texture! Very nice.
I've written an ESPN piece that ranks all of the previous Christmas uniforms. Check it out here.
(My thanks to Phil for the Knicks photo.)
• • • • •
LAST CALL for "Collect 'em all" proof: If you collected all six of this year's Uni Watch T-Shirt Club designs, you qualify for the year-end prize — a patch based on the jock tag graphic that appeared on this year's shirts. In order to claim your prize, you must send me proof that you purchased all six shirts by the end of today. The proof can be photos of the shirts and/or screen shots of your "Thank you for your order" emails from Teespring and Represent. Send your proof to me here. Thanks.
• • • • •
The Ticker
By Paul

'Skins Watch: The school board in Belding, Mich., has voted to stop calling its teams the Redskins. As an aside, if you look at the photo accompanying that story, you'll see that the school uses an interesting two-color treatment of the Michigan-style winged helmet design, which looks pretty good (from @Rovitz).

Baseball News: The Columbia Fireflies have released the logo for the 2017 South Atlantic League All-Star Game. The design bucks the recent trend by using a hyphen, instead of a star, for "All-Star" (from Andrew Shain). … Broadcaster Todd Kalas is moving from the Rays to the Astros, which prompted his colleague Dewayne Staats to post a tremendous picture of Kalas wearing a 'Stros shooting-star uni when he was a little boy (from James Poisso).

NFL News: Giants WR Odell Beckham Jr. says he was fined $18,000 for wearing Craig Sager tribute cleats last Sunday (thanks, Phil). … Another player who's been fined this week for wearing custom cleats: Washington WR DeSean Jackson. Seems like the bigger problem was his unauthorized black socks (Phil again). … Joe Bailey spotted these NFL player figurine water bottles at a Wegmans east of Rochester, N.Y. Here are some more of them. Among the notable aspects, from Joe: "Cowboys in blue; Bills helmet striping on back of helmet is incorrect; Saints' and Ravens' sleeves missing their team logos; and Seahawks' helmet decoration doesn't extend to back of helmet." … Tomorrow's installment of ESPN's NFL Countdown will include a report on how Cardinals running back David Johnson hand-delivers mail-ordered NFL jerseys to the doorsteps of unsuspecting fans. … Good story on how Panthers RB Jonathan Stewart's facemask came off during Monday night's game against Washington. … The Bills, who went mono-blue last Sunday, will do so again tomorrow. What a mistake (from Kenny Saidah).

College Football News: We've reached the point where high school players are announcing what their college jersey numbers will be (blame Phil). … Columbus Blue Jackets player Zach Werenski wore a Michigan winged helmet jacket and tie last night (from Kevin Pedigo). … Here's Virginia Tech's jersey patch for the Queen City Bowl (from Andrew Cosentino).

Hockey News: Sabres G Anders Nilsson had to switch to a plain white mask after his regular mask was fractured by a shot (from @bonesj0nes). … Reprinted from yesterday's comments: Flyers G Steve Mason now has gold-accented pads to wear with the team's 50th-anniversary jersey. … I had this in the college football section, but it's worth repeating here: Blue Jackets D Zach Werenski wore a University of Michigan winged football helmet jacket and tie last night (from Kevin Pedigo). … Speaking of the Blue Jackets, the NOBs on their pregame warm-up jerseys tonight will feature Twitter handles and hashtags, part of their Social Media Night promotion (from Ben Teaford).

College Hoops News: Arkansas-Pine Bluff was using inconsistent NOB fonts last night. Not sure which version is the one aberration and which one was being worn by all the other players.

Soccer News: Due to a kit clash, players on the Romanian team Timisoara had to wear plain white jerseys with the numbers inscribed with Sharpies. Reminds me of that Virginia Tech football game from 2007 (from Trevor Williams).

Grab Bag: Just what the world's been waiting for: Tiffany-branded police barricades. … Good article on how people are increasingly fed up with brand logos on apparel and are taking matters into their own hands by removing the logos. A New Era cap is used as the splash photo, although not mentioned in the article (from J.Walker). … A search of a North Carolina murder suspect's car turned up a bunch of stolen police uniforms. … NASCAR's premier series has a new name and logo. … The great Tom Junod, one of the best magazine writers of the past generation, recently moved from Esquire to ESPN. He's written a faaaaascinating piece about participation trophies. I don't agree with all of it, but I enjoyed reading all of it. It's long, and it earns every word. There are so many parts I want to quote, but I'll stick to the part where Junod mentions to his 13-year-old daughter that some people don't like participation trophies. Her response: "Oh, that's because they don't want losers to ever think they can win. That's because they don't want the fat kids to think that they can get a trophy." Highly recommended.
• • • • •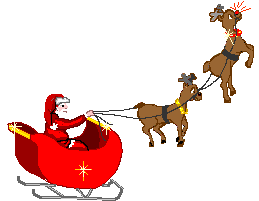 Holiday schedule: Phil has tomorrow off, Alex has Sunday off, Mike has Monday off, and I'm going to be out and about for most of those three days, all of which means it will likely be a quiet holiday weekend here on the site. I'll have fresh content each day (including the results of the year-end raffle, which will be posted on Sunday), but it'll be on the light side. Thanks in advance for understanding.
As for me: Tomorrow afternoon I'll be in the radio studio for my buddy Rex's WFMU show, Fool's Paradise, which will run from 1-3pm (available at 91.1FM and streaming online). It's his annual holiday show, which will feature a party in the studio while Rex spins our kind of Christmas tunes. My friends Jon and Karen always bring a new holiday-themed cocktail for the occasion — this year's edition is called a Claus Reviver — so I'm usually feeling pretty good by the time Rex hands me a mic and asks me to talk about the year in uniforms.
After the radio show, the Tugboat Captain and I will be heading to a "Feast of the Seven Fishes" party in New Jersey. Never been to one of those before, but I do love fisheseseses, so I'm excited.
On Sunday afternoon we'll be getting together with some friends for a classic Jewish Christmas — Chinatown and a movie — followed by a trip to my friend Garth's annual holiday bash, which always features a massive pernil (slow-roasted pork shoulder). And on Monday we'll be going back to New Jersey for a friend's birthday party.
I have to bring lots of snacks, appetizers, and desserts to those various parties, so I'll be cooking for most of today. However you're spending today and the rest of the holiday weekend, I hope it's a good time. If you're traveling, travel safe. And if you're working over these next few days, please accept my thanks for keeping the world spinning while the rest of us get to have fun.