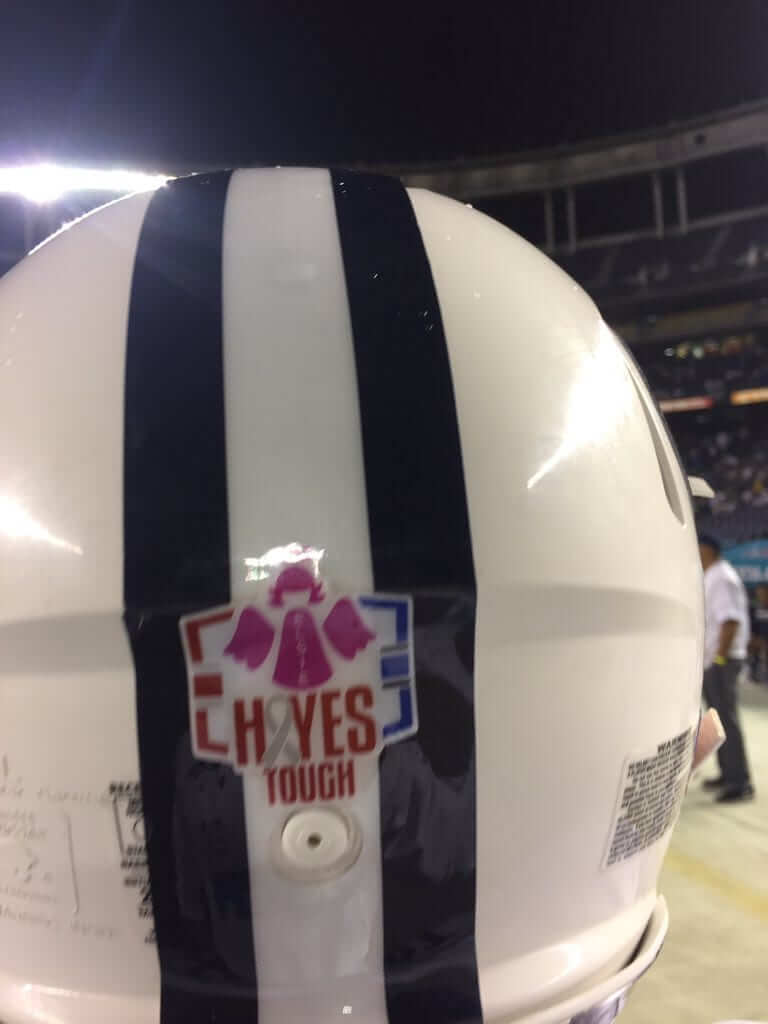 Click to enlarge
The college football community in Utah has been hit by two tragedies in recent weeks. First came the death of Elsie Mahe, the three-year-old daughter of BYU running backs coach Reno Mahe. That was followed by the death of Hayes Tate, the 20-month-old son of former Utah safety Steve Tate. In last night's Poinsettia Bowl, BYU wore a helmet decal memorializing both children, featuring elements in both schools' team colors. Utah will wear the same decal for its bowl game next Wednesday. Interesting to see the two schools collaborating this way.
BYU also had the Mahe family run onto the field prior to last night's game with a pink flag signed by every team member. Additional info here.
• • • • •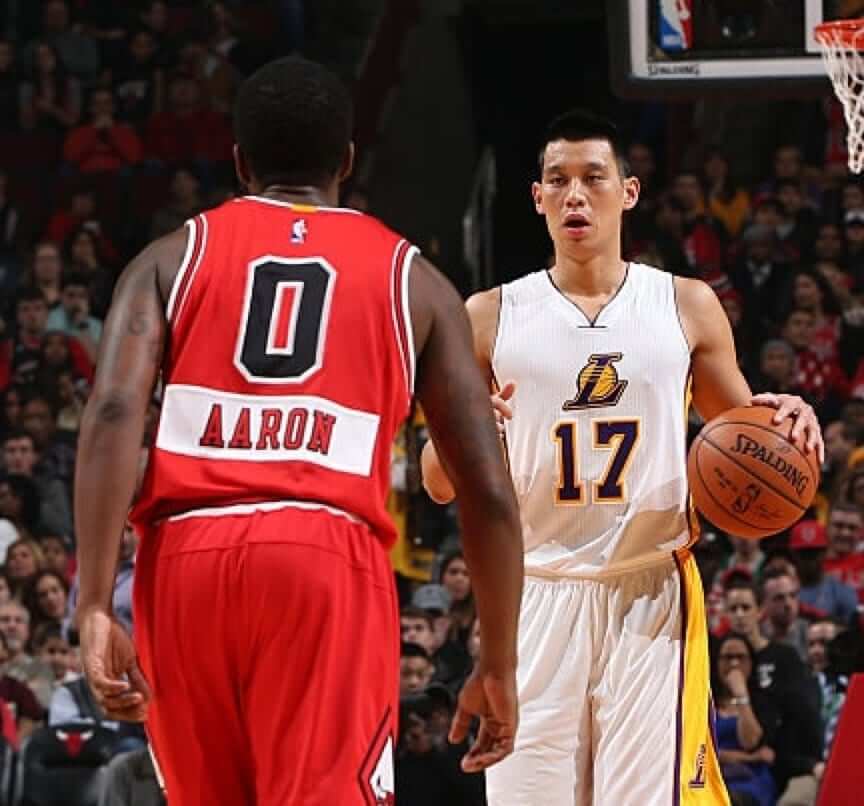 Click to enlarge
Non-Friday Flashback: With the NBA slated to wear new Christmas uniforms in a few days, I've done an ESPN piece in which I've ranked the uniforms previously worn on Christmas Day (including the 2014 set, shown above, which had first-name NOBs positioned below the players' numbers). Link coming soon. Check that, it's been bumped to tomorrow.
•  •  •  •  •
Important T-Shirt Club reminder: If you collected all six of this year's Uni Watch T-Shirt Club designs, you qualify for the year-end prize — a patch based on the jock tag graphic that appeared on this year's shirts. In order to claim your prize, you must send me proof that you purchased all six shirts by the end of this week. The proof can be photos of the shirts or screen shots of your "Thank you for your order" emails from Teespring and Represent. Send your proof to me here. Thanks.
• • • • •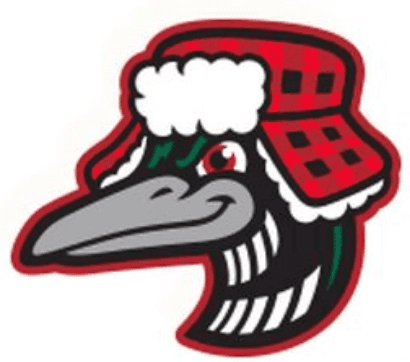 Creamer Awards: SportsLogos.net poobah Chris Creamer recently assembled a panel of judges — myself included — to vote on the best and worst logos of 2016 (including the Great Lakes Loons secondary logo, shown at right). You can check out the results here.
•  •  •  •  •
The Ticker
By Mike Chamernik

Baseball News: Jazz great Louis Armstrong was a Brooklyn Dodgers fan but later supported the Mets (from Michael Clary). … Designer Todd Radom talked about minor league logos, the design business, and his personal backstory in a recent interview (from Jason Hillyer). … Maryland will have 3D batting helmet logos next season (from Bryan Duklewski). … Recently retired Cubs catcher David Ross wore a Santa cap with an adjustable strap. I've never seen that style before. Maybe it's a novelty hat. … Braves SS Dansby Swanson is changing uni numbers, from 2 to 7 (from Daniel Donell).

NFL News: Packers WR Davante Adams says he shredded his gloves after he dropped two touchdown passes last weekend. … Seahawks DE Michael Bennett wore a Christmas sweater that shows his signature sack dance. … Those play-call wristbands that quarterbacks use were created in the 1960s. Turns out that astronaut James Lovell had a booklet attached to his left glove during the Apollo 13 mission (from Steven R Marks). … At Cowboys training camps in the early 1990s, rookies dressed in the traditional blue pants while veterans wore white. Now the veterans wear colored pants and the rookies wear white (from Kenny Kaplan).

College Football News: Eight Vanderbilt players will wear SEC Graduate patches for the Independence Bowl. They all completed their undergraduate degrees during the fall semester (from Max Herz). … A writer named Utah's all-black uniform and Pitt's blue-and-gold script throwbacks as two of the best alternate unis this year (from Phil). … Oklahoma wore jackets with a reversed OU logo during a 1976 game against Nebraska (from Greg Mays). … "I know back in the '60s and '70s, certain stadiums lettered the end zones for the visiting teams," says Kenny Kaplan. "In 1969, NC State not only lettered one of the end zones for Penn State, but even painted it in white and blue."

Hockey News: Spartak, a Moscow-based club, will wear retro jerseys for a 70th-birthday game against Lokomotiv (from Aaron Scholder). … The Ducks' Joseph Cramarossa has been missing his helmet numbers recently. He wears No. 74 (from Mike Engle).

NBA News: The Pelicans and Thunder went color-vs.-color last night. … The Cavaliers brought back their bright orange throwbacks this season. The team adopted the colors in 1983 as a way of distancing themselves from former owner Ted Stepien (from Mary Lynn Delfino).

College Hoops News: A player on Fairfield has some freaky tattoos on his arms. … Dartmouth gave out Christmas sweater T-shirts at a women's game this month (from Tris Wykes). … Boise State coach Leon Rice split his pants last night (from Kenny Ocker).

Grab Bag: Instead of the traditional tech gift that Apple employees usually receive at Christmas, workers this year got brand-promoting T-shirts instead.
•  •  •  •  •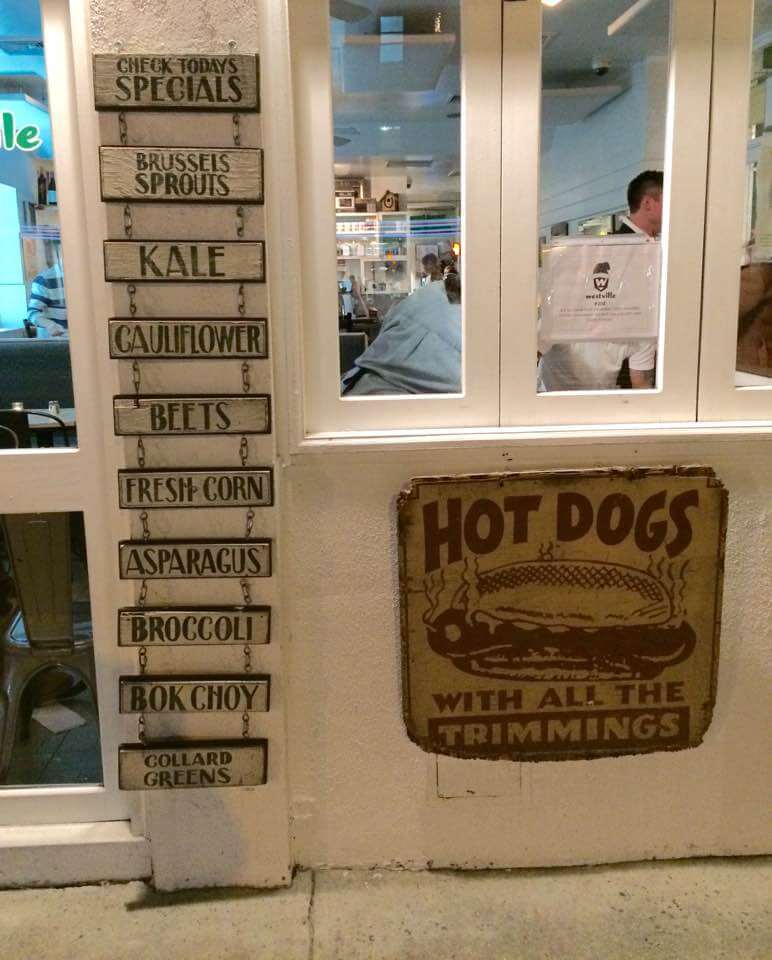 Click to enlarge

What Paul did last night: Went out last night to see the always awesome Gowanus All-Stars. As I walked to the subway after their set, I passed an eatery with the signage shown above. Never has the choice between Column A and Column B been so stark.