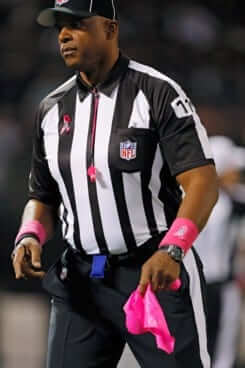 Big news out of the NFL yesterday, as word came down that October will no longer be breast cancer awareness month beginning in 2017. A little birdie had tipped me off to this one about two months ago but had sworn me to secrecy, so I'm glad the league has now gone public with it.
So does this mean the NFL is getting out of the cancer-awareness biz? Not exactly. From that previously linked article:
[E]ach club will choose its own cancer cause to support during a three-week window next October. The initiative will still be called "A Crucial Catch," but teams now have a say in the cause they'll champion for about 18 percent of their schedule. They can still choose breast cancer, or another detectable, screenable cancer such as prostate or colorectal cancer "" or one to which a player or coach has a personal tie. Teams can also support more than one cancer cause per season, and they can change their choice(s) from one season to the next.
So what does that mean from a uniform standpoint? Let's skip ahead to the following passage:
Details for 2017 are still being worked out, such as the design of a logo. There will likely not be an element on player uniforms in the first year of the campaign, and there's not one signature color, so the NFL and [the American Cancer Society] are looking into other ways to raise funds beyond the sale and auction of gear and game-used equipment.

"The truth is, as we transition in 2017, it will be a different kind of year," [NFL VP of social responsibility Anna] Isaacson says. "Once we see how that goes, we will know more for 2018."
So it sounds like there probably won't be any color themes in 2017 — or at least that's the plan. But I'm skeptical. We've seen over the years that athletes love to accessorize to highlight a cause or send a message. With every cancer now having its own color, I suspect players will find ways to wear their teams' cancer-appropriate colors via shoes, wristbands, athletic tape, and so on. Yeah, I know, the NFL can fine them, but will they really issue fines for players doing something to support a league-promoted campaign for a worthy cause? (And even if they do fine the players, so what? It's pocket change to these guys.)
So instead of Pinktober, we may now have a mishmash Greentober, Bluetober, Purpletober (shudder), and so on. And even if that's not how it plays out in 2017, it sounds like there's a good chance it could happen for 2018. Seems like it could be a case of the cure being worse than the disease. The one plus is that it's only slated to last three weeks, instead of the usual four.
People, I'll be frank with you: Cancer has done a serious number on my family. It killed one of my brothers, both of my sisters-in-law, and one of my grandmothers (plus my father had cancer when he died, although it wasn't his official cause of death). I had a cancer scare myself earlier this year. So I know a thing or two about how serious an issue cancer is, and I appreciate that the NFL wants to help.
Honestly, though, when it comes to watching a football game — or, really, any other game — I've developed a serious case of Worthy Cause Fatigue. It all feels like just the latest turn of the ratchet. These "special" uniforms and accessories never look any good, the messaging starts to feel preach-y, and someone's always skimming money from the merch sales. The leagues and teams could do at least as much good simply by donating some cash and encouraging fans to do the same. I wish they'd do that instead.
•  •  •  •  •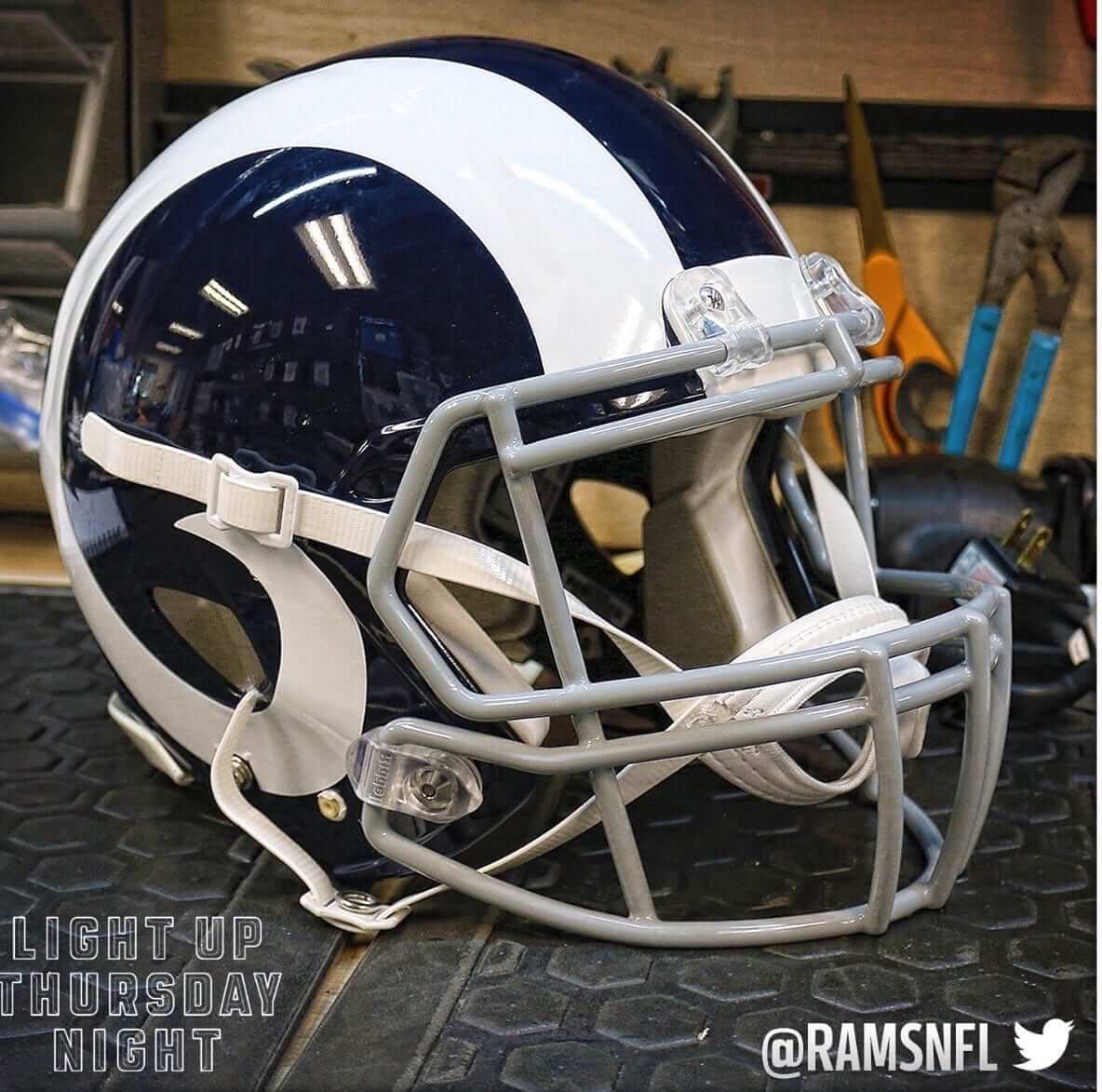 So here's a question: As you probably know by now, the Rams will be wearing white helmet horns for tomorrow night's game in Seattle. It will be the first time they've worn white horns since 1972 (and will also mark their third horn color of 2016 — apparently a single-season record).
As the news about the white horns was announced on Monday night and spread on Tuesday, reaction on social media was extremely positive. That matches most of the chatter I've heard from fans since the Rams announced their move back to L.A., which has included many, many people saying they should go back to the old blue/white look — not just the helmet, but the full uniform.
I find that surprising. For one thing, the Rams' blue/white era was short, lasting only nine seasons (1964-72). Most fans on social media weren't even alive, or at least weren't watching football, during that period, so it's not as though they have fond personal memories of that uniform. Moreover, the Rams' change to yellow horns and yellow pants in 1973 seemed like the right move for the color TV era, especially for a team playing in Tinseltown. The snazzier color scheme seems even more geared for today's high-def, short-attention-span uni-verse, no?
I'm not saying I don't like the blue/white design — I do. But I'm not sure I like it better than the royal/yellow design that replaced it, and I'm genuinely surprised to hear so many fans embracing it. Seems kinda plain for today's fan base.
Then again, maybe the blue/white partisans have just been louder, at least within my earshot. Yesterday I asked my Twitter followers which uniform they preferred — blue/white or royal/yellow. The responses leaned heavily toward royal/yellow (with several people adding they don't like blue/white because it reminds them of the Colts), which wasn't what I'd been expecting based on the background chatter over the previous year.
Which uniform do you folks prefer, and why? And to even the playing field a bit, pretend that both versions include the ram's horns on the jersey (or that both versions don't include that element, if you prefer).
•  •  •  •  •
The Ticker
By Paul

Baseball News: A new Lids flier promoting MLB authentic caps shows a Mets cap with New Era logo creep but a logo-free Yankees cap. "Does this mean the Yankees are exempt?" asks David Long. My understanding had been that all teams would be subject to the cap logo creep next season, so I double-checked with Chris Creamer, who was privy to the inner workings on this one. He said he had specifically asked about the Yankees and was told that they'd have to wear the New Era logo, same as everyone else. (Ditto for the Under Armour logo in 2020, he added.) Still, that Lids flier does seem to imply that the Yanks are getting special treatment, so Chris and I are both working our sources to see what's what. Stand by. … Minor league teams often have issues with inconsistent pants, as you can see in this El Paso Chihuahuas shot, which includes a player with Majestic pants with no MLB logo, Majestic pants with the MLB logo, pants made by Russell Athletic, and player wearing home whites while everyone else is wearing grey (good one from Steve Vibert). … Here's the logo for the 2017 Frontier League All-Star Game (from Steve Johnston). …. "I always thought the Mike Laga 1987 Topps card featured the worst baseball card airbrush job ever," says Austin Gillis. "But while looking for something else, I just ran across Claude Osteen's 1975 card, which gives Laga a run for his money." … Gordon Blau ran into a guy in Key West who has some serious MLB team logo tattoos. "He's a Brewers fan, and he said he put the Yankees and Cubs near his armpit, where they belong," says Gordon. Too bad he didn't save that spot for Wahoo and Atlanta's whooping Indian — or leave them out altogether. … New uniforms for the Toledo Mud Hens. Further info here. … Here's some home movie footage — a bit underexposed, but still pretty great — of an early-1960s Reds/Colt .45s game (from Bo Baize). … A new children's book celebrating the Cubs' championship inexplicably has Starlin Castro on the cover. He's played the past season-plus for the Yankees (from Chris Flinn).

NFL News: Remember that padded helmet that Willie Lanier used to wear? I hadn't realized — or maybe just forgot — that former Raiders RB Marv Hubbard wore that same helmet model. Stumbled across that photo the other day while looking for something else. … The Ravens, Browns, and Cardinals will all make their London debuts next season. … Here's a close-up of Giants RB Paul Perkins's chipped helmet shell and torn decal from Sunday night, as posted by Jints equipment director Joe Skiba (from Jamie Burditt). … If you go to this Deadspin story and Control-F on "Portland," you'll see a very amusing story from someone who seriously dislikes the Color Rash unis (from Eric Bangeman). … The eBay auction for this very nice vintage long-sleeved Dolphins tee will already have closed by the time of next week's Collector's Corner, so you'd better snap it up now! "Look at that Sears artwork," says Brinke. … Former NFL great Jim Brown has a Syracuse lacrosse cane (from Dan Gartland). … Donald Trump was given a personalized Packers jersey during a recent trip to Wisconsin (from Phil, via @LukeTeeslink). … Rams exec Kevin Demoff announced last night that the team will wear its royal/yellow throwbacks on Christmas Eve against the 49ers.

College Football News: Whoa, check this out: The 1990 Freedom Bowl, which had Oregon playing Colorado State, featured a color matchup for the ages: green over yellow vs. yellow over green. Even for me, that might be too much of a good thing (from Benjamin Brune). … Very interesting article about naming advertisers for bowl games. If you prefer to avoid that corporate cesspool altogether, use our handy Naming Wrongs browser extension, which restores the bowls to their pre-corporate names. … The uniform program at Arizona State has gone so far off-course that a memo had to be issued reminding the athletics staff that uniforms should be primarily team colors (from Kenn Tomasch). … Who are these guys with the Oregon and TCU helmets? That's a year-old shot of Congressmen Ryan Zinke (R-Montana) and Roger Williams (R-Texas) just prior to last season's Alamo Bowl. Zinke, who's reportedly about to nominated as Secretary of the Interior, played college ball at Oregon. Williams attended TCU but did not play football there. He did, however, play baseball, and later played briefly in the Braves' farm system.

Hockey News: Flyers G Steve Mason, who's been playing really well lately, may owe his recent success to a switch to a new model of skates, the Bauer 1S. Rangers G Henrik Lundqvist raved about that skate after switching to it last year (from Adam Brodsky).

NBA News: Do these video game screen shots show the 2017 All-Star Game jerseys? I believe the screen shots are legit (i.e., not a Photoshop job), but I have no idea if they show the actual ASG deisgn. … I'm not sure how old this photo is — at least 20 years, I'd say — but a Spurs player appeared to have an upside-down 5 on his jersey (from Sean Wilson). … The 76ers' offices include a conference room adorned with jerseys from team legends (from Kary Klismet). … Paul George of the Pacers has designed a new line of Pacers caps (thanks, Mike). … LeBron James is wearing a safety pin — a symbol of support for groups that feel threatened by Donald Trump's impending presidency — on the cover of the latest Sports Illustrated. Our own Phil Hecken wore a similar pin for one of our recent curling matches. … The Suns wore black at home last night, forcing the Knicks to wear white on the road (thanks, Mike).

College and High School Hoops News: UConn apparently had sleeved jerseys back in the 1940s or '50s. … Check out the uniforms for Aliquippa High School in Pennsylvania: white jerseys, black shorts. I like it! But what I really like is the "Quips" chest mark.

Grab Bag: Here's a very entertaining video clip about a 1969 novelty toy catalog. Good stuff (big thanks to Evan Dammarell). … This article about a new startup company that has created a product that can extend the shelf life of produce includes a photo that shows one of the company's employees wearing a lab coat with a uni-style number and NOB. … Bojangles is debuting a new restaurant design in Greenville, S.C. Key passage: "New uniforms for all Bojangles team members will complete the updated look." … New logo for the state of Minnesota (from Jeremy Formo). … Coupla auto racing items from David Firestone, including a new look for the NHRA Pro Stock Camaro in 2017, a new sponsor for NHRA driver Courtney Force, and a look at the evolution of the F1 steering wheel. … Retired Marine Gen. James Mattis, who's been tapped to become our next Secretary of Defense, likes to wear his flak jacket backwards (from my longtime pal Rob Walker). … Spree candy is now available in throwback packaging (from Kevin Corcoran).