Many of you may be aware of the Negro Leagues Baseball Museum in Kansas City. But you might not know about the Negro Southern League Museum, which is in Birmingham, Alabama. I didn't know about it myself until longtime reader Judy A told me that she'd recently been there during a trip to Birmingham. She took a lot of photos, some of which we're going to look at today. All of the information and commentary that follows is from Judy, not from me. For all photos, you can click to enlarge.
———
Here's Melvin Humes, a former NSL player, standing in front of the Newcastle Bombers jersey he designed. Lovely man, and very happy to share stories about the league and players with us and other visitors.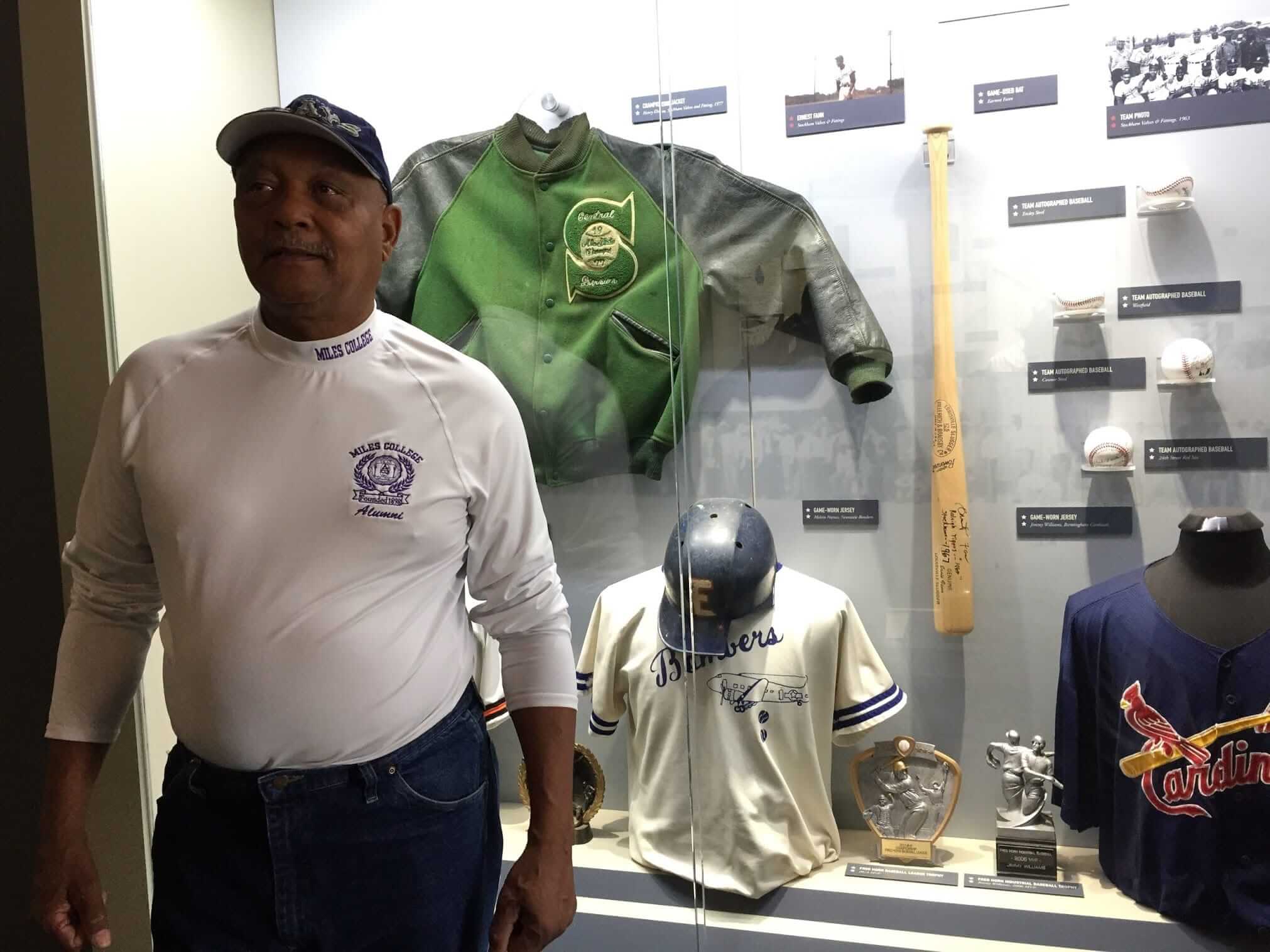 Here's closer shot of the Bombers jersey. Mr. Hume was very pleased to point out that the "bombs" were baseballs. I didn't get a chance to ask him what happened to the helmet.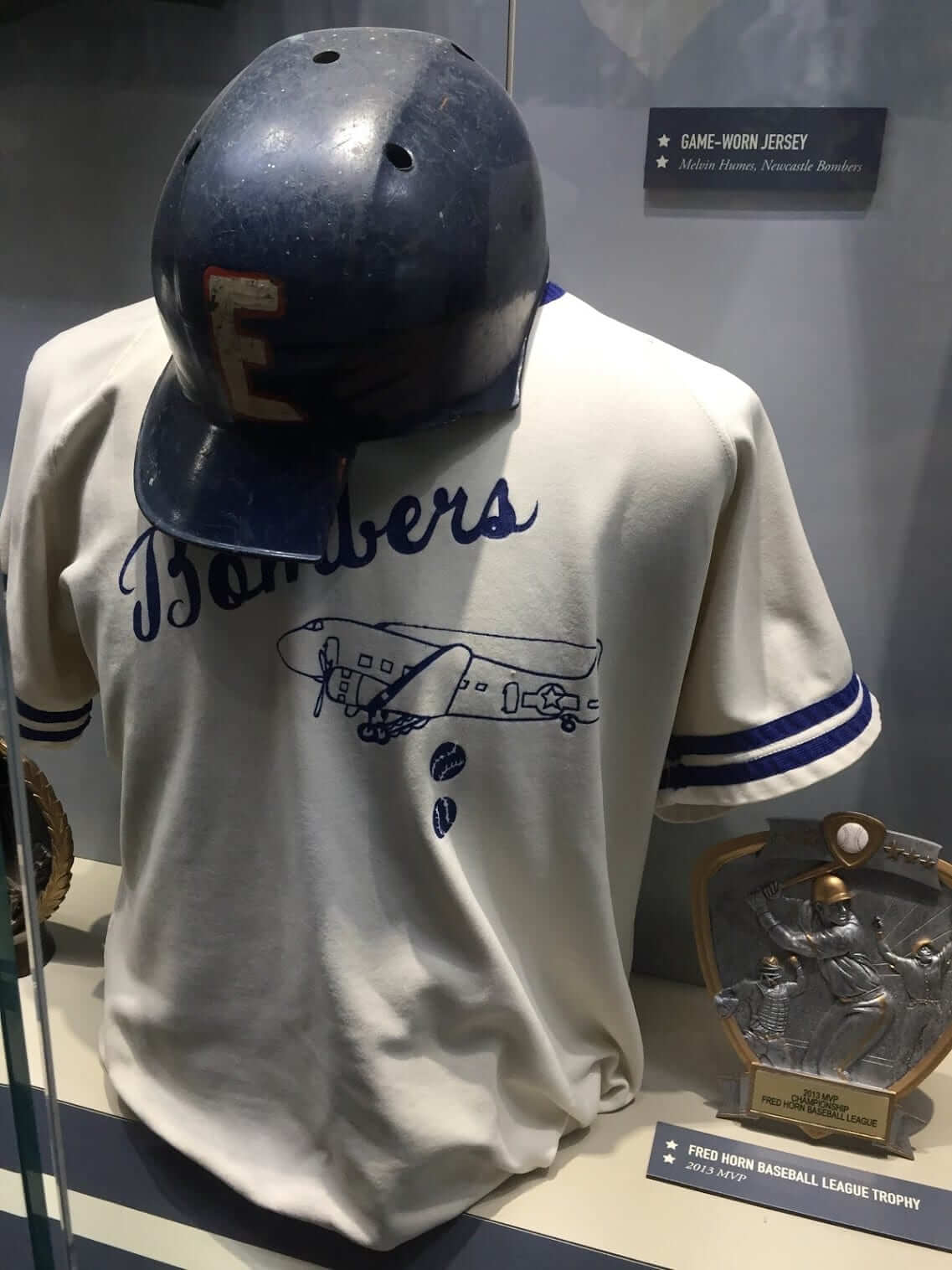 This is a game-worn Birmingham Cardinals jersey and the MVP trophy for Jimmy Williams. Note that the cardinals face away from each other, instead of the inward-facing pose used by the St. Louis Cardinals.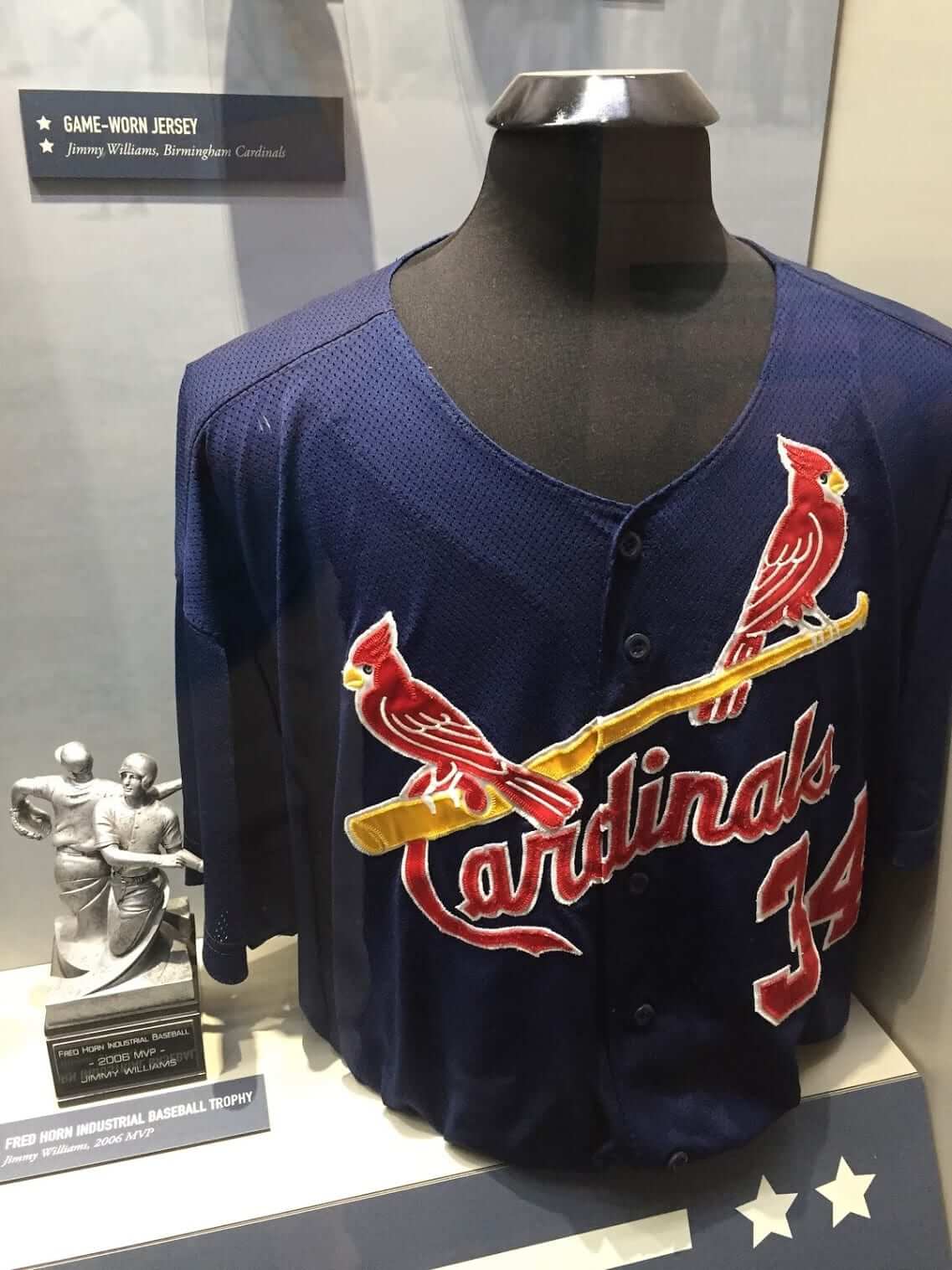 One of my favorite exhibits at the museum was this game-worn jersey from Stockham Valves and Fittings (yes, that was their real name) of the Industrial League. I love that patch.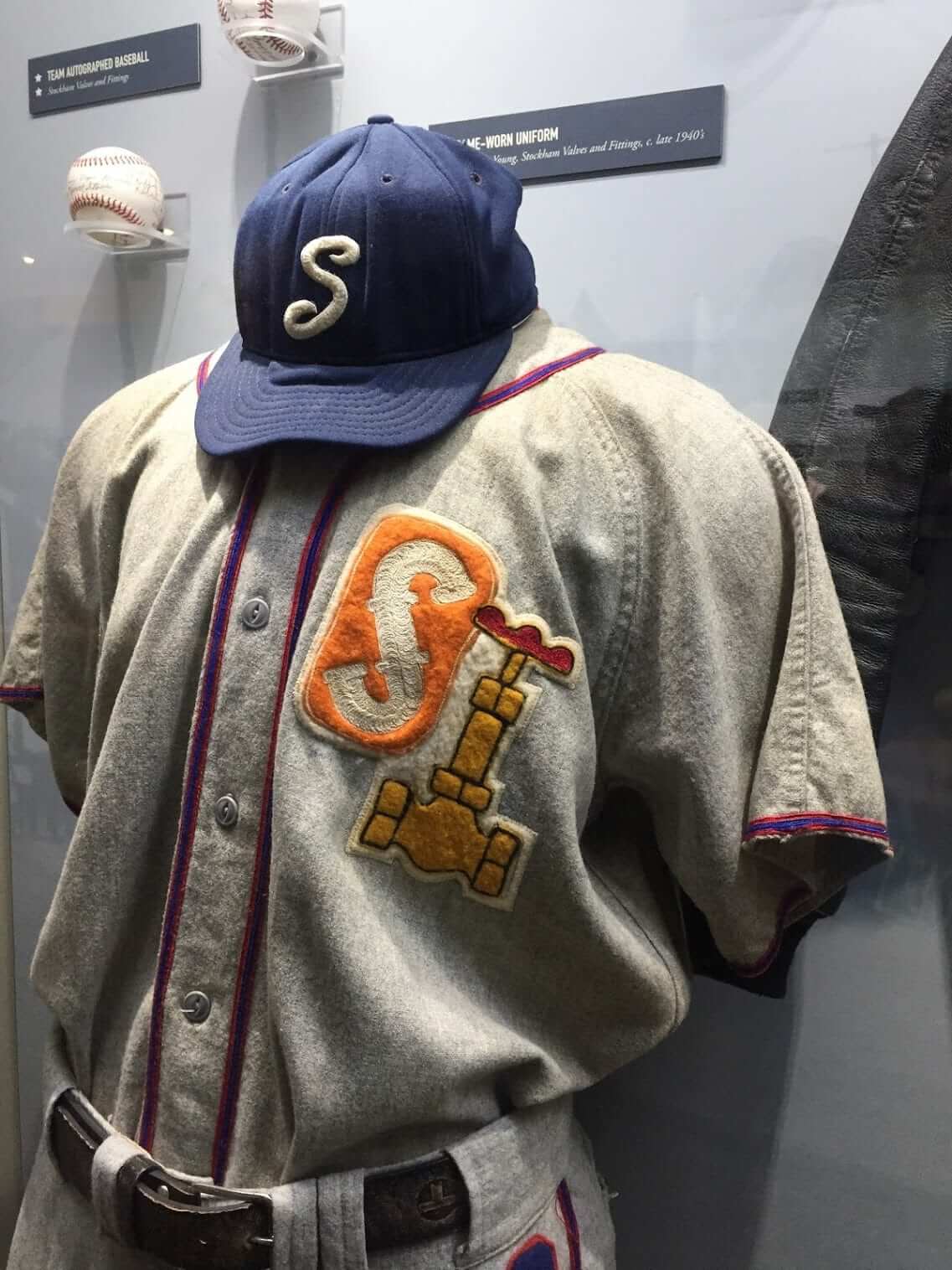 Lots of Satchel Paige stuff in the museum. This was his Paige All-Stars uni.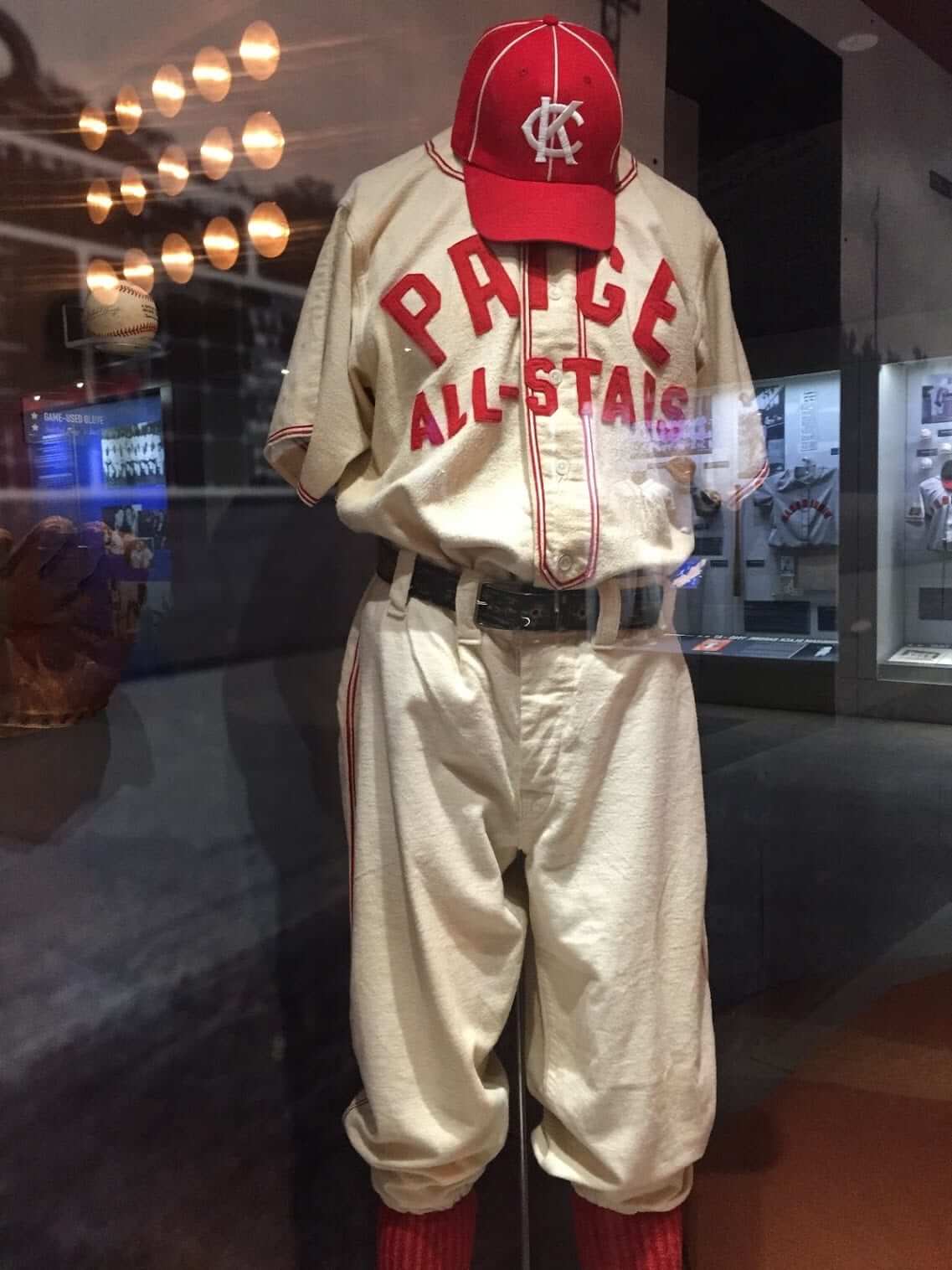 Another great feature of the museum: They had a hologram of Paige throwing four of his signature pitches. You can stand in the batter's box and have him throw the Hesitation Pitch to you.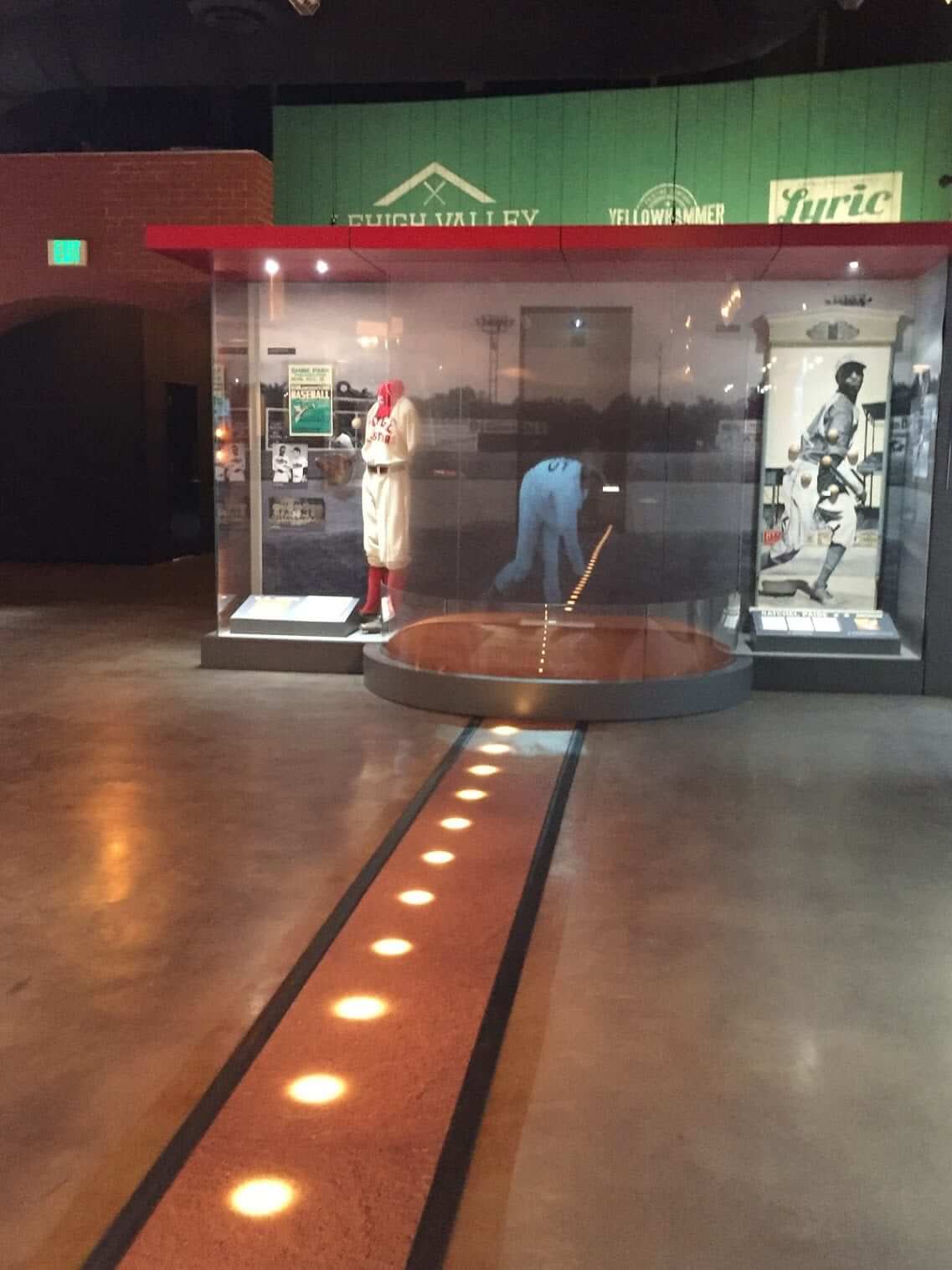 Here's a look at Paige's grips for several of his pitches.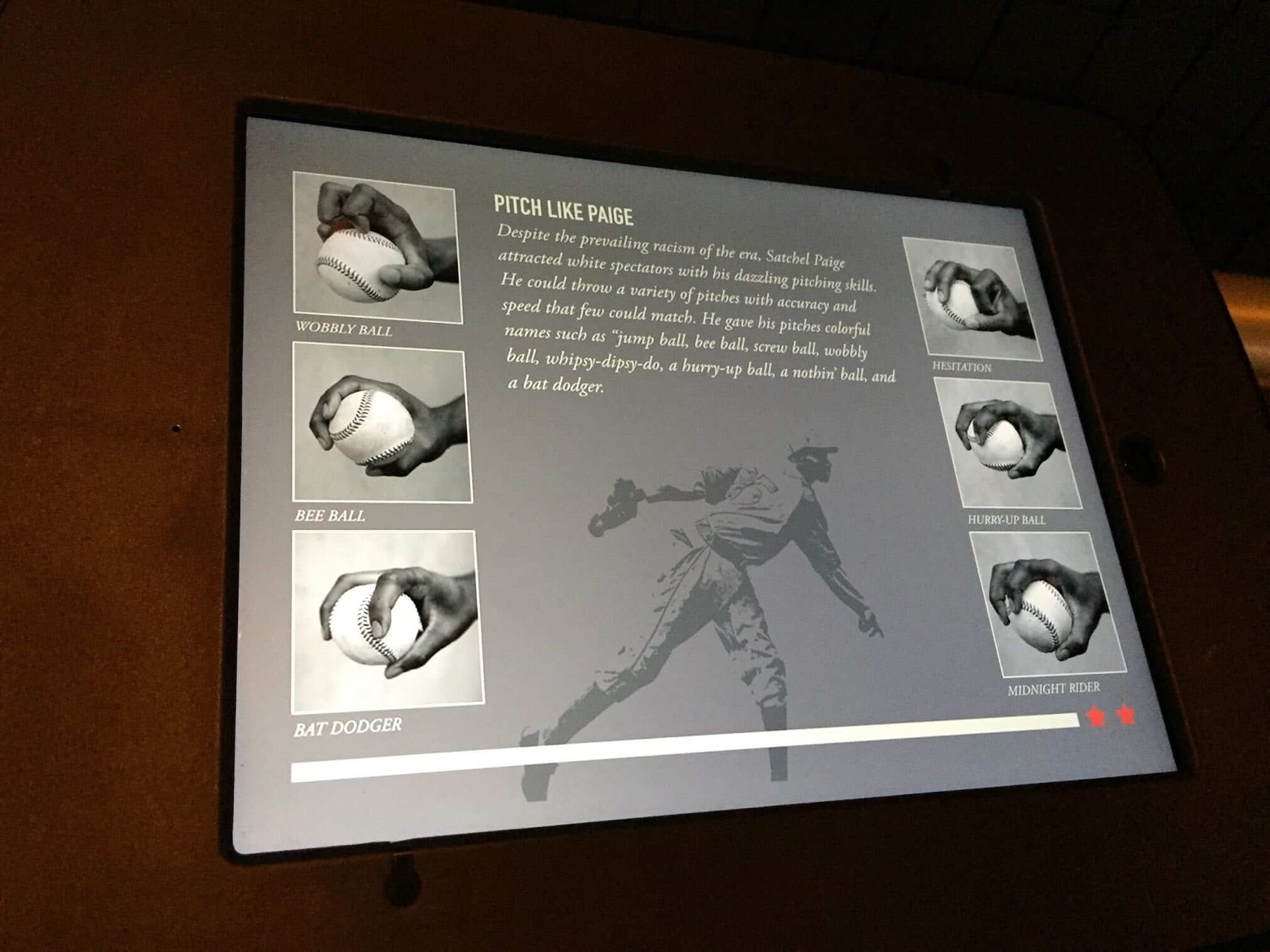 Here's a rare 1948 photo of Willie Mays as a Birmingham Black Baron. He was only 17 at the time.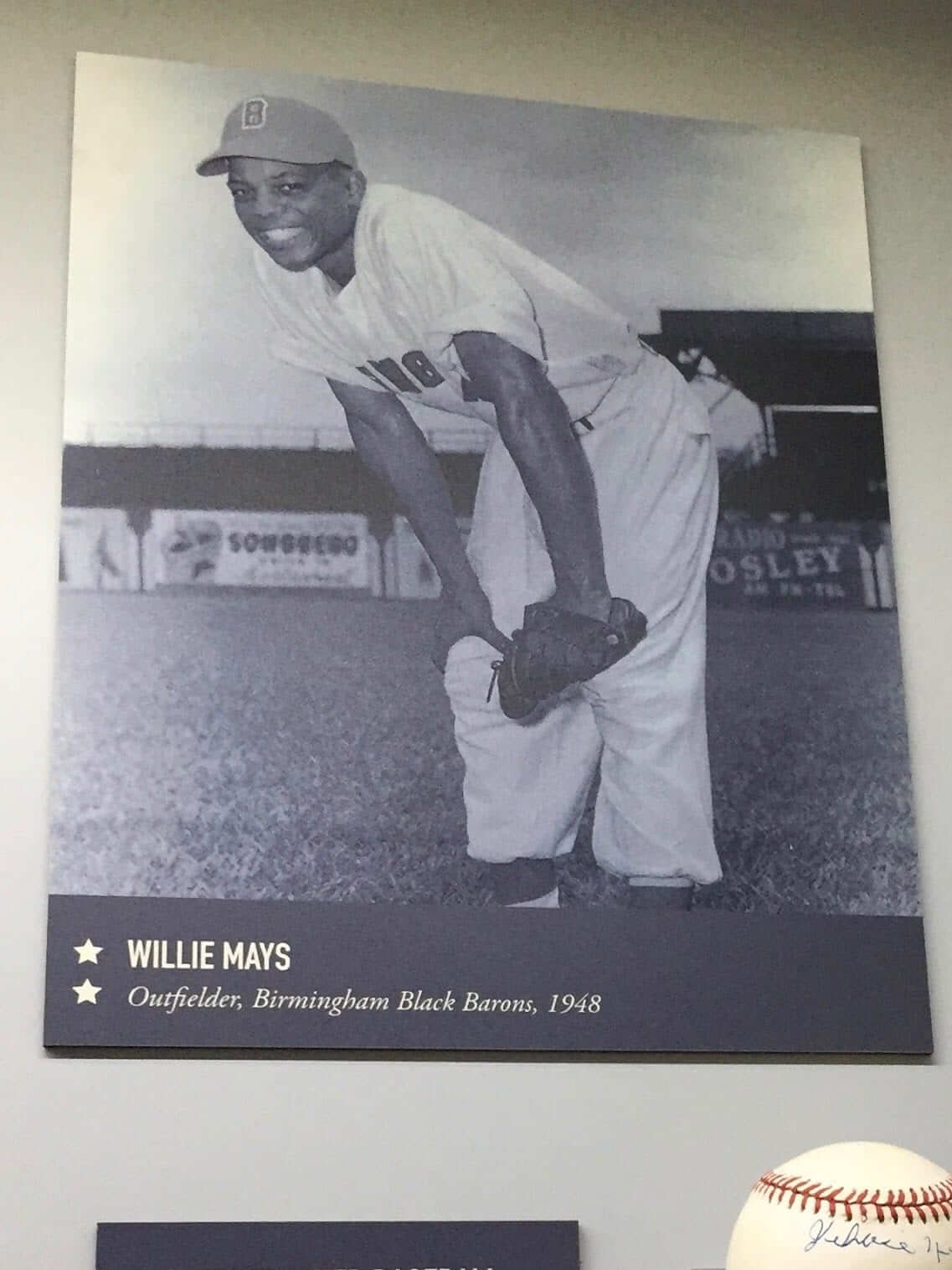 The bat in this next photo is known as a "mushroom knob" bat.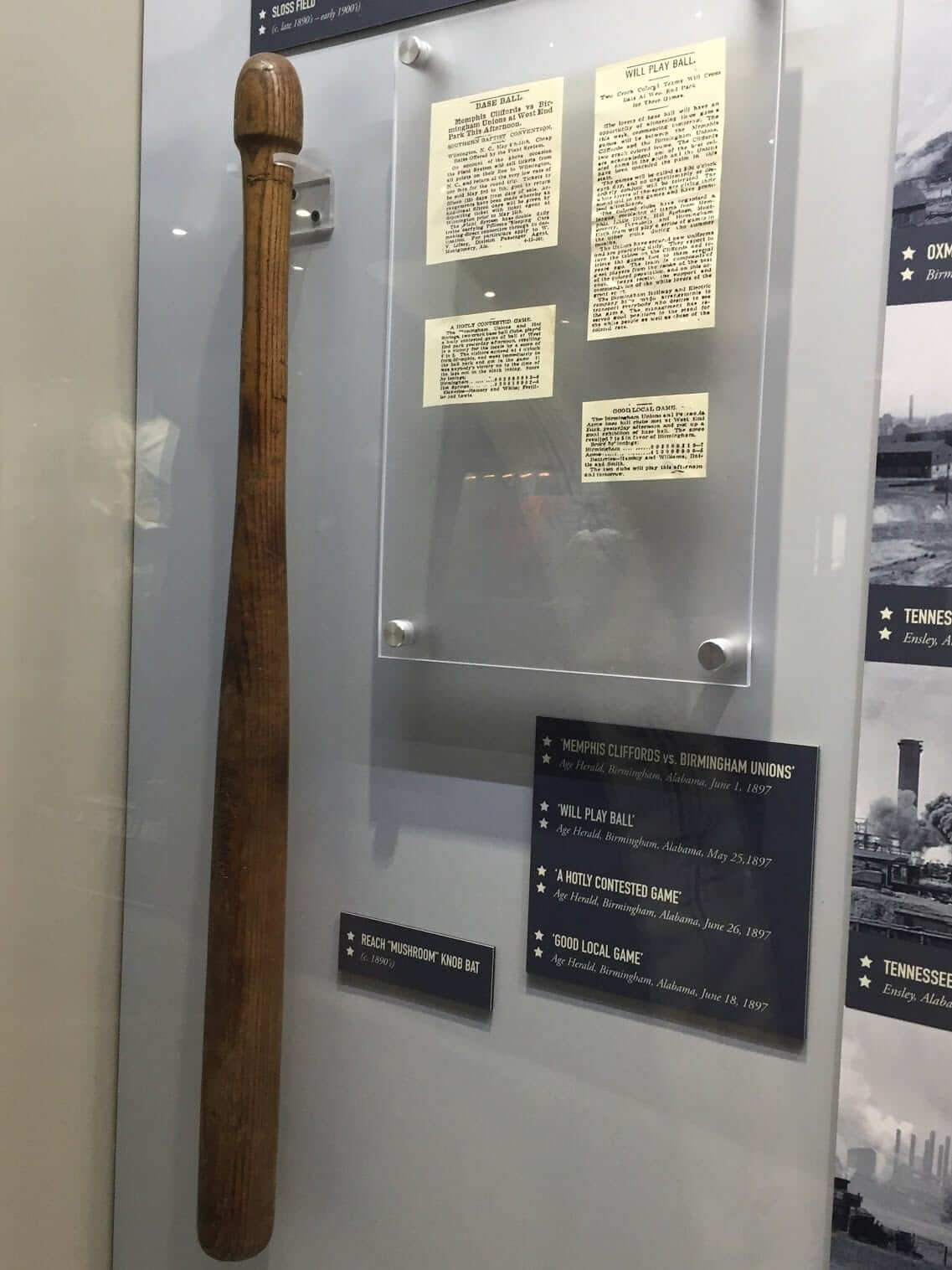 This 1964 Birmingham Barons home jersey belonged to pitcher John "Blue Moon" Odom. He would later play for the Kansas City and Oakland A's, whose uniforms were very similar to the what he'd worn with the Barons.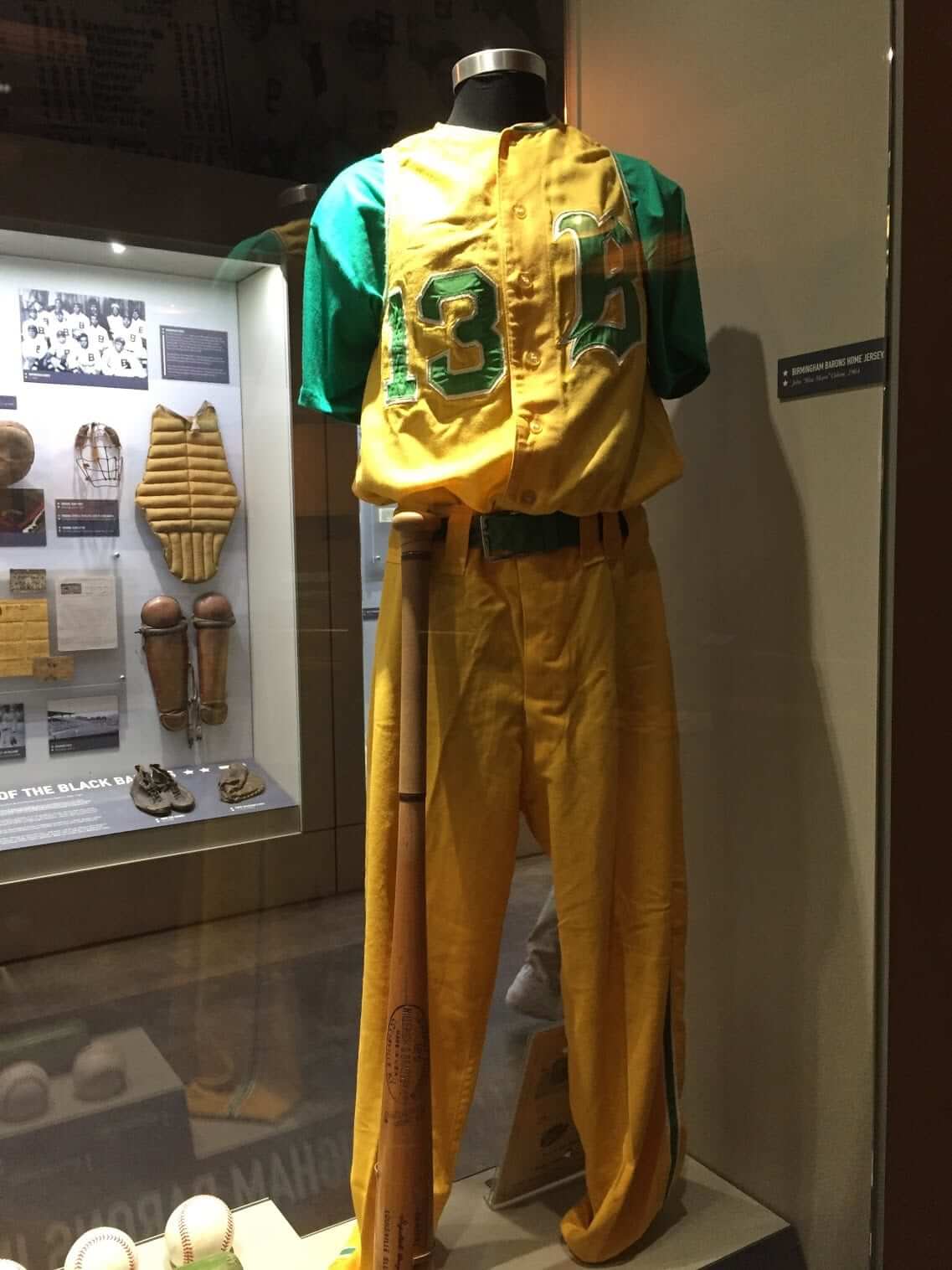 ———
Great stuff — thanks, Judy. If you want to see more photos from Judy's museum visit, look here.
• • • • •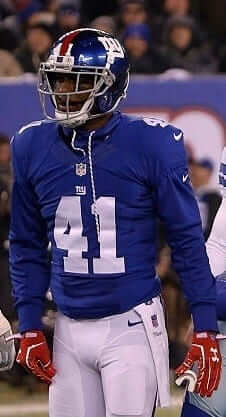 Laces cases: Yesterday I mentioned that Giants punter Brad Wing had worn a hoodie under his uniform and that the hood's laces were spilling out onto his jersey, but I couldn't find a photo. Now, thanks to reader Chris Flinn, we have one (see above). And it turns out that Wing wasn't the only Giant sporting this look: Reader Clint Richardson points out that defensive back Dominique Rodgers-Cromartie also had the exposed laces (as shown at right).
I'm finding myself very conflicted about this one. On the one hand, the laces are in team colors, so why not? On the other hand, they're incredibly twee and look like something you'd see in a Pop Warner game. Then again, maybe the NFL could use a bit of Pop Warner-ization, just to make everyone seem more human, right?
Also, it's one thing for a punter to have this look — we almost expect them to do things that aren't quite up to code. But it feels different when a regular position player does it. Hmmmmm. What do you all think?
• • • • •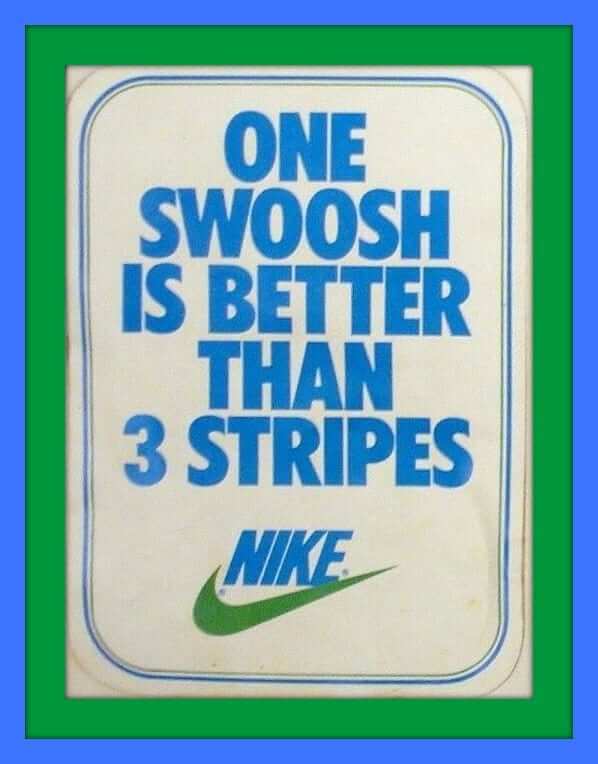 Collector's Corner
By Brinke Guthrie
Never seen these Nike stickers before. I'd date them to the late 1970s, when Nike was getting firmly on its feet and ready to take some shots at Adidas. These look pretty quaint compared to their slick advertising today, huh?
Now for the rest of this week's picks:
• How about this seat cushion from the "First Super Bowl Game." Roman numerals and glitzy sponsorship logos were still to come.
• This ashtray for the inaugural Saints season in 1967 looks to be in perfect shape [and features the ever-awesome Sir Saint character "" PL]. From the same season, this Saints helmet has the classic single-bar facemask.
• I always liked the distinctive graphics on this 1970s San Diego Chargers poster.
• Big Red Machine fans will want to check out this 1970s Reds belt buckle featuring their classic "Running Man" design.
• Fire Power! Flyer Power! Those were the twin mottos on this 1970s Philadelphia Flyers bumper sticker from the Pepsi-Cola Bottling Company.
• Back in the 1960s, Bob Wetoska of the Chicago Bears had himself a sweet endorsement deal, appearing on ashtrays from the Tobin Stahr Company. He'll tackle your packaging problems!
• Nice-looking set of posters here from the 1976 Canada Cup.
• Show all the guys you're a member of the "Jr. Padres" with this promo patch from 7-Up.
• RC Cola saluted the 1977 NBA champion Trail Blazers with this commemorative glass.
• Ah, look at the cover of this 1969 Green Bay Packers press guide featuring running back Donny Anderson. Way back when, kids, they actually had stripes on the sleeves, and stripes on the socks. And note the depiction of the helmet lower right, with one lone green stripe.
• • • • •
Click to enlarge
Burning question: I was forced by circumstance to visit a 7-Eleven last night. As usual, they had the display of hot dogs and other sausages, with each row fronted by a black cylinder with white type explaining the product's name and price. The cylinders spin on grill, just as the sausages do.
While the sausages generally seem pretty gross, I've always been somewhat captivated by the black cylinders. They're a clever way to provide the product info, and there's something mesmerizing about watching them spin. (I wish I'd shot video instead of taking a photo.)
Does anyone know the proper industry term for these black cylinders? Who invented them? Are they unique to 7-Eleven, or do other convenience chains use them?
Update: Reader/commenter Todd Cervini informs me that the cylinders are called roller thimbles. I must say, that's an even better name than I'd dared to imagine. It's even fun to say: Roller thimbles! Excellent.
• • • • •
Click to enlarge
KRC update: The latest installment of Key Ring Chronicles is about a key with a Little Mermaid sticker on it. Check it out here.
• • • • •
The Ticker
By Mike Chamernik

Baseball News: The Indians will wear red block-C caps with their navy alternates at home next season, replacing the Chief Wahoo hats that were paired with the jerseys this postseason. Jay Mantis produced this Photoshop of how it will look on the field. And no, this doesn't mean the Wahoo cap is gone for good — it just won't be worn with this jersey, at least at home. … The Orioles are putting down new sod at Camden Yards (from Andrew Cosentino). … The Rockies' Twitter account had a little fun with uniform numbers. … Dan Freedman wrote a blog about how logo creep is becoming more prevalent in baseball. … The new collective bargaining agreement bans hazing rituals that involve dressing up as women or wearing offensive costumes.

NFL News: Color Rush game this Thursday between the Seahawks and Rams. Seattle will wear electric neon green (stadium workers got some of the color on them when painting the endzones). Los Angeles will wear blue and white helmets for the first time since the Fearsome Foursome era. Here's a shot of some players practicing in the white-horned helmets (from Phil and Andrew Cosentino). … This Dunkin' Donuts ad shows different styles of Jets and Giants helmets: The Jets one looks to be a mid-2000s Riddell standard, while the Giants one is a Riddell Revolution Speed. "Why not have the two helmets appear in the same style?" asks Perry Dornbush. … Speaking of ads, I saw a beer display that shows a Bears player wearing No. 0. … A headline on ESPN referred to the Rams as St. Louis yesterday. Also, a St. Louis TV station identified Rams COO Kevin Demoff as a "professional liar." He told the city that the Rams were working to remain in town, but later he said the LA move was in the works for years (from Peter Kaszczak and Jim Walaitis). … About that, coach Jeff Fisher wasn't technically fired. He was relieved of his duties. What are some of your favorite euphemisms, either in sports or otherwise? … Lake Travis High School in Texas uses NFL-style captaincy patches, but with five stars (the NFL version only goes up to four stars). The five stars may refer to their five state titles, which are also star-referenced on their helmets.

Hockey News: The Panthers will have a cool poster for Star Wars Night next Tuesday. … Flames LW Johnny Gaudreau trademarked the nickname "Johnny Hockey." … For one of his classes at the University of Pittsburgh, John Baranowski created a mock lesson plan about the history of the Penguins. He included a section about uniforms. "Students these days need to be taught the importance of athletics aesthetics history! Even if I will likely never use this lesson plan," John says. I don't know much about the Pens, but I'd imagine that answering "Mario Lemieux" or "66" for every question would earn at least a D-minus on any quiz.

NBA News: The Pacers wore Indiana Bicentennial shirts during warmups yesterday (from Joel Whyrauch). … DeMar DeRozan admires teammate Kyle Lowry's throwback Raptors hat. … The Bucks and Jägermeister have worked out their trademark spat. The liqueur maker said that "the filing was a formality to preserve our intellectual property rights" (from Jason Goede).

Soccer News: The airline company Emirates sponsors/advertises for the soccer club Benfica. A recent stunt involved having players run past an Emirates check-in desk on the pitch after pre-match warmups (from David Leiphart). … The Seattle Sounders won their first MLS Cup on Saturday night. Before this season, the league changed rules about how teams can commemorate titles with gold star patches: "The season following a team's MLS Cup championship, they'll sport the large gold star on their jersey as defending champions. The star will also include the year of their title. They'll also sport a silver star under that for any previous MLS Cup championships, up to four silver stars total. If they don't win another Cup title, then the following year, they'll revert to a silver star for each win. But now, on the fifth win, all the silver stars disappear in favor of one gold star, without any year on it." Here's the policy in a chart (from Markus Kamp). … New logos for Bundesliga.

Grab Bag: Since taking over the Northern Iraq city of Mosul two years ago, the Islamic State has required all women to be completely covered up in public. That means long gowns, gloves, socks, niqabs covering the face, and now black cloths covering the eyes. … Japan's Super Rugby franchise, the Sunwolves, unveiled home and away jerseys for the upcoming season (from Eric Bangeman). … Looks like John Glenn wore Red Ball Jets shoes with his NASA flight suit back in 1962. … New logo for the Minnesota Department of Transportation. … New logo for Better Homes & Gardens magazine. … Seward City, a small town in Alaska, has a new flag.