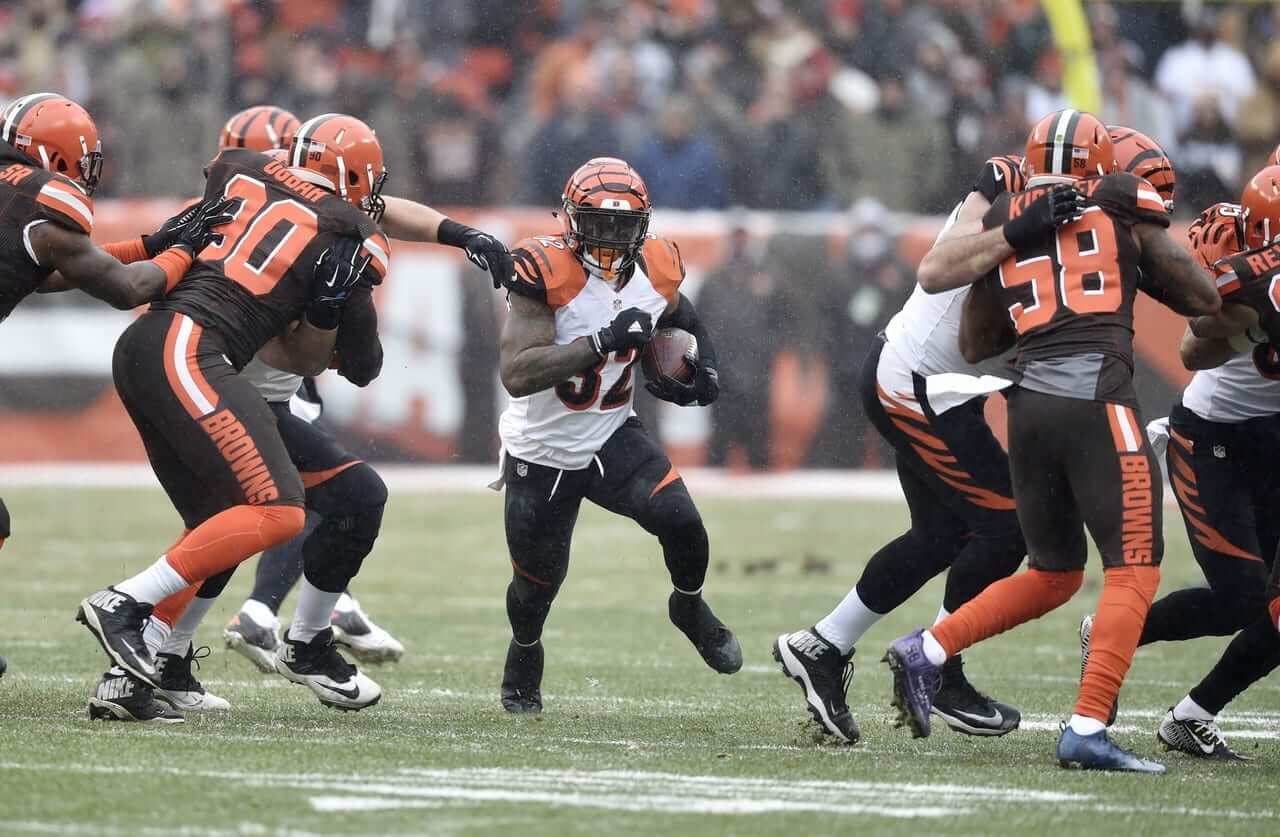 Click to enlarge
Brutal-looking game yesterday in Cleveland, as the Browns went mono-brown and the Bengals were, well, the Bengals. But at least that game offered some interesting details. For example, hoodies are supposedly banned this season, but Browns linebacker Jamie Collins was wearing one. And then there was Browns quarterback Robert Griffin III — here, take a look and see if you see anything that looks amiss regarding his uniform (click to enlarge):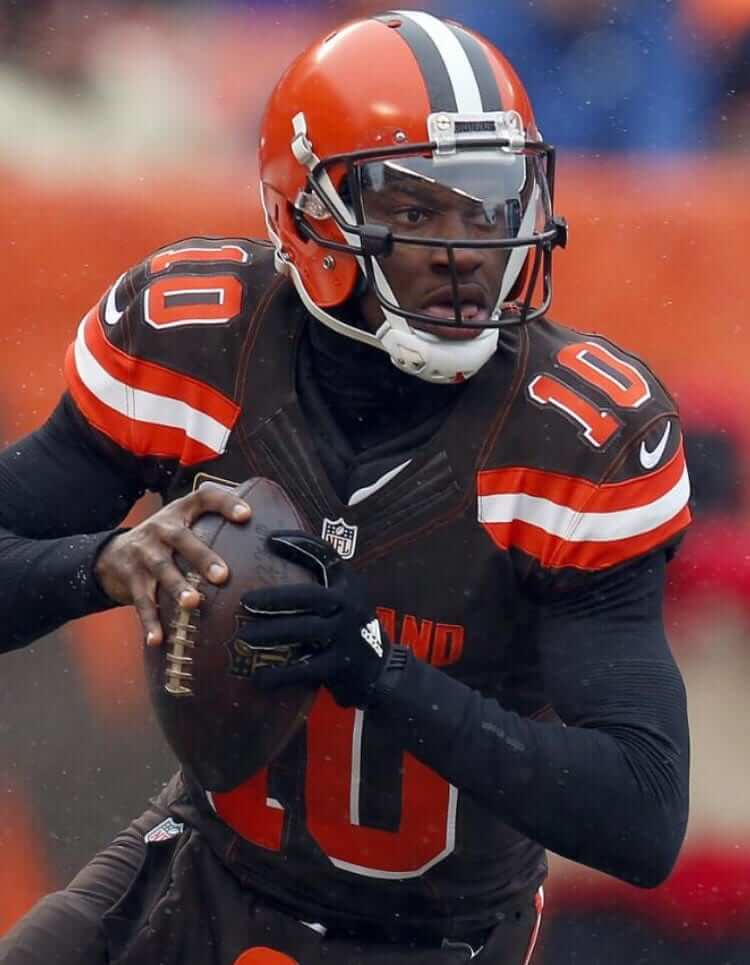 Did you spot the glitch? The answer, of course, is that the white block shadows on all three of the zeroes visible in that photo — the one on his chest and the two on his shoulders — are facing the wrong way. The block shadows on Cleveland's numerals are supposed to be oriented up-left, but the shadows on Griffin's zeroes are down-right. That's because all of those zeroes were sewn onto his jersey upside-down.
That's almost certainly on Nike, not the team, but of course it was the Browns who were on the receiving end of this snafu, because of course they were. And what about the zero on the back of the jersey? Let's take a look:
As you can see, they got that one right. Wel, one out of four ain't bad.
In other news from around the league yesterday.
• Vikings coach Mike Zimmer wore an eye patch — the result of surgery for a detached retina that he'd recently undergone:
Zimmer initially wore sunglasses and then apparently switched to his regular glasses as the weather changed. We've seen eye patches before on the Raiders' and Buccaneers' helmets, but was this the first time we've seen one worn by a player or coach?
•  In that same Vikings/Jaguars game, the Jags went mono-black.
•  Gorgeous game in Buffalo, with two good-looking teams — the Steelers and Bills — facing off in the snow (click to enlarge):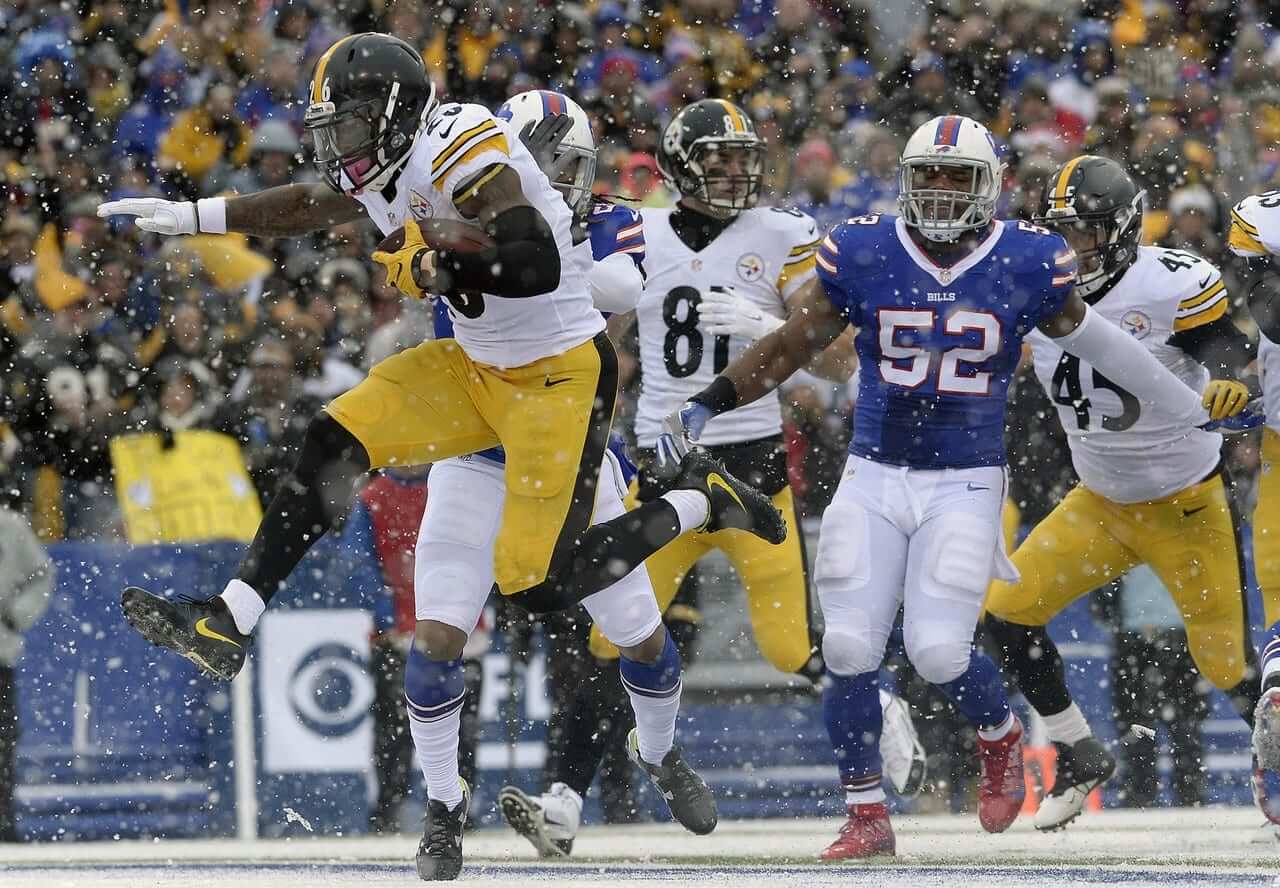 •  In that same game, CBS projected black yard markers on to the field, since the white ones were hard to make out in the snow.
•  The Titans went mono-navy.
•  The Seahawks wore their dirty-laundry grey alternates. With Seattle slated to wear green this Thursday, that means they'll have worn four different jersey colors in four weeks. "The only other time that's happened may have been in 2009, Weeks 2 through 5, when the Broncos wore navy against Cleveland, white at Oakland, orange alternates against Dallas, and then their brown AFL throwbacks against the Pats," says reader Zack Zweig. "In fact, I'm pretty sure they wore the white versions of those of those throwbacks the following week at San Diego, making five different jerseys (but only four colors) in five weeks!"
•  The Buccaneers went with red end zones.
•  Lions quarterback Matthew Stafford suffered a dislocated finger, which may explain why he changed gloves so often.
•  Looks like someone may have done a somewhat ragged job of shortening Texans quarterback Brock Osweiler's sleeves.
•  It's a little hard to see, but the gold ram's horn decal on Rams defensive back Michael Jordan's helmet appeared to go over a clip, or chinstrap snap point, or something. Same thing on the other side of his helmet. Comparing to his teammate Maurice Alexander, who's also visible in that last shot, it appears to be a chinstrap snap. So odd that they'd run the decal over that.
•  Giants running back Paul Perkins suffered a torn helmet logo decal.
•  A large number of Giants players wore solid-white socks, without any blue, including wide receivers Odell Beckham Jr., Roger Lewis, and Victor Cruz, and linebackers Keenan Robinson and Olivier Vernon.
•  See the sweatshirt that Giants punter Brad Wing was wearing in this Nov. 14 photo? He must have been wearing that same sweatshirt under his jersey last night, because he had those candy-striped hoodie laces sticking out of his jersey collar. Unfortunately, I couldn't find a photo of this. If anyone DVR'd the game, could you get us a screen shot? It was clearly visible when Wing came out to punt with 1:15 left in the game.
•  Former Yankees pitcher Mariano Rivera was at the Giants/Cowboys game and wore a No. 10 Giants jersey, presumably for Eli Manning. Weird to see him wearing anything but No. 42, but the Giants apparently didn't want to give him that number because it's retired for Charlie Connerly.
•  For reasons I'm probably better off not knowing, Broncos linebacker Von Miller wore cleats adorned with chicken feathers for pregame warm-ups. (Speaking of Miller: We've seen logo-themed soda displays before, here's one based on a Von Miller jersey. Don't think I've seen a jersey-based display like that before.)
•  Two teams wore white at home: the Dolphins and Rams.
•  Players participating in postgame jersey swaps included Jeremy Kerley (49ers) and Bilal Powell (Jets); Sammy Watkins (Bills) and Ryan Shazier (Steelers); and Adrian Phillips (Chargers) and Fozzy Whittaker (Panthers).
•  Here's a list of players who protested during the national anthem.
(My thanks to all contributors, including Ryan Bucher, Andrew Cosentino, Kevin Erickson, Douglas Ford, Karl Greenfield, Wayne, Koehler, Glenn Macklin, Tom Valentino [who gets lots of extra credit for spotting RGIII's upside-down zeroes], and our own Alex Hider.)
•  •  •  •  •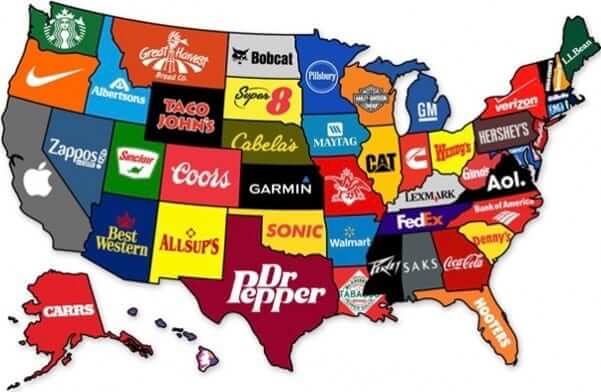 Naming Wrongs reminder/update: In case you missed it on Friday, Uni Watch reader Patrick Nance has come up with a nifty ad-blocker extension, called Naming Wrongs, that changes the names of corporate-named stadiums, arenas, and college bowl games to their pre-corporate versions.
Big thanks and hearty congratulations to the many of you who have installed Naming Wrongs, and also to those who caught some of our errors and oversights, all of which have now, I think, been addressed.
As for our next step: The extension currently covers all the Big Four stadiums and arenas but only a few NCAA venues. We'd like to get up to speed on college football and basketball venues, but there are so many — so we're asking for your help. If you know of a college football/hoops venue that (a) currently has a corporate name and (b) used to have a non-corporate names, please let us know. Thanks.
•  •  •  •  •
For all photos in this section, click to enlarge
Mystery card: On Saturday I received a very nice holiday card. As you can see above, the front of the card featured a really nice old-fashioned hockey scene. Here's a closer look at that:
The card's interior featured some nice little patches:
And the back of the envelope had some cool baseball and football stickers:
The only problem is that the person who sent the card didn't sign his/her name or include a return address, so I have no idea who it's from. The postmark is from Hartford, Conn., so I suppose it could be from one of my ESPN colleagues, but I can't think of anyone who'd send this type of card. The Tugboat Captain figures the whole thing is an anthrax attack, but I'm not so cynical (at least about this). If the person who sent the card is reading this, please speak up! Thanks.
•  •  •  •  •
Uni Watch Hit Parade: I missed the boat on Margaret Glaspy, who's apparently been playing around NYC for several years and whose debut album, Emotions and Math, was released this past summer. Most of it feels unremarkable, but the single, called "You and I" (embedded above), is really, really good. Recommended.
•  •  •  •  •
Click to enlarge
Back in the "W" column: Excellent curling match last night, as Phil, Omoy, Doug (who wore a great sweater), and I chalked up a 5-4 win, improving our record to 4-2. This was our most satisfying win of the season, because we all played well and contributed. Already looking forward to our next game on Sunday.
•  •  •  •  •
The Ticker
By Alex Hider

Baseball News: Whoa, check out the awesome satin unis worn by the Chicago Cardinals of the National Girls Baseball League, a league that existed from 1944-1954 (from the NGBL Documentary, which you can learn more about here). … The Chuchini Dragons will wear Dodgers-inspired uniforms next season. According to Graveyard Baseball, it's a style they wore about a decade ago.

NFL News: A jigsaw puzzle available at TJ Maxx shows a map of the United States with the various NFL team locations highlighted. Each team is designated with little player illustrations, with the players mostly wearing the proper team colors but no logos, presumably because the puzzle isn't an officially licensed product (from Chris Flinn).

College Football News: We may have missed this when discussing Army's uniforms on Saturday, but apparently players wore different emblems on their lids. Anyone know what they mean? (From John M.). … USF added the Under Armour logo to a graphic welcoming Charlie Strong "" something Cincinnati also did when welcoming Luke Fickell (from @spomedome).

Hockey News: The Dartmouth Big Green debuted these slick new barber-pole unis on Saturday against New Hampshire (from Tris Wykes). … Looks like the Flyers' Stadium Series unis will come with new helmet decals "" the makers' mark will go from white to orange. (from Patrick Thomas).

NBA News: Here's more Jägermeister's legal filing with the U.S. Patent and Trademark office, saying that the Bucks' logo is too similar to theirs (from Andrew W. Greenwood). … The Sixers and Pistons had a red/navy color-on-color matchup yesterday (from Jason Hill).

College Hoops News: Florida State went BFBS yesterday against Florida. The Gators wore orange, making a nice color-on-color matchup (from Ryan Kelly and Forrest Gmitro). … The University of Missouri-Kansas City wore beautiful alternate unis yesterday (from Sean Jankowski).

Soccer News: For a weekend match between the Italian teams Udinese and Atalanta, the referee decided the two teams' jerseys were too similar and forced Udinese to put white tape over much of the back of their jerseys (from Denis Hurley).

Grab Bag: Couple of uni-themed TV items from Chris Flinn: John Cena dressed up as Rob Gronkowski on SNL this weekend, and some Harlem Globetrotter unis showed up on The Goldbergs. … The Washington Valor, a new arena football team, have unveiled their new jersey (from Bryan Firvida).