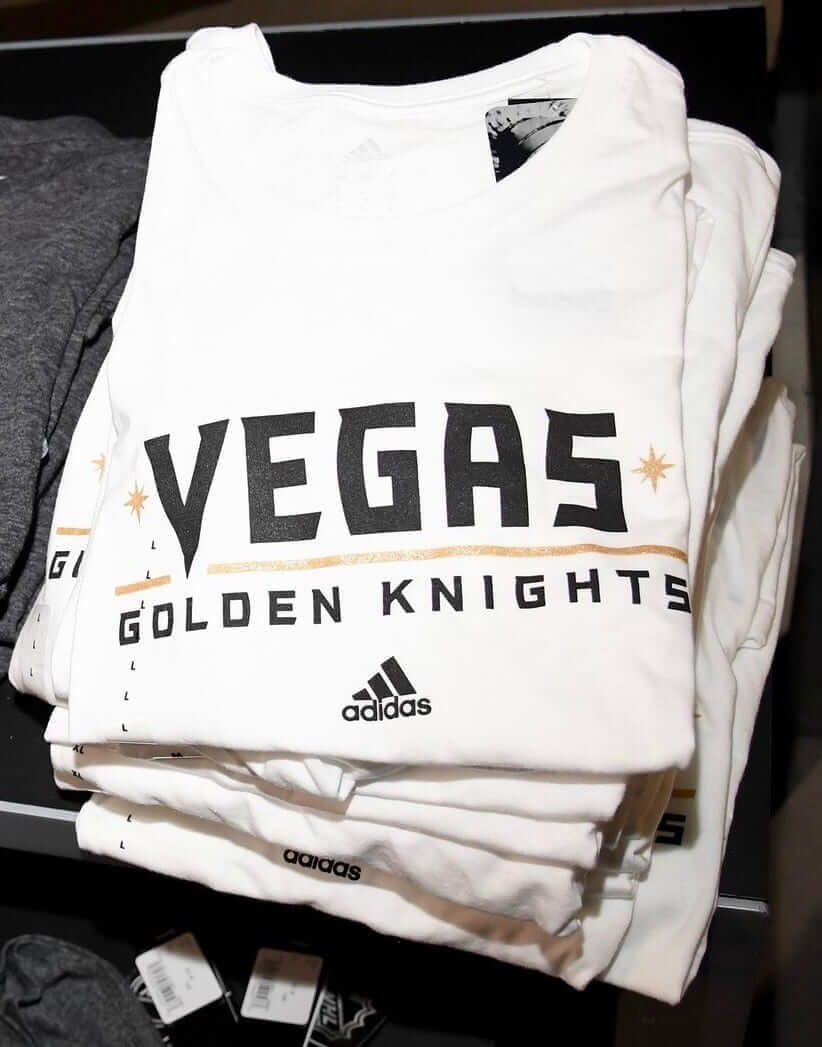 It seems like just barely two weeks ago that the NHL's newest franchise, the Vegas Golden Knights, unveiled their name and logo. Actually, it was barely two weeks ago — and now the whole thing is in doubt because the team's trademark application has been rejected by the U.S. Patent and Trademark Office. Why? Because it's too similar to the mark used by the College of Saint Rose Golden Knights, a small school in Albany.
The details are spelled out in this SB Nation story, which was published last night. To clarify an important point: Saint Rose did not challenge the Vegas team's mark. Rather, a USPTO attorney noticed the similarities between the two marks while reviewing the trademark application and rejected the filing on that basis.
The team has a chance to respond to the USPTO ruling, and ownership put out a statement late last night saying they intend to do just that. In case you can't read the fairly small type, it says:
There are countless examples of college sports teams and professional sports teams with coexisting names, including Vegas Golden Knights and Clarkson Golden Knights, UCLA Bruins and Boston Bruins, U of Miami Hurricanes and Carolina Hurricanes, etc. We will plan on making these arguments and others in our detailed written response to the office action which must be filed by June 7, 2017.

Office actions like these are not at all unusual, and we will proceed with the help of outside counsel in preparing a response to this one.
It's not clear why team ownership didn't already have this issue settled before unveiling the team name two weeks ago. Seems like a major failure of due diligence, right?
I sent a note last night to Uni Watch's resident intellectual property expert, attorney Anthony Verna, to get his take on this. Here's his response:
1) Looking at the marks, both of them share "Golden Knights." The question is if those marks use "Golden Knights" in their dominant portion. They do — even though the NHL team's filing is "Vegas Golden Knights," we get to ignore "Vegas" because the goods/services are going to actually come from Las Vegas. (We call that geographically descriptive in trademark law. If the goods/services come from the a geographic area mentioned in the trademark, then the mark describes an aspect of the goods/services and the descriptive portion is not protectable.)

2) The goods/services are exactly the same. Regardless of sport, and regardless of skill level, the exhibition of a sport is going to be deemed the same as the exhibition of another sport and that's the situation here. This is true even though price points are different, salaries are different, the reasons consumers consume their products are different, etc. (The USPTO is not there to say that the NHL price point for a ticket is radically different than a college's price point for a ticket, therefore, their consumer markets are radically different.)

All is not lost for the NHL team, though. Many trademarks receive this "office action" (which is our fancy trademark law terminology for "rejection"). The Vegas team could present a substantive response, arguing why the marks are different (and they have different stylizations, different pronunciations, and probably different denotations and connotations). Another response would be to have what we call a co-existence agreement, in which both parties agree there are substantive differences in the markets or in the consumers or in the channels of advertising. Submitting evidence of an agreement in which both parties agree to their differences will usually push a mark towards registration.

Also: The NHL team could appeal to the Trademark Trial and Appeal Board (you heard about that federal administrative court in the Redskins cases) and argue that the USPTO attorney is incorrect in issuing the office actions. The NHL team could appeal to the TTAB and try to cancel the college's registration. There are so many different directions this could move in. It's impossible to predict how it will play out.
Big thanks to Anthony for his expertise.
•  •  •  •  •
Culinary Corner: One of our holiday traditions here at Uni Watch is the annual appearance of my recipe for homemade Irish cream. In other words, homemade Bailey's. In other words, melted ice cream that gets you drunk. It's super-easy to make, it'll make you the hero of whatever party you bring it to, and lots of you have told me how much you like it. Here's how to do it:
Start with some decent Irish whiskey "" Bushmills, Jameson, Tullamore Dew, something like that (but not super-high-end stuff, because the nuances will be lost in this preparation). Pour a pint of the whiskey into a large-ish container and mix it with a can of sweetened condensed milk, a pint of heavy whipping cream, a tablespoon of chocolate syrup, a teaspoon of vanilla extract, a quarter-teaspoon of almond extract, and a teaspoon of instant espresso powder dissolved in two tablespoons of hot water.
Mix well (if the container has a tight lid, you can just shake vigorously), refrigerate, serve over ice, and get ready to become the most popular person in the room. No need to thank me afterward, but you'll want to do so anyway — trust me.
• • • • •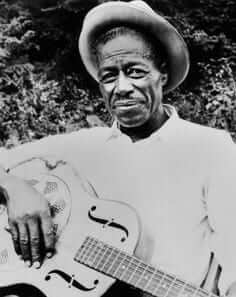 Blues news you can use: My favorite music is Delta country blues (i.e., the first generation of Mississippi country bluesmen, who recorded in the 1920s and '30s) and golden-age Chicago blues (i.e., the next generation of bluesmen, who mostly learned on acoustic instruments while growing up in Mississippi and then moved to Chicago and made their country blues more urbanized and electric in the late 1940s and '50s). And if you love that music as much as I do, this has been a very interesting week.
First, a new movie opened, called Two Trains Runnin'. It's a documentary about an incredible series of coincidences that took place in Mississippi on a single day in the summer of 1964. First, there were three white college kids who'd driven down to the Delta from Boston in search of the enigmatic acoustic bluesman Son House (that's him above), who had recorded a handful of 78s in the 1930s and '40s and then vanished. On June 21, they found him. Unbeknownst to them, another carload of young white blues fans had driven to Mississippi all the way from California. They were searching for another vanished bluesman, Skip James. They found him on that same date — June 21. Meanwhile, swirling all around them was the tension and violence of Freedom Summer, as hundreds of civil rights activists were coming to Mississippi to set up schools and register black voters. On that same day, June 21, three of those activists were murdered, which would galvanize the civil rights movement and help lead to the passage of the Civil Rights Act of 1964 and the Voting Rights Act of 1965.
Here's the movie's trailer:
I saw the movie last night. It's powerful stuff, with the twin strands of the blues researchers and the civil rights activists occasionally intertwining. Two projects, both with complicated racial dimensions, both involving outsiders descending on Mississippi. I knew the stories of the Son House and Skip James being rediscovered, and of course I knew the famous story of the civil rights murders, but I hadn't been aware that they'd all taken place on the same day (which, for what it's worth, was the day I turned three months old). I cried a few times during the movie — in part because blues often affects me that way, and in part because of the tragedy that was the state of Mississippi in 1964.
For those of you in NYC, Two Trains Runnin' is currently playing at the Metrograph and will be there at least through next Thursday. Don't miss.
The other blues-related news this week was the release of the new Rolling Stones album, Blue & Lonesome, which consists entirely of Chicago blues covers. The Stones haven't been artistically relevant in over 30 years, but they're still my favorite rock and roll band, and a straight-up blues LP sounds like a good approach for them, at least in theory. They got their start playing blues covers, and their name comes from a Muddy Waters song.
Unfortunately, it's a dud. The guitars crunch and wail at all the appropriate junctures, Mick's vocals are okay, his harmonica is more than okay, the sound and engineering are fine (although I continue to hate the way producer Don Was insists on making Charlie's cymbal crashes sound like a steam pump), and the whole project feels respectful and, at times, joyous. But it also feels empty. Why? A few thoughts:
•  When the Stones played lots of blues covers in the early 1960s, it was because they hadn't yet learned how to write songs. They're doing a full album of blues covers now because they've essentially stopped writing songs. They haven't released an album of originals in 11 years, and they haven't released a good album in 35 years. In short: They're tapped out. Viewed in that context, an album of blues covers feels more like a lazy placeholder than anything else.
•  The whole point of doing a cover version (to say nothing of a whole album of cover versions) is that it should tell us something new about the song, the artist covering it, or both. These covers do neither. The arrangements are straightforward reproductions of the originals, and it's not exactly a secret that the Stones are big blues fans. There's no revelation here, no challenge, nothing to be learned. Just lots of confirmation of what we already knew. The whole thing feels way too easy, too comfortable.
• One reason those original Chicago blues records still sound so exciting today is that they sound primitive. The instruments and amps were battered, the musicianship was superb but very raw, the sound engineering was even rawer, and the vocals had all sorts of incredible nuances that had to do with issues of race, class, rural upbringing, and even education (people who can't read or write tend to listen more acutely, which in turn means they tend to vocalize more acutely). When the Stones played blues covers in the early years of their career, they had a primitive aspect as well, because they were still learning to play, learning how to command their sound. But now they're first-rate career professionals playing with state-of-the-art gear in a state-of-the-art studio. There are some raw bits on the new album, but the rawness feels manufactured or even curated, not organic. It's more like a museum version of the blues.
• Another big reason those Chicago blues records still sound so good is that the bluesmen were, well, legitimately blue. They led hardscrabble lives, they often lived in slums, they rarely had much money, plus they had all the attendant problems of being black men in a highly segregated city well before the civil rights era. The urgency of their lives — and the escape from that urgency that their music represented — was reflected in their recordings. The Stones, by contrast, are among the wealthiest and most comfortable people on the planet. I don't begrudge them that status (on the contrary, like I said before, I'm a big fan), but it's not a situation that leads to good blues.
•  When the Stones were playing blues covers back in the early '60s, most white music fans — hell, most white people, period — didn't know jackshit about the blues. They'd never heard of Howlin' Wolf, Muddy Waters, or Little Walter, much less heard their music. So when the Stones played that music, it was challenging, it was risky, it was even educational. In 1965 they were asked to appear on the TV show Shindig and said they'd only do it if Howlin' Wolf could appear on the show with them — a seriously ballsy move at the time (and the producers agreed to it!). Half a century later, though, blues is now an entrenched part of rock and roll's origin story and most rock fans know the drill. The Stones deserve credit for being a key part of the blues' ascent from historical footnote to treasured American cultural legacy, but one result of that ascent is that there's really no point in them, or any conventional rock band, playing blues covers anymore.
(As a side note: Blue & Lonesome has what appears to be one of history's laziest and worst album covers. Even more puzzlingly, the vinyl version is a double-LP — absurd for an album that has only 12 songs totaling 42 minutes. I realize most of the people who listen to this album will be streaming it, not purchasing a physical copy, but still.)
So my tl;dr take on this week's blues news: See the movie, skip the album.
•  •  •  •  •
Going, going…: Today's the next-to-last day to get the Uni Watch T-Shirt Club's final design of 2016. The design is a mash-up of uniform elements from all of our previous 2016 shirts (click to enlarge):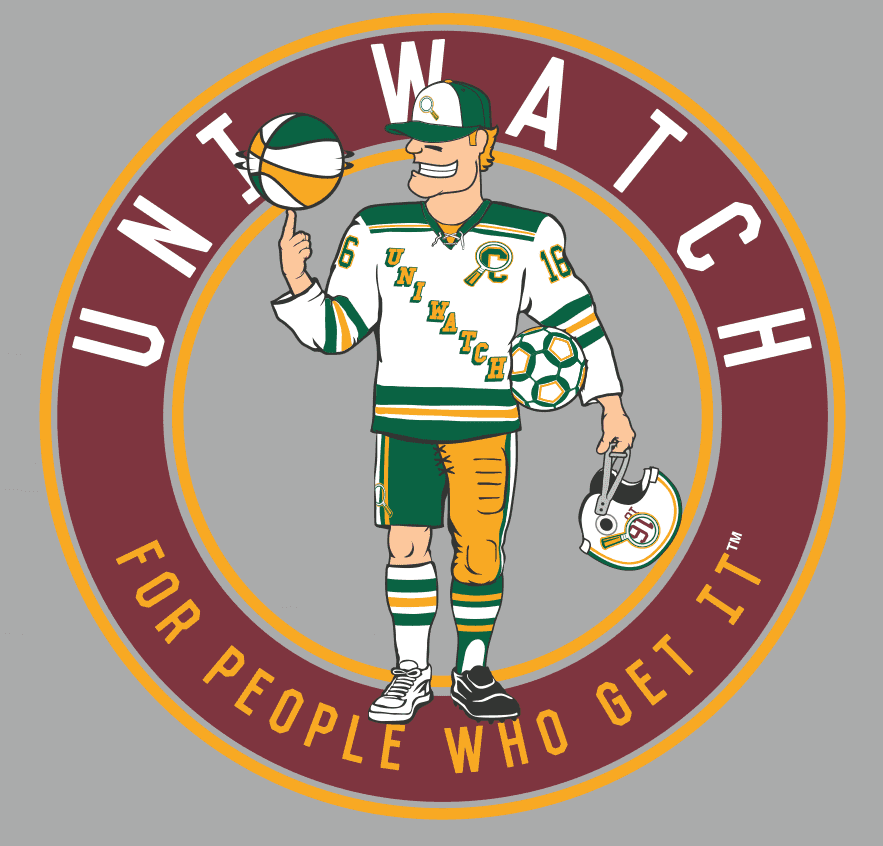 The only new element is the baseball cap (which didn't appear on our baseball-themed shirt because the player was wearing a batting helmet). It's comes in four color options — our usual grey, black, green, plus a new "military green" (that's what the manufacturer calls it, although I'd just call it light olive) — and is also available with either short or long sleeves.
The shirt will be available through tomorrow night. The shirts are due to ship right after Christmas, so they should arrive in time for you to wear them on New Year's Eve. (I had hoped to have them delivered in time for Christmas, but it just wasn't possible to get things finalized in time for that. Sorry.)
If you've ordered all five of this year's previous shirts and also get this one, you'll be eligible for our year-end "Collect 'Em All" prize, which will be a patch based on the jock tag design used on this year's shirts. To qualify, please send me proof that you've bought all six shirts. The proof can either be (a) a photo showing all the shirts or (b) screen shots of the "Thank you for your order" emails you received from Teespring and Represent.
Once again, the new shirt can be ordered here. Thanks for your consideration.
• • • • •
The Ticker
By Mike Chamernik

Baseball News: Indiana's new uniforms have candy striping on the sleeve cuffs (from Ryan Cotter). … On several occasions during the 1991 season, the Expos' Tim Wallach wore road pants with the stripe colors inverted. Instead of red in front like the rest of the team, Wallach had blue in front (good spot by Denis Lacloche). … Clint Evans wanted to see what the Dodgers would look like with the Under Armour-branded uniforms, so I made a Photoshop for him. … Several minor league teams, including the San Jose Giants, had some themed jerseys on display at the Winter Meetings (from @213MFS and Andy Horne). … The Chiba Lotte Marines' stadium has a new logo and naming rights advertiser (from Jeremy Brahm). … Most schools and teams that adopt the Brewers old ball-in-glove logo have the initials MB. Here's how the Rocky River Bucs handled it.

NFL News: Odd sight this past Sunday as the Saints wore throwbacks but team legends wore current jerseys, complete with the neck roll collars (from Scott Peterson). … Never meet your heroes: A Steelers fan will never wear her Antonio Brown jersey again after the wide receiver showed up late and treated her rudely at a meet-and-greet autograph session (from Brinke). … Washington players shared their thoughts on their personal team-specific emojis (from Jon Solomonson). … The Southern California Sun of the long-defunct WFL had a good helmet cart (from Dwayne White). … If the NFL is the No Fun League, then what can we call the CFL? League commissioner Jeffrey Orridge fined more than 20 players for sock violations during the Grey Cup. Two other players were fined for wearing "improper" (not Adidas) footwear (from @PureLipschitz and Wade Heidt). … No photos, thankfully, but San Francisco coach Chip Kelly says his father was buried in a 49ers sweat suit. … Here's a better look at the Seahawks' new green end zones (from Eric Hansman).

College Football News: Tom Herman's business cards show how Texas's logo has changed over the years. Herman is the new coach and was a graduate assistant in 1999 and 2000 (from Alex Speth). … A Louisiana company produced marching band figurines for a few schools including Ohio State, USC, and Notre Dame (from James Gilbert).

Hockey News: The Ontario Reign are holding a vote for next season's 10th anniversary logo. They're all a tad bit busy, but I would vote for B (from Kristopher Sharpe). … Fox Sports North used the old Maple Leafs logo in a graphic last night (from David Steinle). … Gustavus Adolphus College, quaintly known as the Gusties, wear uniforms that are based on what the 1937 team wore (from Brent Kivell). … Boston College G Katie Burt hails from Lynn, Mass., and has a very cool shout-out to her hometown on her mask's backplate (from Tris Wykes). … Maple Leafs G Karri Ramo's new mask has an Edgar Allen Poe theme (from Wade Heidt).

NBA/ABA News: Darrun Hilliard II's NOB is off-center. My guess is that the Pistons applied the suffix to a jersey he wore last year, when his NOB was just "Hilliard." … Jeremy Lin, who's missed the majority of the season due to a hamstring injury, has worn some pretty fashionable courtside outfits. … According to a note in the Jan. 6, 1968, edition of The Pittsburgh Press, a game between the ABA's Pittsburgh Pipers and Dallas Chaparrals was delayed for more than an hour because the Chaps' players and uniforms were sent on separate planes, and the uni plane was running late. Also: Note the 8:15pm tip-off time — much later than the starting time for most sporting events today (from Jerry Wolper).

College Hoops News: New unis for George Washington last night (from Byron Kerr). … My coworker thinks that Davidson's logo looks like Brak from Space Ghost. I agree. … In a game against Gonzaga in the mid-1940s, Washington's Perry Nelson wore a leather football helmet with facemask to protect a broken nose. More info on Gonzaga's war-era hoops team here (from Matthew Eng).

Grab Bag: A shop in Jerusalem sells American sports T-shirts with team names in Hebrew (from Brian Spiess). … The cycling team Lotto Soudal has a new uniform, and one of the changes is a second team logo near the shoulder that will allow riders to "capture it on their selfies" (from Alan Evans). … Here's a good collection of the world's best volleyball jerseys this year (from Jeremy Brahm).