Click to enlarge
Yesterday the Tugboat Captain and I decided to pay a visit to Glacken's, the estimable 76-year-old bar in the Bronx, where we watched plenty of football and dominoes (although not always in that order). The football was particularly pleasing to the eye, because the game on the tube was the Packers/Texans tilt at Lambeau, where it was snowing — plenty of photos here — although the domino action was definitely more intense. Best bar in NYC, hands down, plus we spent nearly an hour yakking with some guy who gave us tips on where to eat in Memphis. A win-win-win!
In other news from around the league yesterday:
•  There was also a snow game in Chicago, where the Bears hosted the 49ers (lots of additional photos here). And a cold game in Chicago always means lots of cracked, peeling, or otherwise dysfunctional wishbone-C helmet decals:
@UniWatch pic.twitter.com/zLCUu9k9Gg

— Squish (@Squish78) December 4, 2016
@UniWatch not one, but both decals coming off pic.twitter.com/5HFvJHYirc

— Brad Fisher (@bfisher70) December 4, 2016
@UniWatch @nkwiatkoski27 has completely lost his mhelmet decal in slushy @ChicagoBears game pic.twitter.com/RwQsJivMoT

— Jason Rezvan (@JasonRezvan) December 4, 2016
•  The Saints wore 1960s throwbacks (additional photos here). Man do I love that shade of gold for the pants and numerals. I don't even mind that the shade of gold on the helmets didn't match, although it would've been nice if they had gone with the slightly larger fluer de lis that they used to wear back in the day.
•  The Bengals wore their orange alts. This was the first time since 2004 that they've worn the orange jerseys with black pants. Coach Marvin Lewis reportedly hates the look, but the players requested it. They're 4-0 in that combo.
•  The Chiefs and Falcons played one of those mirror-image games — red over white vs. white over red (additional photos here). And the Cardinals and Washington did something similar.
•  The Jags went mono-black.
•  In case you haven't seen it before, Seahawks defensive end Michael Bennett wear the world's smallest shoulder pads.They're basically kicker's pads, and he says he wears them to make himself use good tackling technique. If he doesn't do it right, it hurts.
•  Chiefs kicker Cairo Santos, who's from Brazil, wore pregame shirt in in memory of the Brazilian soccer team that was recently victimized by a plane crash.
•  Panthers quarterback and reigning league MVP was held out of the game-opening series for violating the team's dress code. And what was that violation, you ask? He didn't wear a necktie when arriving at the stadium. Yup.
•  Nobody wore white at home yesterday.
•  Players participating in postgame jersey exchanges included Antonio Brown (Steelers) and Odell Beckham Jr. (Giants); Nickell Robey-Coleman (Bills) and Malcolm Smith (Raiders); Zach Brown (Bills) and Kelechi Osemele (Raiders); Justin Hunter (Bills) and Mychal Rivera (Raiders); Mark Ingram (Saints) and Golden Tate (Lions); and several Eagles and Bengals players.
•  Here's a list of players who protested during the national anthem.
•  Here's a gallery showing lots of yesterday's custom do-gooder cleats in action. I noticed that some of them didn't make it onto the field, though. Packers quarterback Aaron Rodgers, for example, had a striking green and gold pair but just wore basic black yesterday. Steelers quarterback Ben Roethlisberger was another player who was supposedly going to wear something eye-catching but instead went with his usual look. Hmmmm.
• In a related item: Although the Titans and Browns had a bye yesterday, a Titans spokesperson had told me that a bunch of their players would be wearing the custom cleats this coming Sunday. But now there's a report that those two teams won't wear the cleats this Sunday after all. Hard to understand the thinking behind that.
•  And one more cleat note: Eagles receiver Dorial Green-Beckham apparently pretended that Kanye West has a charitable foundation so he could wear Yeezy cleats.
(My thanks to all contributors, including Mike Chamernik, Brinke Guthrie, Alex Hider, @RNs_Funhouse, and @Royalchief77.)
•  •  •  •  •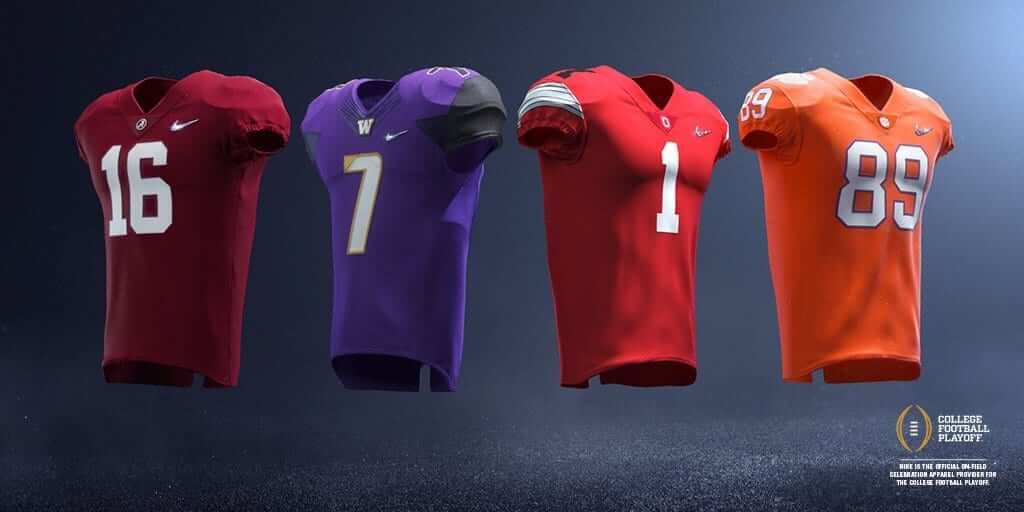 Click to enlarge
CFB Playoff unis released, sort of: For the third straight season, all four of the College Football Playoff teams are Nike-outfitted. And so the world is once again engaging in the odd ritual in which  everyone makes a fuss over Nike "unveiling" the "new" uniforms for the four teams — which aren't really new and don't even make sense because two of the teams will be wearing white, so why show us their colored jerseys? (Wait, let me guess.) One of those teams is Ohio State. Everyone's saying, "Oooh, ahhh, it's the same jersey with the black TV numbers that they wore against Michigan." Yes, but they can't wear it in the first playoff round against Clemson because they're going to be the visiting team and will therefore be wearing white. Word I'm hearing is that they'll be going with this design, which they wore in the 2015 Sugar Bowl.
For those who like to keep track of such things, Alabama, Ohio State, and Clemson will be wearing the new Nike template with the embarrassing name that I can't bring myself to spell out, while Washington will be wearing the old Nike template with the other embarrassing name that I can't bring myself to spell out.
Finally, speaking of Ohio State, here's a non-uni-related footnote: The Tugboat Captain's new roommate is a high school English teacher here in Brooklyn, and she taught OSU running back Curtis Samuel. Says he's a nice young man.
•  •  •  •  •
T-Shirt Club reminder: In case you missed it last week, the Uni Watch T-Shirt Club's final design of 2016 is now available for ordering. The design is a mash-up of uniform elements from all of our previous 2016 shirts (click to enlarge):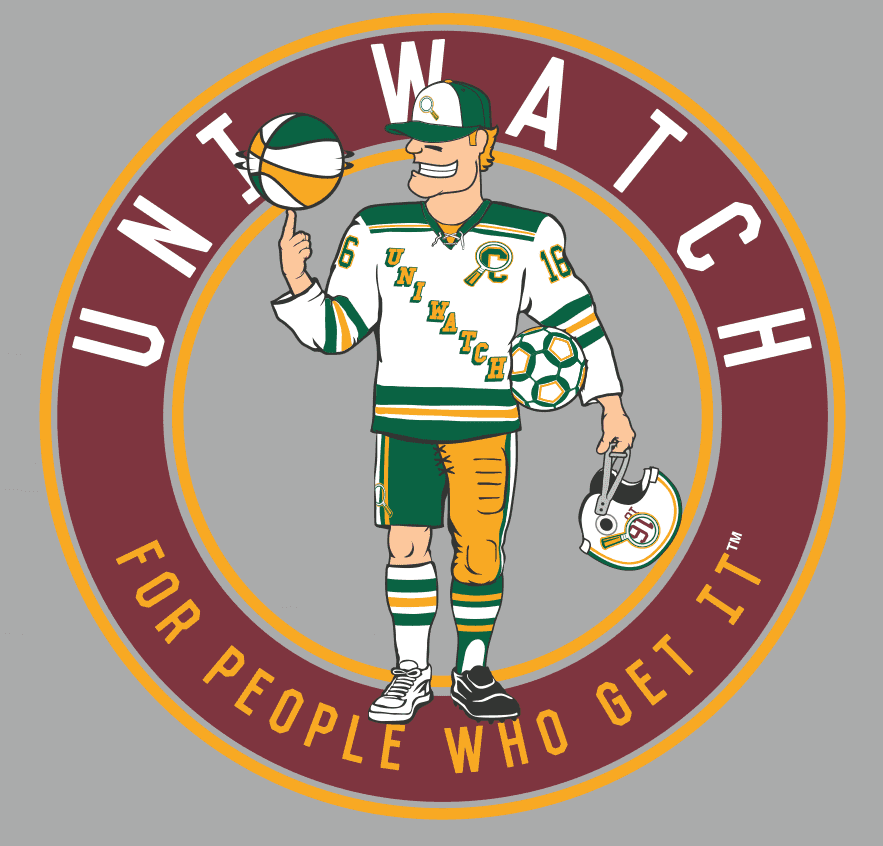 The only new element is the baseball cap (which didn't appear on our baseball-themed shirt because the player was wearing a batting helmet). It's comes in four color options — our usual grey, black, green, plus a new "military green" (that's what the manufacturer calls it, although I'd just call it light olive) — and is also available with either short or long sleeves.
The shirt will be available through this Friday. The shirts are due to ship right after Christmas, so they should arrive in time for you to wear them on New Year's Eve. (I had hoped to have them delivered in time for Christmas, but it just wasn't possible to get things finalized in time for that. Sorry.)
If you've ordered all five of this year's previous shirts and also get this one, you'll be eligible for our year-end "Collect 'Em All" prize, which will be a patch based on the jock tag design used on this year's shirts. To qualify, please send me proof that you've bought all six shirts. The proof can either be (a) a photo showing all the shirts or (b) screen shots of the "Thank you for your order" emails you received from Teespring and Represent.
Once again, the new shirt can be ordered here. Thanks for your consideration.
• • • • •
The Ticker
By Alex Hider

NFL News: Bears RB Jordan Howard has been wearing the same T-shirt under his pads for every game he's played in since the seventh grade. The shirt honors his father, who died when Howard was 12 years old (from Mike Chamernik).

College Football News: Oklahoma's social media team had an Auburn helmet with a white face mask in its Sugar Bowl graphic yesterday (from Brady Vardeman). … The Sun Bowl had outdated Stanford and North Carolina helmets at its press conference yesterday (from James Gilbert). … The white jerseys Louisiana Lafayette wore on Saturday had a sublimated fleur de lis (from Tom M.). … Check out this awesome game program from the 1962 Army/Pitt football game (from EJ Borghetti).

Hockey News: The Penguins honored the 1991-92 championship team Saturday, and outfitted former players with sweaters featuring the 50th Anniversary logo. (from Rob Ullman). … The University of Regina is getting innovative with uni numbers on the knees "" and some slick yellow unis to boot (from Wade Heidt).

College Hoops News: Creighton has worn two different white jerseys this season (from Padsker). … North Carolina gave away this Roy Williams bobblehead at its game yesterday (from James Gilbert). … Oklahoma State and Maryland played a gray/black game on Saturday (from Matt Shevin).

Grab Bag: This Chicago Cubs World Series commemorative bat doesn't include Wrigley Field's new video boards (from Jack). … Whoops. Penn State wrestling had a few errors on its ticket to its match against Lehigh: The ticket calls the match a football game, and says it takes place in Beaver Stadium. (from Chris Flinn).