By Phil Hecken & The SMUW Crew
Well — the "regular" season wrapped up (well, except for that Army/Navy tilt next weekend) yesterday, with lots of Conference FBS Championships for the Power Five Four (sorry Big XII, maybe next year) as well as the other conferences, leaving just the A/N jaunt before we kick off bowl season. Of those games, most were pretty good looking (though my 5 & 1 guy will probably disagree), and any time you have Alabama, Penn State, Clemson, Wisconsin (and I'll throw in Oklahoma, even though they were merely in Bedlam) playing on a featured Saturday…you're going to get some good unis and some good matchups.
Long time readers of this blog probably know I LOVE Alabama's unis, which are my favorite in all of college football. I'm sure this is partly influenced by the fact that my High School Alma Mater basically looks like Alabama, and they've dressed like that since long before I graduated from there in 1984. While Alabama is crimson, GCHS colors are maroon and gray…but the unis are even close in color. Both schools have NNOB, one helmet, one home jersey and white pants worn for home and road. There are no alternates, no camopander, they don't even do the pinktober shtick. It's beautiful. Simple and classic.
That's not to say there is no place for wild and crazy unis — I just happen to like the classics, and Alabama looked much the same when Joe Wille played there. Consistency over the decades, especially in the face of the increasing influence of Big Uni and the lifestyle brands should be something we admire. Leave the fancy unis to Oregon and Maryland and schools like that. But lets keep 'bama and PSU in their simple unis for a while longer, shall we?
Here's TJ with your…
.. .. .. ..
Sunday Morning Uni Watch
By Terry Duroncelet, Jr.
As December is wont to do, Championship Week brings the initial chilling winds signifying the end of the college football regular season (with next week's annual Army/Navy game being that satisfying Christmas spirit blizzard), and as you would expect, there was minimal activity, but I did manage to pad out some bits from what few games there were over the weekend…
From Friday:
• Not everyone can keep up with all the semantics of every team's season, so imagine my surprise to find that Western Michigan was ranked #17 in the nation (12-0 as I write this). Now imagine if the Broncos looked as good as they're playing this season… yeah, a real pipe dream. It's like Western Michigan is actively trying to be the living symbol of what not to do when filling in your order on the Adidas Uniform Builder. Let's break it down: non-tackle twill jersey numbers, school name, and player names? Check. GFGS? Check. Contrast side panels? Check (although they at least follow the side panels on the pants, unlike what the Bills wore for south of a decade). Some weird sublimated graphic that seems bears an iota of camouflage? Check. Grey decals on a brown shell, thus giving the color brown an even worse (and if you ask me, undeserved) reputation? Check. I almost prefer the brown and white uniforms from a few years back, even if the subtraction of gold led to some rather… unfortunate comparisons (draw your own conclusions as to what I'm referencing). The Ohio Bobcats weren't much better, either. They could've been the equalizer to the Broncos, but that would actually make sense, now wouldn't it? Even the Mothership was having a rough night. Look at the scoreboard at the lower righthand corner: Western Michigan is depicted in black, and Ohio in green, with neither teams wearing either of their respective colors (with credit to Grimmetal Ute).
• Decent contrast in Friday night's PAC 12 Championship game between Washington and Colorado, but what the hell is up with the 76 gas station logo? Clearly, they're the sponsor for the game, but the logo looks like it was COMICALLY slapped on there literally two hours before the players hit the field for warmups as an afterthought. Hell, look what I did in GIMP in like, one minute.
From Saturday:
• Louisiana-Monroe wore S&S decals in their game against Louisiana-Lafayette (closer look), and they also wore '48' on the back of their helmets, in honor of Louis Blanchard, a Louisiana high school football standout who passed away last week. Louisiana-Monroe was one of the schools recruiting him, and he committed to the school just days before suffering a neck injury that would later prove to be fatal.
• Oklahoma State coach Mike Gundy is a tucker (with credit to Pistols Firing). Also, they brought back the Barbed Wire helmets from when they played Texas Tech, but with black facemasks.
• So, the cups from the SEC Championship game seemed to have had a strange glitch with the blue (official SEC colors are blue and gold), so it kind of gave the impression that SEC HQ was located in Baton Rouge. Here's another pic for comparison. I'm thinking it's early-onset light exposure (credit to Griffin Smith for both of the cup pics). In non-LSU news: Florida wore full-orange against Alabama. Something I wondered for a little while was why Bama was wearing white and Florida in colors, despite Bama being the higher-ranked team. Turns out that the divisions alternate every year. Case-in-point: last year's SEC Championship game was also Alabama/Florida, and the Crimson Tide wore their usual home uniforms. Lastly, the SEC Championship celebrated its 25th contest, and both teams wore new helmet decals for the occasion. Befitting, since these two were the first ones to compete in the inaugural game in 1992, have played against each other in 4 of the last 9 (2008, 2009, 2015, 2016), and are responsible for 9 of the 25 games (1992, 1993, 1994, 1996, 1999, 2008, 2009, 2015, 2016).
• As far as uni designations go, this also applies to the B1G Championship, as Wisconsin (#6 going into yesterday) wore all-white against Penn State (#7). Here's last year's tilt between #4 Iowa and #5 Michigan State for comparison.
• Clemson not only edged out Virginia Tech on the field, they were also more superior at lining up their championship game patches than the Hokies (credit to Jonathan Hall for both pics).
And THAT… will do it for Week 14. Another regular season in the books, and with that, I hide away until bowl season. Until then, catch you next time.
.. .. .. ..
Thanks, TJ! And thanks again for another great regular season.
TJ, as well as our 5 & 1 picker Joe Ringham, and the Power 5 trackers (Rex, Dennis, Ethan and Kyle) will all be back at some point (I'm hoping to have some special content from them as well) once the Bowls are in full swing. But they can all take some deep breaths and relax for a few weeks, at least (some longer than that).
I can't thank all these guys enough — not only producing great content for every Sunday, but doing it under my somewhat tight deadlines, and they've not only come through with flying colors every week, but absolutely knocked it out of the park (if you'll pardon the baseball analogy) every time!
Please take a minute in the comments below to thank them all for another great regular season!!!
And with that…the rest of the SMUW.
Joe Ringham's 5 & 1
Following in the footsteps of the original "5 & 1," Jim Vilk, and Catherine Ryan after him, Joe Ringham is back for 2016 to make his "5 & 1" (five good looking and one stinker) uni-vs-uni matchups. Sometimes he'll have some "honorable mentions" and sometimes there will be more than one "bad" game. You may agree and you may disagree — these are, after all, just opinions and everyone has one. Feel free to let him know what you think in the comments section.
Here's Joe:
. . .
Happy Sunday, everyone! Final edition of the 5 & 1 for the regular season, with obvious slim pickings because of it being Championship Saturday. So, let's get right to the list, shall we?
5) MAC Championship: Western Michigan vs Ohio — At first, I wasn't too fond of this match-up. But this really grew on me, after looking at it again. Ohio's mono-black set actually didn't look too bad, with all the green trim making it look decent. You pair that up against the Broncos' brown/gray/gray, and it really does look pretty good.
4) C-USA Championship: Louisiana Tech vs Western Kentucky — Very sharp looking game here. La Tech looked really good in white/white/blue on the road here. This paired up really well against the chrome/red/white the Hilltoppers went with as the hosts.
3) Big Ten Championship: Wisconsin vs Penn State — This makes it on the list for its simple beauty. The Badgers looked excellent in their usual mono-white road look. Penn State looked their usual best in their traditionally classic home unis. J
2) Mountain West Championship: San Diego State vs Wyoming — I flipped to this game, just out of the blue, and was stunned by how great this one looked. The Aztecs looked fantastic in their road red/white/black set, always a fine look for them. The Cowboys matched that up with their white/brown/yellow home set to make this look very visually appealing.
1) American Championship: Temple vs Navy — I started watching this game around lunchtime and immediately knew this would be tough to beat. The Owls looked incredibly sharp in their maroon/white/maroon road unis. That look matched up perfectly against the gold/navy/gold of the Middies. One incredibly superb looking game to help close out the regular season.
And, finally…
+1) SEC Championship: Alabama vs Florida — This had potential to be on the good side… until the Gators showed up in mono-orange. You deserve to get beat down like that when you put on a uniform combo like that.
That will do it for me for the regular season. I'll be back again during the bowl season for TWO bowl editions, so be on the look-out for that. Until then…
NCAA Uni Tracking
Uni Watch will again track the uniform combinations worn by the "Power 5" conferences. Most of the 2015 trackers are back, with one new tracker added:
We've got Rex Henry (tracking the ACC), Dennis Bolt (tracking the PAC-12), Kyle Acker (tracking the Big XII), and Ethan Dimitroff (now tracking the B1G AND the SEC). Rex, Dennis, and Kyle and are all returning from 2015, and Ethan is new to the NCAA Uni Tracking this season. Ethan has stepped into the dual role (thanks, man!) of both the B1G and the SEC after one of my previous trackers could no longer provide the B1G.
Here are the Uni Trackers for WEEK FOURTEEN of the NCAA Season.
+ + + + + + + + + +
Rex is up first today (ACC):
. . .
ACC

More Here.
Follow Rex on Twitter here.
. . .
And now, here's Dennis with the PAC-12:
PAC-12

More here
.
. . .
And here is Ethan, with the SEC:
SEC

And be sure to check out Ethan's
WVU Mountaineer Tracker
.
. . .
And here is Kyle with the Big XII:
Big XII

. . .
And here's Ethan with the B1G:
B1G

. . .
UW's Friday Flashback
In case you missed it on Friday, hundreds of NFL players will be wearing custom-designed cleats to support various nonprofit foundations and other charitable causes this Sunday. Paul had hoped to have an ESPN column about some of the people who actually designed and painted some of those cleats, but some very annoying circumstances conspired to make that impossible. So instead he still has a great piece in which he showcases some of the more notable designs (like these seen here).
Check out the Friday Flashback here.
Enjoy!
T-Shirt Club reminder: Paul here. In case you missed it a few days ago, the Uni Watch T-Shirt Club's final design of 2016 is now available for ordering. The design is a mash-up of uniform elements from all of our previous 2016 shirts (click to enlarge):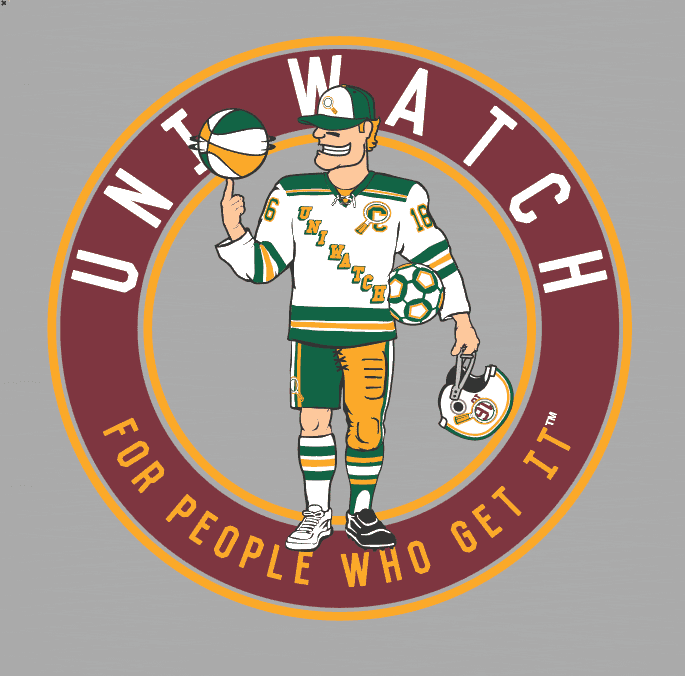 The only new element is the baseball cap (which didn't appear on our baseball-themed shirt because the player was wearing a batting helmet). It's comes in four color options — our usual grey, black, green, plus a new "military green" (that's what the manufacturer calls it, although I'd just call it light olive) — and is also available with either short or long sleeves.
The shirt will be available through next Friday, Dec. 9. The shirts are due to ship right after Christmas, so they should arrive in time for you to wear them on New Year's Eve. (I had hoped to have them delivered in time for Christmas, but it just wasn't possible to get things finalized in time for that. Sorry.)
If you've ordered all five of this year's previous shirts and also get this one, you'll be eligible for our year-end "Collect 'Em All" prize, which will be a patch based on the jock tag design used on this year's shirts. To qualify, please send me proof that you've bought all six shirts. The proof can either be (a) a photo showing all the shirts or (b) screen shots of the "Thank you for your order" emails you received from Teespring and Represent.
Big thanks, as always, to my creative partner, Bryan Molloy, who executed this design and then patiently endured my dozens of picky fine-tuning requests.
This is our final shirt of the year. Will we do the T-Shirt Club again next year? I'm not sure. I'd definitely like to do some more shirts, but maybe in a more random, less programmatic way. We'll see.
Uni Watch News Ticker
By Phil

Baseball News: Interesting uni news is revealed in this article, some of which we already knew. If you scroll down, you'll see "Clubhouse manager Tony Amato said the Indians won't have an alternative jersey until 2018 after retiring the cream jerseys last season. They will, however, retain the red caps from the cream uniforms and wear them with their blue tops at home in 2017." (from #RallyTogether). Interesting — as we all know, the blue cap had "Wahoo" while the red cap has the Block C. Slowly but surely, it looks like Wahoo is making a quiet departure from the unis. … We all know a hot dog is not a sandwich, even when it's depicted in the hands of a vendor on a MiLB Cap. That's the Reading Fightin's cap, and you can get one if you like (from Thom Pucks). … In yesterday's ticker I had an item featuring a photo of a Cubs World Series patch with a "CHAMPIONS" patch underneath. Apparently, this is a thing (from Titan4Ever2448). … From Bruce Menard check out this beautiful rare 1930's St. Louis Cardinals cast-iron paperweight. … We may have seen this before, but once more couldn't hurt: Ron Jackson wearing a Full Name on Back (pic from Super 70s Sports, via Brian Flemming).

NFL/CFL News: On Friday, Vince Wilfork and Jadeveon Clowney switched jerseys at practice and the result was hilarious. … Reader Tom M. noticed "Bills lineman Jordan Mills has his running buffalo missing from his jersey this week." Guessing by "this week" he means last Sunday. … Apropos of absolutely nothing, here's a nice shot of Bart Starr sporting long sleeves (from Mark Murdoch). … Our pal Wafflebored noticed this jersey mistake. What's wrong, you say? "This 6 is actually a 9. The stripes should be on the bottom for both numbers."

College/High School Football News: Reader Tim Dunn points out that there is a High School team with a native American mascot (Brave) that just won its championship. … Before Bedlam yesterday, Southwest Airlines did an unusual flyover in "memory" of Mike Winchester, who was a punter for the Sooners who lettered from 1984 through 1986 and was a member of OU's 1985 national championship team, and was killed Nov. 15 outside Oklahoma City's Will Rogers World Airport, where he worked for Southwest Airlines for 29 years. … Here's an interesting "take" on Notre Dame. Submitter THE Andreas A Schmid says, "Bet they'd win more than 5 games a season." … Navy (and Army) will both likely have new costumes for their big game next weekend. I have no confirmation, but it's possible this is the jersey Navy will wear (from Nick). … Tweeter Jordan Daniels says "picture from 1992 SEC champ footage — forget stirrups we need more sock numbers." … Oh. My. God. Has no one noticed until now that the helmets in the KFC commercials are actually a bucket of chicken????? (from Eric Gamborg). … I have no words for these uniforms (well, I do, and they start with the initals "W" "T" and "F"). From William..

Hockey News: Pretty amazing story in Chicago yesterday with a bit of uni news thrown in: Eric Semborski, who played goalie for Temple (as you can see by his mask) was signed to an "emergency" contract yesterday morning. Regular goalie Corey Crawford had an emergency appendectomy. So Semborski was (literally) given Crawford's jersey with Semborski's nameplate sewn on right on top! Cool! (thanks to Thom Pucks and Karl Greenfield). … Wafflebored also noticed the font for "SEMBORSKI" is different from the Blackhawks' normal font. … Awww, check out the "mini Sioux (sorry), mini Terriers, and mini Rangers" (from Patrick Thomas). … The EIHL (Elite Ice Hockey League), apparently based in Europe, has some really awful uniforms (from Matt Campbell).

NBA News: Tweeter Carl L M Jacla asks, "in the NBA, what exactly is a 'Stretch' uniform?" … The Hornets, wearing their beautiful teal(ish) alts, played a color on color game versus the black, sleeved Minnesota Timberwolves last night (from Ben Campbell).

College/High School Hoops News: I'm generally a fan of teams giving away "free" shit to their fans (though I'm not fond of those who immediately put such giveaways on eBay). Carl Schneeman points to this Marquette Basketball pint glass poster (with some free t-shirts too) as a pretty cool series of giveaways. You can read more here. … Not all color on color games are good. Witness this Rend Lake College (red) vs Lincoln College (purple) hookup. Yes, you can tell the teams apart, but they're both too dark to oppose each other (from Michael Marlo). … Tweeter Christopher Jaques says, "Props to Maine and the American East for the warmup shirts in Cameron (last) night." Those are in response to North Carolina's passage of HB2, which "prevents transgender people from using government-run bathrooms corresponding to the gender with which they identify." Here's some more about Maine's wearing the warmup shirts. … Also from that game, Duke was wearing a black band to honor former school President Keith Brodie who passed this week (from Eric Spoonmore. Here's another look. … Sunrise Christian (a private academy in Wichita), the team from Kansas playing last night, has a shoe company logo as part of its school logo (from Mike Chamernik). … Well, Jimmer Vilk surely approves: Tweeter TJ Hudge notes at least one player on the Michigan Wolverines wears 'em high — "I've seen short shorts but this takes it to a whole new level!!".

Soccer News: Sporting Clube de Portugal wore these special jerseys in yesterday's match against Victoria FC to honor victims of plane crash that nearly wiped out entire Chapecoense soccer team on Monday (from Joey Bertão). Here's a look at the back of the jersey. … Here's a look at those jerseys in action (from Mike D). … According to leaked designs, this is what the 2017 FC Barcelona home kit will look like (from Tim Cross).

Grab Bag: Reader Chris Flinn noticed a couple of uni-related answers on Jeopardy this week: All good Uni Watchers should easily get these — "After an eye injury in 1974, this legendary NBA center began wearing plexiglass goggles," and "After cracking three ribs in 1978, QB Dan Pastorini became the first NFLer to don this four letter 'jacket'." You can post your answers below, and you better get them right.
And that will do it for today.
I know I thank them every week, but please join in in giving some extra special props to the entire Sunday Morning Uni Watch Crew: Terry, Joe, Rex, Dennis, Kyle & Ethan. These guys are incredibly devoted and awesome at what they do — I couldn't even come close to providing this kind of College Football coverage without them! While this is *technically* the last Sunday Morning Uni Watch of the season where all their individual contributions make up the sum of the post, I'll have all of them back before the season ends with wrap-ups, bowl coverage and more, and possibly feature some of their own efforts on other projects! Stay tuned.
Everyone have a good Sunday (wake me up when December ends) — I expect Navy and Army (the only game in town next weekend) will have some kind of special costumes next weekend…so there's always that.
If you missed it yesterday, I am looking for nominations for the worst uniforms of the 2010s (details in that post). Got several submissions yesterday, but I can always use more nominations. Keep 'em coming!!! See ya next weekend, but until then…
Follow me on Twitter @PhilHecken.
Peace.
.. … ..
"He says a hot dog isn't a sandwich. He follows it up by saying a hamburger isn't a sandwich. Thus proving"¦ a hot dog is indeed sandwich. He probably thinks the pot isn't black, and the kettle isn't either."
— St. Looey Martay