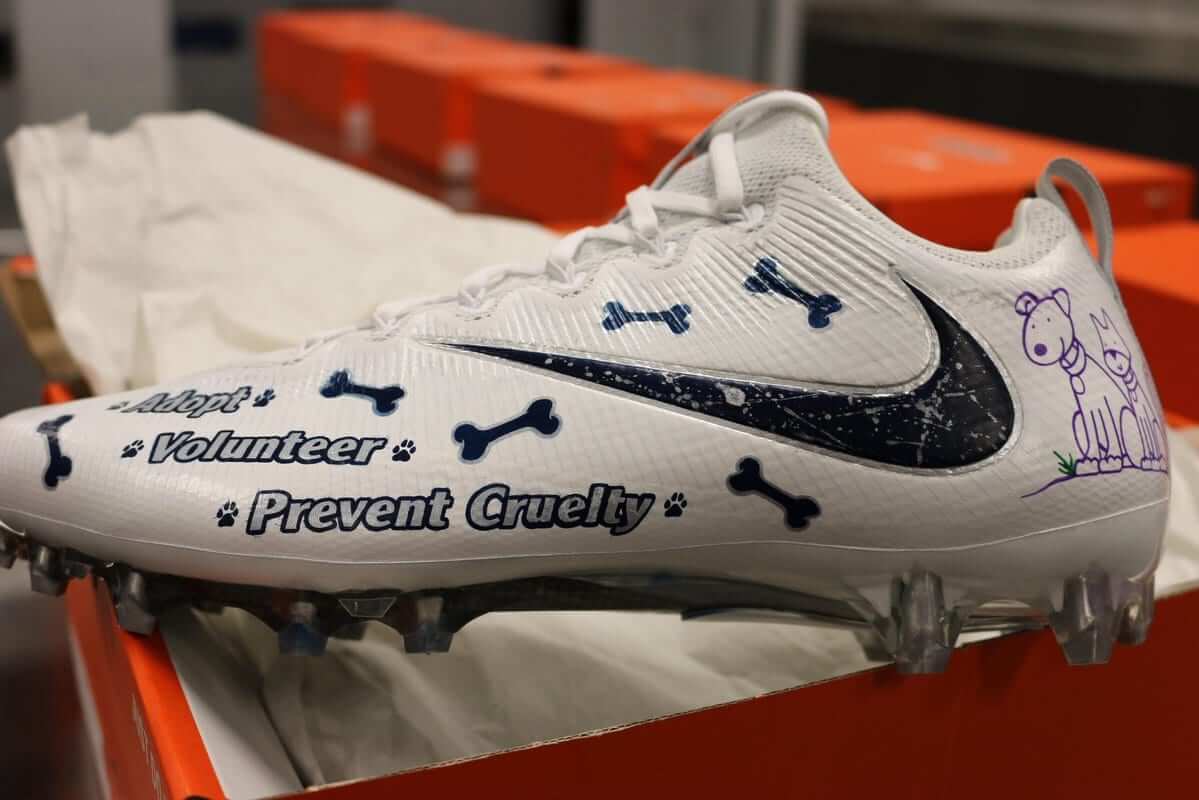 Click to enlarge
NFL players are allowed to wear custom-designed cleats promoting charitable causes this Sunday, and the designs are starting to flood social media. The one shown above will be worn by Cowboys running back Ezekiel Elliott, who's supporting animal shelters in general and the SPCA of Texas in particular (that's their logo toward the back of the shoe). The other shoe has a bunch of paw prints and a portrait of Elliott's own dog (click to enlarge):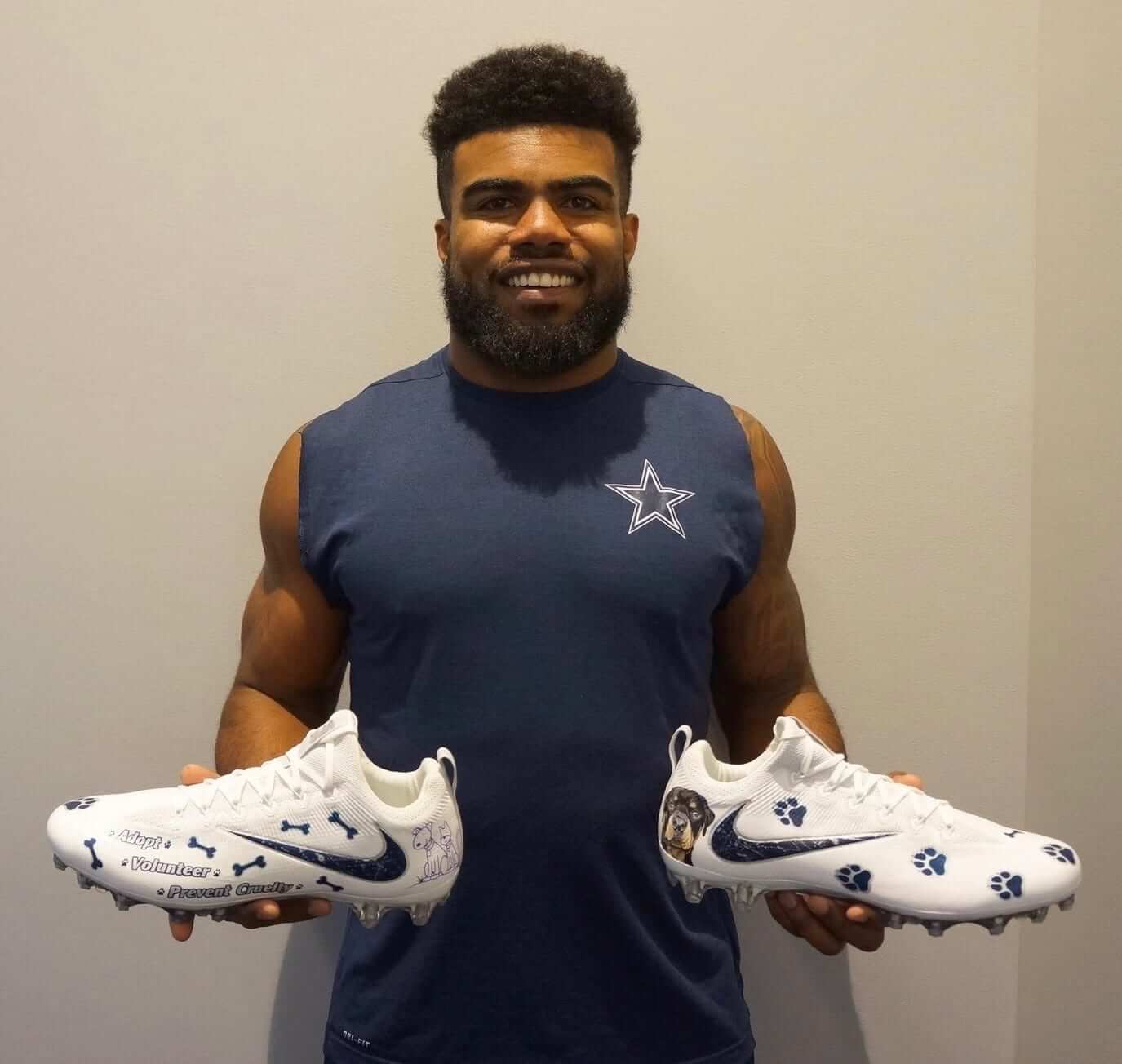 As a recent volunteer dog walker, I heartily approve.
The cleat designs are being posted with the hashtag #MyCauseMyCleats. You can see the search results for that hashtag here. You can also learn more about the participating players and their respective charities here.
Meanwhile, I'll have an ESPN piece later this week on two of the designers who worked with Nike-affiliated players to create their cleats. It should run on Friday.
•  •  •  •  •
Click to enlarge
Uni Watch Holiday Gift Guide: My annual holiday gift guide will be up today on ESPN, featuring all sorts of cool stuff relating to uniforms, logos, and sports visuals (including the excellent bobblehead "dugout" and other custom bobble environments sold by Bobblehouse Industries, shown above). Check it out here.
•  •  •  •  •
The Ticker
By Mike Chamernik

Baseball News: I'm a big fan of videos that show how things are made. Here's one for baseballs (from Ronnie Poore). … New uniforms are coming for South Carolina. … A recent episode of the Trip to the Mound podcast (34 minutes in) discussed stirrups and the Big Red Machine during the 1970s (from Michael Ortman).

NFL News: Byron Maxwell is known for wearing longer sleeves. His current team, the Dolphins, wore throwbacks this past weekend, and it looks like Maxwell had his sleeves customized (thanks, Preston Feiler). … The Vikings and Cowboys will play a Color Rush game on Thursday. … Snoop Dogg is not a fan of the NFL's strict uniform policy, particularly regarding players who have different endorsement deals (from Phil). … I really enjoyed a recent feature story on Randall Woodfield, who was drafted by the Packers in 1974 and took part in their training camp that year. He later became the I-5 Killer and may have killed up to 44 people in the Pacific Northwest in the late 1970s and early 1980s. One of his trademarks was that he'd wear a "strip of athletic tape over the bridge of his nose, in the manner of a football player at the time" during his attacks, a detail that helped one of his surviving victims identify him. … Eric Dickerson wore No. 29 throughout his NFL career, but the Rams gave him a No. 25 jersey after they drafted him in 1983. He wore No. 19 at SMU (from Brian Wulff). … Ted Arnold went to the Grey Cup in Toronto on Sunday and took photos of uniforms and equipment displays for the Montreal Alouettes, Saskatchewan Roughriders, BC Lions and Hamilton Tiger-Cats, along with a case of Grey Cup rings.

College Football News: Nebraska wore two different jerseys by two different manufacturers in the 1980 Sun Bowl. Photos and film of the game is hard to find, but here's another shot of the game, and a look at the Champion-branded jersey (from Brett Baker and Patrick Thomas). … On a related note, Georgia Tech and Texas Tech went gold-vs.-red in the 1970 Sun Bowl (from Patrick Thomas). … Virginia Tech wore 42 different helmets during the Frank Beamer era from 1987 to 2015. The coach discussed some of his favorites (from Phil). … We've seen this before, but here's an interactive site that breaks down all of Oregon's uniform combos during the Nike era over the last two decades (from David Cline).

Hockey News: Anders Nilsson of the Sabres has a rainbow flag on the back of his mask. Earlier this year, Nilsson was one of the Oilers that wrapped their sticks in Pride Tape (from @zubazshorts). … Here's a good ranking of the road jerseys in the WHL. A few teams look pretty decent, in my opinion.

College Hoops News: Illinois wore throwbacks last night (from Erik Spoonmore). … San Diego State wore N7 unis on Monday (from @noahpeets). … New white alternates for Maryland. It will be the Terps' fifth uniform in eight games this season (from Matt Shevin). … Auburn wore a number of different uniforms from 1998 to 2004 (from Clint Richardson). … UNC has an archive of sports T-shirts (from @F3Ventura). … Fans will vote on whether Dominican will wear white or black unis, as in Light Side or Dark Side, for Star Wars Night on December 4 (from Brandon Davis).