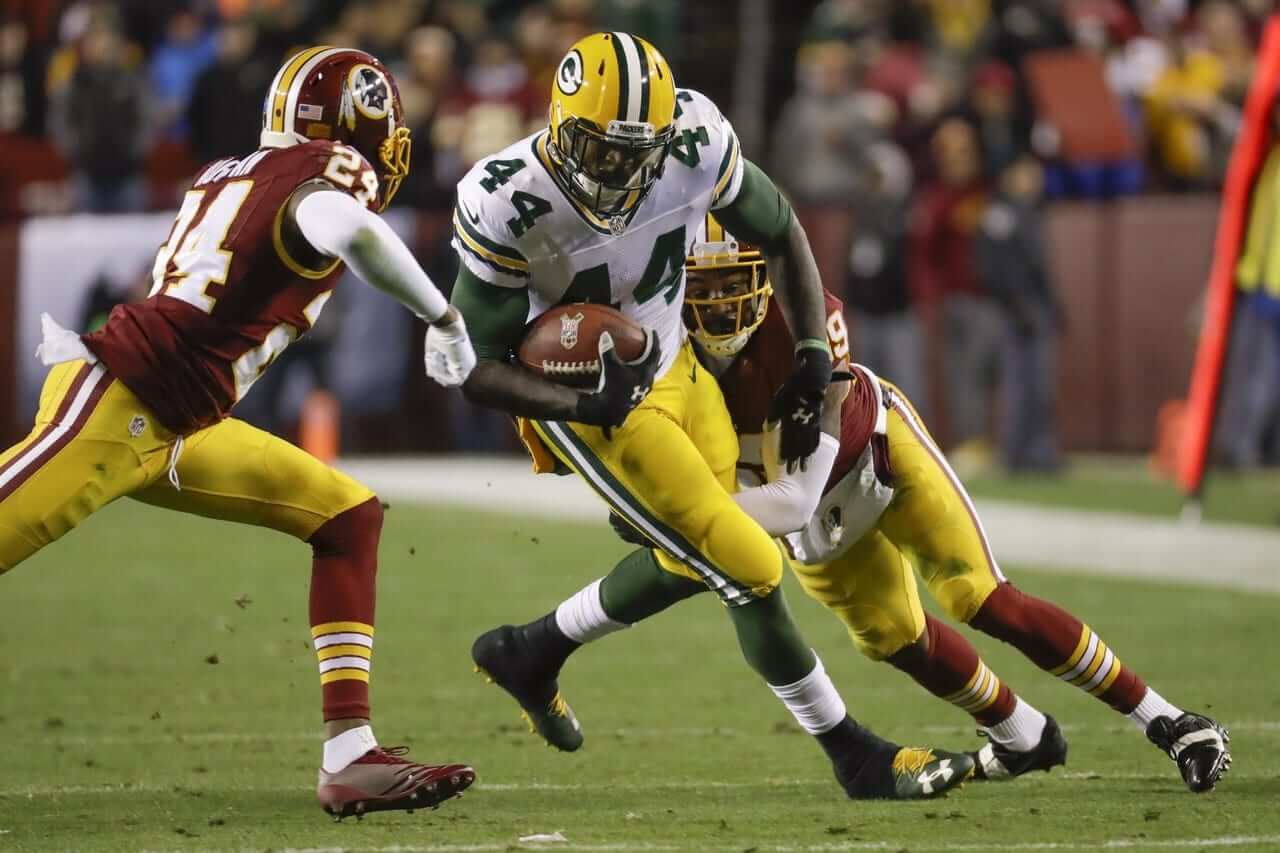 Click to enlarge
Battle of the gold yellow pants last night in DC, as Green Bay visited Washington. The two shades of yellow didn't quite match (Washington's was darker), but they were close. Same striping style, too. Some teams that used to use it years ago have moved away from it (Saints, Lions, Rams), but that striping still says, "NFL" to me.
In that same game, at one point Washington wideout Pierre Garçon got so excited that he ripped a cheesehead in half:
Pierre Garcon is not here for your cheese heads https://t.co/Vw9dgTolq4

— Barstool Sports (@barstooltweetss) November 21, 2016
In other developments from around the league yesterday:
•  The Browns wore their orange alts.
•  The Bengals went mono-black.
•  Speaking of the Bengals, it looks like wideout Brandon Lefell might still be wearing his old LSU shoulder pads.
•  And speaking of Bengals wideouts, when A.J. Green was carted off with an injury, the security guy sitting next to him had an upside-down American flag patch.
•  I'm not sure which game this was from, but one official was still using a Pinktober whistle.
•  In Indy, the Colts had a Super Bowl XLI reunion. The former players wore Nike jerseys with the Super Bowl XLI patch, even though the team (and the whole league) wore Reebok back in those days. I was surprised by the number of people who were upset by the Nike switcheroo. Like, did you really expect the NFL to use Reebok jerseys for this?
•  A close-up shot revealed that Giants punter Brad Wing wears braces. If you scroll down to see the responses to that tweet, you'll see a bunch of other athletes who've worn braces — good stuff.
•  Washington running back Chris Thompson had camouflage trim on his helmet. Don't think I've seen that before.
•  Washington cornerback Josh Norman had mismatched clips on his facemask. Never seen anything like that before.
•  Two teams wore white at home: The Rams and, of course, the Cowboys.
•  Players participating in postgame jersey swaps included Leon Orr (Dolphins) and Dominique Easley (Rams); Jarvis Landry (Dolphins) and Todd Gurley (Rams); Dez Bryant (Cowboys) and Mike Wallace (Ravens); Domata Peko and Darqueze Dennard (Bengals) and Jerel Worthy and Brandon Tate (Bills); DeShawn Williams (Bengals) and Shaq Lawson (Bills); and Jameis Winston (Bucs) and Vernon Harris (Chiefs).
•  Here's a list of players who protested during the national anthem.
(My thanks to all contributors, including Mike Chamernik, Austin Elmore, Alex Hider, and of course Phil.)
• • • • •
Click to enlarge
Don't tell Tucker and Caitlin: For a variety of reasons, the Tugboat Captain and I wanted to do something this past weekend that had a positive impact on the world, however small that might be. So yesterday we went over to Sean Casey Animal Rescue (no relation to the former Reds first baseman), where they'll let you take one of their shelter dogs for a walk.
This is, admittedly, a rather self-serving form of do-gooder-ism. But hey, dogs need walking! The pooch they assigned to us is named Jackson, and he was a total sweetie. We took him over to Prospect Park, where he reveled in all the sights and smells (if you can't see the slideshow below, click here):
I'll always be a cat person first and foremost, but I love dogs too. It had been a while since I'd walked one, and I'd forgotten how much fun it can be. So satisfying to feel that tug on the end of the leash, and to sense the dog's curiosity as it explores its surroundings. Good boy!
By the time we brought Jackson back to the shelter, we'd completely lost our hearts to him (and so had several people who stopped to pet him along the way). If you live in the NYC area and are in the market for a totally swell dog, contact Sean Casey Animal Rescue and tell them you're interested in Jackson. He's a keeper, trust me.
•  •  •  •  •
Click to enlarge
Three and oh: Another curling win last night, as (from left) Omoy, Phil, yours truly, and Doug built up an early 5-0 lead in the first two ends and then hung on for a 5-4 win. We're now undefeated in our first three games of the season. So far, so good.
•  •  •  •  •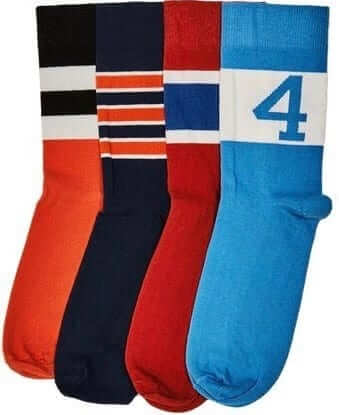 StripeRite update: The second batch of StripeRite socks, shown at right, is now available for ordering. For those of you who've already ordered, the socks should start shipping today. Enjoy!
My thanks, as always, for your consideration.
• • • • •
The Ticker
By Alex Hider

NFL News: The NFL commissioned Mexican artists to paint custom helmets for all 32 teams in honor of the the Raiders/Texans game that will be played in Mexico City tonight (from Jorge Cruz). … Is this the craziest TV number matchup of all time? (Via Pro Football Journal.)

College Football News: At least one Yale football player had his helmet stripe cut short during the Bulldogs' win over Harvard Saturday (from William F. Yurasko). … Matt Hanson points out that Pitt's gorgeous throwback unis have inconsistent TV numbers. … An Illinois player had helmet decal problems on Saturday (from Jesse Gavin). … Jerod Evans of Virginia Tech was wearing shin pads Saturday (from J. Fletcher).

Hockey News: Canucks goalie Jacob Markstrom debuted an awesome new mask last Tuesday. Super meta (from Wade Heidt). …. Speaking of Markstrom, he switched his number from 35 to 25. He's now worn 25, 33 and 35 for both the Canucks and Panthers (from Patrick Thomas).

Basketball News: The Hawks wore their silly red over black uniforms yesterday. … It appears that the Thunder have mothballed their navy blue, vertically striped alternates. Good riddance (from Ronnie Levi). … Is Nebraska basketball set to debut new black uniforms?

Soccer News: "Peterborough United was wearing a vile luminous yellow alternate kit the other day," says Thom Gibbs. "A stadium steward standing off the pitch was wearing a similarly-colored jacket to the Peterborough jersey, and at one point Peterborough player Michael Bostwick mistakenly passed the ball to him."

Grab Bag: The tee markers at the Australian Open were tiny model Emirates planes (from Graham Clayton). … NASCAR driver Tony Stewart wore this helmet for his final race. … Two Michigan volleyball teams wore almost identical uniforms in a state championship game recently (from Chet Miller). … The uni-verse will appreciate this comic strip (from Bo Baize).