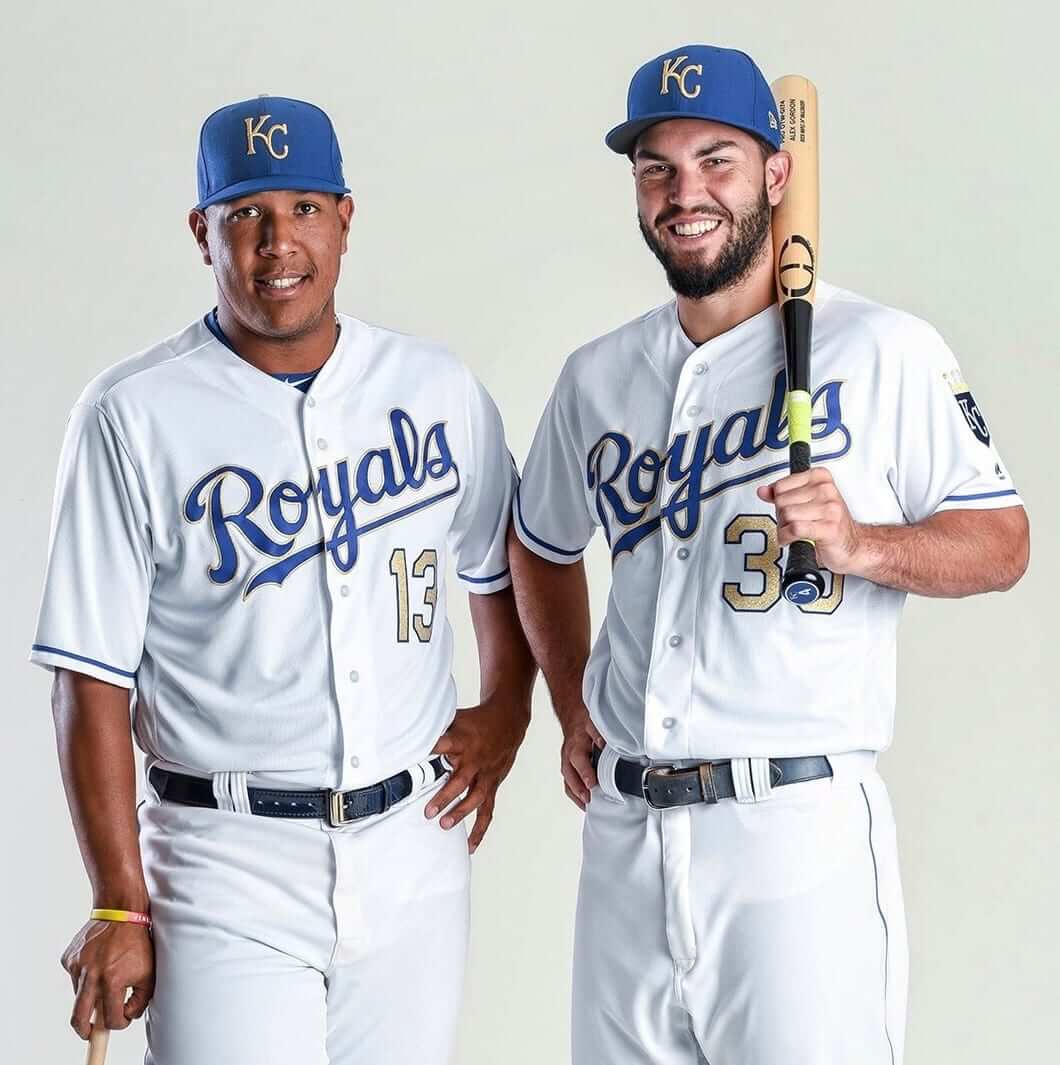 Click to enlarge
After the Royals won the 2015 World Series, they began the 2016 season by wearing gold-trimmed uniforms for their season-opening series against the Mets. Then they requested and received permission from MLB to keep wearing the championship unis for Friday home games. And now, as had been teased earlier the week, they've announced that they'll keep wearing gold for Friday home games in 2017.
But the gold-trimmed unis they'll be wearing next season aren't the same as the ones they wore in 2016. Here's a side-by-side comparison — last season on the left, next season on the right (click to enlarge):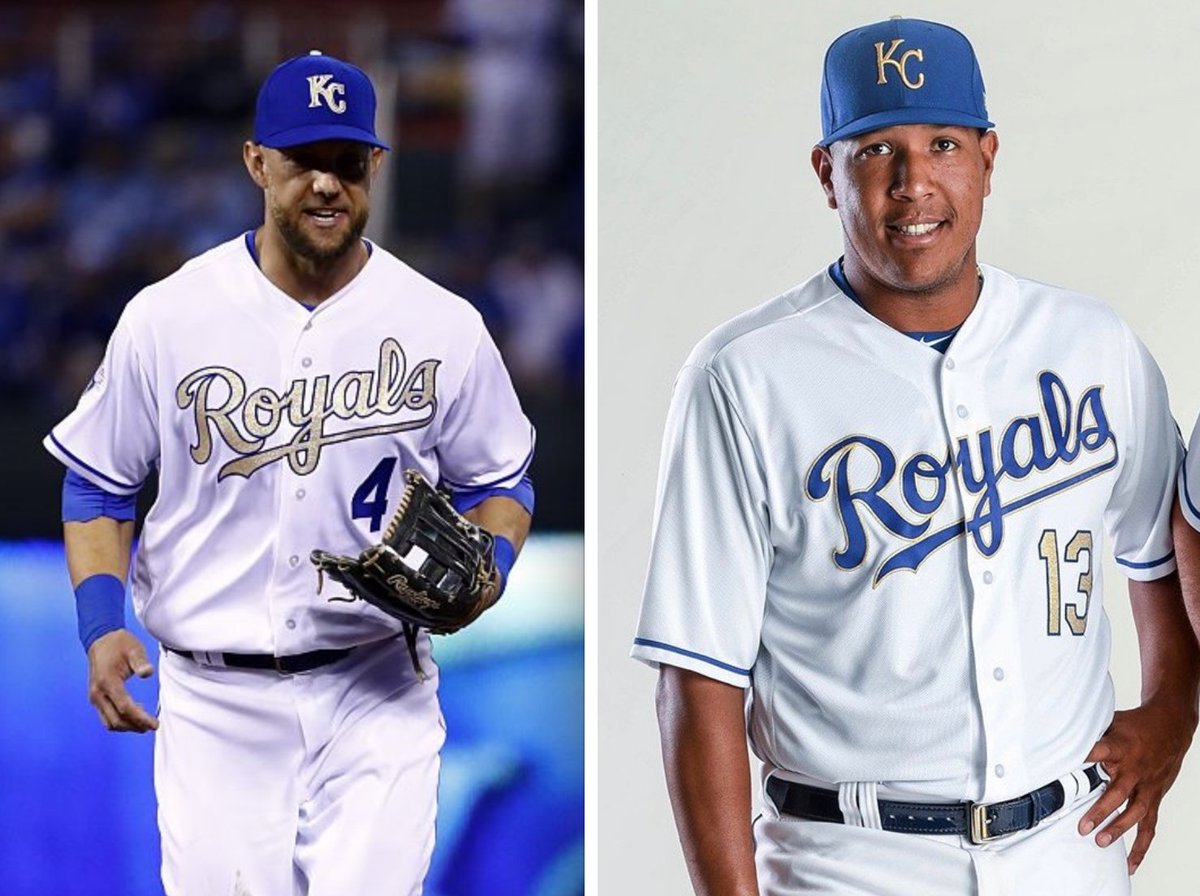 As you can see, they flipped the gold treatments of the chest insignia (which used to be gold outlined in blue and is now blue outlined in gold) and the front uni number (vice-versa). Also, the white outline that had been used in 2016 on the cap logo has been scrapped. Both changes seem like upgrades. The back treatment — gold numbers outlined in blue, with blue NOB lettering outlined in gold — is unchanged:
Is this "gold creep"? Yeah, definitely. When the Red Sox came up with the idea of wearing gold-trimmed uniforms to celebrate a championship in 2005, they only wore the gold attire for their ring ceremony. Then teams started wearing the gold in their season-opening game; then one game became two games, and two games become the season-opening series, and then that become a season's worth of Fridays, and now that has morphed into a second season of Fridays. Seems like another case of the ratchet only turning in one direction, resulting in overkill. But if any team could get away with this, it's the Royals: Gold is a Royals team color, and it's also a "royal" color, so it makes a certain kind of sense.
Incidentally, when the Cubs finally closed out Game 7 two weeks ago, the champagne corks hadn't even started popping when people started emailing and tweeting me to ask, "Will the Cubs have gold-trimmed uniforms in April?" and "What do you think the Cubs' gold uniforms will look like?" and so on, which just shows how rote and predictable the gold thing has become. It would nice to see the Cubs skip the gold bandwagon, if only to buck the trend. Like, "Yeah, if the Royals wanna own that gold thing, they can have it." But I'm not holding my breath.
Finally, one more thing about the Royals: If you look again at the photo at the top of this entry, you'll see that the bat Eric Hosmer is holding has a "4" sticker on the knob. Hosmer was using one of teammate Alex Gordon's bats! Great spot by reader Blair Riffel to catch that one.
•  •  •  •  •
And speaking of gold uniforms…: Gotta love that design the Saints wore last night. Sure, the sleeve and pant striping was nice, but the key was those gold uni numbers. So much better than the black numbers on their regular white jerseys. Allow me to be the 1,474,376th person to say, "They should make this their regular look."
One other note: The 50th-season patch that the Saints have been wearing in 2016 was not included on these jerseys.
Oh, and the Panthers wore mono-blue, but we've seen that before. Additional photos here.
•  •  •  •  •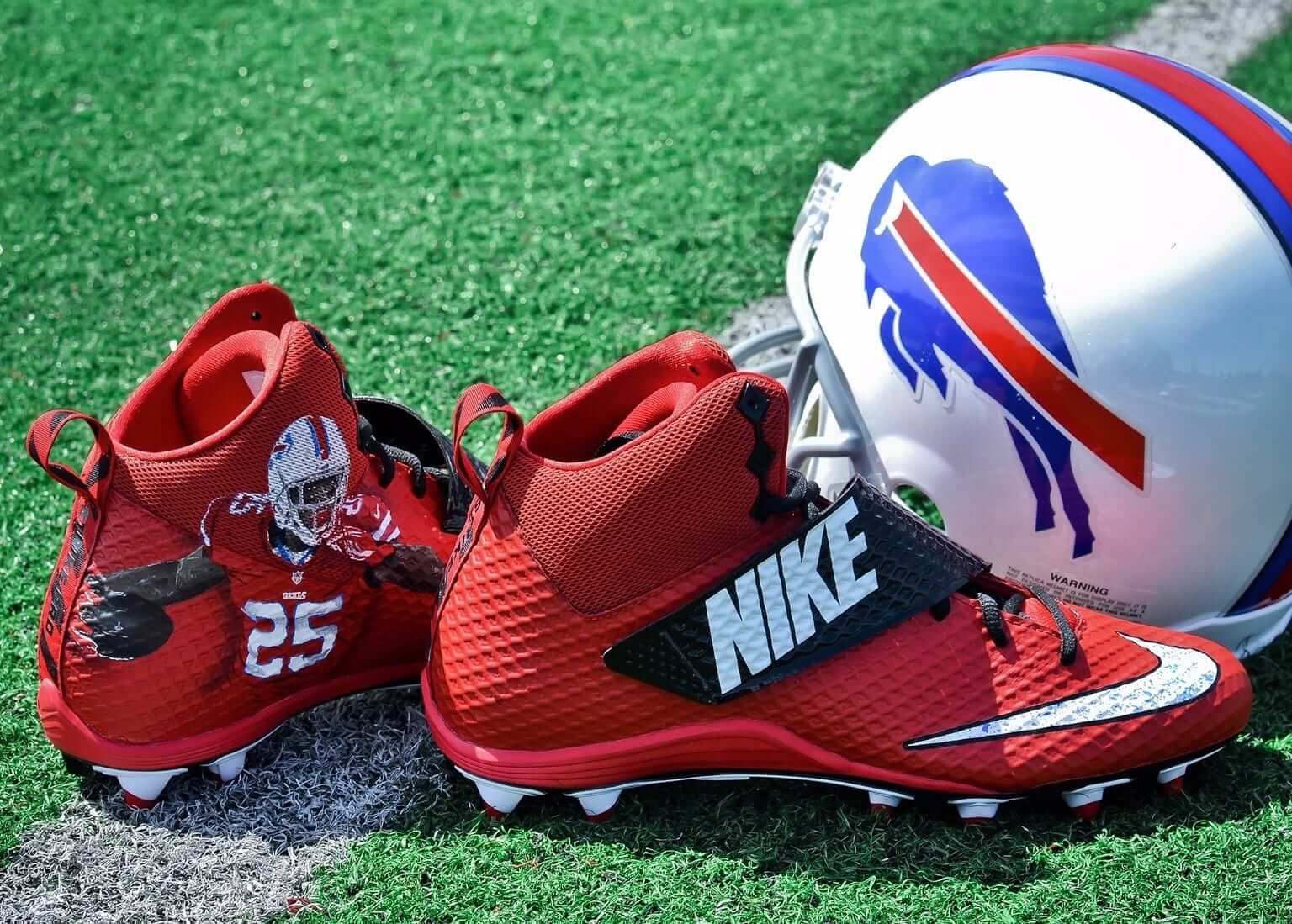 Click to enlarge
Custom cleat artists: This has been a big year for custom-designed NFL cleats. You might think the sneakers companies are the ones coming with the custom designs, but a lot of them have actually been produced by two guys in Buffalo (including the pair they created for Bills running back LeSean McCoy, shown above). I'll have that story today on ESPN. Check it out here.
•  •  •  •  •
The Ticker
By Paul

'Skins Watch: Dan Steinberg, a clever and entertaining sportswriter who's been doing great work for The Washington Post for many years, sees parallels between the media's handling of Donald Trump and the media's handling of the 'Skins name debate. Good stuff — highly recommended (from Tommy Turner).

NFL News: The Browns will wear their orange alts on Sunday (from Robert Hayes). … "I picked up some old Packers/Cardinals and Cubs/Reds home movie footage on eBay and got it transferred to DVD," says Ryan Dowgin. "Trying to pinpoint the year of the games based on the unis and numbers and am leaning towards 1940/1941." If you'd like to help him on this, look here and here. … Here's the ceremonial shovel used for the groundbreaking of the Rams' new stadium (from 37 Days). … RB Christine Michael wore SrOB while with the Seahawks but he's apparently going with a conventional NOB with the Packers — at least on his practice jersey (from Dean E.S. Richard). … Some Dolphins fans have started a petition to have the team's throwbacks reinstalled as the primaries (from Kerri Pedersen).

College Football News: Cincinnati will honor its seniors tonight by including their names and numbers in the team's helmet striping (from @AdamtluA). … Here are this week's uni combos for UNC (which will also have a stars/stripes end zone treatment), New Mexico, Syracuse, and Columbia.

Hockey News: "Most mornings (every day?), NPR morning news reader Korva Coleman does a Facebook Live video session answering viewer questions about the day's news and NPR's coverage," says R. Scott Rogers. "On Thursday, she was wearing a No. 42 Joel Ward Capitals jersey. At the end of the Q&A, she took a final question about the jersey and explained that she was wearing it to celebrate the previous night's 7-1 rout of the Penguins. Most of the comments in the comments sidebar during the video were about the jersey, mainly praise for 'rocking the red' or Ward fans saying she should get a Sharks jersey." … Rangers G Antti Raanta has written a piece about the meaning of his mask design (from Jim Earing). … Some Calgary Flames players tossed a football around the ice while wearing Calgary Stampeders helmets the other day (from Nick Maibroda). … A Fox Sports writer has reviewed all 30 NHL teams' uniforms (thanks, Mike). … Wayne Gretzky is apparently going to appear on The Simpsons, wearing an Oilers-esque uniform, completely with the jersey tucked in at one hip, but without the jersey crest (from @GKG_77). … Purple "Fight Cancer Night" jerseys upcoming for the Cincinnati Cyclones.

NBA News: Drake was given a Toronto Huskies jacket (from Marc-Louis Paprzyca). … Color vs. color last night in DC, as the Wizards wore their orange Bullets fauxbacks against the Knicks (from Brian S).

College Hoops News: Akron has a new kangaroo-themed set. … Check out last night's Oregon/Valpo game. If only the NFL's Thursday-night program looked even half that good! (Thanks, Phil.)

Soccer News: FIFA has opened a disciplinary case against England and Scotland for wearing poppies on Armistice Day, which they had been warned not to do.

Grab Bag: Good article about the current state of the Jordan Brand (thanks, Brinke). … Faaaascinating article about the struggle for market supremacy between the world's two largest zipper manufacturers (from Jason Hillyer). … Crossing guards in Chicago are worried that safety will be compromised now that they can no longer wear police uniforms. … Here's a close look at the latest in safer cricket helmets.