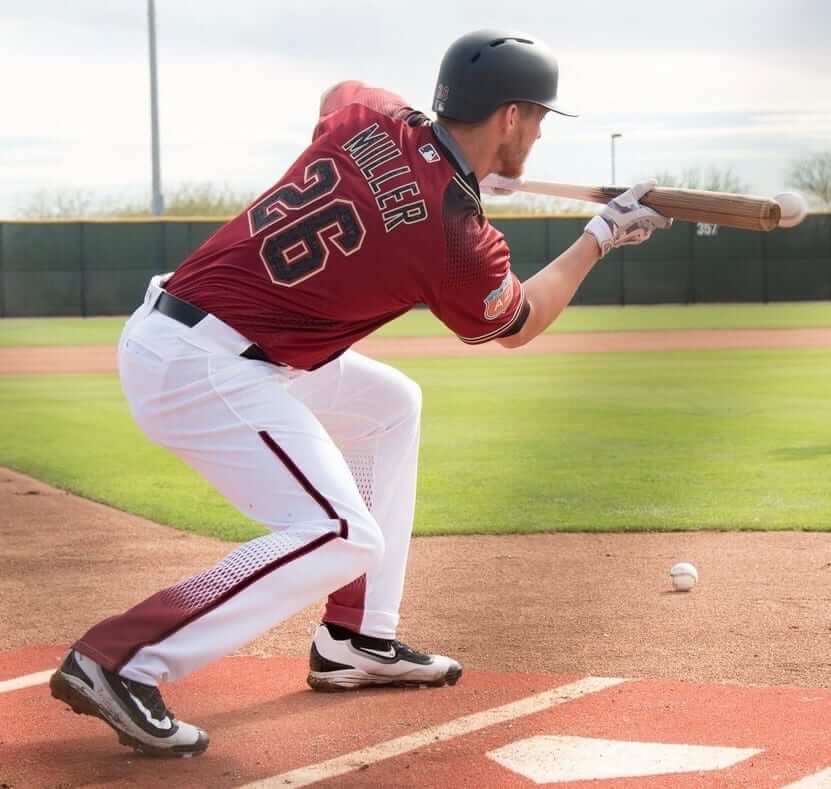 Click to enlarge
Phil had this in the Ticker over the weekend, but I know some of you don't follow the site on weekends, so just in case: The Diamondbacks announced a series of tweaks to their uniforms for 2017. You can see the full rundown of adjustments here, but the most notable changes are to the pants: The truncated side piping is now full-length, and the blood-stain gradations at the cuffs have been scrapped. Obviously both changes are for the better. Here's how the new pants look on a mannequin: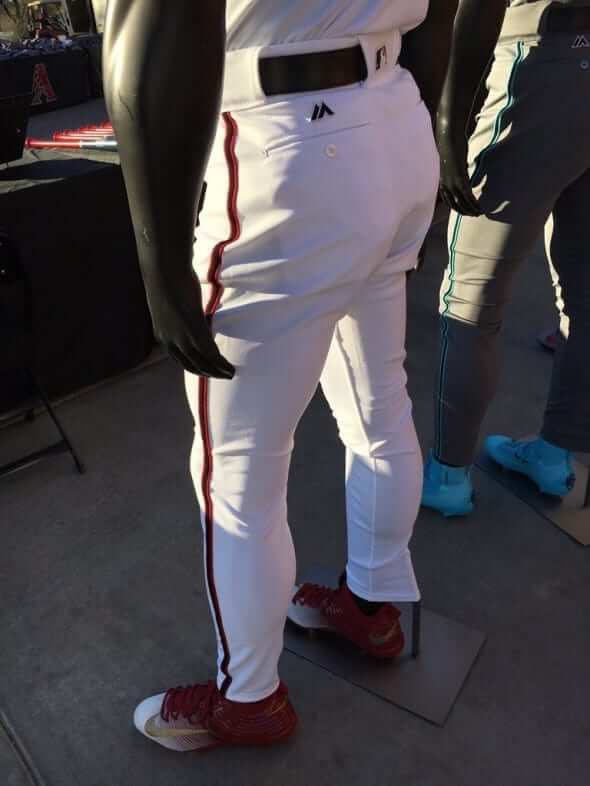 The news was first reported by The Arizona Republic, whose story on the uniform changes included a very interesting passage:
"We were listening to fans and players on the changes they wanted us to make," [team CEO Derrick] Hall said. "We knew about a month into the season that we were going to end up making these changes."

Hall said the diamond gradient design at the bottom of the pants didn't look the same on the field as it did during the design phase.

"But once you have it approved and you're already manufacturing, you're stuck for the year," he said. "We wanted to get to this offseason so we could make the changes."
Two thoughts here:
1. I'm flabbergasted by this notion that the pants didn't look the same "on the field" as they'd expected. It's standard procedure these days to test-drive new uniform concepts on the field (or the court, or the ice, or whatever) and see how they look under various lighting conditions, on TV, on streaming video, and so on. That's basic due diligence. Did they omit that step? Or did they convince themselves that it looked fine and then get caught off-guard by the negative fan feedback?
2. If you've already decided by early May that you'll be getting rid of your pants design, it seems silly to have to stick with that design for another five agonizing months. MLB pants aren't sold at retail, so there are no merchandising issues to worry about. It would certainly have been simple enough to get a new set of pants made with full-length stripes and no blood stains. It's just pants — why wait until the end of the season? If there's a rule against that, as Hall's quote implies, maybe it's time to re-examine that. (By way of comparison, look at the NFL, where the Ravens introduced those mustard pants late last season. It was a total surprise, they weren't in the style guide, and that was all fine.)
Anyway, it's an upgrade, so let's be happy about that.
•  •  •  •  •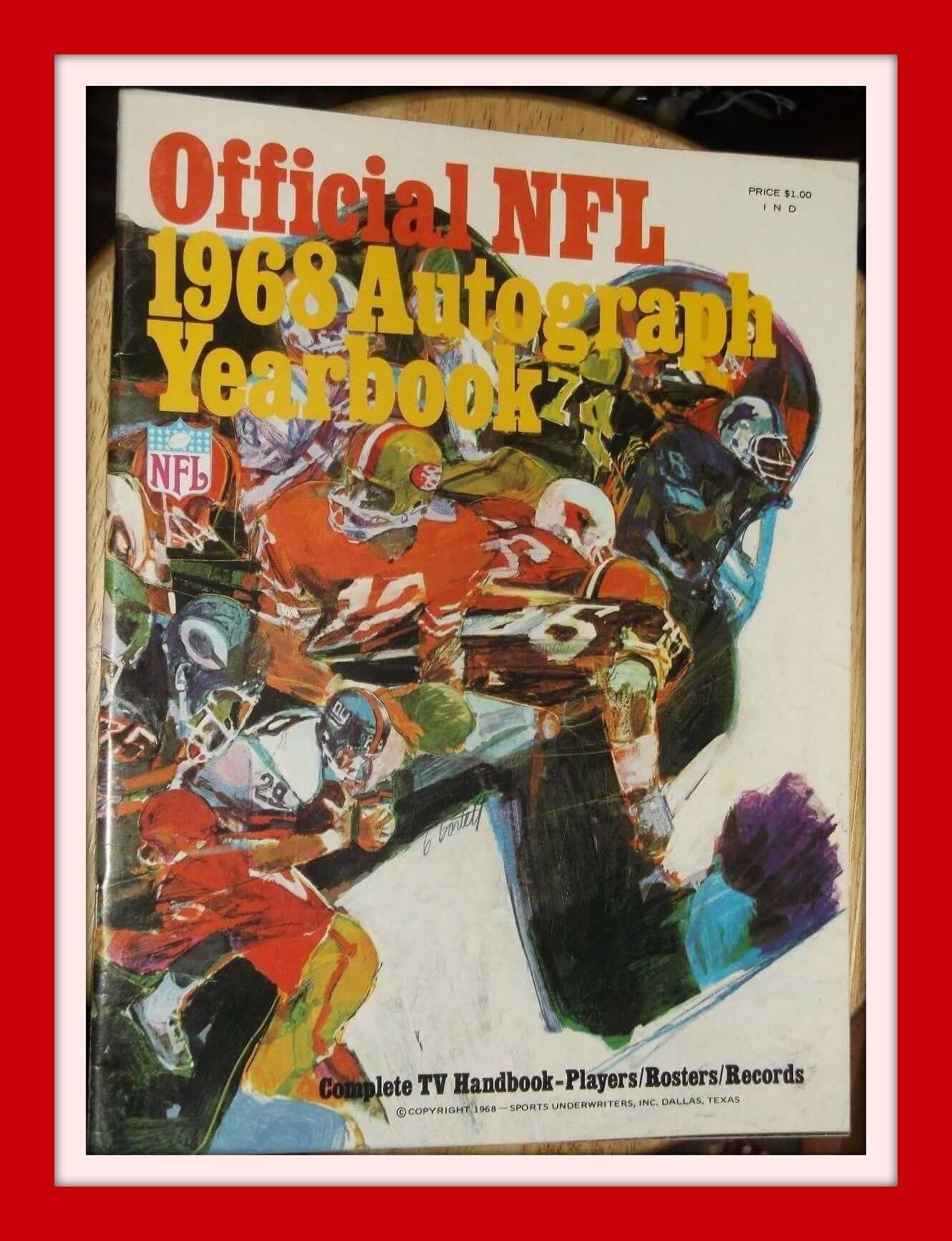 Wow, what terrific artwork on this Official NFL 1968 Autograph Yearbook. It had a TV schedule, rosters, and stats. I suppose there was a place for you to get autographs at training camps or games. Great stuff.
Now for the rest of this week's picks:
•  Great look to this Buffalo Bills poster. Gonna say 1980s for this one, but I'm not sure. That should be Joe DeLamielleure judging from the jersey number, along with some nice period Pumas.
•  Here's a nice set of 25 NFL pocket schedules from the 1970s.
•  Apparently there was an event for NFL Alumni called "The Super Bowl of Golf," and this is the satin jacket to prove it.
•  Different rendering (low-profile white facemask) of the helmet design on this 1970s/1980s Atlanta Falcons school binder.
•  Nice artwork on this 1970s NBA shoe box, although the seller's claim that it has "hard-to-find Interior tissue paper" seems like a bit much.
•  Remember back when sports logos used to be simple? Always liked this ABA Denver Nuggets logo.
•  Check out these 1970s Phil Esposito street hockey sneakers from Converse.
•  Nice clean look to this 1980s Vikings jacket from Chalk Line. Always liked how they put the NFL shield next to that pose of the team's helmet.
•  Boy howdy, check out this vintage photo of Mike Ditka. I didn't even know he played for the Eagles! Turns out he played for them in 1967 and '68, in between his stints with the Bears and Cowboys.
•  Back in the day, they didn't put too much effort into media guide design, as shown on this 1970 World Series media guide from the Reds.
•  •  •  •  •
A quick report on a quick road trip: Last Friday the Tugboat Captain and I hopped in the car and drove down the Jersey Shore. The next day we took the Cape May car ferry to Delaware. The day after that we headed home.
A few highlights:
•  On the first day, while walking on the beach in Asbury Park, we saw a humpback whale, which frolicked offshore for about 15 minutes before disappearing (we couldn't get any good photos, so you'll have to take my word for it). The next day we saw a school of dolphins swimming alongside our ferry, and then saw more dolphins while walking on a beach in Delaware (we couldn't get any good photos, so you'll have to take my word for it). Later that day, while exploring a wildlife refuge, we saw a bald eagle (was easy to see through binoculars but too far away to photograph, so you'll have to take my word for it). A very good weekend for wildlife!
•  On the first day, we stopped for lunch at my favorite Jersey Shore thin-crust pizza place, Vic's in Bradley Beach, where we got a pie with pepperoni and lump sausage:
We liked that so much that we had another thin-crust pizza for dinner, this time at Tony's Baltimore Grill in Atlantic City, where we got a salami pie:
•  One of the weird things about the northern Delaware shoreline — including that wildlife refuge where we saw the bald eagle — is that you have a clear view of a nuclear power plant cooling tower across the river in New Jersey. It makes even the most placid scene seem vaguely menacing:
•  We continued our habit of walking in the surf each weekend, although the water is now getting pretty damn cold. The second photo here is worth clicking on so you can see it at a larger size — it's really nice (which has nothing to do with me being in the photo and everything to do with the photographer):
There was a lot more, not all of it good. I'll spare you the details, except to say that a bunch of things didn't work out the way we'd hoped and that the state of Delaware will not be getting a Christmas card from me. Also, we were stressed about some Real Life stuff, which didn't always bring out the best in either of us. Also-also, on the way home we got word that a friend of mine had died. He'd been sick and hospitalized for a long time, so the news wasn't completely unexpected, and on some level I'm glad his suffering has ended, but the whole thing still hit like a punch to the gut. (RIP, Billy.)
But that's how life goes sometimes — some good, some bad. I hope your weekend had more of the former than the latter.
•  •  •  •  •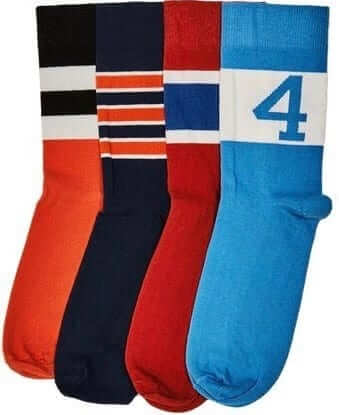 StripeRite reminder: The second batch of StripeRite socks, shown at right, is now available for ordering. For those of you who've already ordered, the socks will start shipping on Nov. 21.
My thanks, as always, for your consideration.
• • • • •
"(No) Vacancy" reminder: In case you missed it yesterday, I've written an article for Bloomberg Businessweek about motel vacancy signs. I hope you'll give it a look — thanks.
•  •  •  •  •
The Ticker
By Mike Chamernik

Baseball News: The Royals will announce some 2017 uniform moves on Thursday, and it looks like they'll be keeping their gold-accented jerseys (from Ryan Atkinson). … Here's our first look at the Mariners' 40th-anniversary patch on a jersey, and it looks really big (from Cesar Miramontes). … A Brewers ticket package includes a retro winter cap (from Adam Vitcavage). … Here's a good piece on the House of David baseball team, which represented a strict religious commune in Michigan (from Joe Hollomon). … An archivist recently found a photo of St. Louis Stars Park, something Negro League baseball researchers have been trying to find for decades. "For baseball historians, it is more than exciting," according to the article. "It is akin to finding a Lost Ark." … The Brooklyn Cyclones will hold their annual Holiday Season Garage Sale, featuring game-worn gear, promo giveaways, and more, this Sunday (from Mary Bakija).

NFL News: Giants WR Odell Beckham Jr. and ESPN commentator Randy Moss swapped autographed jerseys last night (from Robert Hayes). … Darrelle Revis has "24" and "Island" on the soles of his cleats. As you may know, wide receivers who go up against the shutdown corner are stuck on Revis Island (from Phil). … Once again, Fox has been caught Photoshopping an image of Vikings QB Sam Bradford. This past weekend the network showed a graphic with Bradford's head on Matt Cassel's body. In October, his head was on Teddy Bridgewater's frame (from Alex Sinclair).

College & High School Football News: Oklahoma will wear its Rough Rider alternates on Saturday (from Phil). … "There must have been a little confusion prior to Saturday's Iowa Class 2A state semifinal game," writes Jesse Gavin. "Both Mount Vernon and LaPorte City Union came out for warmups in their dark jerseys, but Mount Vernon switched over to the whites when the game started. My only guess is the Iowa High School Athletic Association failed to inform the schools which team would be designated the 'home' team, since the semifinal games are all played on a neutral site." … Georgia may have tipped its hand about wearing black this weekend (from Mike McLaughlin).

Hockey News: Rangers G Henrik Lundqvist's charity foundation held an event over the weekend. Several of his old masks were on display, including his first mask, which he painted himself (from Alan Kreit).

NBA News: Kevin Love endorses Banana Republic, the clothing company. Among his new fashions is a 3-in-1 parka. You may remember the Cavs won the title after coming back from a 3-1 deficit against the Warriors. … The Bucks' court has an outdated typeface along the sideline. It's supposed to be in the blocky font introduced last year (from Eric Pigo). … Jeff Brown noticed that roughly half of the Pacers didn't have a 50th anniversary patch last night. … The Heat wore their military alternates last night.

College Hoops News: A little tough to see, but Oregon's new road uniforms have wings on the shorts (from @BWall811). … There was a particularly vibrant color vs. color game last night, as New Mexico wore its turquoise N7 uniforms and Houston Baptist wore orange. Several schools are wearing the turquoise N7 uniforms for Native American Heritage Month.

Soccer News: Bosnia striker Edin Dzeko was ejected from a World Cup qualifying draw in Greece for pulling down the shorts of an opponent. In the NBA, Ron Artest once did the same thing. … Reader Timmy likes the typeface Estonia uses for its NOBs. I like it, too.

Grab Bag: New logo for Taco Bell. … JetBlue introduced a retro-looking logo. … On Friday night, the Maori All Blacks rugby team played the Irish club Munster, whose coach Anthony Foley passed away last month. "Before the haka, the captain of the Maori All Blacks presented Munster with a Maori All Blacks jersey with Foley's initials on it," says Eric Bangeman. "You've got to watch the video to see the full effect of the moment and the respect with which it was done. Also noteworthy is that the Munster players wore the socks from their club or school team instead of their normal blue socks." Further info on those socks here (from Denis Hurley).