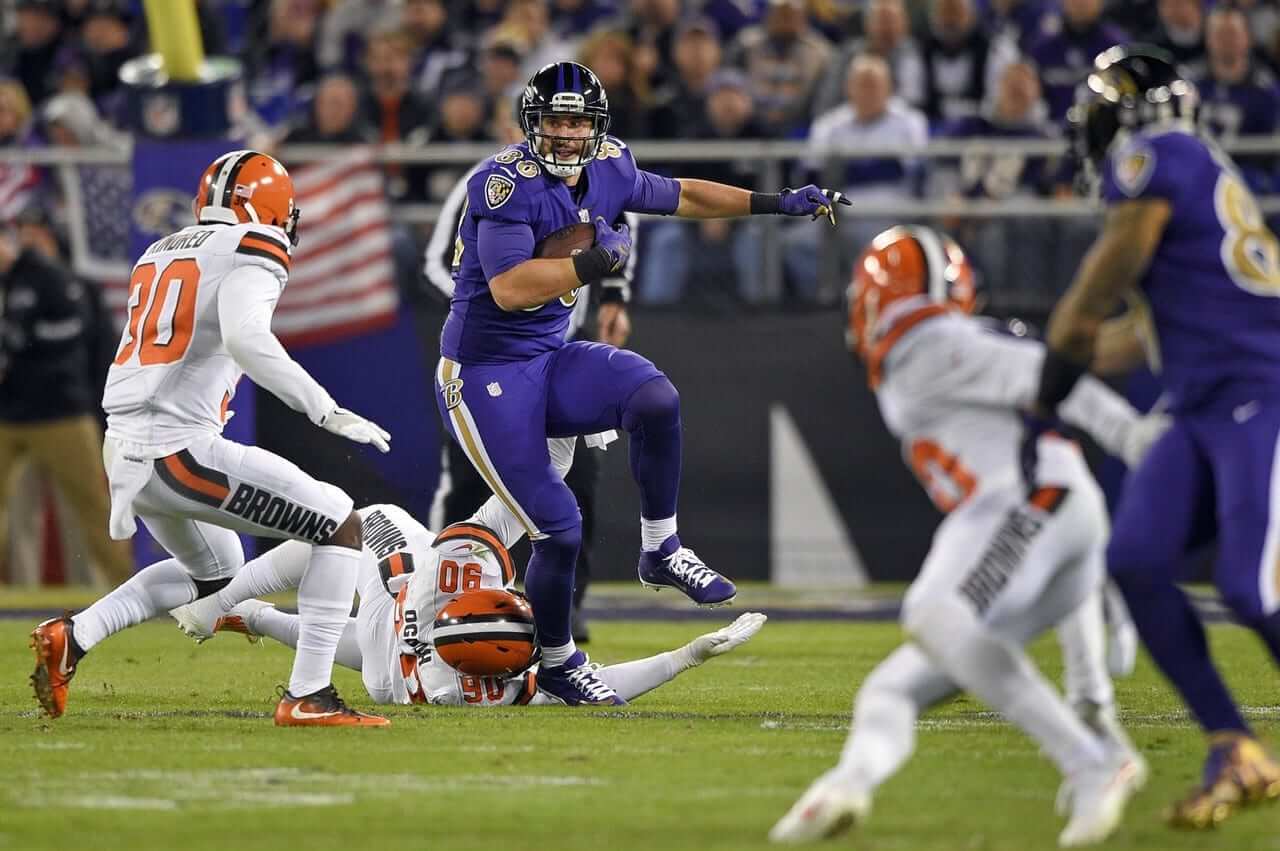 Click to enlarge
Just about any game including the Browns (or at least the Browns' pants) is going to look pretty bad. Toss in the Ravens going mono-purple and you can understand why I went out and saw music last night. (Actually, I went out because two different bands that includes friends of mine were playing on the same bill at a bar half a mile from my house, but still.)
I'll say this: I do like the gold numbers on the Ravens' Thursday-night jerseys. But the mono-purple look is too much.
Two other notes from the game:
•  The Ravens have had green end zones this season, but they repainted them purple for last night's game: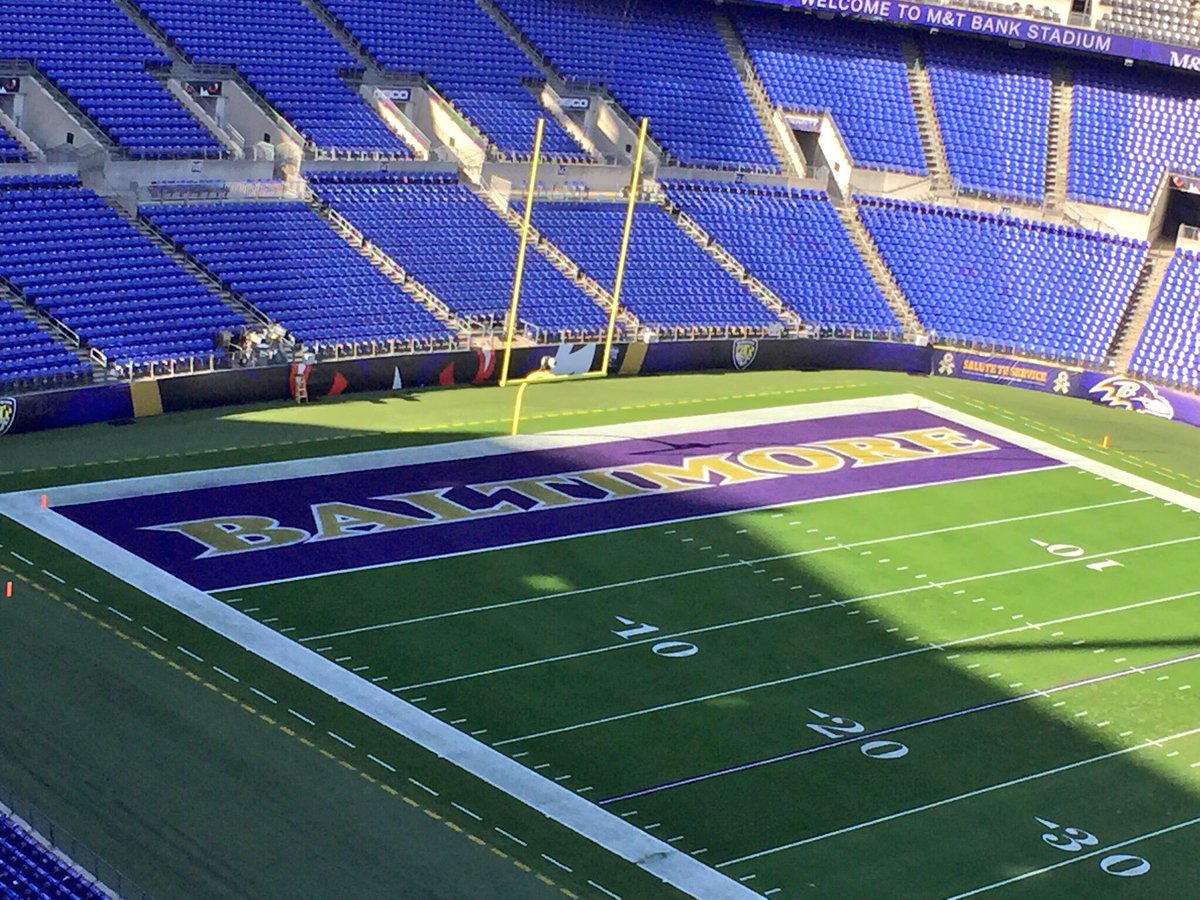 •  Ravens quarterback Joe Flacco took a hit that knocked his chinstrap just slightly askew:
•  Here's a rare sight: Two players going up for the ball (Browns cornerback Joe Haden and Ravens wide receiver Kamar Aiken) while wearing tinted visors — in a night game:
You can see additional photos from the game here.
•  •  •  •  •
Click to enlarge
Friday Flashback: With the Chargers having worn their powder blue alternates last Sunday, my latest Friday Flashback piece on ESPN takes a look at the team's original powder era (as exemplified by John Hadl and Lance Alworth, above), which was more varied and nuanced than you might think. Check it out here.
•  •  •  •  •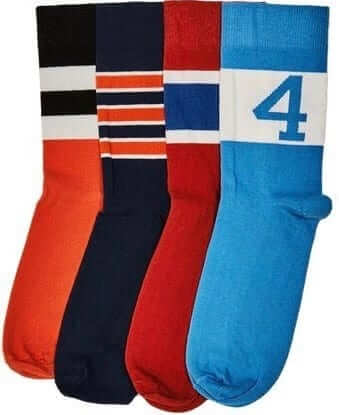 StripeRite reminder: The second batch of StripeRite socks, shown at right, is now available for ordering. For those of you who've already ordered, the socks will start shipping on Nov. 21.
My thanks, as always, for your consideration.
• • • • •
The Ticker
By Paul

'Skins Watch: U. of North Dakota say they are "disgusted" by a fan who was spotted wearing a T-shirt that depicts a Native American teabagging the school's new Fighting Hawks logo. Classy.

Baseball News: Here are some of the fan giveaways planned for 2017 by the Brewers. Looks like they'll be marking the 35th anniversary of the 1982 A.L. championship squad (from Adam Vitcavage and John Okray). … The Orioles are installing new sod at Camden Yards (from Andrew Cosentino).

NFL News: If you've always wanted to watch Pats owner Robert Kraft go shopping for sneakers, today's your lucky day (from John Marcelo). … Here's an interview with the artist who designs Steelers WR Antonio Brown's custom cleats. By coincidence, the other day I interviewed two other guys who do custom NFL cleats — I'll have an ESPN piece about them next week.

College Football News: Military appreciation helmets for Valdosta State (from Matt Wilson). … Looks like Michigan State might be bringing out the bronze helmets for tomorrow's game against Rutgers (from Colin Dilworth). … Pro-agriculture helmet logo for Northwest Missouri State (from John Fitzgerald). … Stars/stripes helmet design for Arkansas State. … Blackout uniforms last night for Arizona State. … Here's a piece about what it was like to play for former Louisville coach Lee Corso. Key passage: "Another season, Corso called us in and said he hated that uniforms eliminated all manner of individual expression. He didn't like that concept. So he supplied little bottles of white and red paint for each player to decorate their cleats any way they wanted. I was a plodding offensive lineman, but I remember feeling like Mercury when I painted my shoes white with red lightning bolts on the side" (from Kenny Ocker).

Hockey News: Military appreciation uniforms for the Hershey Bears. … The WHL's Kootenay Ice have added a memorial decal for former player Marek Svatos (from Jim Wooley). … The Sharks will be giving away California Seals T-shirts on Jan. 7, and will also have Seals-centric pregame activities. Not clear yet, at least to me, whether they'll also be wearing throwback uniforms. Fingers crossed (from Richard Paloma). … Sabres G Robin Lehner has put "Trump" on his mask's backplate. Additional info here (from Joeseph Pitirri). … Predators-themed jerseys upcoming for the Cincinnati Cyclones (thanks, Alex). … Camouflage warm-up tops last night for the Penguins, with stars/stripes numbers on the back. "Yikes," says Jerry Wolper. … The WHL's Vancouver Giants are wearing tribute uniforms for former co-owner Pat Quinn, who's about to be inducted into the Hockey Hall of Fame. "The uniforms are similar to the original Vancouver Canucks NHL uniforms Quinn wore as a player, except with black trim added," says Wade Heidt.

NBA News: The Cavs gave a black sleeved jersey to President Obama yesterday (from @irvingnick). … The Heat use a postgame mic flag with animated team logo screens. … The Kings wore black at home last night (thanks, Mike).

College Hoops News: Here's a look at Cincy Bearcats basketball uniforms dating back to 1898 (from David Hall). … Oregon will go G.I. Joe for the season-opening game against Army (thanks, Phil).

Soccer News: Liverpool is exploring a partnership with the Israel Tourism Board that could result in the team wearing the Star of David on its uniforms. … England and Scotland will defy FIFA by wearing poppies for today's match at Wembley (from George Chilvers). … "The Brazilian National soccer team wore black armbands in remembrance of Carlos Alberto Torres during Wednesday night's World Cup Qualifying match versus Argentina," says Saurel Jean Jr. "The exception was defender Dani Alves who changed his number from 2 to 4 and wore a white armband as the team captain."

Grab Bag: A new exhibition that will open this weekend in NYC focuses on the Rolling Stones' stage attire. … New flame-resistant uniforms for the U.S. Navy and Marines. … F1 driver Lewis Hamilton will wear a yellow helmet in honor of his hero Ayrton Senna for this weekend's Brazilian Grand Prix. … In the wake of the U.S. presidential election, Mexican F1 driver Sergio Perez has dumped his sponsor, Hawkers sunglasses, after Hawkers tweeted that its product would come in handy for Mexican citizens who want to hide their "crying eyes tomorrow when you are building the wall." … UNC is celebrating its national lacrosse championship with this bobblehead (from James Gilbert). … Nike's 2017 uniform catalogs for various sports are available here (from Todd McGuinness). … After a New Balance executive was quoted supporting president-elect Donald Trump earlier this week, many sneakerheads burned their New Balance footwear (from Jason Hillyer). … Awesome piece by the great Rob Walker (full disclosure: a good friend of mine) about the nature of redesigns throughout the design world. Strongly recommended. … Illinois farmers who are also past or current members of the military can use a new logo to market their products.
•  •  •  •  •
Today is Veterans Day. If you're a veteran, please accept my thanks for your service.
The Tugboat Captain and I are taking advantage of the three-day weekend and going off on a short road trip. Hope everyone else has fun weekend plans as well. See you back here on Monday.