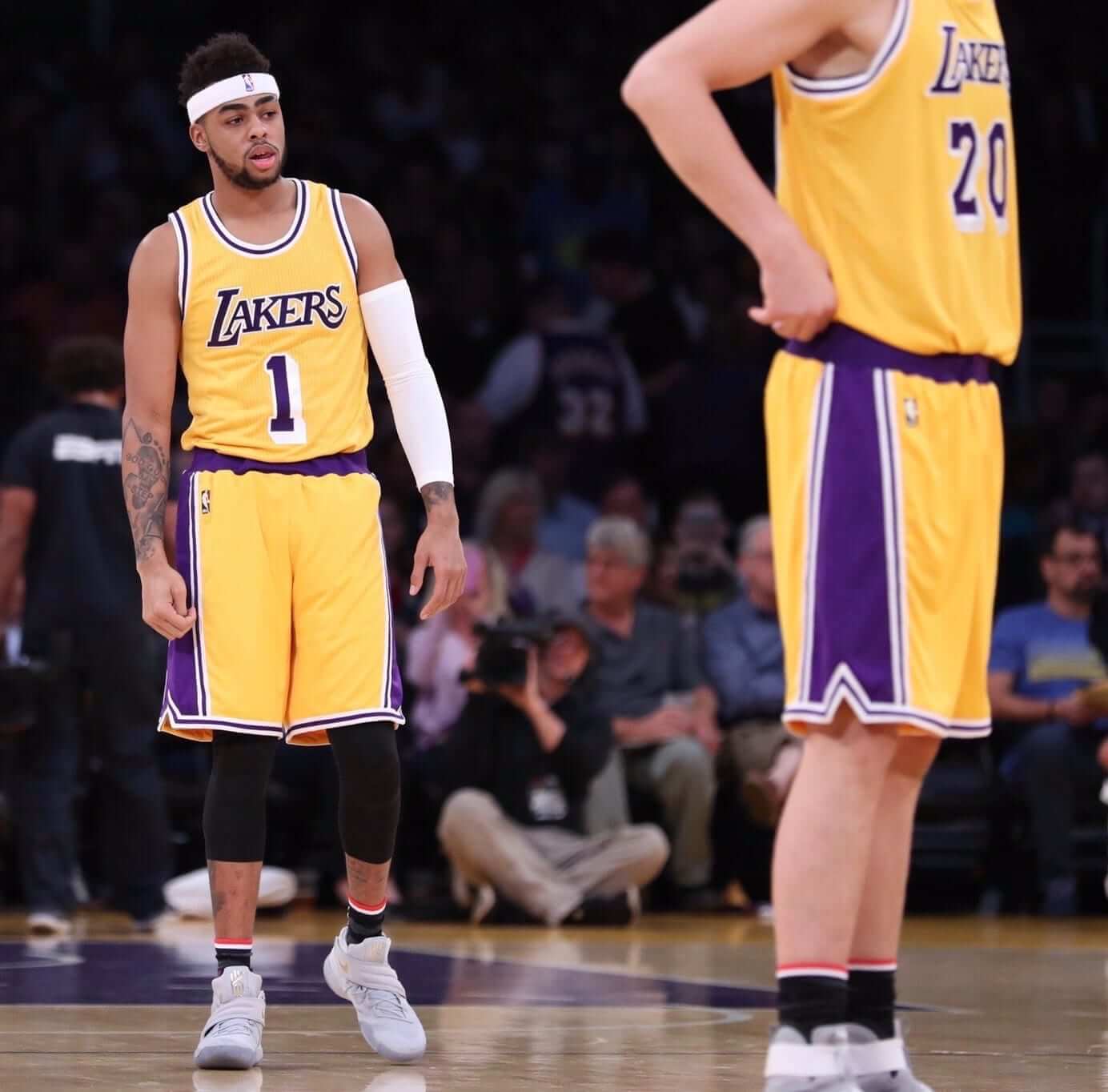 Click to enlarge
When it was announced that the Lakers would be wearing late-'80s throwbacks for last Friday night's game against Golden State, several people felt obliged to quip, "Are they gonna wear the short shorts, too?" (As you can see above, the answer to that question turned out to be no.)
When people make jokes about the Lakers and short shorts, they're referring to a 2007 game when the team wore 1980s throwbacks, complete with short shorts, against the Celtics. People ridiculed the Lakers at the time, saying that the shorts revealed a ridiculous amount of skin, and they've continued to ridicule them over the years. It's become one of those moments that have been semi-canonized in NBA history, so even people who are only moderately uni-aware tend to know about it.
But here's the thing: The issue in that game wasn't actually the shorts. It was the socks.
First, let's look at two photos — one of Magic Johnson and one of LeBron James, each with being guarded by an opposing player (click to enlarge):
Obviously, the players in the photo on the left have much shorter shorts than the players in the photo on the right. But something else is different: Magic and the player guarding him wore high socks; LeBron and the player guarding him did not. As the shorts moved lower, the socks moved lower as well. The result is that the amount of leg exposure is actually pretty similar — it just moved from the thigh to the calf. (Granted, not every player wore high socks back in the day, but it was more the rule than the exception.)
Now let's look at some photos from that 2007 Lakers throwback game with the short shorts (click to enlarge):
So yeah, they wore era-appropriate short shorts. But the real issue is that they didn't wear era-appropriate high socks. The result was a lot more leg exposure — thigh and calf — and that's what looked so odd.
People referencing this game always talk about the shorts, but that's not the whole story. The real issue was the socks.
•  •  •  •  •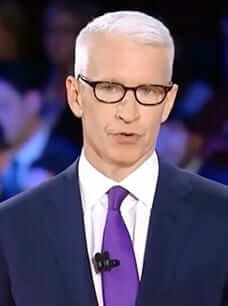 Election Day purple project: As you may have heard, some sort of election is taking place today. That means it's time to revisit the phenomenon of TV reporters wearing purple.
For the uninitiated: The idea here is that the Democrats are blue and the Republicans are red, so mixing the two together yields the supposedly nonpartisan color of purple. Wearing purple becomes the reporter's way of saying, "Just reporting the facts here. I'm not biased one way or the other." (Yes, I realize many reporters are biased in one way or another, but that's not the issue here. The issue is simply the phenomenon of TV reporters wearing purple on Election Day.)
If you'd like to help me document the extent of today's purple-fest, here's what you should do: First, if you spot any TV news reporter (local, national, broadcast, cable, public access, whatever) wearing a purple necktie, purple dress, or any other purple clothing or accessories, take a screen shot. Then either email the screen shot to me or, better yet, tweet the screen shot and use the hashtag #Nov8purple. (Please do not include @uniwatch in your tweet — just the hashtag.) Also, please include the name of the reporter and the TV station or network. Thanks.
Here are the screen shots people have posted so far:
#Nov8purple Tweets
• • • • •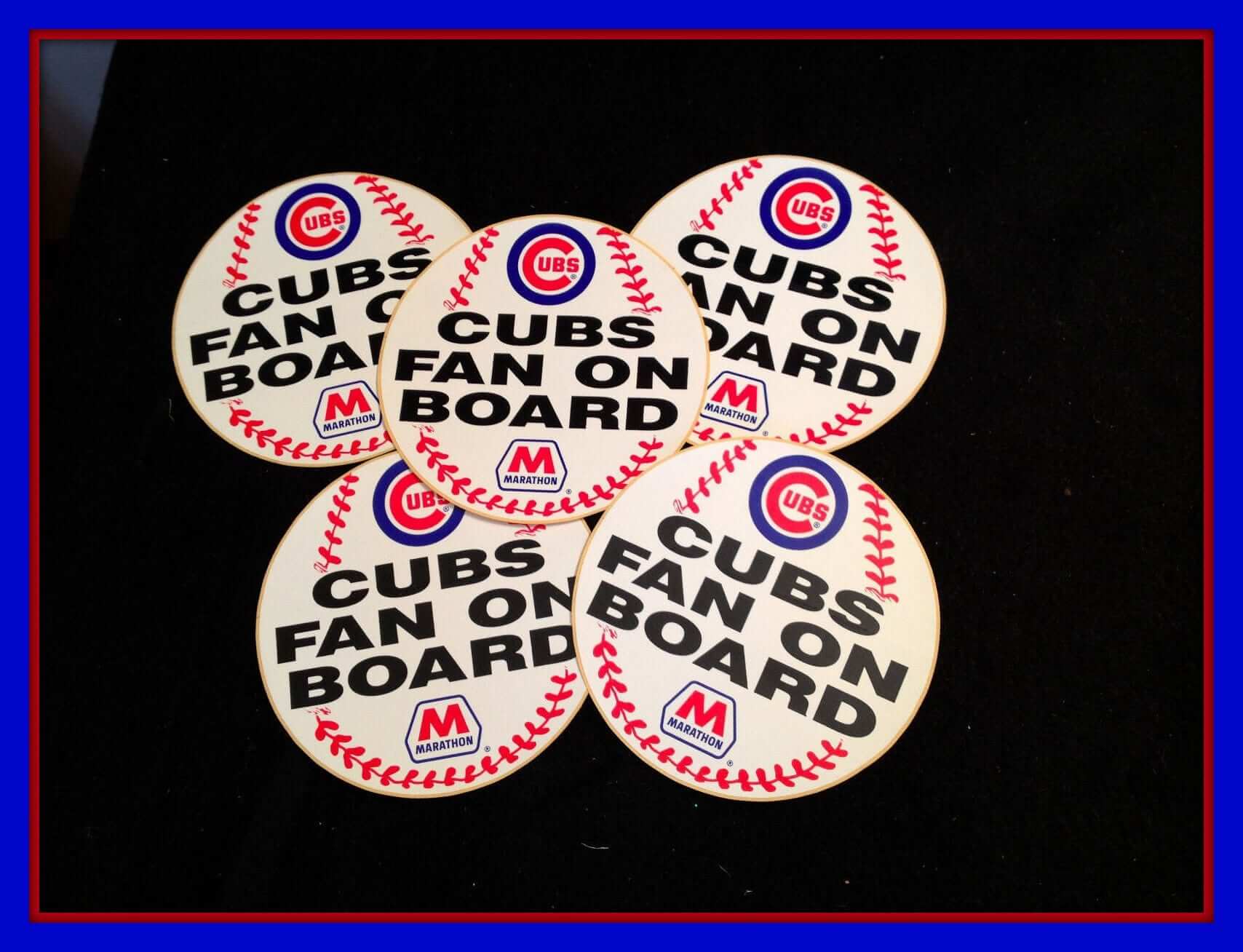 Well, the Cubs finally have their World Series championship. Congratulations to all their long-suffering fans! Let everyone know you're a Cubs fan with one of these 1970s-issue "Cubs Fan on Board" stickers from your friends at Marathon Oil. Or get this inflatable Cubs beach ball, perfect for batting around the stands. And for you Cleveland fans, this Diamond Collection jacket from Starter is in excellent shape.
Now for the rest of the week:
• Clean up with 'dem Cowboys. This "Soap & Wash Set" is from Sears, 1982.
• Check this artwork on this 1970-1971 ABA season set of Volpe-designed Indiana Pacers thermal cups, also sponsored by Marathon. In fact, I'm using my "Cincy Powell" Volpe tumbler this very moment. I remember all these names vividly since they were always teeing it up with my Kentucky Colonels. This set does include the immortal Bob Netolicky.
• Here's a nice-looking Green Bay Packers lamp from 1973.
• Did you know you can get NFL team patches for your Chuck Taylors? Here's a set of Bengals patches.
• Three straight weeks for one of these: We've seen Indians and Tigers designs, and now we've got the Bronx Bombers on this 1970s poster.
• So many uni-specific details in this photo of Dandy Don Meredith, getting ready to take the snap from center Dave Manders (who I met at our local YMCA football banquet!). First, three stripes. Second, no chinstrap. Third, the star on the helmet was not yet in its final form, so this photo is between 1964-1966. The blue outline arrived in 1967.
• I'd be willing to wager that that's Earl Morrall on the front of this 1969 NBC Pro Playoff board game.
• Staying with that same decade, how about this "Hail to the Chiefs" record, highlighting KC's Super Bowl win over the Vikes. Of course, you're gonna need a turntable. Kids, ask your parents.
• • • • •
Going, going…: This is the next-to-last day to order the Uni Watch T-Shirt Club's latest design, which comes in three color options (grey, black, green) and is available here. Here's the design: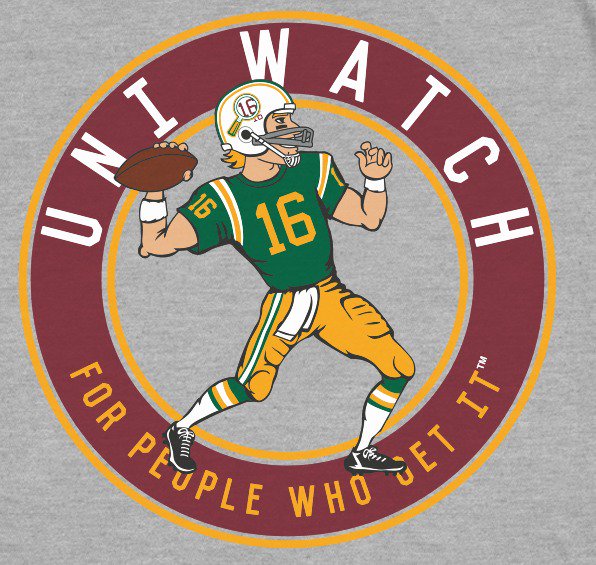 Again, the shirt is available for ordeing here. My thanks, as always, for your consideration.
• • • • •
The Ticker
By Mike Chamernik

Baseball News: A Chicago history writer suggests that the Cubs should wear "World Champions" jerseys in 2017. The post contains previous examples of teams wearing unis that celebrate titles. … The Montgomery Biscuits held a hat design contest and you can vote for a winner (from @MDWDFW). … John Beckwith purchased this Red Sox jersey at a vintage clothing store in North Hollywood, Calif. "As a die hard Sox fan I was excited right away since this seemed extremely rare," he says. "After a little research I believe this was actually a legit player jersey from the 1975 Sox team. All of the game worn Sox stuff from 1975 that I saw online is identical to this away jersey. I just can't find any record of anyone who wore No. 52 for that year. Maybe it was minors?" Anyone know more? No coaches wore 52 in 1975, and no Red Sox players wore 52 in 1974 or '76, either.

NFL News: The 'Skins teased a helmet with no center stripe and a gray facemask for this Sunday. The team wore burgundy throwbacks last year (from Tommy Turner). … NFL players, including several Raiders, wear Russell Athletic's CarbonTek Padding System, which leaves an exposed Russell logo (from @RoParrish). … Thomas Dahmer is a fan of the helmets shown in Monday Night Football graphics. "How cool would that be for teams to have that option?" he says. "I'm not talking crazy thick but maybe 1/16th of an inch or so just to make them pop a little more like nose bumpers. That combined with a metallic sheen for some logos would give the teams an updated but traditional looks."

College Football News: Oklahoma State RB Chris Carson wore a Black Lives Matter bracelet on Saturday (from @pistolsguy). … Maryland will wear all-red this Saturday (from Alex Elmore). … Texas Tech pressured a Colorado high school into changing its logo because it was too similar to Tech's "TT" mark (from Glenn Chavez). … Virginia Tech is making a point to go "1-0" every week. The Hokies made T-shirts with the slogan (from Andrew Cosentino). … Field preparations are being made for the Northern Illinois-Toledo game at White Sox Park on Wednesday (from @datdamndj). … Stars and stripes helmets for Stony Brook this Saturday (from Alan Kreit). … Before the season, Northwestern's Anthony Walker was chosen by his teammates to wear No. 1, an honor for a player who "truly embodies the values and character of the Northwestern football family." In Saturday's game against Wisconsin, however, he wore No. 11 to recognize teammate (and roommate) Matthew Harris, who retired recently due to a series of head injuries (thanks, Matthew Sampson). … UCLA will wear military-themed unis on Saturday (from Phil).

Hockey News: The new Las Vegas team will unveil its name and logo on Nov. 22 (from GKG_77). … North Stars vs. Seals games in the late 1960s featured a lot of green and gold (from Brian Codagnone). … Tyler Earles designed these Military Appreciation Night jerseys for the Knoxville Ice Bears. They will be worn on Friday. … The Capitals trademarked this logo in 2000. It was never used. Ken Chernoff saw the logo and touched it up a little (from Michael Alper). … The Blues' Winter Classic jersey, which leaked late last week, will be officially unveiled tomorrow (from Phil).

NBA News: The Heat wore their military uniforms last night. Here's the reverse view. The jerseys have the names of fallen service members from South Florida on them (from Phil and @sportslogosnet). … The Hawks have a new on-court projection for their pregame intros. Nothing will ever compare with the Bulls' intros during their second title run. … A white teacher in Seattle went a little overboard with his Michael Jordan Halloween costume (from Chris Flinn).

College Hoops News: Michigan State will face Arizona in the Armed Forces Classic in Hawaii on Friday. The Spartans will wear black camo and the Wildcats will wear camo USS Arizona unis with "At 'Em Arizona" for the NOB (from Ryan Wardin and Derek Koltunovich). … Tennessee will bring back striped pants for pregame warmups this year (from Chad Fields, via Phil). … Here's a look at Dayton's uniforms from over the years (from Patrick O'Neill). … The Manhattan women's team now wears Under Armour. The men's team had already been wearing Under Armour last year. … New uniforms for San Diego. The "OJM" memorial patch is for Father Owen J. Mullen, the team and university chaplain, who died in October. … TCU's new home jersey uses Nike's "Frog Skin" print, which is also on the court (from Ivor van Esch). … A player on Chadron State wore his shorts backwards last night (from Brett Krajewski).

Grab Bag: New home kit for Germany for the 2017 Confederations Cup (from Stephen C.T. Wong). … New water taxis for Baltimore. The redesign was headed by Under Armour founder Kevin Plank, who wanted the vessels to have a historic flavor (from Andrew Cosentino). … No photos, but Whitman College, a small liberal-arts college in Walla Walla, Wash., changed its team name from the Missionaries to the Blues (from John Kimmerlein). … A Long Island high school volleyball team has some seriously ugly uniforms (from Paul Friedmann). … A company that creates logos using robotic software has raised more than $4 million. … Australia's Northern Territory has a bold new tourism campaign. … Opie Taylor certainly wore lots of stripes in an episode of The Andy Griffith Show that Michael Bialas saw last night. … I voted yesterday. Instead of a sticker, I received a wristband.