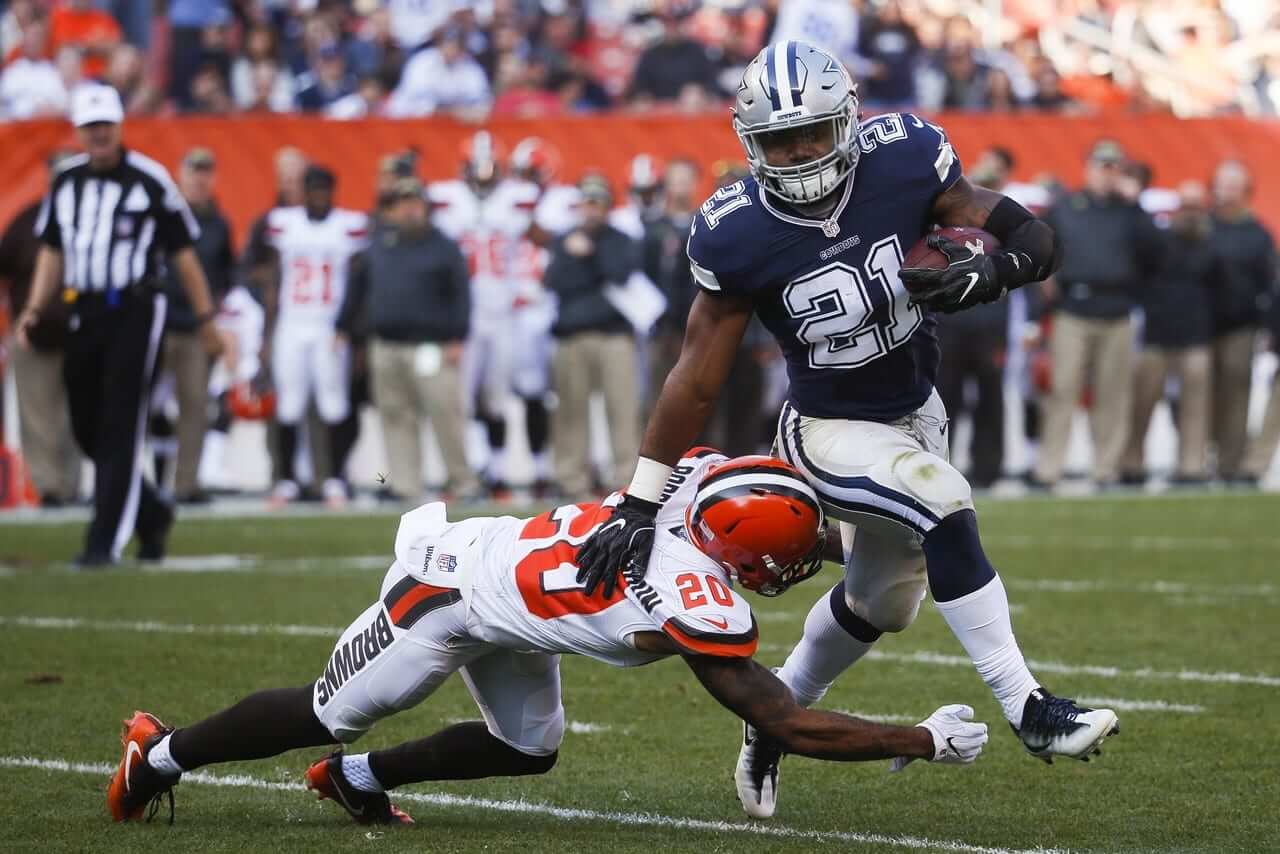 Click to enlarge
Rare sight yesterday in Cleveland, as the Browns wore white at home, which forced the Cowboys into giving us a look at their seldom-worn blue jerseys and light-silver pants. Lots of additional photos here.
In other news from around the league yesterday:
•  Interesting-looking game in San Diego, as the Chargers wore their powder blue alternate jerseys and Titans wore powder blue pants, so the two teams were essentially wearing inverse versions of each other's uniforms (similar to what we saw from the Bengals/Browns game two weeks ago). Additional photos here.
•  Giants wideout Odell Beckham Jr. had an odd sock configuation. (And yes, he also had some custom shoes. You can get a closer look at them, and at a lot of yesterday's other custom cleats, here.)
•  Another player with unusual hosiery: 49ers running back DuJuan Harris.
•  I think we may have seen this before, but the Ravens used upside-down "3"s for their 30 yard line markers.
•  G.I. Joevember began in earnest, with lots of camouflage towels, caps, captaincy patches, cheerleaders, goalpost pads, and a lot more.
•  In addition, some teams (or maybe all of them..?) added helmet decals for armed service divisions, and the Rams went further by having each player wear a memorial decal with the initials of a fallen service member. The Chiefs did something similar, having players wear pregame sweatshirts with the names of fallen service members.
•  In a related item, Colts backup quarterback Scott Tolzien camo-brimmed sideline cap had an upside-down American flag.
•  Aside from the aforementioned Browns, only one team wore white at home: the Rams.
•  Speaking of the Rams, a fan attending their game wore this spectacular crocheted Rams hat, which I'm told was made for him by his mother.
•  Players participating in postgame jersey exchanges included Ezekiel Elliott (Cowboys) and Corey Coleman (Browns); Antony Hitchens (Cowboys) and Christian Kirksey (Browns); Damien Wilson (Cowboys) and Briean Boddy-Calhoun (Browns); Mark Barron (Rams) and Leonard Johnson (Panthers); Todd Gurley (Rams) and Devin Funchess (Panthers); and Albert Wilson (Chiefs) and Marquise Lee (Jags).
•  Here's a list of players who protested during the national anthem. One notable exception from that list: Broncos lineback Brandon Marshall, who stood for the first time this season.
(My thanks to all contributors, including Andrew Cosentino, Lenny Vangilder, Tris Wykes, and our own Phil Hecken, Brinke Guthrie and Alex Hider.)
•  •  •  •  •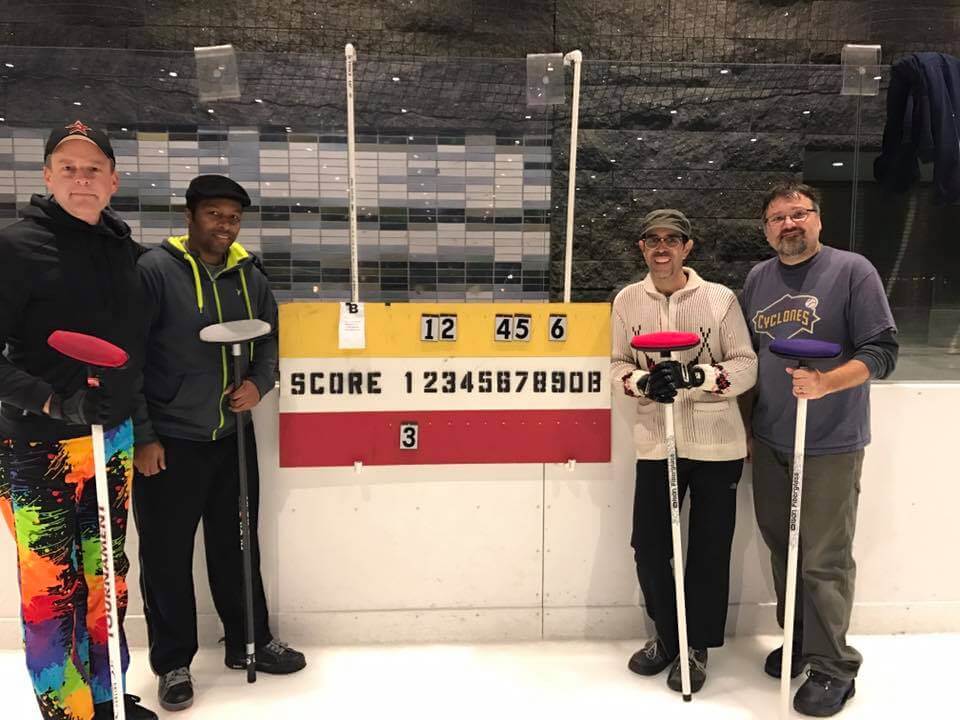 Click to enlarge
Long national nightmare finally over: Felt so good to be curling again last night. I wasn't able to participate last year because of my broken arm, so I was worried that I might be seriously rusty. But it turns out it's like riding a bike. And my squad recorded a "W," too.
That's our team shown above (from left): Phil, Omoy, yours truly, and Doug. To the uninitiated, it probably looks like we won by a score of 6-3, but curling scoreboards follow an odd format — we actually won 9-1. Not too shabby!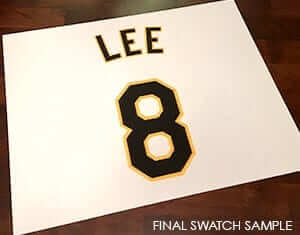 •  •  •  •  •
Uni Watch recommends: Two of Uni Watch's favorite people — Game-Worn Jersey Guide guru Bill Henderson and former Orioles stitcher Joe Hilseberg — are joining forces for a new project. The short version is that they can put your name and chosen number, executed in your favorite MLB team's colors and fonts, on a 16″ by 20″ piece of doubleknit jersey fabric that's suitable for framing. You can get the full story here.
•  •  •  •  •

'Skins Watch (which was supposed to run last Friday but got lost in the shuffle): As recently as five years ago, I had not yet decided to oppose the use of Native American imagery by sports teams. (I eventually came to that position, and explained how I got there, in this 2012 post.) So in 2011 I thought it was pretty cool that I found a vintage varsity jacket from Lane Tech High School in Chicago, complete with a Native chief on the back. Later that year I thought it was even cooler when I found this vintage Lane Tech varsity sweater. Not something I'm proud of. Both items have been stowed away and I'll never wear them again. I mention all of this because the Lane Tech student newspaper has announced that it will no longer use Native imagery in its logo. Good for them (thanks, Mike). … England's oldest hockey team, the Streatham Redskins, is changing its name to the Redhawks. Key passage: "The club said it was facing no pressure from any outside source to change their name, but rather were choosing to make the switch as 'a progressive and forward looking team who want to attract new supporters, encourage more local kids to join our junior club and create a positive image for ice hockey within our great city'" (from Rob Yasinsac). … Here's an article on the guy, now 87 years old, who created Chief Wahoo. … A new TV ad supporting Republican presidential candidate Donald Trump aims to appeal to voters by saying his Democratic rival, Hillary Clinton, wants to change the 'Skins name.
•  •  •  •  •
Click to enlarge
Best Summer Ever, continued: Pretty sure I've never walked in New York City surf in November before, but that's what the Tugboat Captain and I did on Saturday, as we continued to refuse to accept the end of summer.
Our location this time was Plumb Beach, a medium-sized stretch of sand on Jamaica Bay that I'd never visited before. It was low tide, which among other things meant that we were able to walk out on a long sand bar, which felt like our own little private island:
One odd and beautiful thing about Plumb Beach is that the sand in the water — and in the mud flats where the tide had receded — was ridged. I have no idea what makes that happen on some beaches and not others, but I really liked it:
It's hard to express what a completely perfect afternoon it was. However you spent your Saturday, I hope it was just as good.
We're going away next weekend and will be in the Delaware/Maryland region, so we may squeeze in one more walk in the surf, weather permitting.
•  •  •  •  •
Buy all our stuff already: As you may be aware, the Uni Watch T-Shirt Club's football-based design (shown at right; click to enlarge) is now available for ordering. It's being offered in three colors — grey, black, and green.
Also, the second batch of StripeRite socks, which takes inspiration from each of the four major sports, is available for pre-ordering. The socks will begin shipping on Nov. 21.
My thanks, as always, for your consideration.
•  •  •  •  •
Gift Guide reminder: I am very much in the market for cool items to include in this year's Uni Watch Holiday Gift Guide. If you have any suggestions, please send them this-a-way. Thanks.
• • • • •
The Ticker
By Alex Hider

Baseball News: New Era logo creep appeared on the caps at the "Fall Stars" game on Saturday (from Niko G.). … Speaking of, no photo but David O'Donnell reports that the New Era logo was red on the Red Sox caps yesterday. The logo was white during the postseason. … Remember when teams got World Series pocket watches instead of rings? (From BSmile). … Lots of similarities between the Rockies logo and congresswoman Morgan Caroll's campaign logo (from Lee Wilds).

College Football News: Reader Stephen Ceruolo saw a fan wearing a shirt with this Jumpman/Jim Harbaugh hybrid logo on Saturday. … Marshall will wear throwback helmets and a "75" decal to honor the 45th anniversary of the deadly plane crash that killed 75 football players and staff next Saturday (from C Dubya).

Hockey News: The Senators wore special decals Saturday in solidarity with Craig Anderson's wife. She was diagnosed with cancer last month. … The Blackhawks honored the Cubs with an on-ice light show on Sunday (from Mike Chamernik). … New jersey for Oswego State. It contains the name of every player in the program for the last 52 years (from Ryan O'Donnell). … The Stars shared this image of an old Dallas Texans jersey on the 75th anniversary of the first pro game played in the city (from Ryan Short). … Check out the awesome NHL jacket this kid is wearing in this 1965 photo in the Toronto Telegraph (from Will Scheibler).

Basketball News: The Greensboro Swarm — that's a D-League team — have a new mascot (from James Gilbert). … New uniforms for the South Carolina Gamecocks women's basketball team (from WC). … When the Lakers wore their 1980s throwbacks on Friday night, the jerseys didn't have the gold championship tab on the back. Is that standard for NBA throwbacks?

Grab Bag: Here's what the top contenders wore yesterday at the New York City Marathon (from Chris Lotsbom). … Speaking of the marathon, here's what it cost one guy to run in it.