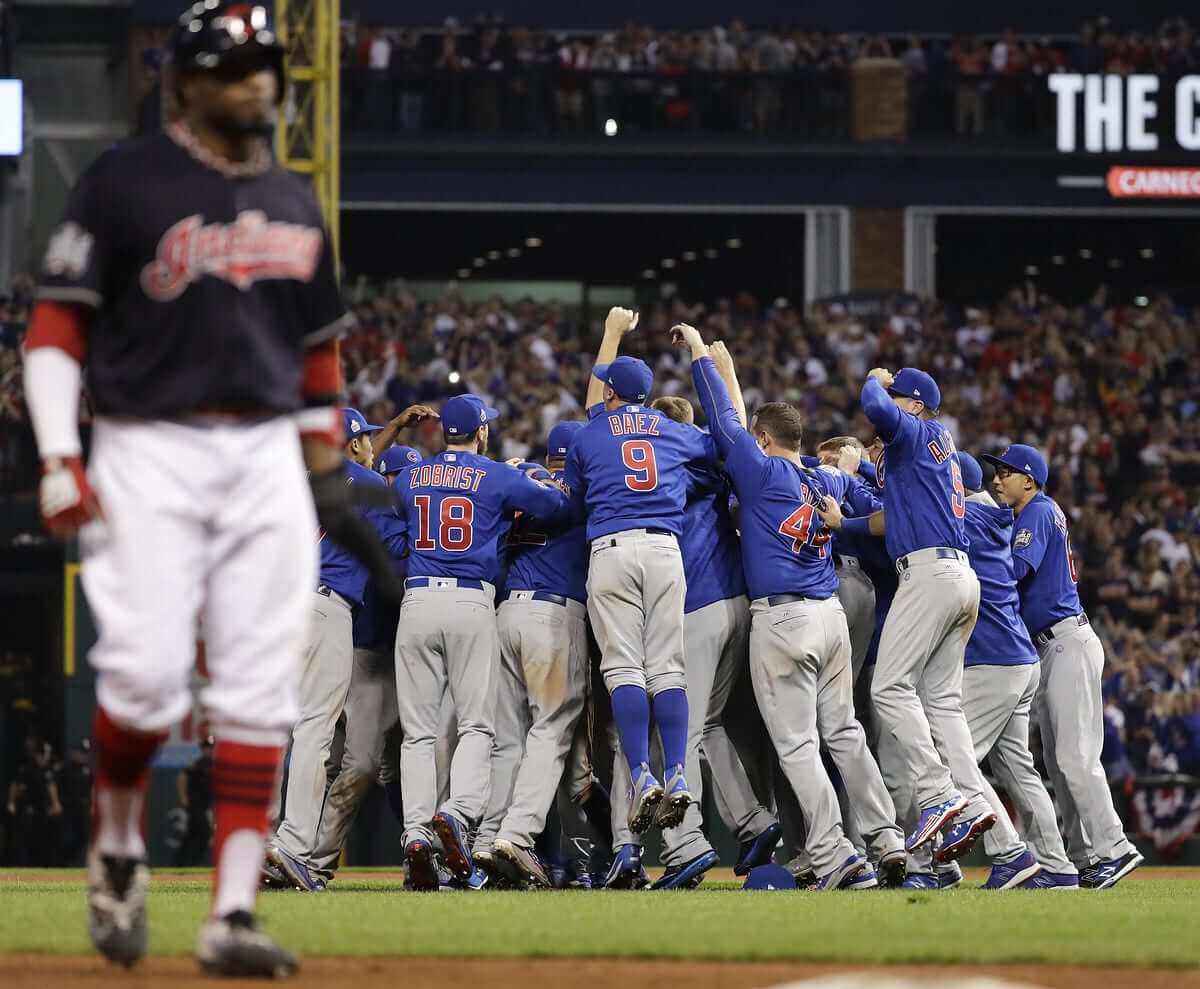 I know what you've all been wondering, so let me be the first to tell you: Yes, that was the first time both teams wore colored jerseys and a pitcher wore a single-digit number and JrOB in an extra-inning Game 7 with a rain delay. Historic!
Hell of a game, right? I always root for the National League team, plus I have a lot of friends in and from Chicago, so I'm pleased with the outcome, and I'm happy for all the long-suffering Cubs fans. It's too bad that both teams were wearing softball tops, but that's where we're at right now in MLB.
A few notes from last night's game:
•  Cleveland DH Carlos Santana, who usually goes low-cuffed, decided to channel his inner Hunter Pence:
•  Cubs outfielder Jason Heyward was another player who wore the same cap throughout the postseason (although given the way he hit, maybe he should have changed things up).
•  New Era is now apparently the official celebration goggles provider of MLB (click to enlarge):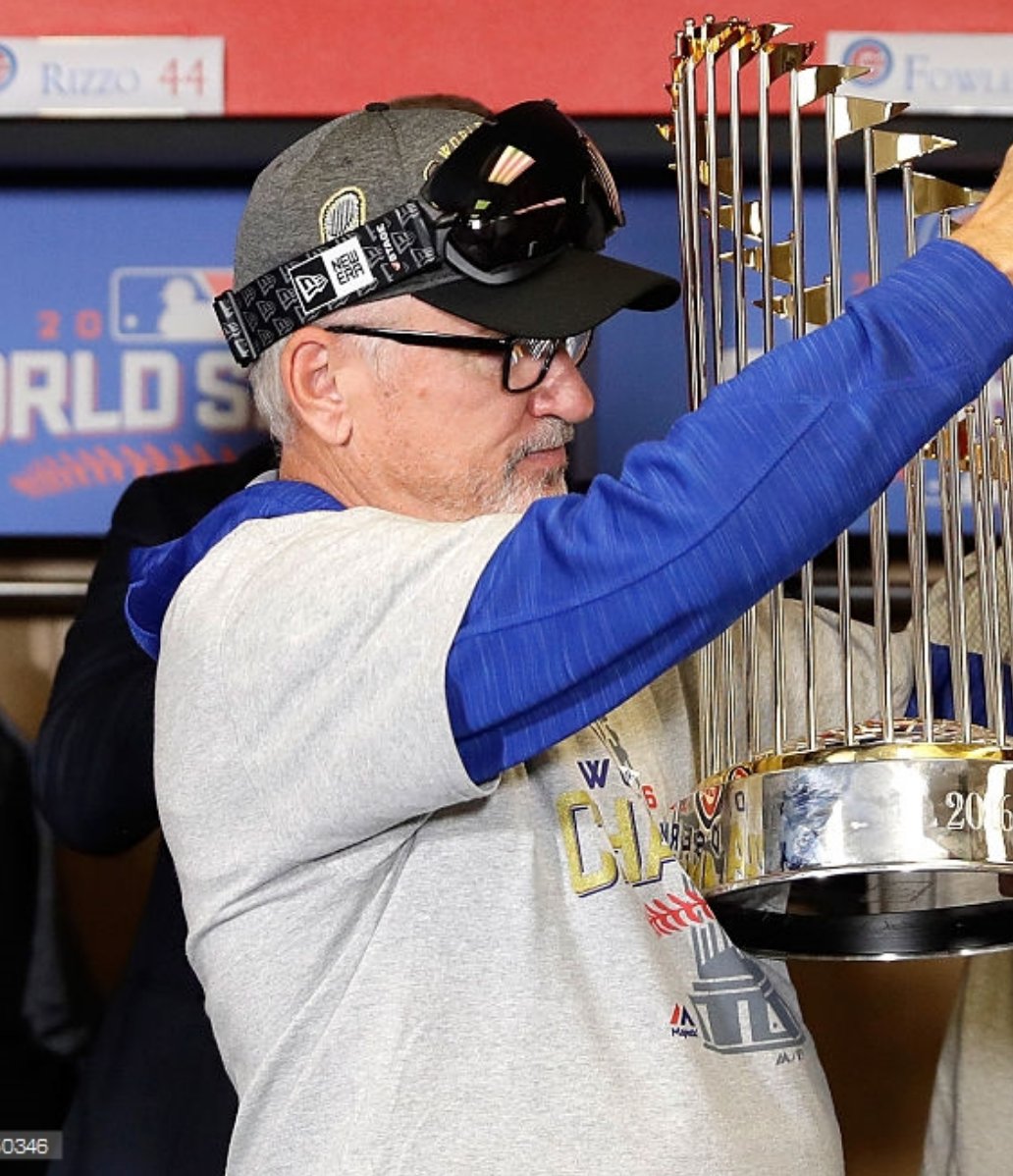 Chief Wahoo got a lot of exposure in this Series, with Cleveland wearing the Wahoo caps for all seven games (and throughout the postseason, for that matter). That led to a lot of anti-Wahoo articles over the past 10 days or so, and also prompted many people to ask what I thought this would all mean for Wahoo's future, especially in light of MLB commish Rob Manfred's stated intention to discuss Wahoo with team owner Larry Dolan in the near future.
My feeling all along was that a Cleveland championship would probably extend Wahoo's lifespan by several years. Even if the team wanted to retire him (and it's not clear that they want to do that), how can you retire a logo that your team just rode to a title? But given how things turned out on the field, I'm wondering if this might have been Wahoo's last stand. We shall see.
The world already feels a little drearier now that baseball season is over. How long until pitchers and catchers?
•  •  •  •  •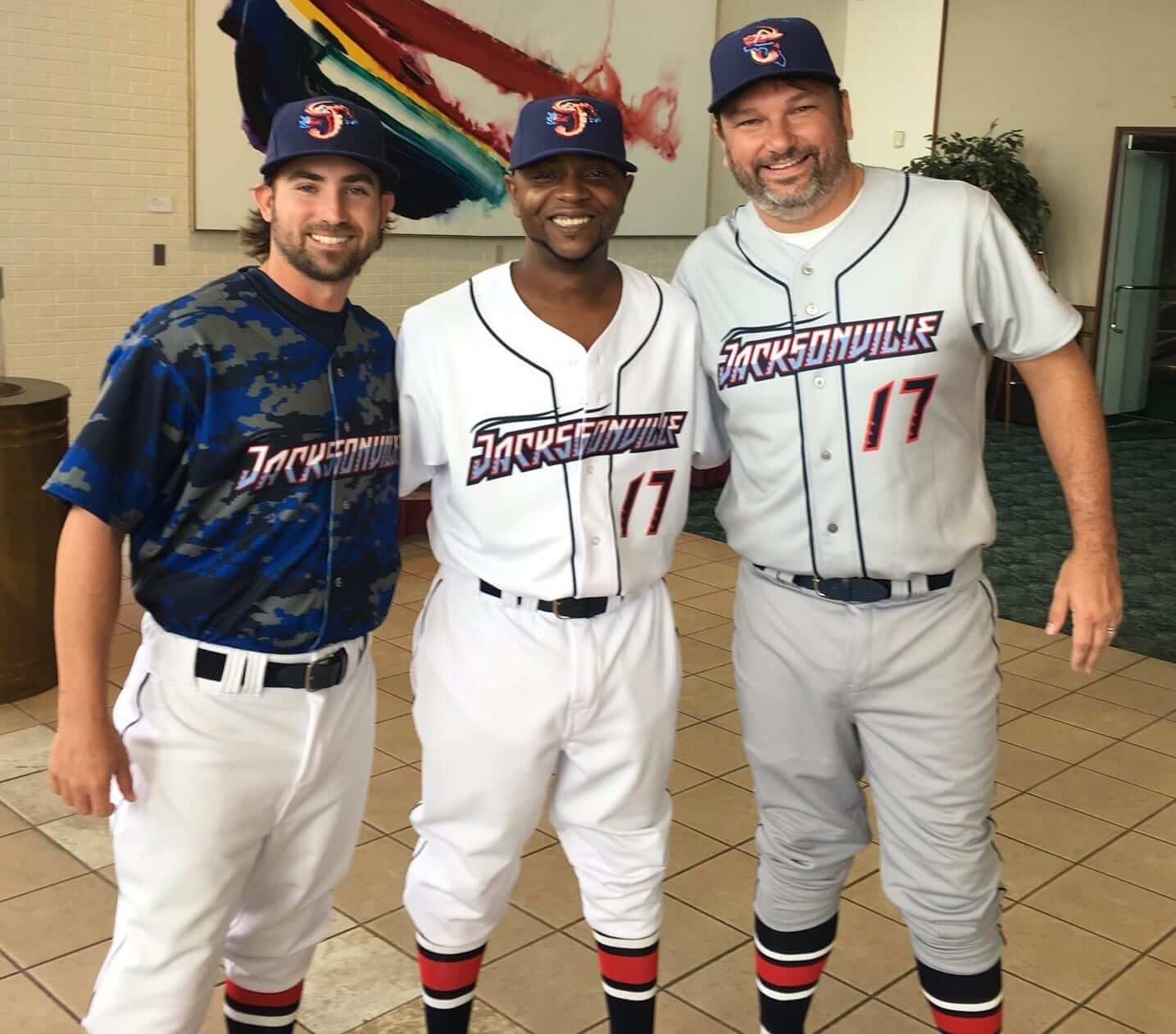 Click to enlarge
I'm guessing they won't have a Jewish Heritage Night: It's been a long time since I've seen so many people react to a new minor league team like they did yesterday for the unveiling of the Jacksonville Jumbo Shrimp's new logo and uniforms. The team, which is the Marlins' Double-A affiliate, was formerly known as the Suns.
I'm pretty sure that the reaction didn't have much to do with the team's uniforms, which as you can see above are nothing special. It's more about the team name and the logos, one of which — shown at right — sort of looks like a shrimp humping the state of Florida. Naturally, the shrimp has gritted teeth, as required by federal law, even though shrimp don't have teeth. You can see the rest of the uniforms (six of them!) and logos here.
As it happens, Uni Watch webmaster John Ekdahl lives outside of Jacksonville, so I asked him what he thought. His response:
It definitely has a sort of quirky minor league baseball vibe for the nickname, which I like. "Shrimp" fits the city really well, actually. Mayport, which is the ocean access for Jacksonville, is famous for shrimp.

But the design itself stumbles into the boilerplate agency model we've seen for the past decade or so. It's like there's a template for these things now. I don't mind the alternate one with the Florida state shape, but the shrimp itself is kind of forgettable. Typeface…. meh. Colors are pretty good. Underused and unique palette combination.

So, colors and nickname are good. Design itself? Factory agency stuff.
Pretty astute analysis, right? John wrote all of that without even knowing that this design was done by, of course, Brandiose.
John also provided the backstory for the "Bold City" alternate jersey, which is explained on this page, as follows:
When a consolidation referendum was held in 1967 [on the question of whether the Jacksonville should consolidate with Duvall County], voters approved the plan. On October 1, 1968, the governments merged to create the Consolidated City of Jacksonville. Fire, police, health & welfare, recreation, public works, and housing & urban development were all combined under the new government. In honor of the occasion, then-Mayor Hans Tanzler posed with actress Lee Meredith behind a sign marking the new border of the "Bold New City of the South" at Florida 13 and Julington Creek.
The "Bold City" moniker has taken hold since then, and is used by lots of local businesses.
Meanwhile: I have no idea what Homestar Runner is, but it apparently includes a character called Trogdor the Burninator, which leads us to this (click to enlarge):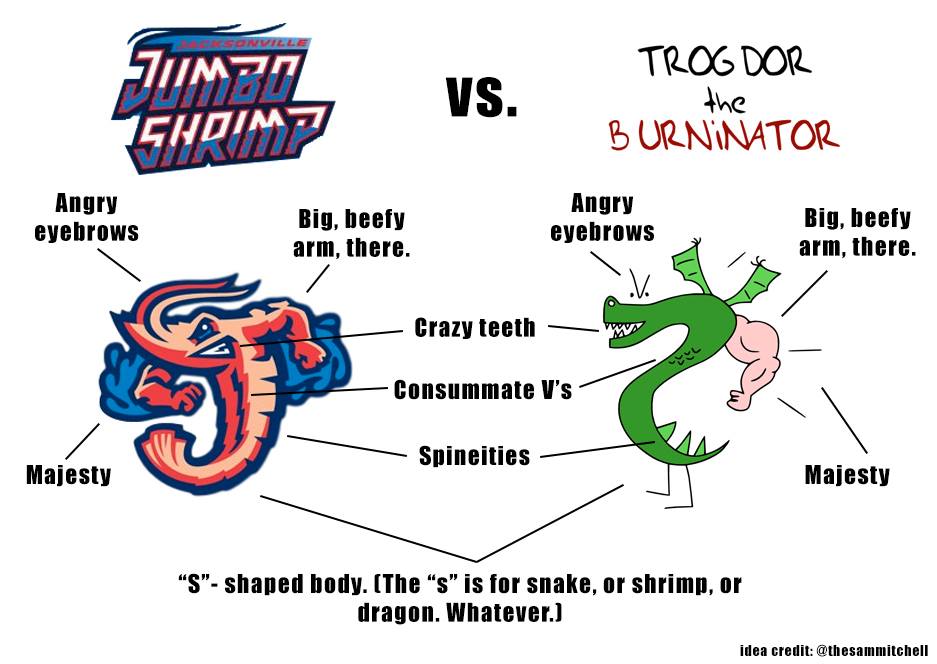 Finally, reader Marc Viquez used the Jumbo Shrimp unveiling as an excuse to show off his collection of Jacksonville minor league headwear (click to enlarge):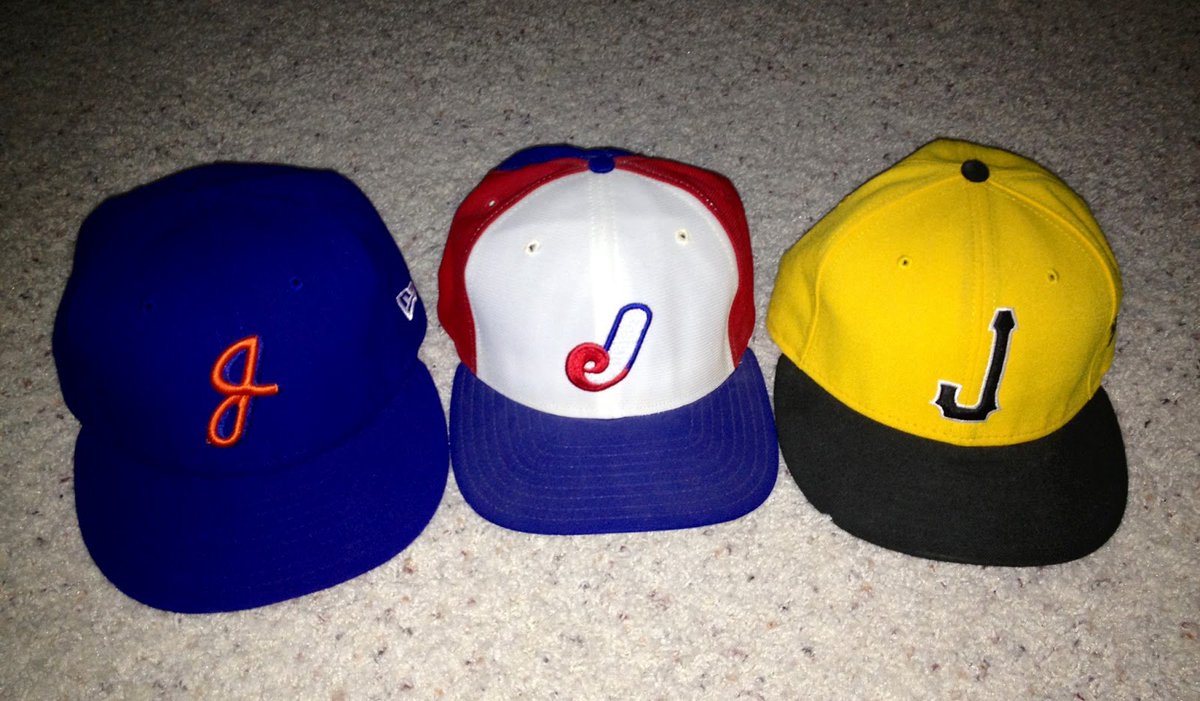 From left to right, those are the caps for the Jacksonville Suns (when they were a Mets affiliate in the late 1960s), the Jacksonville Expos (Montreal affiliate, late 1980s), and Jacksonville Suns (not sure when that's from, but the Suns were never connected to the Pirates).
•  •  •  •  •
Buy all our stuff already: As you may be aware, the Uni Watch T-Shirt Club's football-based design (shown at right; click to enlarge) is now available for ordering. It's being offered in three colors — grey, black, and green.
Also, the second batch of StripeRite socks, which takes inspiration from each of the four major sports, is available for pre-ordering. The socks will begin shipping on Nov. 21.
My thanks, as always, for your consideration.
• • • • •
Got any good Gift Guide gets? As I mentioned yesterday, I'll soon start working on my annual Uni Watch Holiday Gift Guide, which will appear on ESPN shortly after Thanksgiving. If you know of any good uni- or logo-related products that would make good additions to the guide — or if you sell any such products yourself — please feel free to let me know. Thanks.
• • • • •
The Ticker
By Mike Chamernik

Baseball News: Cubs manager Joe Maddon coached for the Angels for 13 seasons (and even stepped in as manager twice). His father died before Anaheim won the title in 2002, so Maddon has carried his dad's Angels hat with him ever since (from Chad Osborne). … In 1915, sports editors from Cleveland's four newspapers decided to rename the team the Indians. Other nickname nominees included "Blues," "Euclids," and "Eries" (from Todd Radom, via Phil). … Baseball uniforms involve a lot of sewing (from Phil). … Not only is there a new House of David Baseball Museum, in St. Joseph, Mich., but the place even has an old bowling bag artifact. The legendary bearded baseball team was founded in neighboring Benton Harbor (from Joe Hollomon). … Brandiose does it again: A new Carolina League team will be named the Down East Wood Ducks. The logo will be unveiled November 30 (from Jason Hillyer). … To remove his New Era cap logo, all Adán Encinas had to do was pick an edge and lightly pull. … New alternate caps for BYU (from @vemonator).

College Football News: Mississippi State will wear blacked-out American flag uniforms on Saturday (from @dawgvet06). … Jason Werth says his father is fascinated with 335-lb. Pitt D-lineman Tyrique Jarrett, who wears No. 6. "Who is the largest sportsman you can remember that wore a single digit?" Jason asks. "Perhaps bonus points if that digit is 1!" … New alternate helmet for UCF.

Hockey News: The Knoxville Ice Bears will wear military appreciation jerseys on Veterans Day (from Daniel Wiles). … The Soo Greyhounds will wear poppies on November 11 for Remembrance Day, a day when the Commonwealth of Nations honors those who died in war.

NBA News: The Hawks wore black at home, and the visiting Lakers wore yellow. … The Suns wore purple at home. … Super-baggy uniforms are being phased out as players opt for tighter fits that show off their physiques (from Phil). … Here's a good Sporcle quiz where you guess the player based on the jerseys he's worn during his career (from Noah Sidel). … Stephen Curry doesn't wear Stance socks: He hides the old NBA socks under his ankle braces. … The Suns wore purple "Los Suns" uniforms at home last night, as a Dia de los Muertos gesture (from Rob Wallace). … Players in the Chinese Basketball Association are being forced to give up their Nikes because the league has a head-to-toe outfitting deal with a Chinese brand (from Zheping Huang).

College Hoops News: New uniforms for Central Michigan. Old version on left, new on right. … A Tar Heels fan says he got this UNC title T-shirt in 1957 from the team's coach, Frank McGuire (from @Squish78).

Soccer News: UK Prime Minister Theresa May is not pleased that FIFA will not allow England and Scotland to wear poppies for Remembrance Day. FIFA is reiterating its ban on political, religious or commercial messages on uniforms. Also, Scotland will wear pink for the game, since their normal white sleeves clashes with England's all-white uni (from George Chilvers and a bunch of other readers). … On a related note, two Premier League teams, Sunderland and Everton, wore poppies over the weekend (from Joe Hollomon). … "When Borussia Monchengladbach played Celtic in Glasgow, a local pub gave up on trying to spell the name and just wrote A German Team on their signs," says Joanthan Bean. "This went viral, and the team themselves have adopted it as a nickname, even having scarves made up." … Soccer's National League blocked the Twitter account of a blog for pointing out Southport's home yellow and away florescent green clash (from Craig Ackers).

Grab Bag: The footwear and fashion industry is having a stronger influence on wrestling shoe design (from Josh Lauderdale). … Sock regulations in international cycling are quite strict. The sport is trying to ban the use of compression socks (from James Gilbert). … A British university rugby team is supporting the anti-Israel boycott movement by wearing the Palestinian flag on its uniform (from Phil).