[Editor's Note: Today we have a guest entry from Brian Rowland, who maintains an L.A. Kings equipment-tracker blog and has some observations to share regarding hockey gear. This entry was written and edited prior to yesterday's news that the owner of the Bauer brand has filed for bankruptcy. It remains to be seen how that will affect the issues discussed in this piece. "" PL]
By Brian Rowland
I really enjoyed Paul's recent ESPN piece on manufacturer's logos on uniforms. It's related to an interest of mine: maker's marks on hockey equipment.
The current NHL season is particularly interesting in that regard, mainly because of the major hockey brand Bauer and its parent company buying out rival Easton.
Equipment manufacturers have to pay the NHL a licensing fee for each piece of equipment on which they want their logo to be visible (helmets, sticks, gloves, pants, skates, etc.). With Easton being acquired by Bauer, but still existing as a brand, it looks like Bauer is only paying the licensing fees for Easton on sticks. This has led to some interesting situations:
•  Players who previously wore Easton are switching to different brands.
•  Some players still using their Easton gear but blacking out the Easton logos. For example, look at Zach Parise's gloves: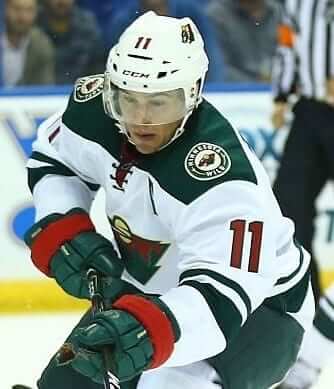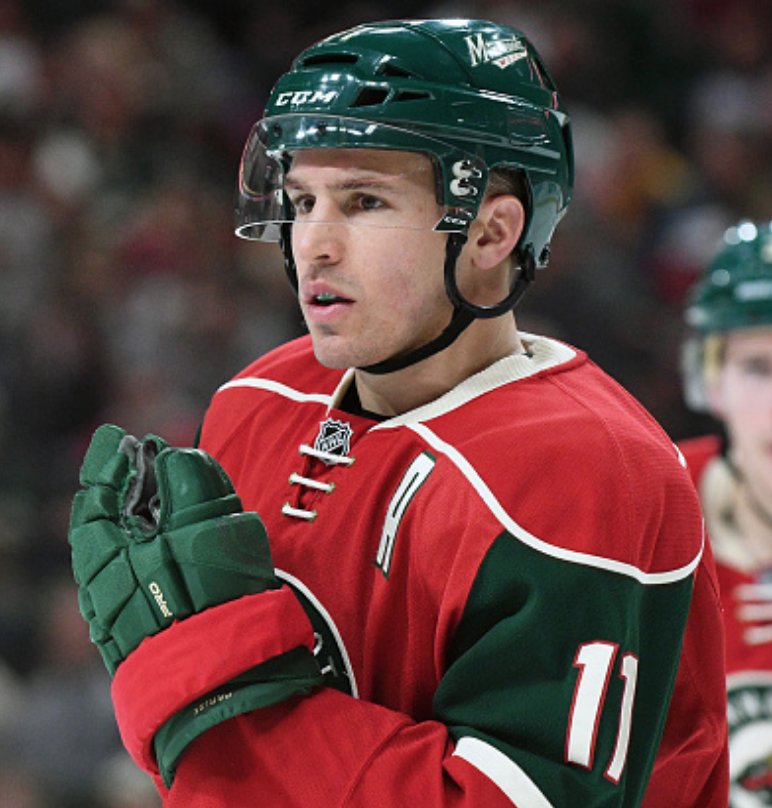 It's the same thing with Jack Muzzin's gloves — and also his helmet: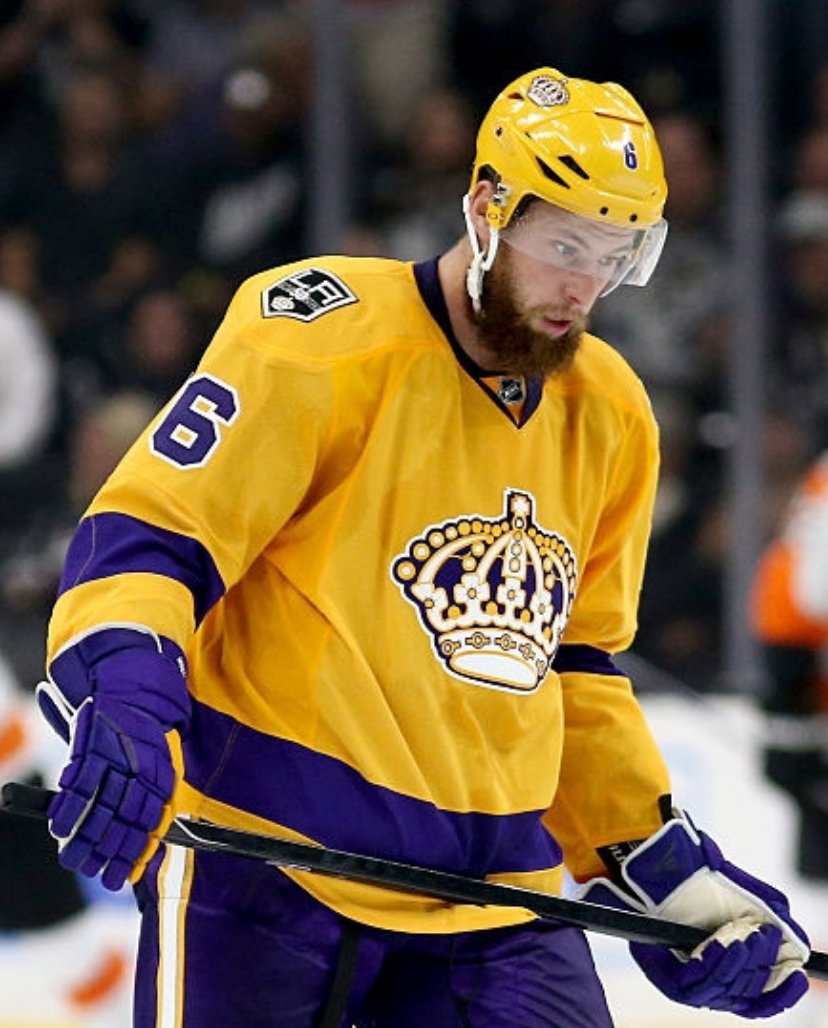 And also Kyle Clifford's helmet: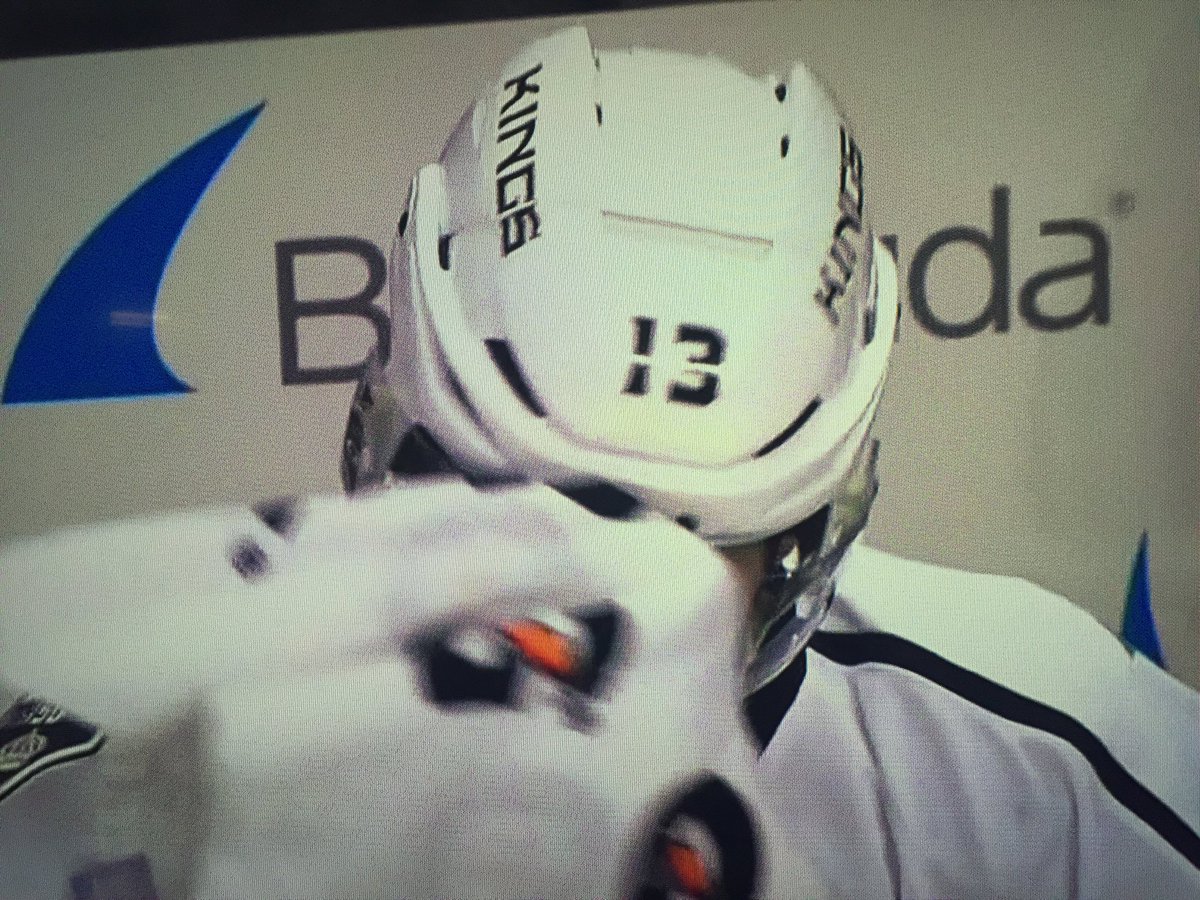 •  Some players are wearing Easton gloves but with the Bauer logo, like Drew Doughty.
•  And some players are just going ahead and wearing their Easton-branded gear anyway, like Ryan Kesler and Corey Perry in Anaheim: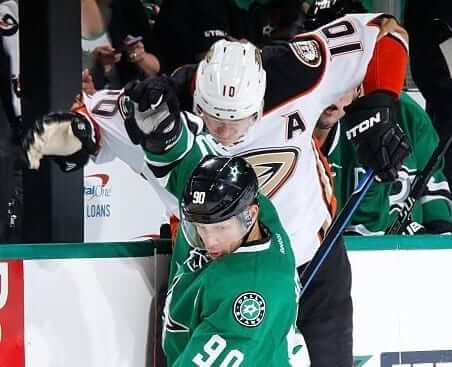 ———
Good stuff. My thanks to Brian for filling us in on something that would have completely escaped my notice.
•  •  •  •  •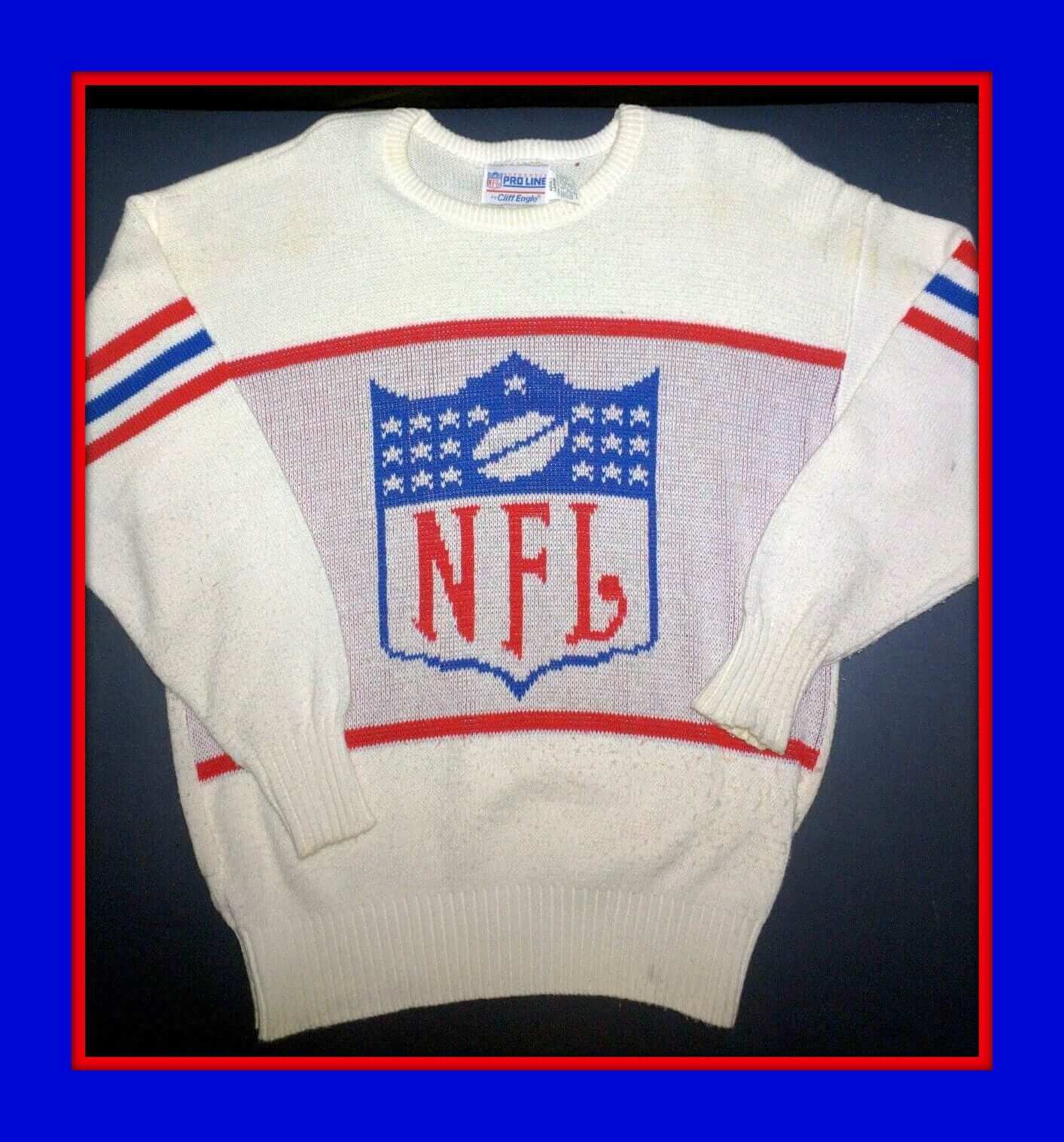 Click to enlarge
Collector's Corner
By Brinke Guthrie
We've featured plenty of Cliff Engle NFL sweaters here at Collector's Corner over the years, but I've never seen one with the NFL shield before! They could've made the NFL lettering a bit thicker, but otherwise it looks great. Perfect for a Sunday afternoon of watching football on the TV.
Now for the rest of this week's picks:
• These Pittsburgh Steelers plastic yellow buckets would have been just the thing for Halloween last night. Get it now and use it for next year's trick-or-treating!
• Here's a 1970s Steelers bicycle plate still in the package. If I remember right, you took a bit of wire and hung these right under your seat.
• Take a look at this photo of the Cowboys O-line from the early 1970s. I remember all of these guys. The reason I included this listing is simply to stress how the Cowboys' uniforms should look. Am I right? Or just nostalgic?
• The look on this 1967 Philadelphia Eagles pennant is simply timeless. No midnight green to be found.
• This 1970s Detroit Tigers poster is similar to the Tribe one that we featured last week.
• They really went all-out for the cover art on the 1967 NFL Pro Bowl media guide, didn't they!
• Terrific artwork for this 1967 Vikings edition of "This Is NFL Football."
• Cool-looking 1970s L.A. Rams wristbands, still in the package. Or perhaps you'd prefer the Philadelphia Flyers version.
• Nice ceramic Denver Broncos football bank from the 1970s.
• This Miami Dolphins polo shirt by Antigua is most certainly late 1980s to mid 1990s, not 1970s as the seller claims.
• • • • •
StripeRite update: In case you missed it earlier, I'm excited to share our latest batch of StripeRite socks with you.
The basic concept behind StripeRite remains the same: You want to show your stripes, literally and figuratively, but how can you do that when the stripes found on most stirrups and athletic socks are up around your calf, where nobody can see them unless you hike up your pants? Our own Scott M.X. Turner "" the guy who designs all the Uni Watch membership cards "" came up with a great solution to that problem: What if there were socks with the stripe patterns down by the ankle? That way the stripes would be visible as you walked, when you crossed your legs, when you put your feet up on your desk, and so on.
We were very happy with the response to the first batch of StripeRite designs. Now I'm happy to show you the second batch, which takes inspiration from each of the four major sports: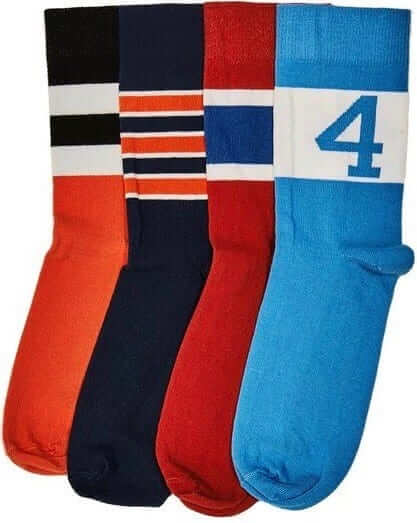 .

.
Nice, right? They won't be ready to ship until Nov. 21, but you can preorder them now. They'll definitely arrive in time for the holidays. The socks are available individually or as a four-pack. As always with American Trench product, the socks are made in the USA and shipping is free.
Continued kudos to Scott Turner for coming up with the idea for these socks, and to American Trench honcho Jacob Hurwitz for executing Scott's concept so well. Again, you can preorder the new designs here, and the first batch is still available here. Thanks.
• • • • •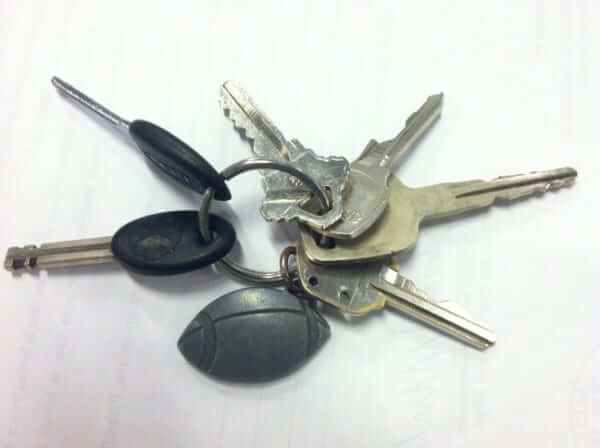 KRC update: You'll like this: The latest installment of Key Ring Chronicles is from longtime Uni Watch reader/contributor Kenny Ocker, and it's about the little metal football on his key ring. Check it out here.
• • • • •
The Ticker
By Mike Chamernik

Baseball News: Here's the logo for the White Sox's newly christened Guaranteed Rate Field. The Sox wanted to change the downward arrow to a home plate, but that idea got rejected. The naming rights deal will last for 13 years (from Brinke). … With an assist from his mother with sewing, reader Joe Hilseberg made this DIY Rockford Peaches uniform for his daughter for Halloween. … I receive Arizona political ads for some odd reason. Yesterday's email was baseball jersey-themed.

NFL News: The Bears wore their Monsters of the Midway throwbacks for last night's game against the Vikings. … The Giants wore a No. 38 memorial helmet decal during the 1986 season, including in Super Bowl XXI. They were honoring running back and 1983 Mr. Irrelevant draft choice John Tuggle, who died of angiosarcoma before the season. … Dez Bryant wore a custom-fit hoodie-equipped suit while speaking to the media yesterday (from Jake Patton). … Several readers mentioned that the Cowboys players who came out for the overtime coin toss on Sunday night appeared to have non-matching pants colors. Now we finally have a visual for that, thanks to this screen shot provided by The Jeff.

College Football News: Duke is preparing its Battleship Grey helmets for Saturday's game against Virginia Tech. Here's what the finished product will look like (from Michael Manker). … Leading wide receiver prospect Donovan Jones announced the top five schools he's considering by tweeting an image of himself in a Franken-uniform (from Frank Manganello).

Hockey News: Sweden wore a soccer-style collar in the 1984 Canada Cup (from Moe Kahn). … The Sabres wore orange jerseys for a Halloween practice in Minnesota yesterday. They play the Wild tonight.

Basketball News: Eric Bledsoe's name was misspelled on his jersey on Sunday. Between that and the game's halftime show blooper, things are pretty dismal with the Suns right now. … The Kings' DeMarcus Cousins was fined for throwing his mouthpiece the other night. … The Warriors only wear their 70th anniversary patch on their white jerseys. The patches are absent from their road jerseys and TMC fauxbacks (from Michael Marconi). … The Kings played the Hawks last night, creating a logo matchup reminiscent of a certain early-80s arcade game. … New uniforms for Boston College (from Phil).

Soccer News: Barnsley's Sam Winnall suffered a gash to the forehead during Saturday's match against Bristol City. He later returned wearing a blood jersey (from Mark Murray). … The designer of the World Cup trophy has passed away at the age of 95 (from John Muir).

Grab Bag: A case involving cheerleader uniforms has reached the Supreme Court. The case stems from an apparel manufacturer that may have copied the design of a competitor. Lots of details from yesterday's oral arguments here (from David Shucosky). … David Firestone is fascinated with the garishness of this racing suit. All those ad patches, lined up-and-down.