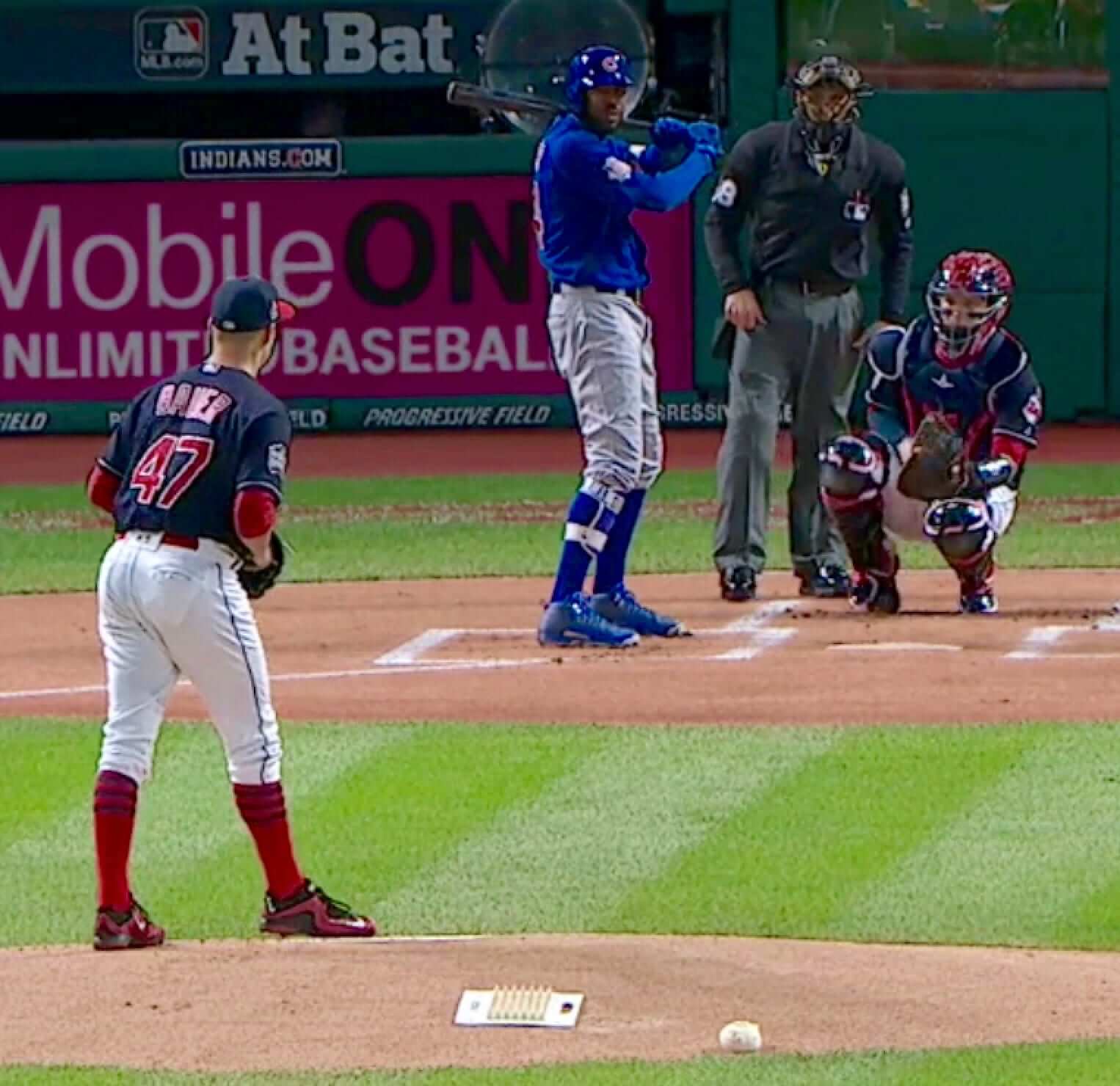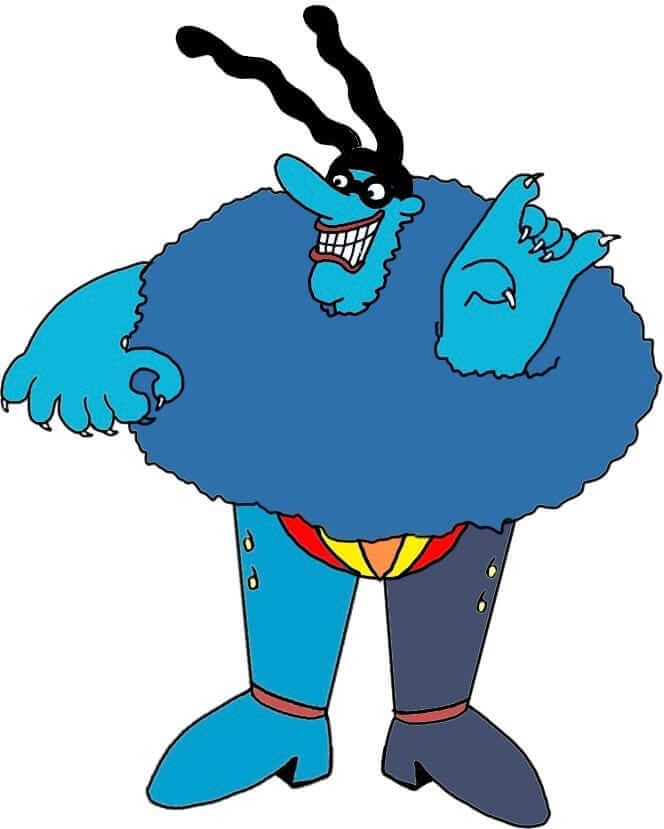 It was mood indigo at last night's World Series game, as Cleveland once again wore navy and the Cubs wore royal. Lots of people asked me if it was the first blue-vs.-blue game in Series history, and I suspect it was, although I haven't been able to confirm that. (People also asked if it was the first time two Series teams wore solid-colored jerseys, and the answer there is no. As we discussed in yesterday's entry, the Pirates and Orioles went black vs. orange in 1979.)
As I watched the game (or at least the second half of it — I missed the first four innings because I had a guest-speaking gig at a college class), it occurred to me that there's one place where we never see colored alternate jerseys: the All-Star Game, where MLB has imposed a white-vs.-gray protocol for several years now.
That seems exactly backwards. The All-Star Game is where players should be free to wear colored alternates if they want. Seeing the crazy quilt of different uniforms is part of the fun. MLB used to allow it, as you can in old team portraits. Hell, the A's and Indians players in that shot aren't even wearing the same colored alternates, and I love that — that's the kind of thing that's perfect for the All-Star Game.
But the World Series? Come on — wear your Sunday best, even on Wednesday night.
Meanwhile: Fox helpfully provided a close-up of Cubs catcher Willson Contreras's comically long pants, with the cuffs extending under his spikes, as he reached on an error (click to enlarge):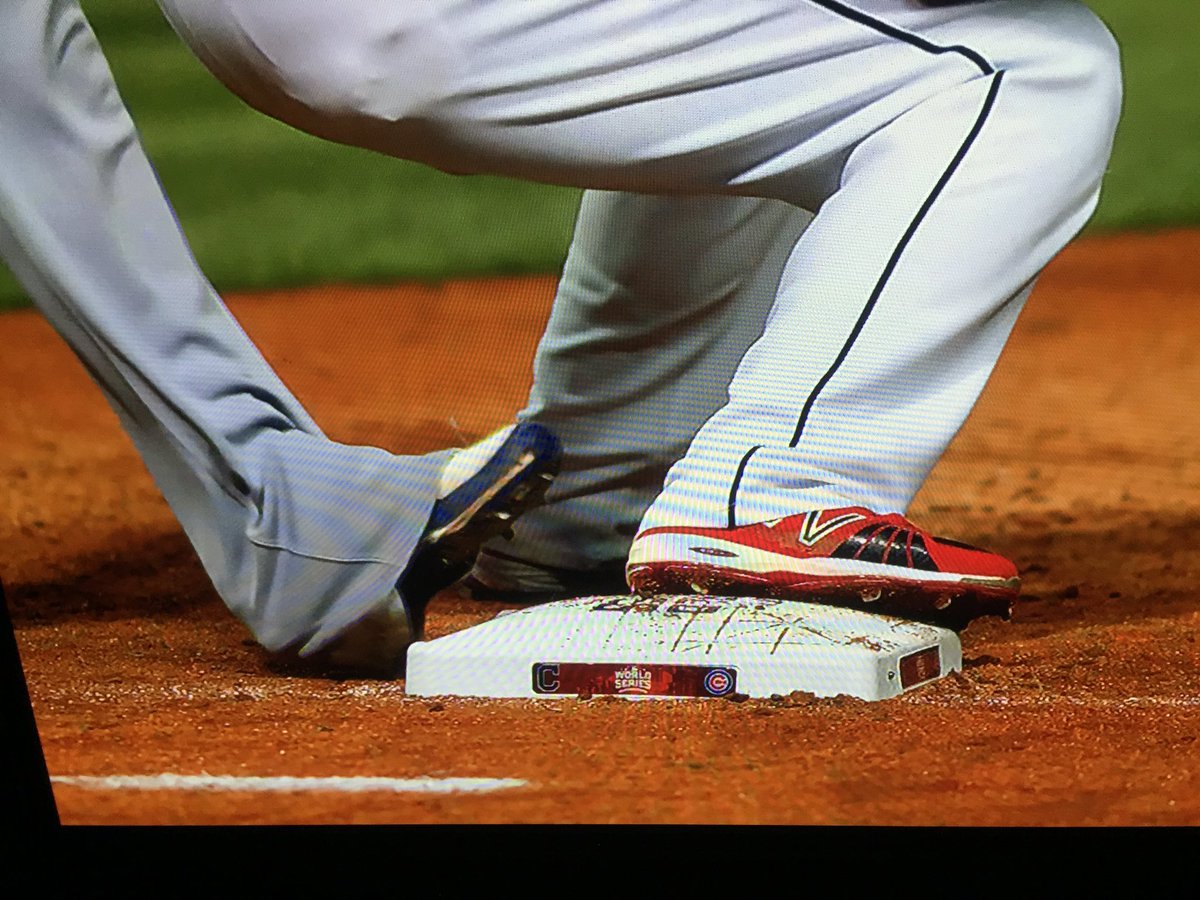 That's his right pant leg. The left one was just as bad, as you can see here (click to enlarge):
Also of note: Cubs closer Aroldis Chapman is still adding a José Fernández memorial inscription to his cap.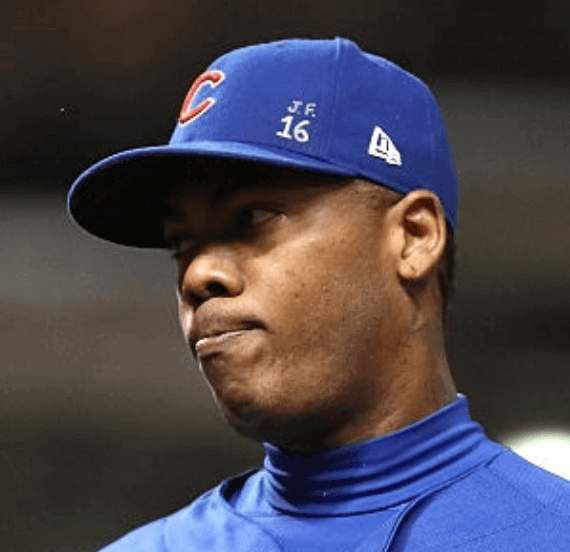 Okay, two games in the books. On to Wrigley!
•  •  •  •  •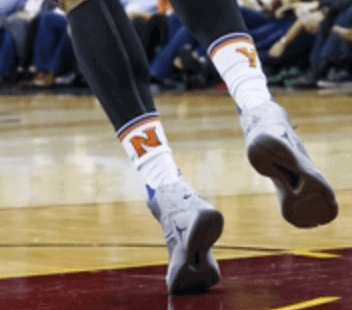 New NBA socks: If you watched Tuesday night's Cavs/Knicks game, you may have noticed the Knicks wearing new "NY" socks. That's part of a new line of NBA hosiery from Stance, the league's sock provider.
Interestingly, only nine teams are getting new designs, at least for now (I'm pretty sure there will be lots of other new designs released as the season progresses): the Knicks, Lakers, Mavs, Warriors, Bucks, Timberwolves, Magic, Kings, and Wizards. The Warriors are getting four new designs; the other teams are getting just one.
You can see all of them here (if you can't see the slideshow below, click here):
•  •  •  •  •
And speaking of the NBA…: The NBA season is only two days old, and we've already seen some interesting things. Last night, the Celtics and Nets went color-vs.-color, and so did the Nuggets and Pelicans:
Jaylen Brown is a smooth operator on the block! The rook makes this turnaround bank shot look easy: pic.twitter.com/VBQ7jTtNaA

— Boston Celtics (@celtics) October 27, 2016
23 points is a career high for Jusuf Nurkić!!#Nuggets pic.twitter.com/1n9EpnfgGp

— Denver Nuggets (@nuggets) October 27, 2016
As longtime readers are aware, I'm all in favor of color-vs.-color basketball games. More, please!
Meanwhile, for good measure, the 76ers wore blue at home, and the Suns wore purple at home.
•  •  •  •  •
And still speaking of the NBA: A day or two after my NBA Preview column was published late last week, it developed some sort of technical glitch that prevented the embedded images from appearing on the page. That glitch has now been fixed. So if you weren't able to see everything before, try it now. Thanks for your patience.
•  •  •  •  •
Panel discussion update: Last month I took part in a panel discussion at Baruch College on the use of Native American imagery in sports. The event was videotaped, and the video is now available for viewing. You can view it here, or below:
•  •  •  •  •
Late-breaking scroogie: On Tuesday evening I was at a friend's wedding party and ended up yakking with a friend of the bride. I mentioned that I had to dash home soon to catch the World Series, and then the following discussion ensued:
She: Oh, are you a Cubs fan?

Me: Well, I'm rooting for them in the Series, but I'm actually a Mets fan.

She: Me too. My father was actually a big Mets fan. He was even named one of the "25 Greatest Mets Fans" in 1969.

Me: That's funny. What did he do to qualify for that — write an essay about how much he loved the Mets or something like that?

She: Sort of. He wrote this letter and decorated it with all these drawings. He liked to do caricatures.

Me: Cool. Did he draw for a living?

She: Nah, he was an engineer, but he liked to do art on the side. He was pretty good! His big claim to fame is that he did a caricature that Tug McGraw hung in his locker.
I instantly knew what she was referring to. If you're a Mets fan of a certain age, you probably know too, because this photo appeared in the team's 1974 yearbook, which I spent many childhood hours poring over (click to enlarge):
I always loved that caricature. It seemed to fit Tugger's quirky personality — his signature pitch was the screwball, and everyone said he was a screwball. It all fit.
`
So now, through a fluke, I've met the artist's daughter. She says her dad, whose name was Bill Kobe, is now deceased, but she and her brother still have some of his artwork, including a lot of sports imagery, and she's going to try to dig some of it up for me. More soon — stay tuned.
Meanwhile, as an aside, look at the buttons on McGraw's jersey — three buttons above the script! The Mets used that style, which is fairly unusual, for a while in the early '70s.
•  •  •  •  •
The Ticker
By Mike Chamernik

Baseball News: Indians OF Rajai Davis wore his left stirrup backwards during Game 1 on Tuesday (from Douglas McBurney). … Apparel manufacturer American Needle sold Cubs hats to the public for the first time in 1946. The company believes this was the first time fans were able to buy sports team merchandise (from Tom Bartkoski). … Brice Wallace found the complete set of the 1971 MLB posters that had been popping up in the Ticker over the last few days. … The Pirates are installing a new field (from @cdubya242). … Pennsylvania Sen. Bob Casey wrote to MLB about the league's switch from Majestic to Under Armour. He urged the league to consider effect on jobs in the state. Majestic is based in Easton, Pa. (from Mike Hillman). … The Lakewood BlueClaws will wear throwbacks from 2001, their inaugural season. More details here (from Phil). … The Braves' new affiliate, the Florida Fire Frogs, unveiled their logo (from Wayne Kohler). … The wife of Nats P Max Scherzer almost threw away the jersey from his second no-hitter (from Phil).

NFL News: The Bills will wear throwbacks this weekend. Here's a cool stop motion video showing how the helmets are getting a makeover. … A socialist English punk rock band in the early 1980s was named the Redskins. The name had nothing to do with Native Americans or football. It was simply a combination of "red," for communism, and "skin," for skinheads (from William Yurasko).

College Football News: Pitt will wear all navy, with pink accessories, against Virginia Tech tonight (from Andrew Cosentino). … Lehigh has worn a different uniform combination for all eight games this season (from Pat Costello). … UCLA may have military alternates for Veterans' Day (from Roger Wong). … Illinois will wear its Gray Ghost uniforms this weekend, adding a new helmet to go along with it. The unis are a tribute to Red Grange (from Erik Spoonmore). … Arizona will wear blue helmets, red jerseys, and red pants this weekend. The Wildcats haven't worn that combination since 2014 (from Phil). … Washington State will wear all white against Oregon State (from On3Lung).

Hockey News: The NHL has inked a new deal with Fanatics, effective next season, that will give Fanatics total control of the league's retail product. Interestingly, replica jerseys will carry the Fanatics logo, while the Adidas mark will only appear on the $359 authentics. Further details here, here, and here. … The Sharks will practice in "Los Tiburones" jerseys on Saturday as part of a Hispanic Heritage Night. Fans will get replicas. More details here (from Phil). … The Youngstown Phantoms put messages on the ice for Cancer Awareness Night (from Alex Dewitt). … The Ducks were the latest team to wear purple "Hockey Fights Cancer" pregame jerseys. Their mascot wore one, too.

NBA News: The Pelicans honored Bryce Dejean-Jones, who was shot to death in May, with black "BDJ 31" warm-up shirts. … Gerald Green of the Celtics braided a shamrock into his hair. … The Heat will wear seven different uniforms this year (from Phil). … For the Spurs-Warriors opener on TNT on Tuesday night, Steve Kerr, Gregg Popovich, and David Aldridge all wore ties that used the same pattern of the suit worn by Sager during his ESPYs speech this summer. Last night, the Bucks announcers (and, I assume, other broadcasting crews around the league) had their own Sager Strong tributes (from Cork Gaines). … Here's more proof of a Chinese New Year jersey for the Warriors this season. "Interesting to note that, in addition to departing from last year's slate color jersey, the sleeve patch is a redundant Warriors logo and no longer reflects the lunar year (2017 would have been year of the rooster)," says Jimmy Wong. … The woman who was supposed to sing the national anthem at last night's 76ers game says she was told at the last minute that she couldn't perform because she was wearing a "We Matter" jersey. A member of the Sixers' cheerleading squad sang the anthem instead. … Menswear label Joseph Aboud is once again outfitting NBA coaches this season (from Tommy Turner).

College Hoops News: New uniforms for College at Brockport, a Division-III team (from Andy Hyman). … Louisville coach Rick Pitino wore a shirt with a retro Cardinals logo that dates back to the 1980s. The school brought it back in 2014 (from Antoine Lynch and @N__C_K_).

Grab Bag: Republican presidential candidate Donald Trump's campaign has reportedly spent more on baseball caps than on polling or direct mail (from Phil).
• • • • •
Special birthday wishes to membership card designer and longtime Uni Watch pal/ally Scott M.X. Turner. Hope you get everything you wish for when you blow out the candles, Scott!