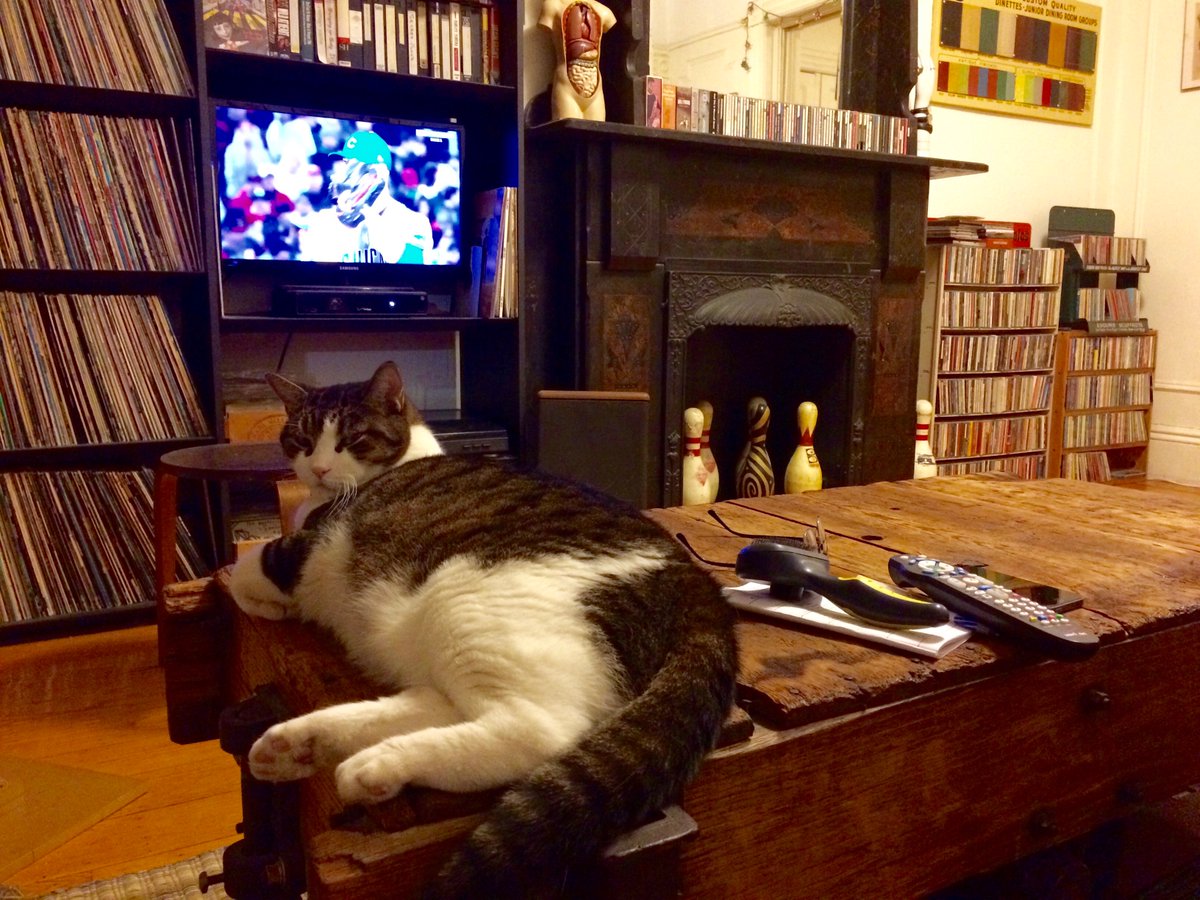 Photo by the Tugboat Captain; click to enlarge
That was the scene last night at Uni Watch HQ as we all settled in to watch the World Series. I thought I was gonna miss the beginning of the game, because I had to attend a friend's wedding party (where I stumbled upon a lead for a new Uni Watch story — more on that later), but I was able to leave a bit early and scoot home on my bike just in time for the first pitch. Phew.
The game immediately yielded a uni-notable detail: Cleveland starter Corey Kluber must be superstitious about keeping the same cap, because the outline where the Postseason patch was removed and replaced by the World Series patch was clearly visible last night.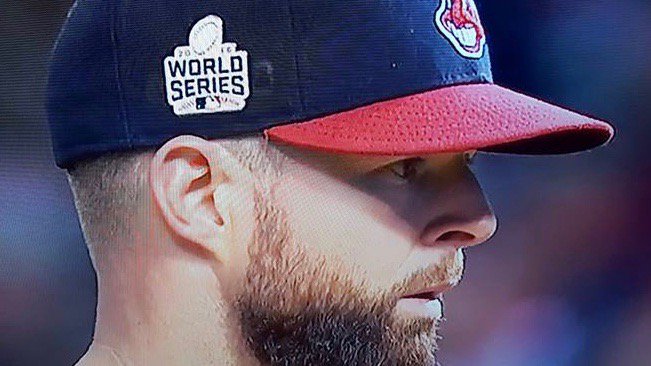 The outline of the Postseason patch was also visible on reliever Cody Allen's cap (click to enlarge):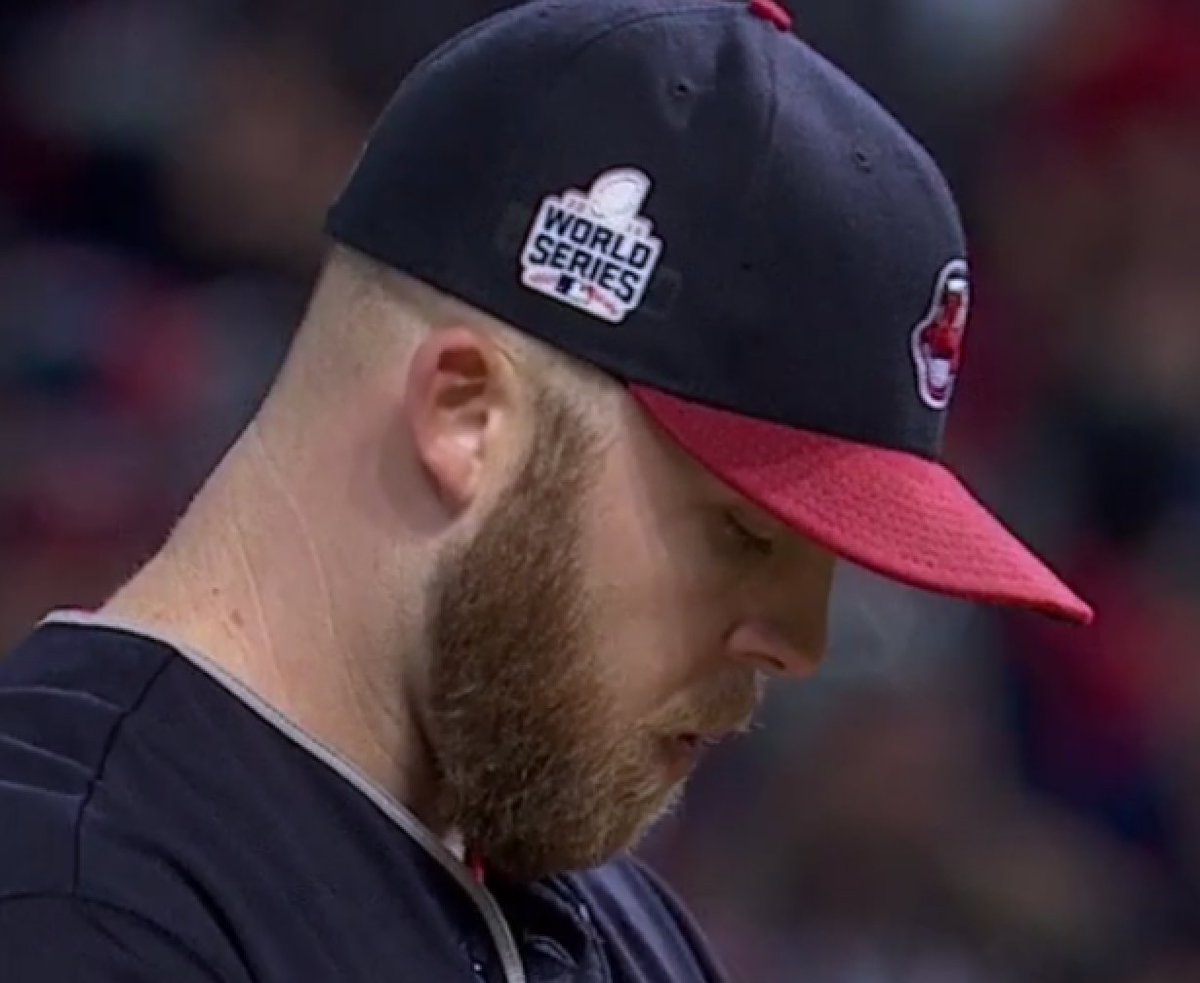 Kluber also got to pick last night's jerseys, and as usual he chose navy. That was expected, but many fans, myself included, were still a little disappointed that the home team wasn't wearing white for baseball's biggest showcase.
That led several readers to ask me which team was the first to wear a colored alternate jersey in the World Series. That's a trickier question than you might think. The way I see it, there are several possible answers:
1. The A's wore their green and gold jerseys throughout the 1972 World Series — and again in '73 and '74, for that matter. These were definitely the first colored World Series jerseys in the modern era (I'll have more to say about the pre-modern era in a minute), but they weren't really alternate jerseys, because the A's routinely mixed and matched their green, gold, and white jerseys. So even if they wore, say, green at home, you could say that was their regular home look (or at least one of their regular home looks).
2 and 3. In Game 1 of the 1979 World Series, the Pirates wore black and the Orioles wore orange. The Pirates fall into the same category as the A's: They routinely mixed and matched their their assorted bumblebee jerseys. The Orioles, however, had basic home whites, road greys, and the orange alternate. So I think we could say that the O's were the first team to wear a colored alternate jersey in the World Series.
4. It's also worth noting that some teams had solid-colored road uniforms in the early 1900s. I haven't gone back and checked to see if any of those teams made it to the Series (anyone wanna tackle that one?). If so, of course, those solid jerseys would have been their standard road designs, not alternates.
Update: Commenters Rob S. and Scott Johnston immediately pointed out something I should have remembered: The New York Giants came up with a solid-black alternate uniform specifically for the 1905 World Series. So that takes the prize. Thanks for the memory jog, Rob and Scott.
I'm going to miss a good chunk of tonight's game, because I have a guest-speaking gig at a class at 7pm, so apologies in advance for not being on top of Game 2. Go Cubs!
(My thanks to Mark Lackinger and @Coots44 for their contributions to this section.)
•  •  •  •  •
StripeRite update: In case you missed it earlier this week, I'm excited to share our latest batch of StripeRite socks with you.
The basic concept behind StripeRite remains the same: You want to show your stripes, literally and figuratively, but how can you do that when the stripes found on most stirrups and athletic socks are up around your calf, where nobody can see them unless you hike up your pants? Our own Scott M.X. Turner "" the guy who designs all the Uni Watch membership cards "" came up with a great solution to that problem: What if there were socks with the stripe patterns down by the ankle? That way the stripes would be visible as you walked, when you crossed your legs, when you put your feet up on your desk, and so on.
We were very happy with the response to the first batch of StripeRite designs. Now I'm happy to show you the second batch, which takes inspiration from each of the four major sports: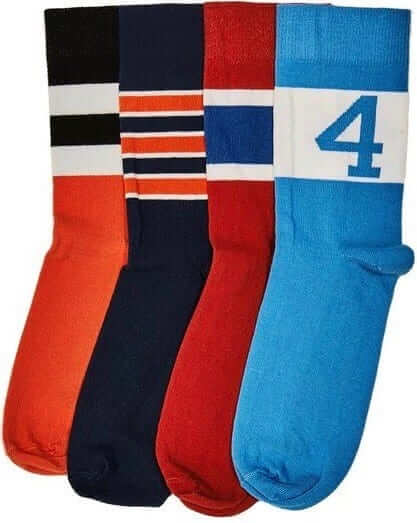 .

.
Nice, right? They won't be ready to ship until Nov. 21, but you can preorder them now. They'll definitely arrive in time for the holidays. The socks are available individually or as a four-pack. As always with American Trench product, the socks are made in the USA and shipping is free.
As promised, all the profits from sales of the first batch are being donated to the Jackie Robinson Foundation. A check for $4,451.25 is on its way to them now. Those first four designs are still available, and all profits from them will continue to be donated to the JRF.
Continued kudos to Scott Turner for coming up with the idea for these socks, and to American Trench honcho Jacob Hurwitz for executing Scott's concept so well. Again, you can preorder the new designs here, and the first batch is still available here. Thanks.
• • • • •
Click to enlarge
Free footwear: Check out those chukka boots — nice, right? I found them on the sidewalk on my block two weekends ago. Not bad for something that normally costs a pretty penny.
It's amazing how much free stuff I find out on the street, and especially on my own block. This year alone I've scored a sweater, a paella pan (the one I used to make paella on the grill a few months ago), a cast iron grill pan (pretty sure my downstairs neighbor is the one who put that one out there), a charcoal chimney starter (I already had two of them, but one was about to rust through, so it was good to get a replacement), a skillet, and these shoes. In recent years I've also come away with very cool beverage glasses, perfectly good jeans, shirts, and other clothing. About six or seven years ago I found a pair of sneakers that I thought would be good for my daily bike ride in Prospect Park. I continue to wear them for that purpose every single day.
To be clear, I'm not a Dumpster-diver or a freegan (although I have no problem with people who are). I'm just a guy who walks around and sees all the stuff that people leave out for the taking. I'm happy to have all this free stuff — sure beats spending money — but I'm somewhat mystified by it, especially considering that the neighborhood is crawling with vintage and thrift shops that would happily take these items. And if you don't want to haul everything down to the shop, why not have a stoop sale?
I think NYC is a particularly good place for free stuff, because so many people here live in small apartments, lead super-busy lives, have too much money, and tend to be conspicuously consumptive. Add all of that up and you get a lifestyle that leads to getting rid of perfectly good stuff. I guess I should be happy that some of it ends up on the sidewalk. I don't even wanna think about how much of it just goes straight into the trash.
Is there lots of free stuff where you live?
(And yes, I realize today's entry includes two shots of my living room. Coincidence.)
•  •  •  •  •
The Ticker
By Mike Chamernik

Baseball News: The New Era logo popped off of Michael Grace's new Cubs cap. … Brice Wallace noticed that the 1970s Indians poster in yesterday's Collector's Corner looked familiar. The Phillies used similar artwork, with a nearly identical batter pose, on a 1971 program cover. "I think both are actually from a photo of Tony Perez, but I'd have to dig through my old Reds yearbooks to confirm that," he says. I remember seeing these posters as part of a league-wide set, but I couldn't find any other teams online. … With downtown Cleveland hosting both the World Series and Cavs home opener last night, a mother and daughter wore split Cavs and Indians jerseys (from Robert Hayes).

NFL News: With the Jaguars set to wear their mno-mustard Color Rush uniforms tomorrow night, Jags QB Blake Bortles said the uniform is "ugly as hell" and that he'd prefer a teal uniform. He also said that he enjoys the Titans' baby blue unis, which is what he'll be seeing on the other side of the line of scrimmage (from Phil).

College Football News: Virginia Tech WR Divine Deablo will wear No. 25 this week. The Hokies choose a different special teamer to wear the number for each game (from Andrew Cosentino).

Hockey News: The Penguins wore purple warm-ups last night for Hockey Fights Cancer. Here's the reverse side (from Jerry Wolper). … Lebanon Valley College will host a Military Appreciation Night in December. In the past, the team wore flag-themed jerseys for the occasion (from Jason Hocker). … A jersey purported to be a 1980s Blues prototype has surfaced on Twitter. We've seen several other Blues prototype designs from over the years, including a home and away set from the mid-1960s, and a few from the 1990s (from Mark Richter). … The Ducks wore their orange alternates on the road yesterday.

NBA News: The Cavs wore black sleeves at home with a championship patch for their opener last night, and they raised their championship banner and handed out their championship rings. The rings commemorate their 3-1 comeback in the Finals last year. … The Warriors' 70th-anniversary patch and Nate Thurmond memorial band are on their warm-up jackets as well as their jerseys (from Robert Hayes). … Also, the Warriors gave out Sager Strong t-shirts last night. TNT broadcaster Craig Sager is battling cancer. … Adidas unveiled new shoes for the Knicks' Kristaps Porzingis. … NBA merch is inconsistent regarding when teams were established. Yesterday we noted that Nets gear has "Est. 2012," when the team moved to Brooklyn, and not 1967, when the franchise was founded. We have another example: Some Lakers apparel has Est. 1948, which counts the Minneapolis years, and some Pistons merchandise has Est. 1957, which ignores seasons in Fort Wayne (from @FtWaynePistons). … New retro-themed outfits for the Sixers Dancers. The team is honoring the 50th anniversary of their 1967 championship (from Phil).

College Hoops News: New blue jerseys for Tulane. They have a "Big Easy" streetcar design sublimated onto the back (from @TulaneSportsGuy). … New gray unis for Fresno State (from Daniel Evans). … North Carolina coaches signed camo basketballs during a team trip to Fort Bragg (from James Gilbert).

Soccer News: The Kansas City Comets, a pro indoor team, has undergone a retro redesign with "Rainbow Stripe" uniforms and a 1980s-looking logo. … Carlos Alberto Torres, captain of the 1970 Brazil team that won the World Cup, died yesterday. Saurel Jean, Jr. says that he was the last captain to raise the Jules Rimet Trophy, which became a subject of an ESPN 30 for 30. And, here's an animated short about the day he signed with the New York Cosmos during the 1977 NYC blackout.

Grab Bag: A man who worked on the production of the NBC Peacock told the story of how it was developed in the early 1960s (from Ilana Hardesty). … Donald Trump wore a camo hat during when speaking in Florida yesterday (from Aaron Rupar). … This discussion blew up on Reddit yesterday: People forget that the U.S. flag code stipulates that the flag should never be used as wearing apparel, bedding, or drapery, and that no part of the flag should ever be used as a costume or athletic uniform (from Allan Labanowski). … Check out what TWA flight attendants used to wear. The airline got creative with the letters "TWA" on the collar (from Jennifer Hayden). … Here's an image that shows the evolution of Michael Schumacher's Formula One racing suits (from David Firestone).