Super Bowl IV is not generally regarded as a good game. The score was lopsided (Chiefs 23, Vikings 7) and the outcome was never in doubt. These days the game is remembered primarily for Chiefs coach Hank Stram's sideline chatter and for being the final game before the AFL/NFL merger. For those of us who care about uniforms, it's also notable because both teams wore league anniversary patches.
But it turns out there was another uni-notable aspect to Super Bowl IV. It was brought to my attention by reader Michael Taylor, who recently pointed me toward some rare Kodachrome footage of the game that had never been broadcast but was posted to YouTube earlier this year. The footage is spread out over three separate video links — Reel One, Reel Two, and Reel Three — and the third one includes some isolation footage of Chiefs running back Curtis McClinton as he ran downfield to cover a kickoff. Check it out:
As you can see, McClinton had a very interesting modification made to both sides of his helmet. Here's a closer look, via a pair of screen shots (click to slightly enlarge):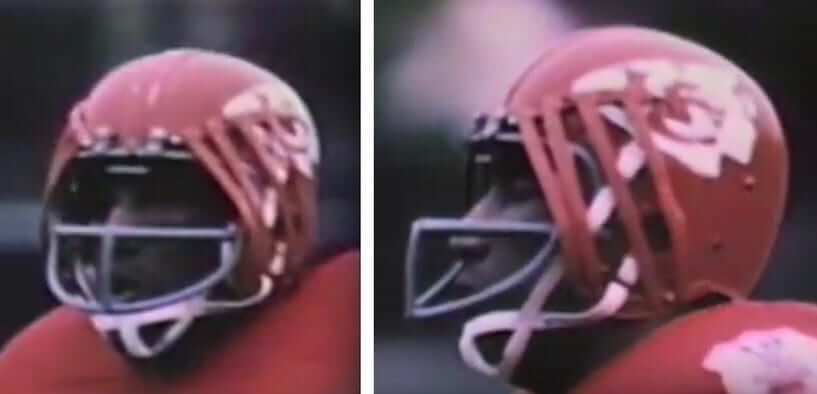 I'd never seen that before. Was he wearing straps, or tape, or bars, or what? I did some photo research, hoping to find additional shots, but came up empty.
My go-to guy for old-school helmet knowledge is Curtis Worrell of Helmet Hut, so I emailed him to see if he knew about McClinton's helmet. "Oh, sure," he wrote back, attaching the following photo for good measure:
That photo is definitely from a different game, because is doesn't show the AFL 10th-anniversary shoulder patch, which was worn only in Super Bowl IV. So McClinton wore this customized rig for at least two games.
Curtis said McClinton's modification was for extra protection, like the mods seen on Y.A. Tittle's "kitchen sink" helmet or Roosevelt Brown's helmet. He then told me to stand by while he tried to get more info. About half an hour later, he emailed once again, as follows:
Just got off the phone with McClinton. Fred "The Hammer" Williamson of the Raiders gave McClinton the forearm and broke his cheekbone and eye socket in 1964. He always had problems [with the injury] over the years and [Chiefs equipment manager] Bobby Yarborough devised different setups to help him.

Those are strips of metal dipped in rubber to protect everyone from the sharp edges. This was standard procedure with all masks and all brackets. We still use the exact same rubber-dipping process on our line of masks. See these shots of Joe Namath with the tape around the corners of his mask? That's because the rubber would get torn off and the sharp or rough edges of the welds could easily lacerate someone (and sometimes did).
Interesting! But I still had some questions, so I made arrangements to interview McClinton myself. He's now 77 years old and has led an interesting life. He went to college at Kansas, where he studied classical voice. His football career included being named the 1962 AFL Rookie of the Year and scoring the second touchdown in Super Bowl history (that was in Super Bowl I, which the Chiefs lost). When Muhammad Ali refused to fight in Vietnam, McClinton was one of several black athletes who led an effort to support him (that's McClinton in the center of the back row, with the light-colored tie). After his playing days, he was involved in a variety of development initiatives, most of them centered on bringing economic opportunities to the black community, and also served as Deputy Assistant Secretary in the Economic Development Administration in Washington.
When I spoke with McClinton last week, the first thing he said to me was, "You've got the same first name as my hero, Paul Robeson" — not necessarily the kind of thing you expect to hear when you're interviewing a former football player. Here's an edited version of the key part of our conversation:
Uni Watch: I've watched a lot of old football footage over the years, but I've never seen anything quite like the helmet and facemask you were wearing in Super Bowl IV. What was that all about?
Curtis McClinton: That was the follow-up on the basic medical protection of my cheekbone. My cheekbone was broken and I had an orbital blowout, which means my eyeball came all the way out of the structure of my face and just kind of hung there. There was a guy by the name of Fred Williamson, they called him the Hammer, and he brought the hammer down on me. The way he played was very, very detrimental, both to players and to the game itself. He was a thug, to be quite frank about it, in terms of hitting players in order to hurt them, not just to bring them down. It's a rough game, a game of hitting — that's why you're on the field. But there are rules and regulations, and he deviated from that, and he did it with cruelty and intent to injure.
UW: I'm very sorry you were on the receiving end of that intent. So that helmet modification was a reinforcement to provide greater protection to your face?
CM: Yes, yes. It was basically another faceguard on my cheekbone, to provide greater protection and spread the force of the blow.
UW: It looks like you actually wore this extra protection on both sides, not just on one side.
CM: It's interesting that you bring that up. Originally, they just had it on one side. But when I got hit, the helmet would end up leaning to that side and would often come off, even though I was wearing a chinstrap, because it was heavier on that side, the side with the extra faceguard. So they put it on the other side to help balance the helmet, so it wouldn't be heavier on one side. We also thought it would be good to put it on both sides so the opposing team wouldn't know which side I'd been injured on. In other words, it wouldn't be as much of a target.
UW: Who rigged this up for you — the Chiefs' equipment staff?
CM: Yes, and from the trainer and team doctor. One thing about the injury is that it ended up changing the position I played. I stayed in the backfield for a while, but then I went to playing defense — I was a strong safety. [This is apparently why McClinton's stats show him playing all 14 games but having no rushing attempts in 1969, his final season. "" PL] Part of that was so that to protect my head and my eyes. It enhanced my career, because I was hitting, rather than being hit.
———
We talked a bit more. He discussed his injury in fairly graphic detail, and also had some very choice words for Fred Williamson. I didn't realize until after we spoke that Williamson actually played for the Chiefs from 1965 through '67, which means he and McClinton were teammates for three seasons. If I had known that, I would have asked McClinton about it. Poor interview preparation on my part.
One thing that's still unclear is for how many games, or seasons, McClinton wore this customized helmet. Based on his recollections and Williamson's career path, the injury he's describing must have happened in 1964. But after we spoke, I found an AP story indicating that he'd sustained another broken cheekbone during a preseason game against Minnesota in 1968. (AFL and NFL teams played preseason exhibition games against each other in the three years prior to the merger.) Was this the same cheekbone that Williamson had broken years earlier? Was the helmet modification more of a response to this second injury, rather than the first one? Had he somehow gotten confused about his own injury history, with the two incidents blurring together?
I didn't have the heart to call him back and ask him those questions. Like, "Hi, could you please clarify exactly when, and how many times, your face was shattered, and by whom?" The whole encounter was a sobering reminder that there's often a human story behind a uniform story.
It seems more likely that the custom helmet was a response to the second injury. That, combined with McClinton's shift to defense in 1969, would explain why I haven't been able to find any other photos of him wearing the customized helmet — the only photos of him I've turned up all show him as a running back. Perhaps he wore the custom rig throughout the '69 season, or maybe he only wore it in the games leading up to Super Bowl IV. He definitely never wore it after that Super Bowl — it turned out to be the final game of his football career.
(My thanks to reader Michael Taylor for bringing the Super Bowl IV video footage to my attention, and to our own Mike Chamernik for his invaluable assistance on this one.)
•  •  •  •  •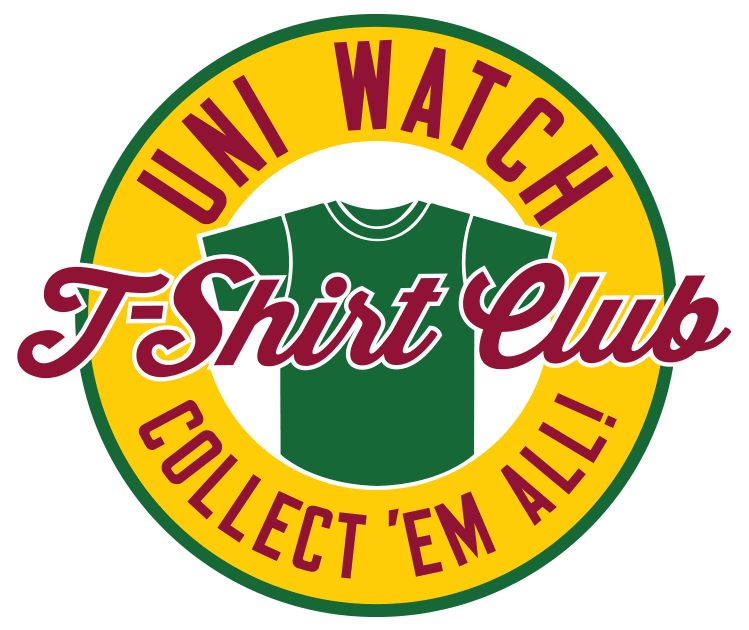 Important T-Shirt Club update: As I mentioned a few days ago (and as most of you have discovered for yourselves by now), the Uni Watch T-Shirt Club's most recent offering — the soccer design — was mistakenly printed without the jock tag graphic.
I'm happy to report that our shirt supplier, Represent, has agreed to reprint the whole production run — this time with the jock tag — at their expense. The new shirts should ship out no later than next Monday (and some may ship by this Friday), so you should be seeing them soon. And, obviously, you don't have to return the first shirt — keep it with our compliments.
A few of you have told me, "I didn't mind that the jock tag wasn't there" (or even "I liked it better without the jock tag there"). That's nice, but you're getting a new shirt anyway!
My thanks to everyone for their patience, and my apologies for the hassle. We'll have news about our next shirt — the football design — soon.
• • • • •
So this happened: The big thing is that you should all get a flu shot. The little thing is that we left-handers are forced to suffer such indignities!
• • • • •
The Ticker
By Paul

Baseball News: Interesting look into the machinations of MLB's postseason merch machine and the Nats' preparations to sell more product if they beat the Dodgers (from David Goodfriend). … The Astros, as promised, are removing Tal's Hill. … We've all seen T-shirts that look like jerseys. But how about a T-shirt that looks like a jersey and the upper part of the pants? Not sure I've ever seen that before. … Longtime reader Doug Brei has been submitting Ticker items for many years. Last night I got an email from his 11-year-old kid, Maddie Brei, who noticed that Cubs SS Javier Baez was wearing customized KD shoes, completely with Kevin Durant's logo on the sole — a good spot! Maddie signed off with, "Don't tell my mom that my dad let me stay up late just to watch baseball!"

NFL News: "The character 'Pittsburgh Dad' is locally popular caricature of your typical good-natured yinzer," says Chris Weber. "His attention to detail when describing the Steelers' uniforms is deserving of an honorary membership, don't you think?" … Lots of chatter about Panthers QB Cam Newton riding a scooter around Charlotte without a helmet.

College Football News: LSU's seldom-used purple jerseys will be worn this weekend (thanks, Phil). … Oklahoma will be wearing their "rough rider" alts this weekend (from Chris Corbaz). … Story on why Indiana QB Richard Lagow wears No. 21, which is unsuual for a QB (from Ted Chastain). … New uniforms on tap tonight for Louisiana-Lafayette and Appalachian State (thanks, Phil). … Buried within this story is the news that this wekeend's Boise State/CSU game will feature Boise wearing white at home and CSU wearing green on the road. … Keiser University in Florida is getting a football team (from Ross Lent).

Hockey News: Now that the World Cup of Hockey is over, here's an assessment of how some of the high-tech innovations — including electronic chips inside jerseys and pucks — performed. … New throwbacks for the St. John's IceCaps (from Stan Capp). … The Niagara IceDogs will wear the OHL's first-ever LGBT pride jersey tomorrow night (from Timmy Shannon). … Man, look at the Maple Leafs' sensational season ticket package for their centennial season (from @Means1974). … Blues G Carter Hutton has a new mask with separate designs on the left and right sides (from Erik Spoonmore). … University of Minnesota G Nick Lehr's new mask has a Minnesota pride theme (from Tony Tengwall).

NBA News: NBA teams have taken a variety of number and NOB approaches when giving a jersey to President Obama (thanks, Mike). … Also from Mike: Someone has come up with Halloween-ified versions of NBA team logos. … Cross-sport memorial by the Heat, who saluted Marlins P José Fernández on their shooting shirts last night (thanks, Phil). … Holy cannoli, check out this vintage Bucks shooting shirt. The red collar and lettering, the oversized NBA logo — can't decide if it's appealing or appalling, but it's definitely an eye-catcher. … The Magic will raise a No. 49 banner on Opening Night, in memory of the 49 victims of the last summer's Orlando nightclub shootings (thanks, Mike). … Twelve of the Nets' 15 players are now living in Brooklyn. … James Marion spotted this 1992 Dream Team windbreaker in a thrift shop in Japan.

College Hoops News: New road jerseys for DePaul (thanks, Mike). … Looks like UNC has that new Nike tailoring cut. Here's a good before/after comparison, which also shows the changes to the shorts. … New uniforms for Colorado State (from Joey Campbell). … New uniforms for Columbia (thanks, Phil). … New uniforms for Houston Baptist. That crazy throwback has been used for a few years in a row now (from Chris Mycoskie). … Here's a video that shows you how 36 college teams, including their uniforms, logos, etc., can be imported into NBA 2K17.

Soccer News: "Dynamo Dresden play in the second division of the Bundesliga," says Bern Wilms. "Their city has struggled with right-wing tendencies and neo-Nazis. One of the things they've done to keep that away from the club is to wear a jersey with the slogan 'Love Dynamo – Hate Racism.'"

Grab Bag: Ever notice that Apple product shots always show the time as 9:41? Actually, I hadn't noticed that myself, but here's the reason for it (from Jim Brunetti). … Four San Antonio police officers violated departmental policy by wearing Donald Trump baseball caps while in uniform. … A health advocacy group in New Zealand had come up with a "No Sugary Drinks" logo, but now they're revising it after complaints that the bottle shown in the logo design looked too much like Coca-Cola's distinctive bottle shape.
• • • • •
Good yontif to all who are observing Yom Kippur today.