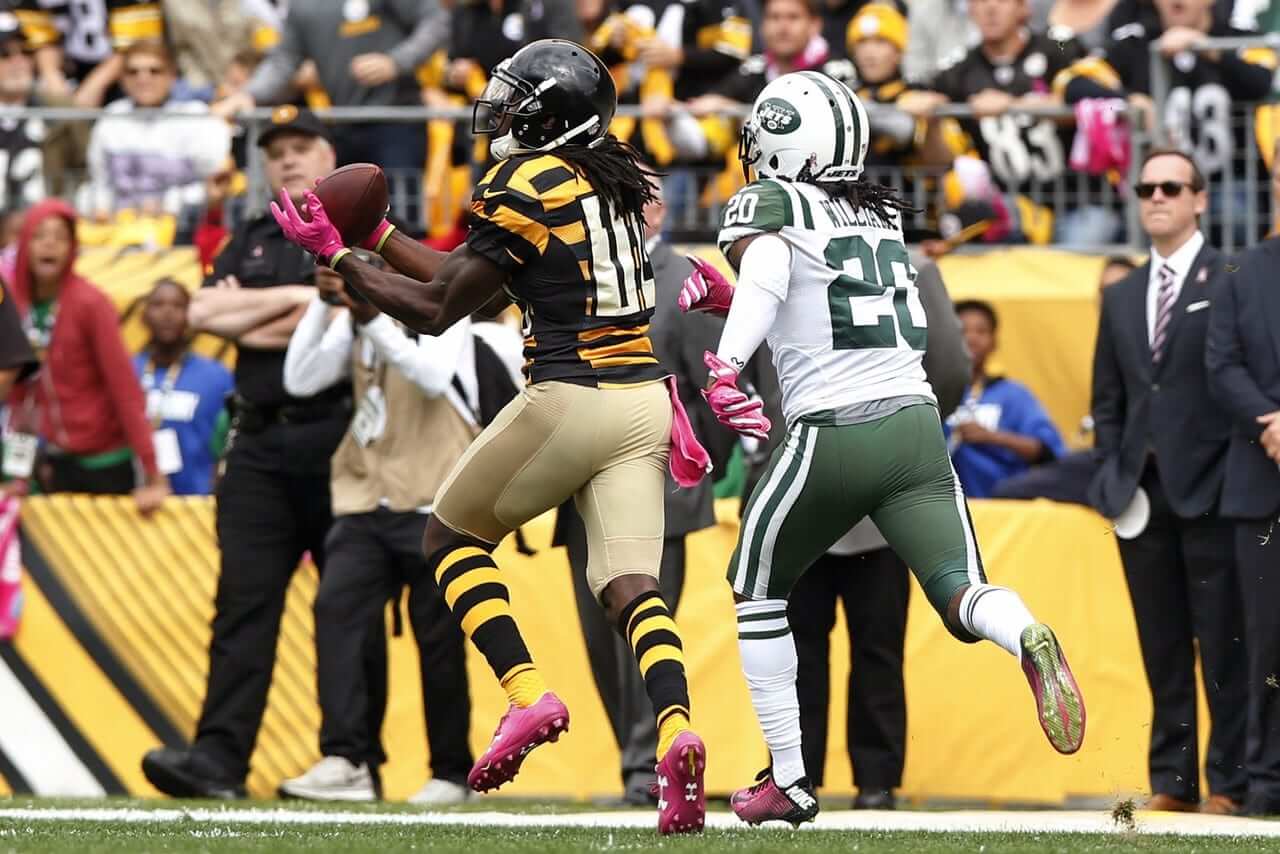 For most of today's images, you can click to enlarge
Whatever one thinks of the Steelers' bumblebee throwbacks (I love them, I know lots of you hate them), I think we can all agree that they do not benefit from the Pinktober treatment. That was the situation in Pittsburgh yesterday, as the Steelers and Jets wore all the usual pink trimmings (lots of additional photos here). The bumblebees are being retired after this season. Too bad their final appearance was pinkified.
Interestingly, Steelers wide receiver Sammie Coates's jersey had the ghosted outline of a patch:
That appears to be the team's 80th-season patch, which the team wore in 2012. So the Steelers are apparently recycling jerseys from four years ago.
In that same game, there were more soap operatics regarding Steelers wideout Antonio Brown's footwear. He began the game wearing Muhammad Ali tribute shoes but then was told to switch to a more conventional design. CBS helpfully compared his stats a broken down by footwear design.
In other news from around the league:
•  Jersey typo in Minnesota, as Vikings defensive end Everson Griffen's surname was misspelled on his NOB:
•  Brutal-looking game in Cleveland, as the Browns went mono-brown:
Cody Kessler ➡️ Andrew Hawkins

🙌🙌🙌https://t.co/dBJ4p6IpYU

— Cleveland Browns (@Browns) October 9, 2016
•  Swimmer Michael Phelps ran out of the tunnel with the Ravens while wearing a Ravens jersey — with the Nike logo covered up. One reason I can't stand maker's marks is that they lead to absurd bits of corporate theater like this.
• At the L.A. Coliseum, where the Rams hosted the Bills, the various graphics from the USC field design were still plainly evident:
•  A Bears defensive player — not sure who — suffered a torn helmet logo decal:
•  Giants wide receiver Odell Beckham Jr. wore gloves that said, "Just smile."
•  It's a little hard to see, but the Colts' sideline mascot was pink. Not sure if they also changed his name, which is normally Blue. (You can see lots of Pinktober-related photos here.)
•  Three teams wore white at home: the Dolphins, Rams, and, of course, the Cowboys.
•  National anthem protests continued. You can see a list of players involved here.
(My thanks to all contributors, including Tony Andela, @theangrykids, Patrick Finley, Ben Hayden, Elliot Kornfeld, Gustavo Ponce, and our own Alex Hider and Phil Hecken.)
•  •  •  •  •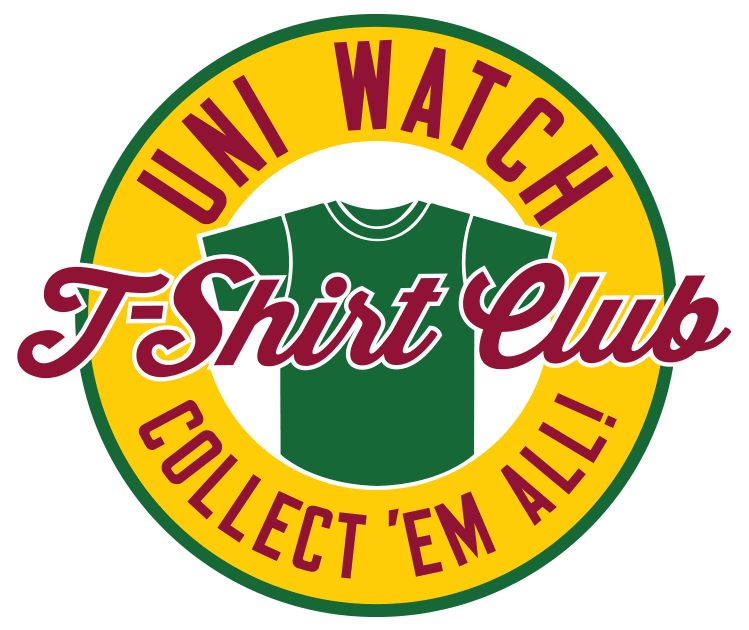 Important T-Shirt Club update: Paul here. In case you missed it over the weekend, it's been brought to my attention that the Uni Watch T-Shirt Club's most recent offering — the soccer shirt — has some problems. First, the orders took way too long to ship. And now that the shirts are finally arriving, most of them — maybe all of them — don't have the jock tag graphic.
All of this is embarrassing and unacceptable. We will make it right.
As most of you know, this was our first shirt with a company called Represent. We switched from Teespring to Represent because my designer and creative partner on the T-Shirt Club, Bryan Molloy, who used to work for Teespring, recently took a job with Represent. He assured me that Represent was a first-rate company and that the product and service would be better than Teespring's.
Bryan, who's as surprised and disappointed by all of this as I am, has explained to me why the jock tag wasn't included. It's too technical to explain here (having a graphic at the base of the shirt requires a different kind of screen, which in turn requires a different design file, which has to be prepared a certain way, blah-blah-blah), but the short version is that Represent messed up. We're still trying to get a good explanation for why the orders took so long to ship.
I've been told that Represent will reprint and reship all of the shirts — this time with the jock tag — and their expense. If for some reason they do not follow through on this, I will have it done myself, at my expense.
It is mortifying to have our first shirt with a new supplier go so badly. We're currently finalizing the design for the next shirt, which will have a football motif, and are assessing our options for how to get it produced. I promise that we'll choose the option that's best for you, not the one that's easiest for us. (If those two things turn out to be one and the same, so much the better. But I'm not assuming that that will be the case.)
For what it's worth (which I admit isn't much), several of you have told me, "It's a great shirt — good quality, crisp printing. It just took too long and one of the elements is missing." So at least there's that.
My apologies to all our customers, and my thanks for your patience. Hang in there — we'll get it fixed.
•  •  •  •  •
The Ticker
By Alex Hider

Baseball News: Lots of things wrong with this Madison Bumgarner ornament (from Frank McGuigan). … This guy doesn't seem know how a baseball cap works (from Ronnie Yates). … Hans Kruse of the US 18U national team was sporting some nice striped stirrups yesterday (from Billy Braden).


Pro and College Football News: Check out the warmup shirt former Los Angeles Rams QB Jim Everett wore back in the day (from Aaron Husul). … The Alabama helmet on the set of ESPN's College Football Final had numbers that were way too big on Saturday night (from Griffin Smith). … South Dakota State went all-white on Saturday. According to Tanner Butler, it was the second straight week the Jackrabbits had worn white pants, the only times they've done so since 1990.

Hockey News: Pittsburgh's hockey arena changed names last week. As of yesterday, the building had both old and new signage. … Montreal's Artturi Lehkonen will wear No. 62 this season. According to an anecdote buried in this blog post, Lehkonen was wearing No. 46, but took the unusual step of asking for a higher number as a tribute to his father (from Mike Engle). … The BC women's hockey team wore new gold unis yesterday (from Dan Rubin). … Military appreciation unis for Slippery Rock University (via SRU Men's Ice Hockey). … Fans of the Carolina Thunderbirds have selected red and black as the team's colors. As of 6pm last night, the team had not updated its website color scheme. (from Mark Richter).

NBA News: We may have seen this before, but just in case: Judging by a video game screen shot, it looks like the Heat will be wearing a white version of their "Black Tie" alternate uniforms this season (thanks to all who shared).

Grab Bag: The University of Cincinnati volleyball team went all out for Pinktober on Sunday (from Brian Henke).