By Phil Hecken and the SMUW Crew
Lots of mud and wet yesterday (if you played a game affected by Hurricane Matthew), mixed with some beautiful weather games elsewhere. And the unis. *MWAH*
Some beautiful unis on the field yesterday, including the Pitt Panthers (as seen above). There were also a few games postponed yesterday, due to Matthew, and at least one of those games will be made up today (a big one between Georgia and South Carolina) and one that may or may not even *be* made up — Florida and LSU. And then there was a game Rutgers wish had been postponed.
Aight…let's get right into the SMUW, featuring TJ Duroncelet…
++++++++++++++++
Sunday Morning Uni Watch
By Terry Duroncelet, Jr.
Hello everyone, and welcome to Week 6 of the 2016 NCAA football season. This week's games were nothing short o– wait, it's already been six weeks? It only seems like yesterday that Ohio State was desecrating Bowling Green 77-10.
From Thursday:
• If you have to do any sort of whiteout vs. blackout game, I suppose this is the way to do it, and my reasoning is simple: Memphis wore all-white with blue trimmings, and Temple wore all-black with cherry trimmings, creating a dual dynamic of black vs. white AND red vs. blue. Plus, both designs are solid enough to not make me want to drown myself in a cocktail of turpentine and liquefied coconut (not coconut water or milk). Also, if you look at this picture (via Tom Schad), you can see punter Nick Jacobs (#47) wearing Asics boots.
From Friday:
• Boston College wore red bandana gloves, decals, and other accouterments against Clemson. Details here.
• SMU wore these skyline decals in support of Dallas police officers against the black-dressed Tulsa Golden Hurricane (H/T to Ross for the SMU pic).
From Saturday:
• In a move that was by no means Pittiful, the Pitt Panthers brought back the old royal blue and… okay, that's not the actual mustard yellow, but whatever. That last pic seems to be the era they tried to emulate, but the alt has the script Pitt at the collar, so it reminds me of last year's uniform (sand script at the collar), rendered in classic colors. Here's hoping they'll eventually readopt the old colors (right down to the real, soup-to-nut mustard) in the current template, and by then, they should have a real instant classic on their hands. Also, shoutout to the Pitt band for giving the drum majors some throwbacks of their own to wear.
• Akron wore some retro-style helmets against Miami (OH). While I'm sure that block decal style has been around for decades, it understandably has some BYU undertones to it. Not that that's a bad thing, of course.
• Kansas wore new red helmets against TCU. Another look here, and here.
• Diamonds are forever over at NC State (although that shape borders more on hypocycloid). Here's a better look at the merit decals on the back of the helmet (credit to Alan Brennerman).
• Wake Forest honored Arnold Palmer with this graphic on their field (via Matt Fortuna), and they also wore helmet decals during their game against Syracuse.
• I think this is the first time we've gotten a glimpse at Michigan's road uniforms in action. Also, Rutgers played how they looked.
• Just as the Alabama/Arkansas game was about to start, the camera went to OL Frank Ragnow, and as you can see, the brand name of his shoulder pads were strategically peeking through the mesh panel where his NOB would go. I await the 007 jokes.
• The U looks like The U once again. In addition, they whipped up some really cool graphics on Twitter. Also, Florida State wore these decals in recognition of the recent hurricane that impacted the U.S. Southeast, as well as claimed the lives of some 900 people in Haiti (and most likely counting).
• Okay, something I noticed about the Jets Jr. throwbacks that Eastern Michigan wore over the weekend: part of the shoulder stripes were actually sublimated to continue the stripe. Actually, if you look here, you can see they sublimated the missing parts of the white sleeve cap, too.
• Ohio State had their BCA game over the weekend, which included these decals (H/T to Andrew Lind) and various pink accessories.
• Arizona State wore their copper alts against UCLA.
• You're about 23 days early there, Stanford.
That'll do it for Week 6! See you all next week.
++++++++++++++++
Thanks, TJ! OK, now on to the rest of the SMUW smorgasbord.
Welcome to the 2016 Oregon Ducks Uni Tracker. This little project was originally begun way back in 2008-09 by Michael Princip, who retired after several seasons, whereupon the project was continued by Tim E. O'Brien. He, too, retired from the tracking, but the project has been ably kept up by the man who also tracks the Pac12, Dennis Bolt.
Here's this week's Uniform Combo for the Ducks (you can click to enlarge):
You can read about this uniform, and MUCH MORE, by checking out the Duck Tracker here!
Joe Ringham's 5 & 1
Following in the footsteps of the original "5 & 1," Jim Vilk, and Catherine Ryan after him, Joe Ringham is back for 2016 to make his "5 & 1" (five good looking and one stinker) uni-vs-uni matchups. Sometimes he'll have some "honorable mentions" and sometimes there will be more than one "bad" game. You may agree and you may disagree — these are, after all, just opinions and everyone has one. Feel free to let him know what you think in the comments section.
Here's Joe:
. . .
Greetings everyone! Hopefully you've all had a safe weekend. Let's get right to the list and see who made the cut this week.
5) Georgia Tech at Pittsburgh — Tech looked great in the white/white/gold road set they broke out for this one. But Pitt looked awesome in their yellow/blue/yellow throwback home set. And I'm even breaking a little rule of mine by having the Panthers in here for the second week in a row. A real strong looking game in the Steel City.
4) Vanderbilt at Kentucky — Love the Cats home white/blue/white look, especially with the checkerboard design on the sleeves. It really matched up well against the black/white/gold of the road Commodores and made for a fine looking game.
3) Bowling Green at Ohio — The Bobcats always look great when they go with this white/green/white home look. One of the best looking home sets in the MAC, even with the truncated pant stripe. It really matches up well against the white/white/orange that the Falcons went with. Very sharp.
2) Iowa State at Oklahoma State — The Cowboys brought out one of my favorite looks of theirs, going orange/black/orange. My did that look sharp. I'm really starting to dig ISU's anthracite pants too (I know others don't like them, but I do), and they look great with the white lids and shirts ISU went with.
1) Purdue at Illinois — This was a very surprisingly great looking game. Always love when the Boilermakers go with their traditional gold/white/gold road set. It seemed to make the Illini's orange/blue/orange home look, my favorite of their seemingly many looks, that much sharper. Just a really awesome looking game in Champaign.
Just off the board: Army at Duke
And, finally…
+1) TCU at Kansas — At first, I kind of liked this game. But, the more I watched it, the uglier KU's red/blue/red started to look to me.
That will do it for me. Enjoy the week, everyone!
NCAA Uni Tracking
Uni Watch will again track the uniform combinations worn by the "Power 5" conferences. Most of the 2015 trackers are back, with one new tracker added:
We've got Rex Henry (tracking the ACC), Dennis Bolt (tracking the PAC-12), Kyle Acker (tracking the Big XII), Davis Vinckier (tracking the B1G), and Ethan Dimitroff, (tracking the SEC). Rex, Dennis, Kyle and Davis are all returning from 2015, and Ethan is new to the NCAA Uni Tracking this season
Here are the Uni Trackers for WEEK SIX of the NCAA Season.
Got a full set this weekend, with Ethan returning from his Honeymoon. Congrats, again Ethan!
Good now…onto the tracking…
+ + + + + + + + + +
Rex is up first today (ACC):
. . .
ACC

More Here.
Follow Rex on Twitter here.
. . .
And now, here's Dennis with the PAC-12:
PAC-12

More here
.
. . .
And here is Ethan, with the SEC:
SEC

. . .
And here is Kyle with the Big XII:
Big XII

. . .
And here's Davis the B1G:
B1G
. . .

Paul's Latest on ESPN
In case you missed it on Friday, the NHL's regular season begins next Wednesday, which means it's time for Paul's annual Uni Watch NHL Season Preview, which runs down all of the new uniforms, patches, and related news for 2016-17 (including the Panthers' new uniforms, shown here).
It's a great read, so check it out here.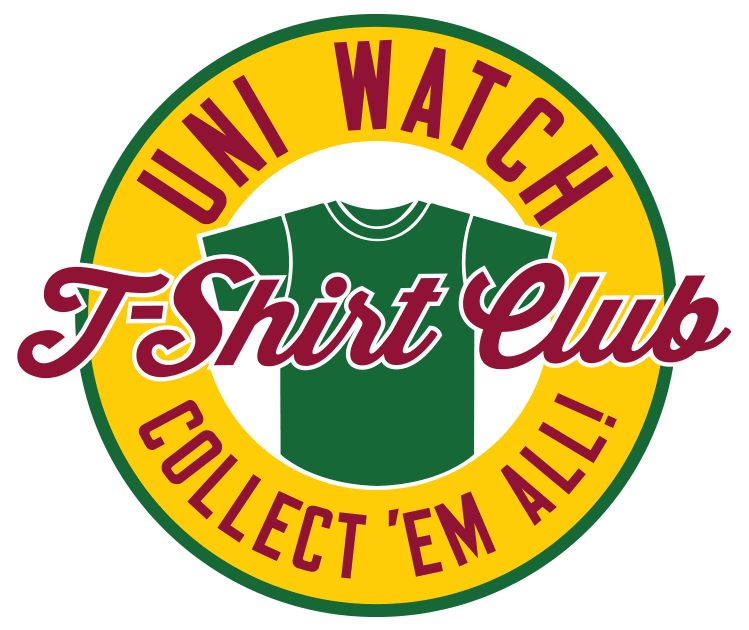 Important T-Shirt Club update: Paul here. In case you missed it yesterday, it's been brought to my attention that the Uni Watch T-Shirt Club's most recent offering — the soccer shirt — has some problems. First, the orders took way too long to ship. And now that the shirts are finally arriving, most of them — maybe all of them — don't have the jock tag graphic.
All of this is embarrassing and unacceptable. We will make it right.
As most of you know, this was our first shirt with a company called Represent. We switched from Teespring to Represent because my designer and creative partner on the T-Shirt Club, Bryan Molloy, who used to work for Teespring, recently took a job with Represent. He assured me that Represent was a first-rate company and that the product and service would be better than Teespring's.
Brian, who's as surprised and disappointed by all of this as I am, has explained to me why the jock tag wasn't included. It's too technical to explain here (having a graphic at the base of the shirt requires a different kind of screen, which in turn requires a different design file, which has to be prepared a certain way, blah-blah-blah), but the short version is that Represent messed up. We're still trying to get a good explanation for why the orders took so long to ship.
I've been told that Represent will reprint and reship all of the shirts — this time with the jock tag — and their expense. If for some reason they do not follow through on this, I will have it done myself, at my expense.
It is mortifying to have our first shirt with a new supplier go so badly. We're currently finalizing the design for the next shirt, which will have a football motif, and are assessing our options for how to get it produced. I promise that we'll choose the option that's best for you, not the one that's easiest for us. (If those two things turn out to be one and the same, so much the better. But I'm not assuming that that will be the case.)
For what it's worth (which I admit isn't much), several of you have told me, "It's a great shirt — good quality, crisp printing. It just took too long and one of the elements is missing." So at least there's that.
My apologies to all our customers, and my thanks for your patience. Hang in there — we'll get it fixed.
Uni Watch News Ticker
By Phil

Baseball News: On Friday night, for the post-game presser, Cubs skipper Joe Maddon appeared in a pullover v-neck. Jimmer Vilk approves (from Phantom Dreamer). … Yesterday marked the 60th anniversary of Don Larsen's World Series perfecto. Here's a rare color photo of the scoreboard after the game (h/t Bruce Menard). More pics and info here. … "Priority boarding for wearing merch?" asks William Yurasko. "Uh. Washington Nationals (@Nationals) tweeted at 0:22 PM on Sat, Oct 08, 2016: Take your Nats pride to the sky. Starting today, wear #Nats gear and get @Delta fan priority boarding out of #DCA." … The Doosan Bears of KBO had some Tri-color throwbacks on (I'm guessing yesterday). From Graveyard Baseball. Also from Gravy: Chinatrust Brothers of Taiwan's CPBL League have some Banana looking outfits.

NFL News: Tomorrow evening, for Monday Night Football, the Carolina Panthers will break out their beautiful blue jerseys. … Not surprisingly, the Broncos will wear their orange tops and white pants against the Falcons today at home. … "Found this in a box full of photos," writes Frank Mercogliano of this awesome old Denver Broncos patch. He adds, "This is a radical find."

College Football News: Those gorgeous Miami Hurricanes throwbacks that they wore yesterday? Yeah, they're so good they're going to wear them again, including the road version, which they'll debut in a couple weeks. … Indiana QB Richard Lagow wears No. 21. It's odd, but he's not the first signal caller to don a high number (from Andrew Lind). … Shea Patterson wears 20 at Ole Miss too (from Randy Morgan) … We've known for a while that Ohio State is going to wear 1916 throwback uniforms against Nebraska. Now we know for certain what they'll look like, as sources have shared the retail version of the jersey. … Great old school graphics for Miami's 'throwback' unis last night (from Robert Hayes).

Hockey News: The Captaincy patches for Arizona State hockey are shaped like the state (from Terry Mark). … Also from Terry Mark: ASU hockey helmets have player numbers on state-shaped decals.
.

NBA News: Reader Steve Dodell writes, "Was watching highlights of Pete Maravich…at the 1:00 mark, you see the Hawks against the Bullets in the early 70s, both wearing their racing stripes…wow!" … You didn't think the NBA would escape Pinktober, did you? Of course not. Here's LeBron James wearing pink Soldier 10s (from Mike Chamernik).

Grab Bag: It's EVERYWHERE! Ben's deli apparently has pinktober matzah balls (from Brian Wulff via Paul). … The Wells Fargo Center has turned 20, and there was a very odd half hockey rink/half basketball court setup there (good spot by Christopher Patrick).
That's all for today! I'll catch everyone next Saturday — big thanks to the entire Sunday Morning Uni Watch Crew for all their able assistance today!
Follow me on Twitter @PhilHecken.
Peace.
.. … ..
"Look at you! Have you ever kissed a girl?"
— Mike Styczen