Anton Khudobin getting scientific and whatnot pic.twitter.com/Mwm0Qqv5h6

— DJ Bean (@DJ_Bean) October 6, 2016
Here's a new one: As you can see in the video shown above the bottom of Bruins goalie Anton Khudobin's new mask changes colors depending on whether hot or cold liquid is poured over it. It was made with "subzero" paint, which provides the color-shift feature (further info here). Of course, NHL goalie masks don't usually come into contact with hot liquids during a game, so it's hard to imagine how this feature will actually come into play, but it's still pretty interesting.
(My thanks to reader Nick Griffin for letting me know about this one.)
•  •  •  •  •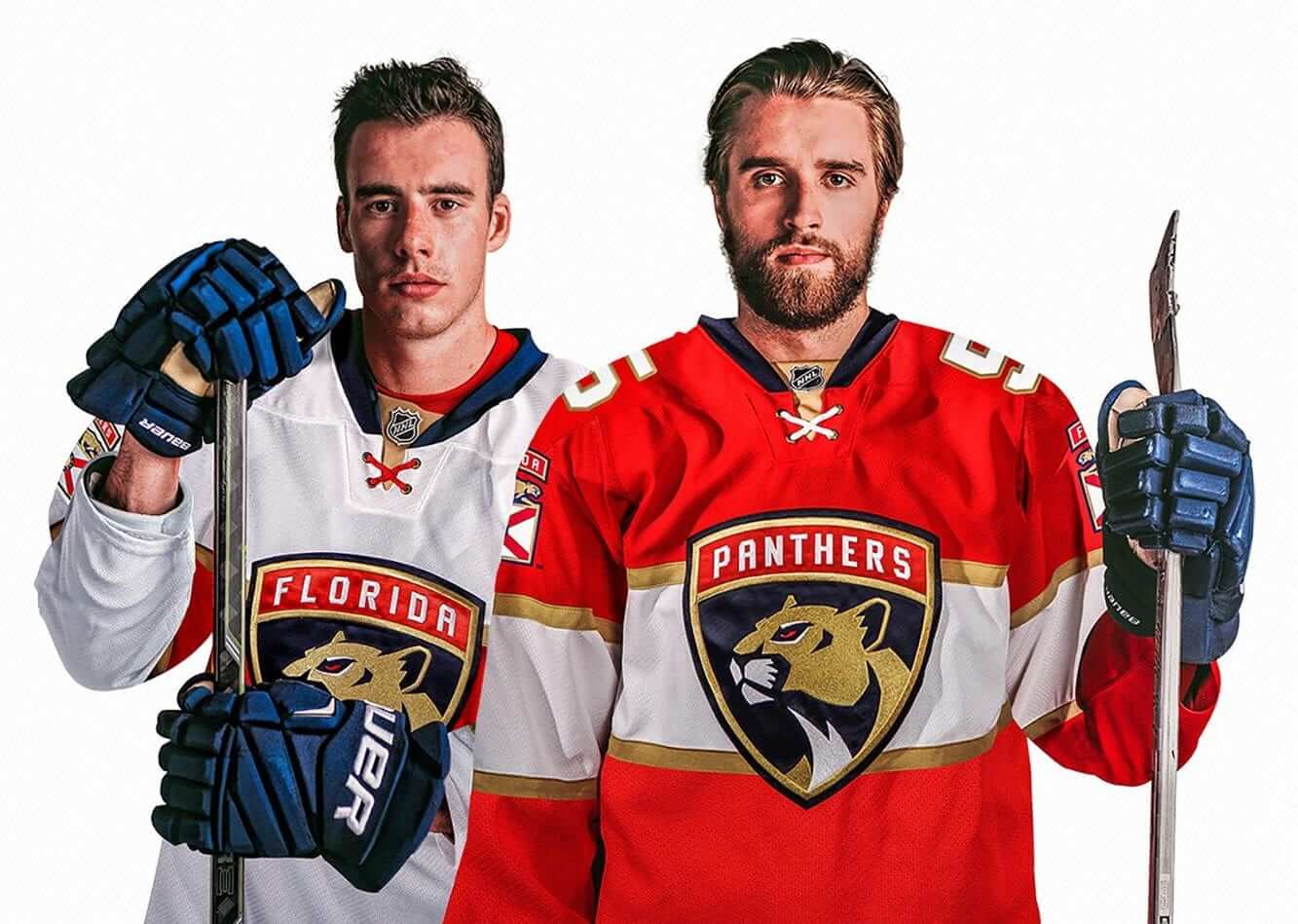 Click to enlarge
Time to drop the puck: Speaking of the NHL, the regular season begins next Wednesday, which means it's time for my annual Uni Watch NHL Season Preview, which runs down all of the new uniforms, patches, and related news for 2016-17 (including the Panthers' new uniforms, shown above). Check it out here.
•  •  •  •  •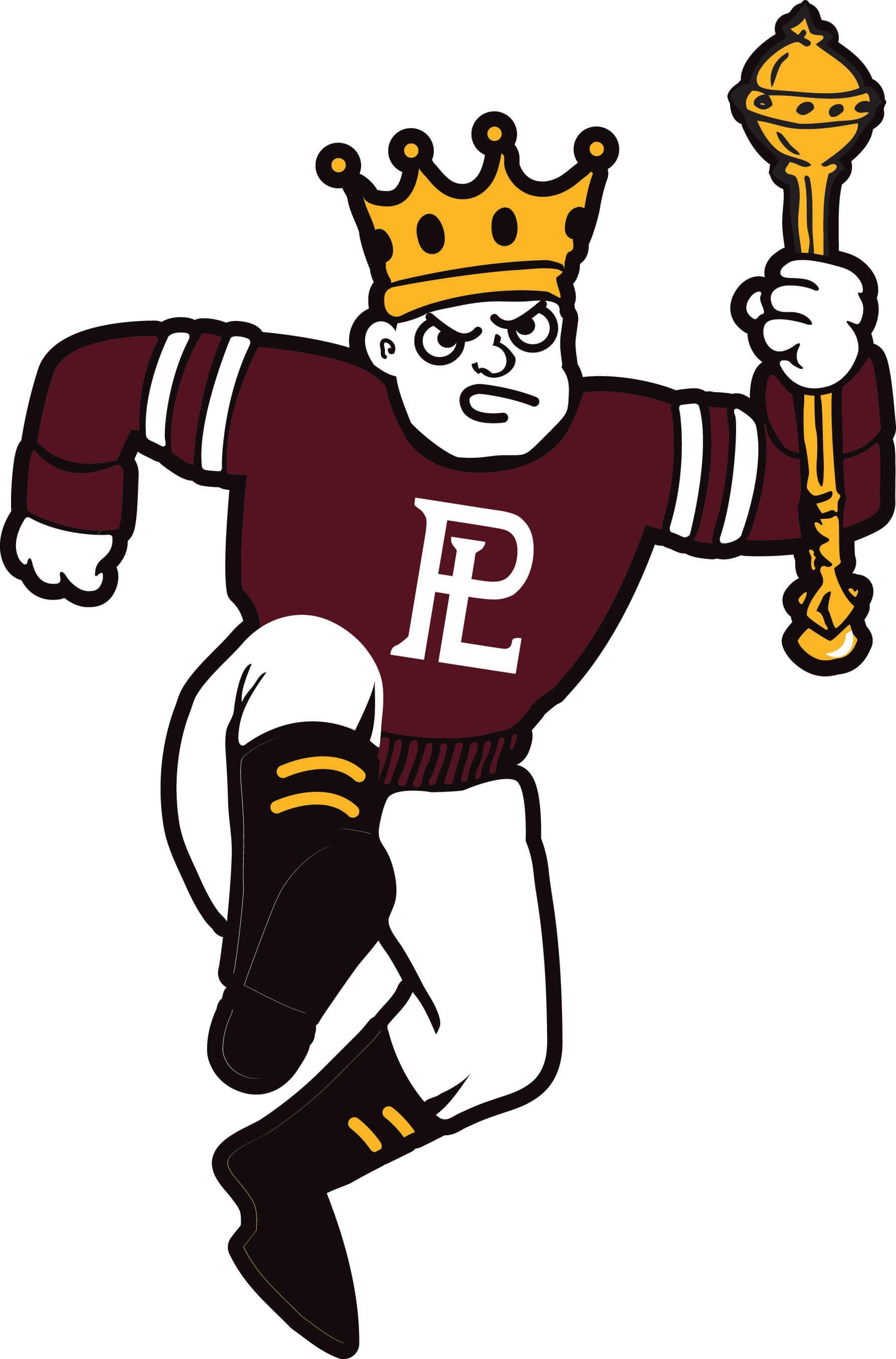 Heavy is the head that wears the crown: Like a lot of people, I identify strongly with my initials, PL. So a little button was definitely activated in my head yesterday when I stumbled across the mascot character for Papillion-La Vista High School in Nebraska. The school's teams are called the Monarchs, and their character (shown at right; click to enlarge) is an agitated-looking king wearing what appears to be a varsity sweater. It's an entertaining spokescharacter, but what really makes it for me, of course, is the "PL" insignia. And look, he's even holding his scepter in his left hand!
I can already hear a bunch of you saying, "That's perfect for Paul, who's always agitated about something and acts like he thinks he's king!" Fair enough — go on, I can take it!
Interestingly, if you go to the school's website, they use that same "PL" logo on their home page and throughout the rest of the site — except for their favicon (the little logo on the browser tab), which uses a slightly different "PL" mark, with the "L" sitting lower. I like that one a lot better, frankly, but I don't get to see my initials "in the wild" very often, so I'll take what I can get.
(Update: Commenter Jon Colosimo points out that the Monarchs character is basically a straight rip-off of this Minnesota Golden Gophers mascot rendering. Shame on me for not picking up on that, and bigger shame on the school for poaching Minnesota's logo instead of coming up with something more original.)
•  •  •  • •
The Ticker
By Paul

Baseball News: Three American League teams wore caps with New Era logo creep for the first time last night. Here's how it looked for the Indians, Rangers, and Red Sox. Also, as you can see in that last photo, the Sox wore their blue road alts — odd, since they normally wear those only on Fridays. … The Chicago Tribune has put together an interactive page showing every Cubs uniform since 1903. A few readers have already found some inaccuracies in it, so feel free to nitpick (thanks, Mike). … A Big Papi tribute that we missed: Last Saturday a bunch of Celtics players showed up at Fenway and wore Celtics jerseys with No. 34 in the Bosox's McAuliffe font (Mike again). … A retired woodworker has created a scale model of Memorial Stadium in Baltimore, where the Orioles used to play (from Andrew Cosentino). … In yesterday's lede, I noted that Mets 2B T.J. Rivera had "714" written inside his helmet. Turns out most Mets have something written in there — "734," "738," or whatever. Apparently refers to hat sizes — 7-1/4, 7-3/8, etc. Thanks to Mike Styczen for cracking the code. … Anthony Rizzo and David Ross of the Cubs swapped jerseys at yesterday's workout (from Adam Steinberg). … Back in 1967, National League players were fined $25 for wearing their pants down at their ankles — even if they did it during BP! (Great find by Jerry Wolper.)

NFL News: Last night's Color Rash game featured one of the league's worst standard uniforms (Cardinals mono-white) vs. one of the league's worst alternate uniforms (49ers mono-black). Aside from being a brutal-looking matchup, it was also nothing new, except for the socks. Additional photos here, if you dare. … Neglected to mention that when the Vikings hosted the Giants on Monday night — Minnesota's second home game of the regular season — they did not wear the stadium patch that they'd worn for their home opener two weeks earlier. So although the patch says, "Inaugural Season," it will apparently be used only for the inaugural game. … This Sunday will mark the final appearance of the Steelers' bumblebee throwbacks (from Jerry Wolper).

College Football News: Military appreciation uniforms tomorrow for Eastern Washington (from Alex Bruder). … UNC has pink-outlined 20-yard lines this week (from James Gilbert). … Here's a piece advocating for today's coaches to follow Barry Switzer's lead by wearing "Beat Texas" (or whoever) caps (from Jason Hillyer). … Did you know Arnold Palmer was a Wake Forest grad? The Demon Deacons are adding a helmet decal and an on-field logo in his memory. Other Wake sports teams are expected to wear some sort of uniform memorial for Palmer as well (from @kd1914). … Okay, so it's a few rungs below the college level, but this has gotta be the best sandlot football photo ever. One kid's wearing a baseball catcher's shinguards, and another's using a saucepan for a helmet! Love that there's a girl playing with the boys, too (from the always awesome BSmile).

Hockey News: The Lightning are going to retire Martin St. Louis's No. 26 (thanks, Mike). … The Penguins made an "Obama 44" jersey for the President, complete with custom tagging (from Matt Pontoriero).

NBA News: Check this out: a Thunder starting lineup consisting of five players whose uni numbers use a total of only three numerals — 0, 1, and 2 (from Paul Deaver). … We tend to think of color vs. color as a fairly recent phenomenon, but Kris Kolob found video from a 1982 Jazz/Lakers game that was green vs. purple. Turns out it was held on St. Patrick's Day. … Slight court-design adjustment this season for the Pistons — old version on top, new on bottom (thanks, Mike).

College Hoops News: New uniforms for St. Bonaventure. … Marquette's new uniforms will be unveiled tonight, but they've released a teaser video with lots of hints. … Interesting new uni for Nevada. Not sure what color that script is supposed to be — silver? putty? — but I like it. Doesn't work quite as well as an outline color on the numbers, though (from John Frémont). … Florida — and, I think, a lot of other Nike-outfitted schools — has a trimmer cut this season. … New home uni for Wichita State (from Drew Bridges). … New light-blue road uniform for Georgetown (thanks, Phil).

Soccer News: "English soccer clubs were allowed to have shirt advertisers beginning in 1977, but they were prevented from displaying them in televised games until 1983," writes Denis Hurley. "Coventry City's jersey carried the Talbot logo so prominently that they had to completely alter their kits for televised games."

Grab Bag: New logo for the city of Las Vegas. … More pink police and sheriff's badges, this time in Fulton County, Ill. … Pretty sure we've linked to this before, but once more won't hurt: Love these photos of objects matched up to their Pantone color chips (from Jeff Ash). … I'm not a NASCAR fan, but I might start rooting for driver Kasey Kahne — in fact, we should all start rooting for him — if only because of his new car advertiser (from David Firestone). … Great photos and info in this article about the last upstairs bowling lanes in the St. Louis area (big thanks to Mark Smith).
• • • • •
As Hurricane Matthew bears down on the eastern seaboard, I'm thinking of all the members of the Uni Watch community who live or have loved ones in the storm's path. That includes Uni Watch webmaster John Ekdahl, who moved his family to safer ground yesterday. It also includes the Tugboat Captain's parents, who live in Jupiter, Fla., and are trying to ride this one out. Be safe, everyone — my thoughts are with you.