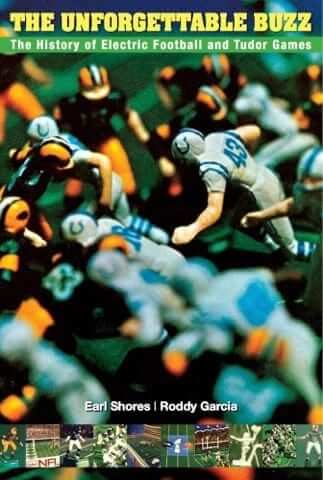 [Editor's Note: Today we have a book review from "Collector's Corner" columnist Brinke Guthrie. "" PL]
By Brinke Guthrie
Timing. Timing is everything.
When you read through the book The Unforgettable Buzz: The History of Electric Football and Tudor Games by authors Earl Shores and Roddy Garcia, you realize that it was all a matter of timing. This massive, 652-page look at the game that ended up under so many Christmas trees takes an exhaustive look at electric football, and how it became a pop culture institution, hitting football-happy kids "like a blitzing linebacker," as the book puts it. (You can get a feel for the book's look by checking out these pages and spreads.)
Tudor got into the electric football arena in 1949, led by a visionary named Norman Sas, the son of Tudor founder Elmer Sas. Tudor already had a vibrating car race game, so Sas used that as the base for his new football game and created small players that moved around the field as the "field" vibrated and buzzed.
There was an annual event in NYC called the Toy Fair, which was held at the beginning of each year, and it was here that buyers would see what was on deck for the next Christmas shopping season. Tudor brought their initial electric football effort to the 1949 show. It would eventually take off, and the resulting success would draw competition, initially from a company called Gotham.
Tudor battled it out with Gotham over the years. (Gotham had a Namath game, and one game even had lights! I'd never seen that before.) Gotham also initially held an official NFL license, which Tudor would eventually acquire after initially declining it. This was a key to Tudor's success, as were such innovations as the intricate player poses they were able to create and the detailed painting process they farmed out to Hong Kong. Sas was in charge, but a designer named Lee Payne was the talent behind the player and game designs. His contributions were a key component to the electric football story.
But what really made the game a success was timing. About the time electric football was catching on, the NFL and something television were also catching on. Games on the tube were initially few and far between. But as the league grew, so did the TV contracts, and the televised games were basically weekly commercials for electric football — Tudor in particular.
Big retailers had a lot of muscle back in the day, and the book devotes a lot of time talking about the big stores like Sears and Wards. Sears in particular was the 300-pound gorilla, and they had the retailing power to make or break sales, so Tudor would often make special-edition games for Sears. Gotta play nice with the big boys.
In the mid-1970s, the game took a hit from air hockey and a failing economy. But bigger competitors were looming on the horizon: electronic games, and then video games. Once they got a foothold in the marketplace, electric football was viewed as little more than a quaint novelty. Sales plummeted, and Tudor was sold in 1988. Electric football is still made and sold under the Tudor brand name, but it's no longer the cultural force it once was.
I got my Tudor game (Colts-Cowboys) for Christmas in 1971 and remember it well. Many times I'd send off to 176 Johnson St. in Brooklyn — Tudor's address — for different team sets. I'd then organize them carefully in a tackle box I bought just for them. I had discarded the big game and just set them up on a living room table, imagining the plays. "No. 41, Dave Osborn, Vikings — sweep right."
If you had an electric football game while growing up back in the day, this book is a terrific look back in time. And if you're too young for that, the book is a fantastic window into the game that energized an entire generation of football fans. Either way, it's a matter of timing.
———
Paul here. Thanks, Brinke — good stuff. I had an electric football game too. Got it when I was 10, I think, although I don't recall which teams it came with.
It's worth noting, incidentally, that 176 Johnson St. — Tudor's old address — is a short walk from Uni Watch HQ. Like so many Brooklyn light-industrial spaces, it has been converted to luxury residential spaces. Too bad.
• • • • •
New Era logo creep, continued: The logo creep era for MLB headwear begins tonight, as the Blue Jays and Orioles will be wearing the New Era maker's mark on their caps in the American League Wild Card game. The Mets and Giants will do likewise tomorrow night, as will the six other playoff teams once we proceed to the next round of the postseason.
Here are most of the caps worn by the 10 postseason teams, so you can see which color the maker's marks will be rendered in (if you can't see the slideshow below, click here):
Speaking of New Era, here's a good piece on how they've prepared for the postseason. One interesting detail is that players who superstitiously want to keep their existing caps are allowed to do so. A company exec travels with a portable heat-sealing machine to personally apply the postseason logo to those players' caps.
Also: If the Cubs win, New Era expects that to be very good for business.
(My thanks to reader David Lee for those last two links.)
• • • • •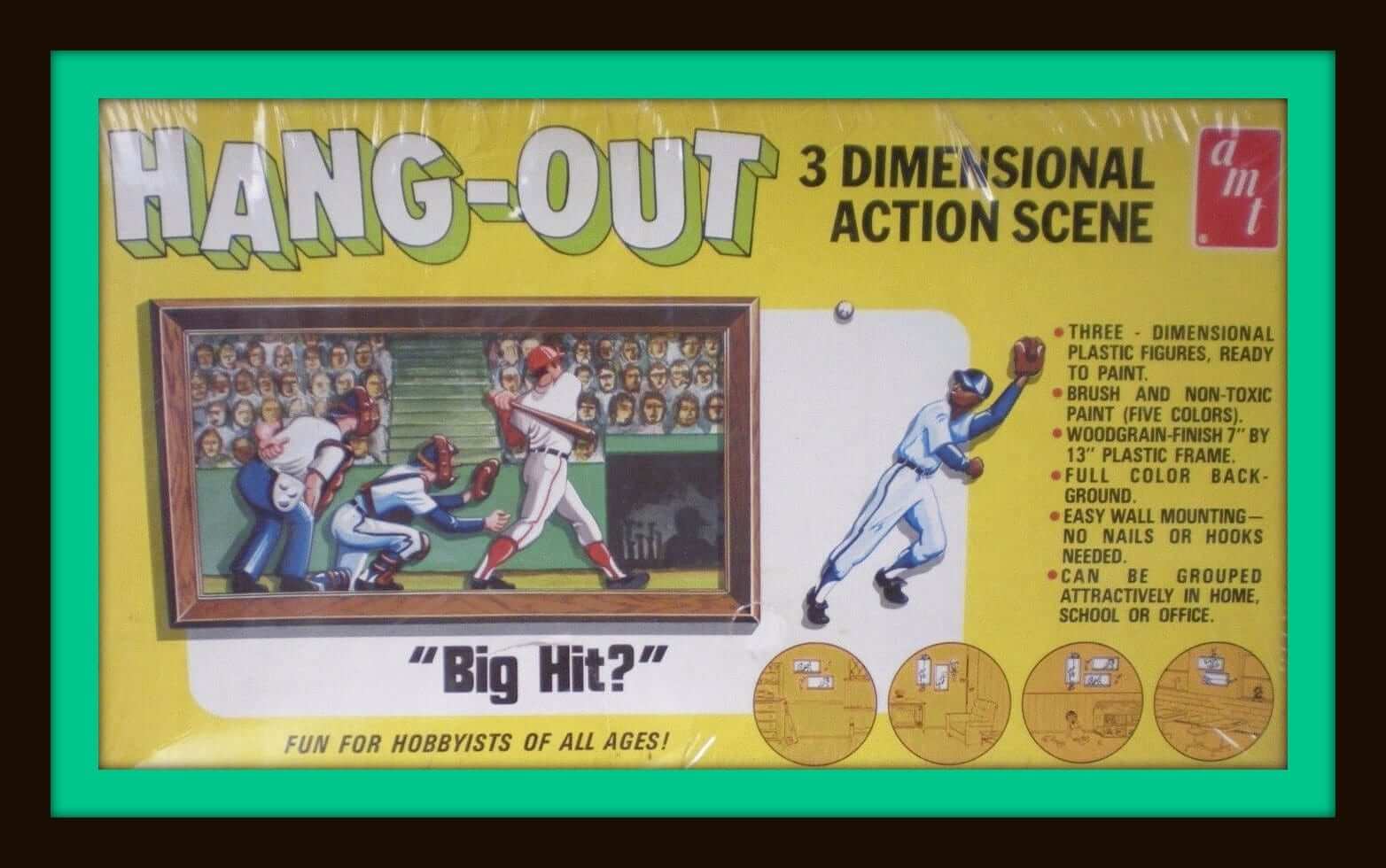 Click to enlarge
Collector's Corner
By Brinke Guthrie
Ever seen these before? Three-dimensional sports diorama kits made by AMT (most famous in my mind as the creators of the Star Trek model series back then), called "Hang-Out." They made baseball, football, and a few other versions if you check the side of the box. Obviously Johnny U. on the box art!
Now for the rest of the week:
• Here's an assortment of 1970s NFL team stickers, including the Lions, Pats, Chiefs, and Sir Saint. There's also a separate listing just for Pat Patriot stickers — truly the standard for 1960s NFL logo art. And notice how the facemask on this Giants helmet sticker is pointing a bit south.
• This NFL lunch box has clearly seen better days, but terrific artwork of Jim Everett and Tony Dorsett among others on the front.
• Jets fans, try this 1970s team wristband on for size. Packaging includes that classic "Officially Licensed Product" logo.
• The Atlanta Falcons were "For Real" in the 1970s, as it states on this T-shirt.
• This 1970s Cleveland Browns kids' "Puffer Vest" was made by Stahl-Urban.
• Nice fat helmet striping on this 1970s New York Football Giants glass.
• One more glass, this time with great artwork for all the AFC teams.
• Here's an NFL All-Pro Football Board Game.
• They did a good job on the helmet wings of this 1960s Eagles bobblehead!
• I had this one! This early-1970s Kansas City Chiefs poster shows No. 89 Otis Taylor.
•  •  •  •  •
The Ticker
By Mike Chamernik

Baseball News: The Phillies commissioned glove artist Sean Kane to paint commemorative gloves for Ryan Howard and Chooch Ruiz. … Here's a few neat MLB jersey number factoids from the 2016 season, all from @NumbersMLB: Nine players wore three or more numbers, eight teams had three players wear the same number at different times (the Pirates had two numbers), and the Yankees had seven numbers worn by three or more players. … The Diamondbacks may make some alterations to their pants next season. … Speaking of the D-Backs, here's how they performed in each uniform combination this year (from Edward D. Kendrick). … Tom Konecny attended the Nats/Pirates game in Pittsburgh two Sundays ago. He said that the scoreboard displayed Expos logos when showing Nats players. The Pirates wore 1979 throwbacks that day, but the Nationals wore their regular red alts. … The Buffalo Bisons revealed a logo for 30 seasons at their ballpark, which is currently named Coca-Cola Field.

NFL News: Giants RB Bobby Rainey sported a trippy mouthguard last night (from Alex Sinclair). … Reprinted from yesterday's comments: Cowboys WR Terrance Williams and 49ers CB Rashard Robinson both wore black towels on Sunday, instead of the usual Wilson towel. Robinson is also one of the Niners who raised their fists during the national anthem prior to that game. Could the black towels represent some kind of protest? … Here's a big infographic that calculates the most loyal franchises in the league (from Ally Kern). … Brian Forosisky imagined full-out Pinktober uniforms for the Steelers and Browns. I'm aware of all the connotations around pink, but for what it is, black-and-pink isn't awful, at least in my view. … Yesterday, Paul discussed how teams handle the striping tape that goes over the SpeedFlex helmet's flex panel. Omar Jalife notes that the Cowboys use the cut tape approach during training camp while going solid striping during games. … Johnny Manziel is working to protect rights to the "Johnny Football" trademark. … In one sentence about Tom Brady's impending return to the Pats, Comcast managed to get sooooo many things wrong (from Matt Shepardson).

College and High School Football News: Oregon will wear 1916 Webfoots throwbacks on Saturday. The school changed some of its details since the April unveiling, including switching to black helmets and pants (from Phil). … Boston College will wear uniforms that honor "The Man in the Red Bandanna" for the game against Clemson on Saturday. Welles Crowther was a BC grad who saved a dozen lives during the September 11 attacks. He was known for his red bandanna. … Nichols will wear fire department-inspired uniforms on Saturday. … The trend of players kneeing during the national anthem has spread to high school football players in Colorado and Wisconsin. … Riddell awarded $10,000 in equipment upgrades to six high schools and four youth football programs. The program "recognizes youth and high school football programs throughout the U.S. and Canada for their commitment to implementing safer and smarter playing techniques" in both practices and games. More info here. … Here's Auburn coach Gus Malzahn's record as broken down by vest and visor (tracking graphics by Clint Richardson, via @TonyAggie).

Hockey News: The Coyotes issued an apology to their fans for using taglines and slogans for the upcoming season. Of course, the letter ends with a series of clichés. … Also, the Coyotes are placing their captaincy C and A patches next to their 20th anniversary logo. Unusual to see two patches on the same side of the jersey (from Josh Pearlman). … You still have 11 days to submit your best Carolina Hurricanes poster concept (from Todd Delk). … New jerseys for Providence. The Friars switched from Gemini Athletic to Nike. This is what they wore last year (from Dan Herr). … The recently relocated Tucson Roadrunners showed off their practice jerseys and equipment (from @hockeyinthecac). … Pink jerseys for the Everett Silvertips of the WHL. … Some more details and photos emerged of the white-on-white exhibition game between Florida and Dallas the other night. The Panthers assumed the Stars were bringing their home sweaters, so the Panthers only brought one set of jerseys on the road trip (from Jerry Wolper). … Regina Pats goalie Tyler Brown wore a pink mask and pink equipment during Sunday's game (from Wade Heidt).

NBA News: Reprinted from yesterday's comments: Yesterday's Ticker mentioned that Warrior F David West protested the national anthem prior to Saturday night's Warriors/Raptors game by standing a few feet behind his teammates. It turns out that West has actually been doing that for years (from Iain Landon).

College Hoops News: Yesterday the Supreme Court said it will reject the Ed O'Bannon antitrust case against the NCAA. … Bowling Green will wear a "NT" patch in memory of Nate Thurmond. The Hall of Fame center took the Falcons to the regional finals in the NCAA tournament in 1963, the furthest the school has ever gone (from Noel Blaha).

Soccer News: We noted this last week, but the Fort Lauderdale Strikers debuted their pink-themed jerseys the other day (from Derek Reese). … New road unis for the Tacoma Stars, an arena soccer team. The team is just one letter swap and two spaces away from being the Taco Masters (from Brandon Sparks). … Check out this great 1930s ad for soccer shoelaces (from Will Scheibler). … A Republic of Ireland player got to wear No. 10 as the result of a coin toss (from Denis Hurley).

Grab Bag: An auto repair shop in Wisconsin is offering pink wiper blades (from @Phathead). … At least one Bojangles has pink drinking straws. I'm assuming that George Huff wasn't just drinking pink lemonade. … Aussie football shocker, as the Geelong Cats have unveiled a new uniform with sleeved jerseys and pocketed shorts (from Leo Strawn Jr. and Liz Day).