It'll be like looking in a mirror for Oregon on Saturday.

(via @GoDucks) pic.twitter.com/RFCgg3V1i7

— ESPN (@espn) September 23, 2016
The Oregon Ducks will be a little more duck-like for tomorrow's game against Colorado, as they'll be wearing orange facemasks, socks, and cleats, mimicking the orange elements of a duck — or at least the orange elements of their own duck mascot, as seen in the hilarious animation above. There are lots of additional photos on this excellent page, which tells the full backstory of Oregon's relationship with duck-themed iconography. Strongly recommended.
I kinda love this — the uniform, the animation, the backstory, all of it. In an era when every just about every team identity is based on being ferocious and intimidating, and when every uniform "story" is based on some fairy tale of valor, honor, courage, blah-blah-blah, it's pretty cool to see Nikegon daring to be silly. Good for them! And hey, it's a good-looking uniform.
I've heard a few people say, "Orange isn't even an Oregon team color!" True, but that train left the station years ago. Ditto for the complaint that orange is an Oregon State color. Way back in 2006, Nike exec Tinker Hatfield told me that Oregon would never have a black helmet "out of respect for Oregon State, because they have black helmets." Well, we all know how that one turned out. Look, Nikegon's gonna do what Nikegon's gonna do. The only remaining issue is whether their weekly experiment looks good. I think this one does.
Meanwhile, reader Clark Ruhland figures Virginia Tech could do something similar based on its Hokie Bird mascot: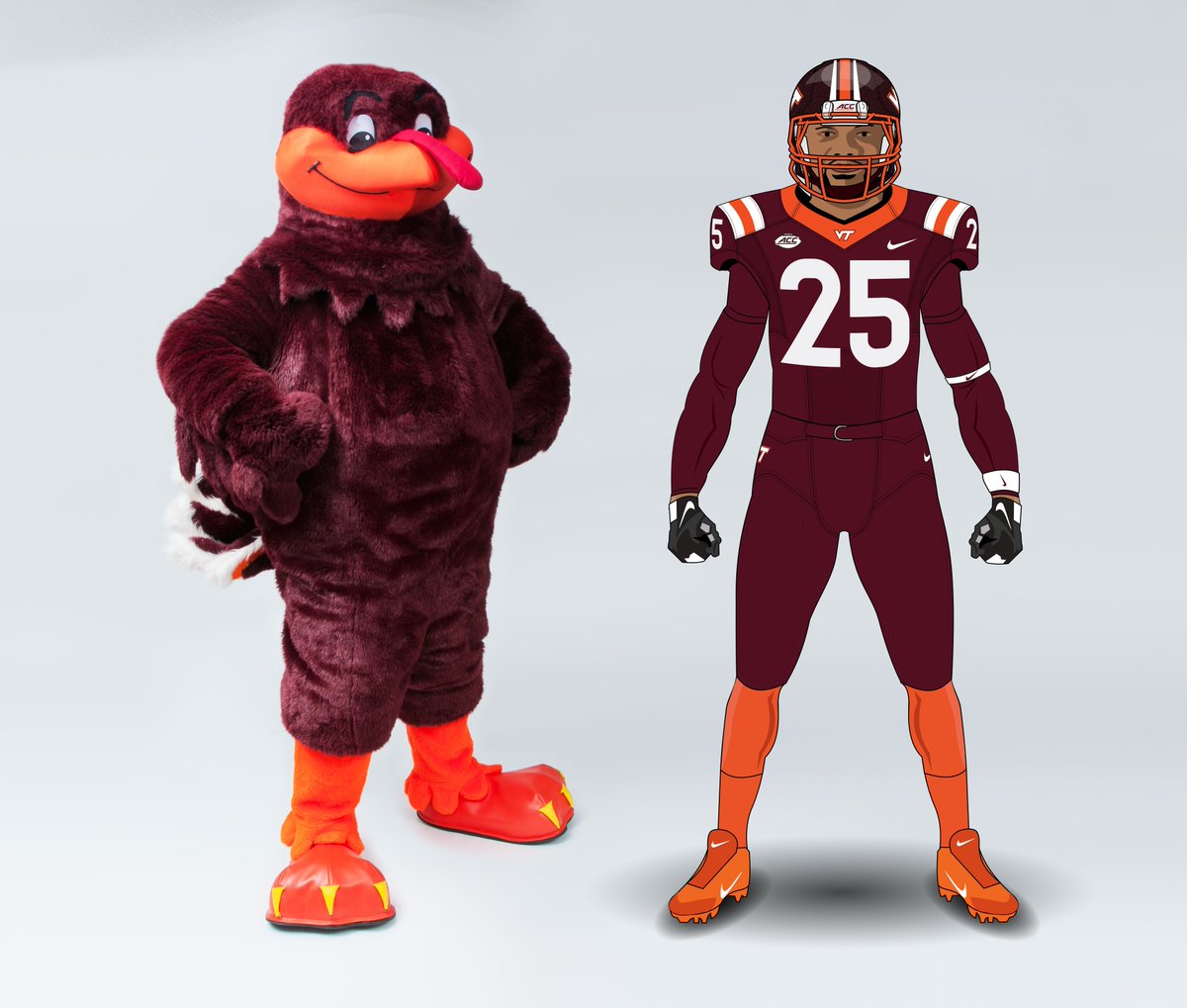 And that in turn led reader @Interpolyester to propose a Steelers version based on Steely McBeam:
And so on.
•  •  •  •  •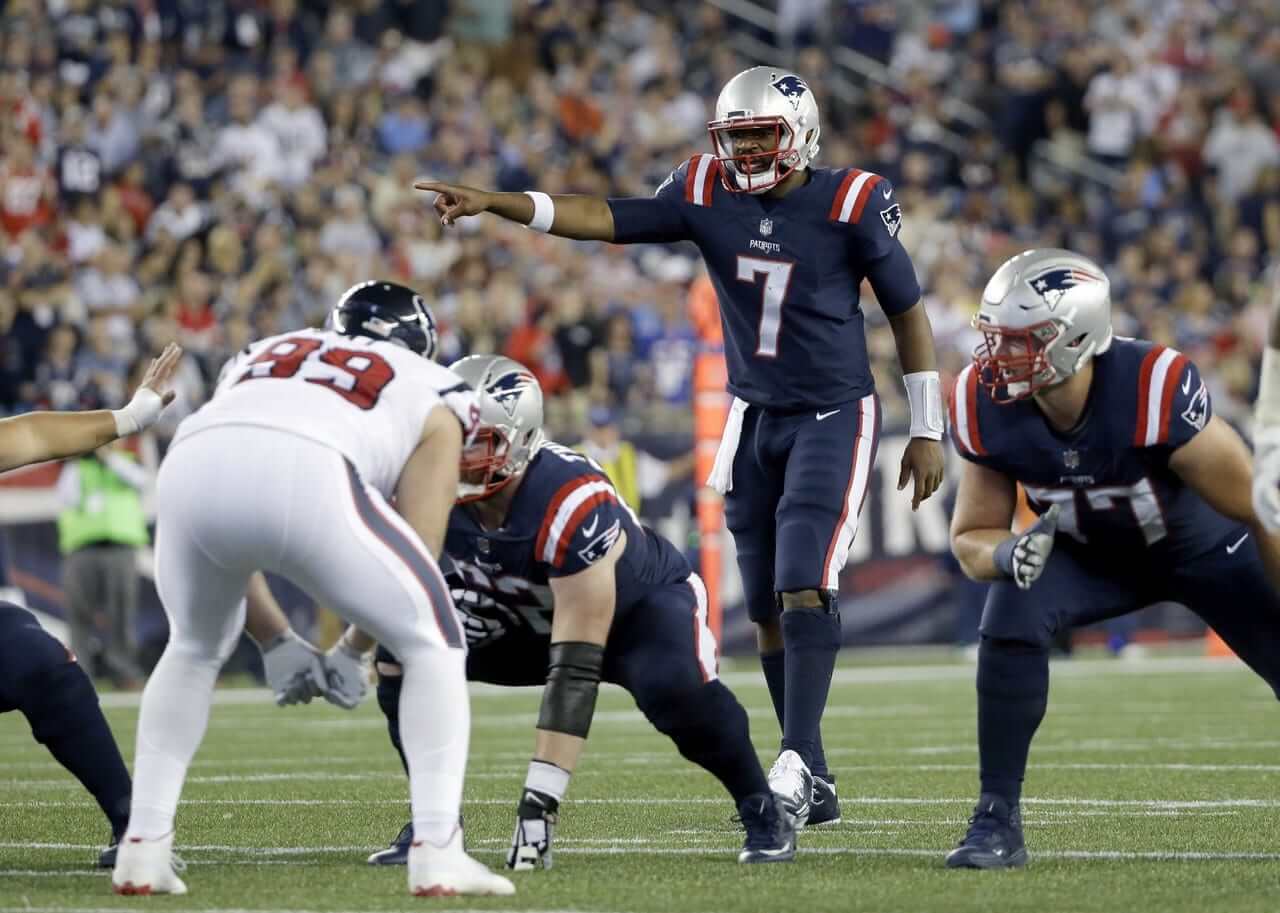 Click to enlarge
Color Rash, continued: Last night's Color Rash game featured the white-clad Texans (a look they've worn many, many times, except it usually includes blue-topped socks), playing the solid-blue Patriots (who would've looked a lot better without that thick striping on the pants; in fact, their standard road pants would've been a better choice).
I heard from a lot of people who said, more or less, "The Pats should use this jersey full-time, with white pants!" Me, I'm not quite as enthusiastic. I love UCLA stripes as much as the next guy — maybe more — but I love them a lot more when they wrap farther down than the Pats' stripes did last night. (There's also the issue of these jerseys not having TV numbers. I don't necessarily have a problem with that, but I doubt the NFL would allow it on a full-time basis.) But if someone with Photoshop skills wants to show us how this jersey would look with white pants — or with the team's current silver pants, for that matter — I'd happily take a look.
•  •  •  •  •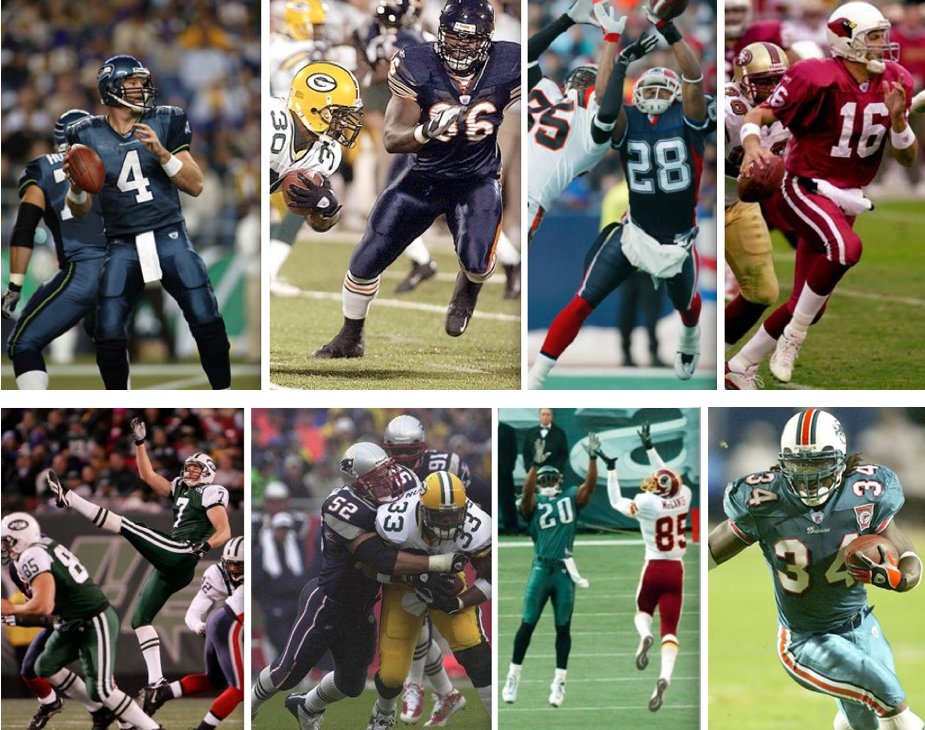 Click to enlarge
Friday Flashback: With all the fuss over Color Rash, my latest Friday Flashback column on ESPN looks at the history of NFL teams wearing mono-colored uniforms (including the many teams that went mono in 2002, some of which are shown above). Check it out here.
• • • • •
Special discount offer: I've said this many time before, but it bears repeating: Bill Henderson's Game Worn Guide to MLB Jerseys is absolutely essential for anyone who cares above the history of baseball uniforms over the past 45 years. I find myself using it on a near-daily basis, and you'll probably find it useful too (even if you don't write about uniforms for a living like I do).
The current edition of Bill's guide, which covers every MLB game jersey and BP jersey from 1970 through 2015 (and also includes coverage of prototypes, uni mysteries, typefaces, and more) is a bargain at its regular price of $40. But it's an absolute steal with the discount he's offering to Uni Watch readers today: Use the code purple200 at checkout (that Bill, what a card…) and you'll get one-third off. Or you can use that same code to get the guide for your favorite team for one-third off the usual single-team price of $10. And because all of this is available as downloadable PDFs, you'll be able to dive in as soon as you make your purchase. It's the best thing you'll buy today — trust me.
And just for the record: Bill did not pay anything for this plug. We were back-and-forthing last night about some uni-historical matters, and he said, "Hey, how about if I offer your readers a discount," and I said sure, because I love Bill and love his jersey guide even more. You'll love it too.
•  •  •  •  •
Click to enlarge
PermaRec update: It's been ages since I took a dip into the files of the Hoge Brush Company, but I have a new entry today, and it's a really interesting one, especially if you care about balloons, squeegees, north-central Ohio's rubber industry, or spectacular letterhead designs like the one shown above. Get the full story here.
•  •  •  •  •
The Ticker
By Paul

'Skins Watch: More than 140 schools in California still use team names and/or mascots based on Native American imagery, but there's increasing pressure on them to stop. … The upstate New York town of Whitesboro, whose official seal drew criticism earlier this year because it appears to show a white man choking a Native American, is now considering a replacement logo.

Baseball News: Yesterday I mentioned that I had once described New Era as a "milliner" and explained how that wasn't really accurate, because a milliner is, technically speaking, a maker/seller of women's hats. But KM Pro Cap apparently had no problem with that — they once described themselves as "Milliner to the Majors" (big thanks to Gary Olson). … Eric Trager notes that the Mets are selling No. 15 Tebow jerseys, even though that's Matt Reynolds's number. … The Braves gave a jersey to golfer Nick Faldo, with a "Sir Nick" NOB. "I believe this was brought about by the Braves' recent signing of a multi-year partnership with sports manufacturer Mizuno," says Patrick O'Neill. … Tigers 2B Andrew Romine's batting helmet logo was MIA yesterday. … Lots of Blue Jays fans came over from Toronto for a series against the Mariners in Seattle, so an enterprising M's fan decided to tweak them with a hilarious series of homemade signs. … This is pretty awesome: The Orioles' farewell gift to Big Papi is what's left of the dugout phone he beat to a pulp three seasons ago. Brilliant (from Andrew Cosentino).

NFL News: Interesting article on why the Titans aren't wearing captaincy patches (from Wade Harder). … No photo or video, but Mark Gonillo says he spotted Bears QB Jay Cutler wearing a '47 cap prior to last Monday night's game against the Eagles. "A Bears staffer (wearing a New Era cap) approached him and seemed to be addressing the fact that he was wearing a '47 cap on the field," says Mark. "I'm not a lip reader, but he seemed to be motioning to the '47 logo creep on the hat. Could he have been telling him that the '47 cap wasn't permitted on the field?" … We've heard about fans burning the jerseys of NFL players who've protested the national anthem. But according to this report, a man carrying a megaphone during Wednesday night's civic unrest in Charlotte demanded that people burn Panthers QB Cam Newton's jersey if he doesn't protest the anthem this Sunday. … Meanwhile, Time magazine has put 49ers QB Colin Kaepernick on the cover of their latest issue. I was surprised to see the Nike logo creep on the crew sock, but it turns out that that's what he's been wearing on gameday. … A man who stole a Broncos helmet from the team's practice facility nearly two months ago has been identified and summonsed. … This is odd: Dolphins S Michael Thomas appears to have cut holes in the backs of his socks, or tights, or whatever hosiery he's wearing (from @willchitty4). … A Red Robin outlet in Portland, Ore., uses Seahawks-style 12th man toothpick flags. … Miami Marlins 2B Dee Gordon visited Dolphins camp yesterday and swapped jerseys with Jarvis Landry (thanks, Mike).

College and High School Football News: Michigan coach Jim Harbaugh was wearing cleats prior to last weekend's game against Colorado (from Nick Curley). … Here are this week's uni combos for Northwestern and Columbia. … Here's Arizona State's record since the most recent redesign, broken down by helmet and uni combo (from @JediASU). … Reprinted from yesterday evening's comments: I had mentioned in yesterday's lede that Texas A&M's new 1956 throwbacks included a "9-0" patch, which seemed odd, because the '56 team actually went 9-0-1. Turns out they've updated the patch (from Bill Banowsky). … Color Rash terminology has trickled down to the college level. Greeeaaaaaat. … Oak Ridge High School in California has an interesting battle axe-themed helmet design. The team is called the Trojans (from John Alexander). … Former Michigan State P Mike Sadler, who was killed in a car accident, is being honored at Spartan Stadium by having his No. 3 added to the midfield logo for Saturday's game against Wisconsin. further info here.

Hockey News: Here's a good view of how the Penguins' 50th-anniversary logo will be worn as a patch (from Brian Cox). … Speaking of the Penguins, they're selling a 50th-anniversary T-shirt. Could that be the basis for a heretofore-unseen anniversary jersey? … The pucks at Rangers games this season will feature the team's 90th-anniversary logo (thanks, Mike). … New uniforms for Utah (from Matt Komma). … Great catch by Mike Engle, who noticed that the Canadiens have changed the ear loops and chinstraps on their home helmets from black to white. "Count me as a fan," says Mike. Me, too.

NBA News: New 50th-anniversary patch this season for the Rockets. Here's a video game shot that shows how it looks in context (from Ivor van Esch and @HitTheGlass, respectively). … New sponsorship advertising logo apparently in the works for the Spurs' court.

College Hoops News: New uniforms for Fairfield (from Scott Criscuolo). … Holy moly, look at TCU's mismatched jersey/shorts combo in this old photo (big thanks to Jim Vilk). … New uniforms for UMass (from Brian Sullivan). … New red uniforms for Mississippi (from Chris Buttgen).

Soccer News: There's a new British documentary about the replica soccer kit company Admiral (from Mark Emge). … Here's a ranking of MLS team logos (from Jon Hollomon). … FC Dallas is establishing a new tradition for players who wear No. 19 (from Jim Collier).

Grab Bag: Formula E auto racing is coming to Brooklyn. I'm not buying tickets just yet, but I'll admit to being intrigued. … New logo for Disney's DuckTales. … New alternate rugby kit for Ireland. "Ball gag not included," says Eric Bangeman. … ISIS has prohibited civilians from wearing T-shirts with certain logos, including Nike's and Adidas's (from @seekarete). … Nike will no longer make golf clubs or other golf equipment but will still make golf apparel.