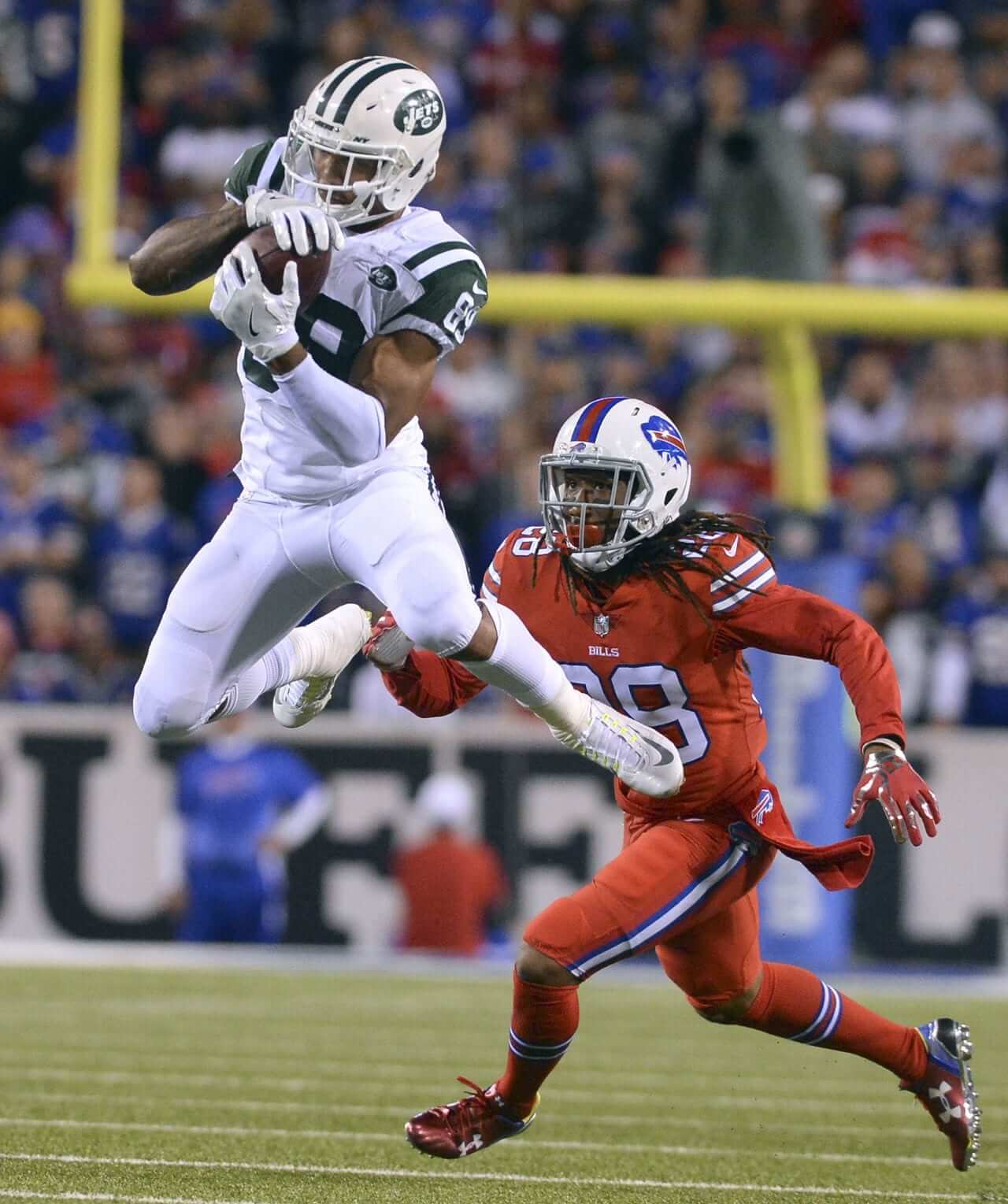 Click to enlarge
The NFL had its first Color Rash game of 2016 last night, as the Jets and Bills played a rematch of last season's Colorblind Bowl (but with the Jets wearing white this time around, to avoid a repeat of last year's problems).
•  Generally speaking, I love striped socks. But I think the Bills' uni would be better off without the sock stripes. For that matter, they probably could have scrapped the pants striping as well. If you're wearing solid red, make it really solid red.
•  I'm usually fine with grey facemasks. But the Bills should have swapped out their grey grills for red. Grey just doesn't work in this context. (That noise you hear in the background is The Jeff fainting due to a mix of joy and disbelief.)
•  In keeping with the red theme, the Bills used red visor tabs and clips. They did that for last year's Color Rash game, too. (They normally go with white tabs and blue clips.)
•  I mentioned the other day that the Color Rash jerseys rendered in Nike's new tailoring template (the one with the name that's too embarrassing to spell out here) are using a Chromaflex chip for the NFL logo. That may seem like a minor detail, but it definitely looks shinier and more reflective on the field: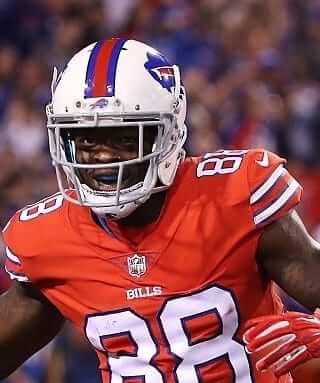 •  At one point Jets wideout Brandon Marshall lined up without gloves, which is unheard of for an NFL receiver. I think it was after he came back from an injury — must have taken the gloves off while getting treatment and neglected to put them back on when he returned to the field. (Marshall also changed cleats at halftime.)
•  Check out this goalpost padding: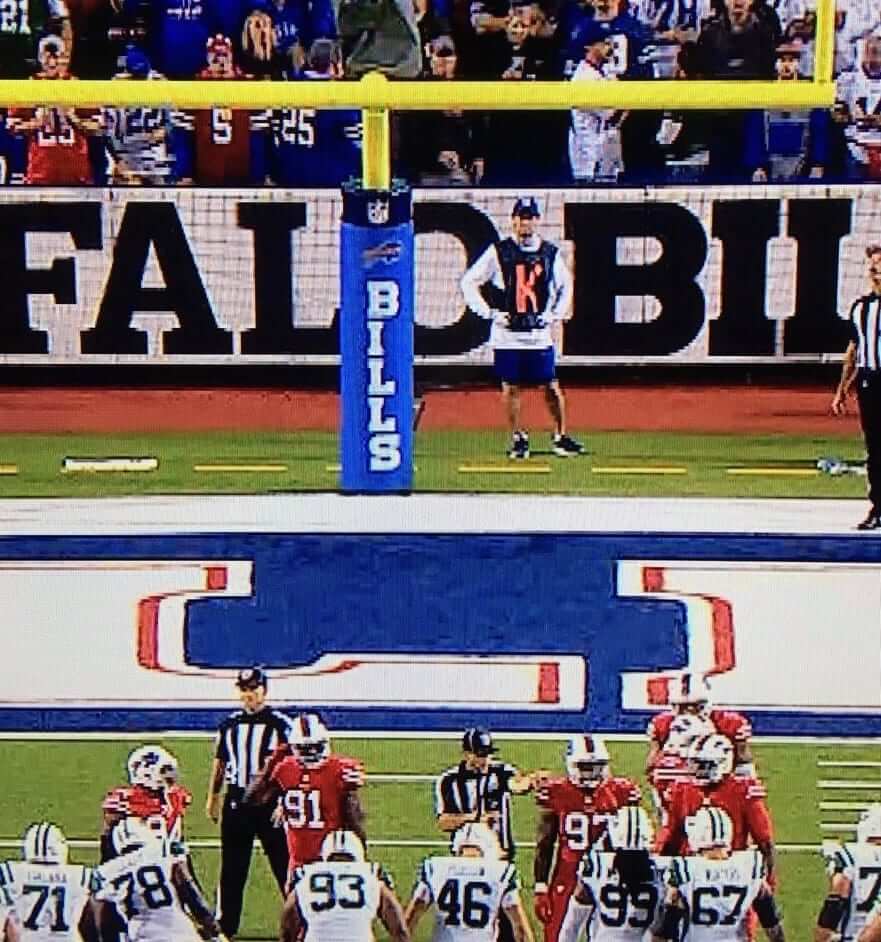 First, the lettering should be centered, not flush-left. And second, shouldn't the background color be red, not blue?
•  The Bills retired Bruce Smith's No. 78 last night, and they had a really cool uni-themed giveaway in conjunction with that — jersey shaped towels: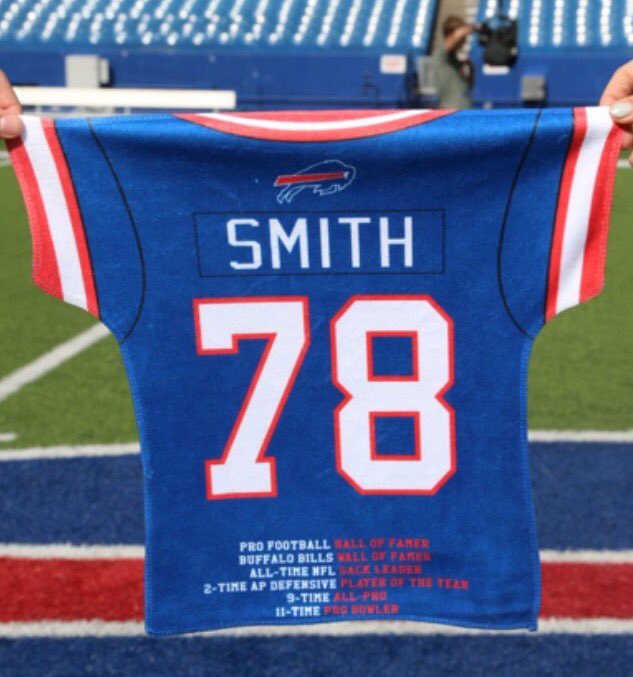 •  In what I think is a first — and can only hope is a last — the Bills set up a Color Rash fan-spraying station at their stadium (further depressing info here):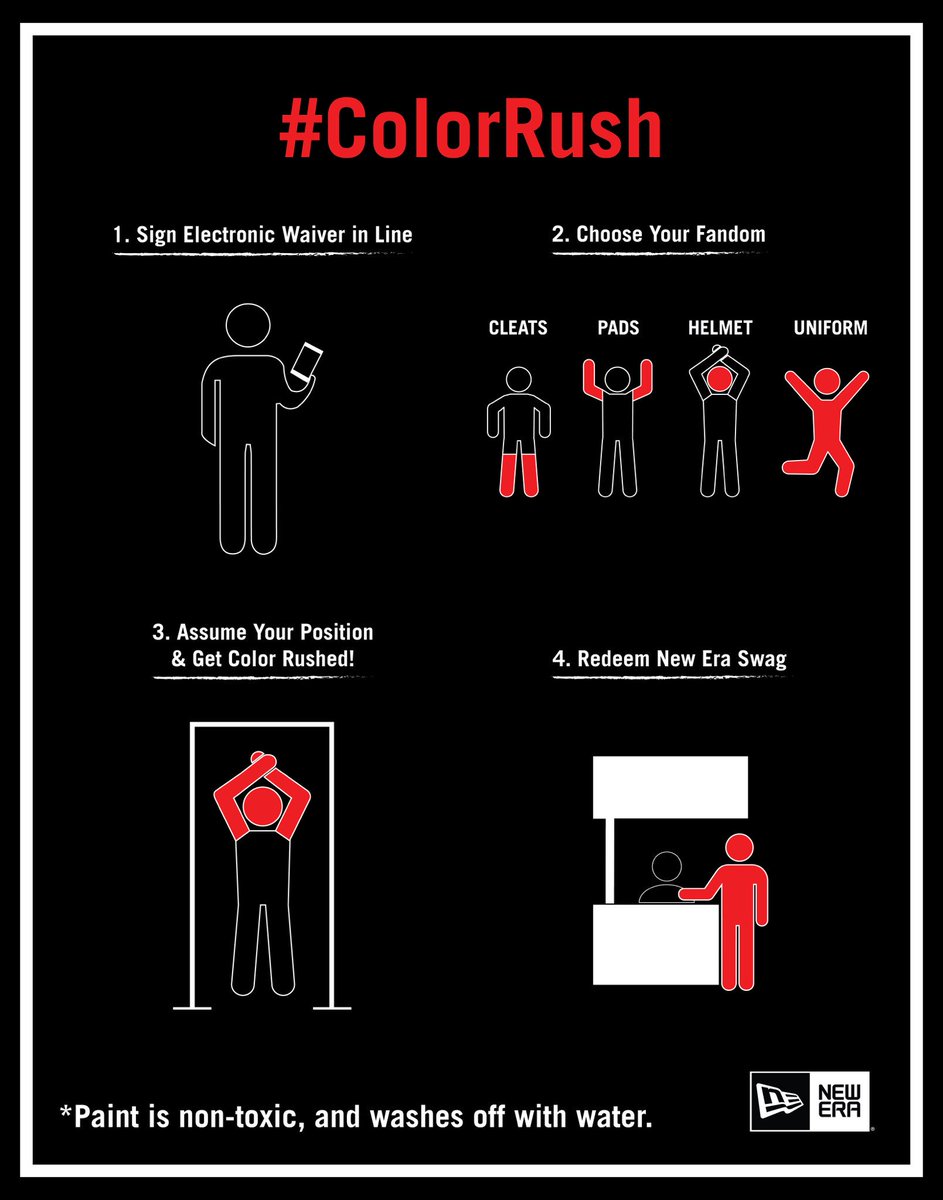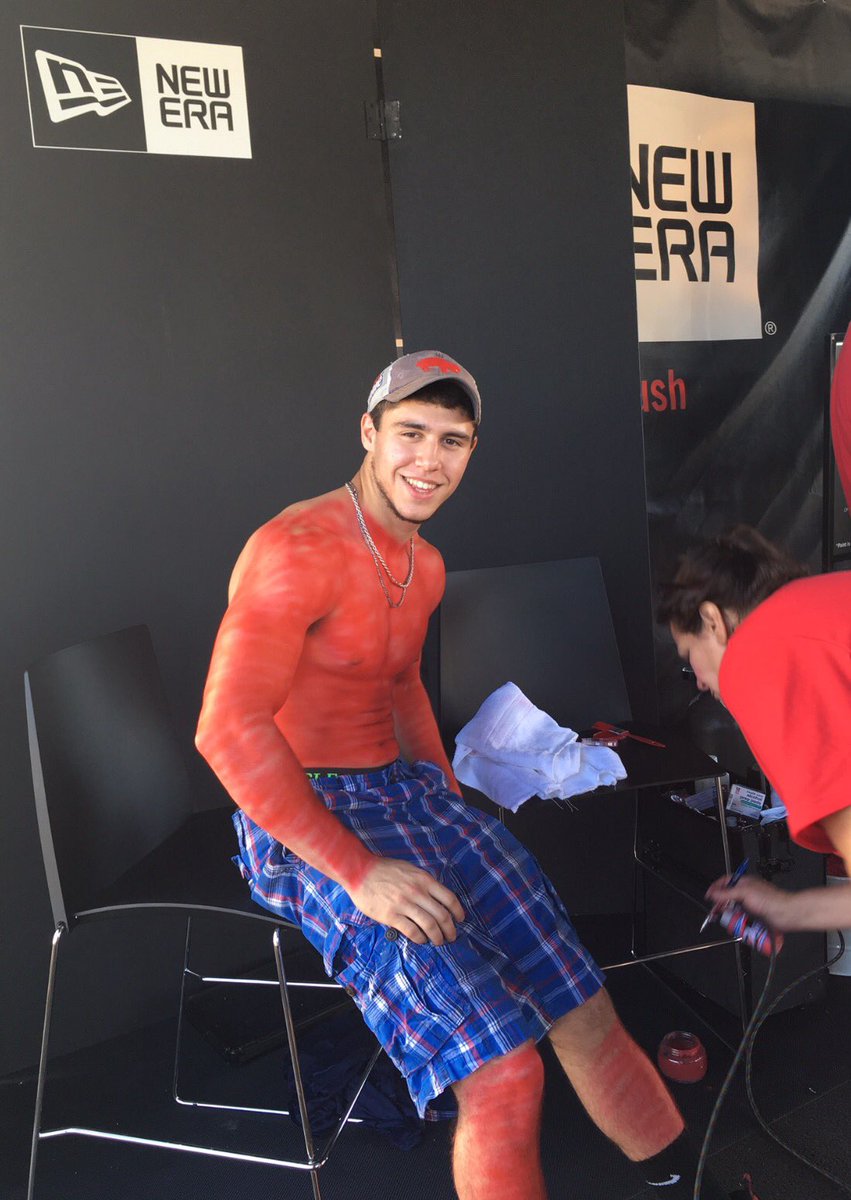 (My thanks to Mark Heggen, @santullo, Darren Rovell, and Matthew Whitney for their contributions.)
•  •  •  •  •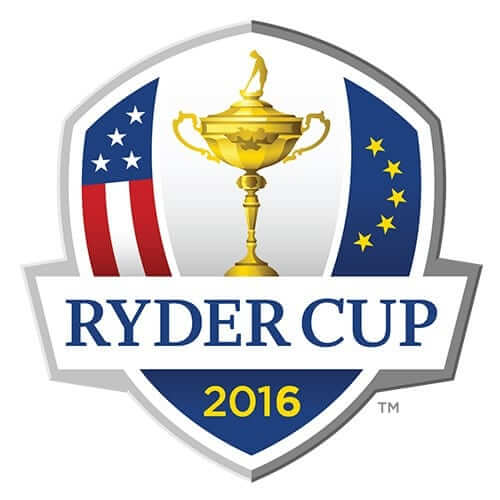 "Fore!": With the Ryder Cup set to begin in two weeks, I'll have an ESPN piece today about Team USA's new uniforms. I don't often write about golf, so this was an interesting change of pace for me, and the finished piece includes quotes from Team USA captain Davis Love III; his wife, Robin Love (the captain's wife traditionally has a role in creating the team's look); and the PGA's merchandising director. Check it out here.
• • • • •
The Ticker
By Paul

'Skins Watch: The girls' basketball team at an Iowa high school has come up with a very ill-advised poster. Note to the school: Even Native Americans who are okay with the word "redskin" are usually not okay with non-Natives wearing headdresses and ceremonial face paint. Jeez (from Omar Jalife).

Baseball News: Red Sox 1B Hanley Ramirez, who won last night's game against the Yanks with a three-run walk-off homer, has some pretty ratty batting gloves (from Wayne Miller). … Dodgers CF Joc Pederson is the latest MLBer to wear a faceguard despite not having suffered a facial injury. After the game he said he did it mainly because he thinks it looks cool. Also note that the faceguard is matte, to match the helmet (from Jason Harambi). … The White Sox held a charity auction last weekend. The full listing of items can be found in this PDF. If you go to page 88 of the PDF (or page 92 of the catalog), you'll find 10 pages' worth of World Series press pins. Lots of other good stuff, too — worth spending some time scrolling through this (big thanks to Pete Hoelter). … While we're at it, Ryan Mattern points out that Cubs OF Jorge Soler is also wearing a faceguard, and I'm not aware of him having suffered any facial injuries either. These players, along with Cardinals C Yadier Molina, appear to be part of a trend of players wearing the guard proactively, to prevent an injury (rather than reactively, after an injury, which had been the standard protocol in the past). Anyone know of other players who are wearing the guard despite not having been injured? (Please, no mention of Jason Heyward, Mike Stanton, or other players who we all know had facial injuries. Thanks.)

NFL News: The Rams have announced that they'll be wearing their royal/yellow throwbacks for this Sunday's home opener. … Here's something I never noticed before: In the famous 1994 "fake spike" game, when the Jets thought Dan Marino was going to spike the ball and he instead threw a game-winning touchdown pass, Marino wasn't wearing the league's 75th-anniversary patch like everyone else (as noted by Rudy Gutierrez). … Steelers WR Antonio Brown was fined for wearing blue shoes last week (from Jerry Wolper). … If you've been dying to know what my ESPN colleague Darren Rovell looks like in a Color Rash jersey, today's your lucky day. … Broncos coach Gary Kubiak wore a Super Bowl 50 visor at a presser yesterday. … Steelers RB DeAngelo Williams says Sunday's game against the Bengals will be "a two-chinstrap game." Always nice to see people expressing things in uni-related terms. … The NFL has banned Kanye West's Yeezy cleats.

College and High School Football News: Here are this week's uni combos for UNC, Eastern Washington, Illinois, and Oregon State (note the white facemasks, instead of the usual black). … One of Phil Knight's big regrets is that Nebraska signed with Adidas instead of Nike (from Brett Baker). … Many high school football players are joining the movement to protest during the national anthem.

Hockey News: Looks like Mario Lemieux was wearing a Canadiens wristband during the 1987 Canada Cup (good spot by Brian Rowland). … The Predators have two twins in rookie camp — Tyler Spinks and Tyson Spinks — which has led to some interesting NOBs (from Lee Wilds).

Pro Basketball News: Thunder G Victor Oladipo says he thinks the current trend of national anthem protests in the NFL will likely spread to the NBA. Not mentioned in that piece is the fact that the NBA reportedly has a rule requiring players to stand during the anthem, although that wouldn't necessarily prevent players from engaging in other forms of protest, such as raising their fists. … The ABA's newest team, the Springfield Sting, unveiled their logo. … Chris Andersen is apparently wearing No. 00 for the Cavs. With Kevin Love wearing No. 0, that means the Cavs have a zero and a double-zero on the roster. First time we've seen that since — last season. … Here's a gallery of Sacramento Kings sneakers over the years (thanks, Mike).

College Hoops News: Gorgeous new green uniforms for North Dakota State. … New uniforms for Southeastern Louisiana. "First time the 'SLU' mark has been prominent on the jersey," says Chris Mycoskie. … NC State's arena, which has been renovated, will reopen today (from J. Huckel). … New home and road uniforms for Charleston Southern (from Harrison Huntley and Daren Stoltzfus, respectively).

Soccer News: MLS jerseys redesigned for Hispanic Heritage Month? Sure, why not (from Kenn Tomasch). … Buried within this item is the following: "Sun Belt Conference women's soccer programs will wear specially designed warm-up jerseys [starting yesterday and continuing through this weekend] in support of Texas State head coach Kat Conner, who was diagnosed with ovarian cancer last year." … New Oktoberfest kit for 1860 Munich (from Peter Pereira). … USWNT member Megan Rapinoe once again did not stand for the national anthem last night. She had previously done that while playing for the Seattle Reign; this was the first time she protested the anthem prior to a USWNT match. … New third kit for AS Roma (from Mario Cuttone).

Grab Bag: World peace can finally be restored now that "Harambe" has been restored as an acceptable retail jersey NOB for MLB and the NFL. Phew. … Faaascinating article about how Nike's contracts with universities — and, to a lesser extent, Under Armour's and Adidas's contracts as well — include clauses that allow the company to harvest activity-based data on the student-athletes, which is raising a red flag for privacy advocates. Further info here and here (from David Arnott). … Police officers in Nigeria have to pay for their own uniforms. … Interesting piece about the Statue of Liberty's shade of green (from Jason Hilyer). … New logo for the 2016 Kabaddi World Cup. … The University of Detroit Mercy spent three years and $1 million on a new logo, and I think it's fair to say they didn't get their money's worth. … NASCAR drivers competing in the 2016 Chase for the Sprint Cup will have their Twitter handles on their car windshields (from Josh Pete).