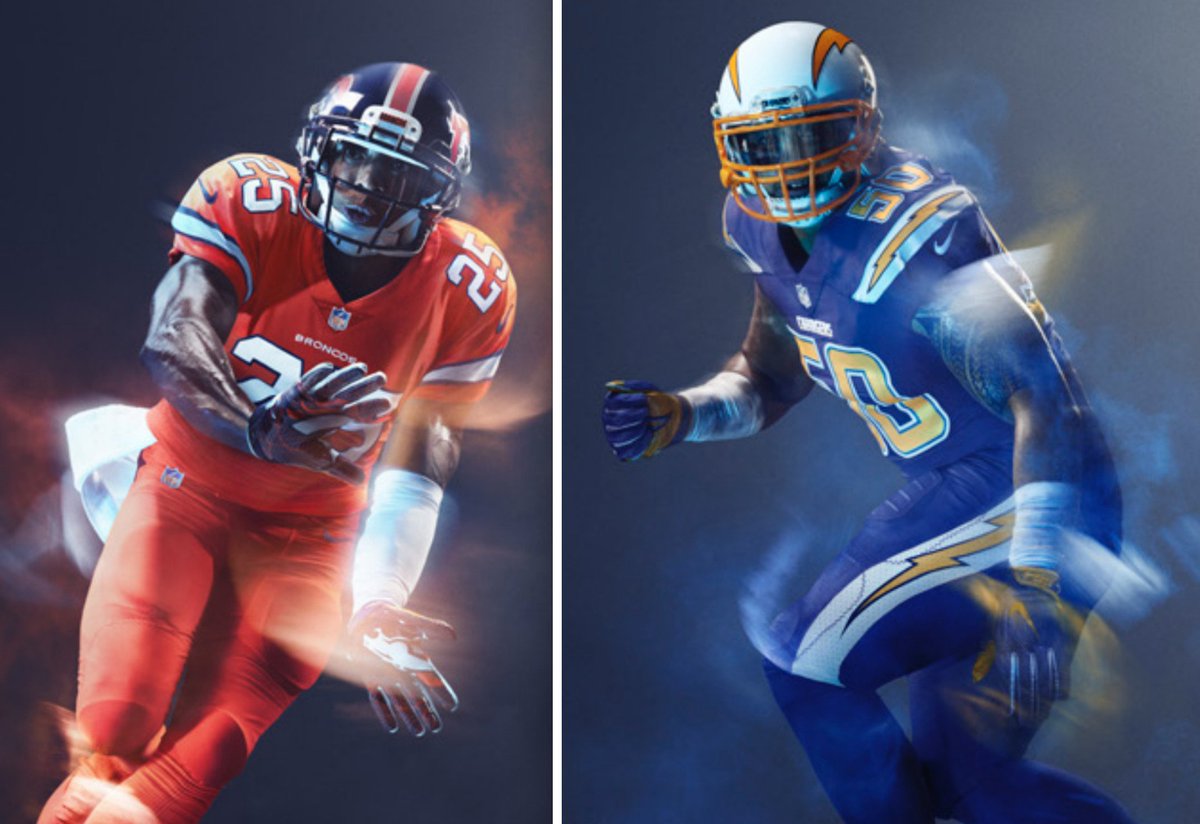 Click to enlarge
As you've no doubt become aware by now, yesterday the NFL and Nike unveiled a slew of new monochromatic uniforms, which will be worn for this season's Thursday-night games. The basics of the program are in that article I just linked to, and my assessment of the uniforms can be found in this ESPN piece, which was posted yesterday afternoon. If you haven't yet read either of those articles, I suggest that you start there.
There are lots of questions and unresolved issues regarding these uniforms, so today I want to follow up with an FAQ-style entry that addresses some of those questions. Before I get to that, though, I should say this: I spent most of yesterday working on that ESPN piece, and then most of last night working on this blog entry. In both instances, I was working pretty furiously and somewhat sealed in a bubble — I wasn't looking at Twitter, wasn't reading many of the other articles about the new uniforms (although I did read a few that had some inaccurate information). If you were bouncing all over the web, absorbing info from a ton of different sources, it's possible that you may know more about these uniforms than I do, or that you may have seen the answer to some of the unresolved questions I'm about to bring up. If so, please feel free to share what you know (or what you've read) in the comments.
Okay, then — here we go:
Did you know what the uniforms would look like prior to yesterday?
No. I got a slight sneak peek about an hour before everything went live, but aside from that I was in the dark, just like you.
I've seen lots of photos of the Jets wearing green, the Texans wearing navy, the Browns wearing brown, and so on. But your ESPN piece says all of those teams will actually be wearing white. What gives?"¨
My hunch is that some of those colored uniforms were designed — and that the photos may have been taken — before this year's NFL schedule was finalized. They couldn't keep the Texans in navy, because they ended up being scheduled to play a Thursday-night game against the Pats, who were slated to wear blue. And they couldn't keep the Jets in green, because they were scheduled to play tomorrow night against the Bills, and it would have created another red/green colorblindness fiasco. So some teams had to wear white instead.
Then why did they release the photos of the colored versions?
For starters, the colored versions are available for sale, even though they're not being worn this season. Also, they may end up being worn next season.
With so many teams wearing white, doesn't that take the color out of the equation, which kinda defeats the point of this program?
Arguably, yeah. I'm fairly certain Nike didn't want or expect it to play out this way. But they didn't realize there'd be colorblindness issues, they didn't realize that the NFL schedule would present unworkable color-vs.-color matchups, and so on. In short: It all turned out to be a bit trickier than they'd envisioned, and one result is that there are more teams wearing white.
As an aside, this is also a good reality check for those of us who like color-vs.-color games played in "normal" uniforms (like the recent UGA/UNC game, for example). It's great when it works, but it doesn't always work. Which means teams will always need to keep white uniforms in their wardrobe, just in case.
Will the Browns' white design include the big, honking wordmark on the pants, or will they get new pants?"¨"¨
Good question. The solid-brown design they had created (the one that won't be worn because it turns out that they're wearing white, not brown) had a new pant design, but I haven't seen any full-body photos of the white uniform — just this torso shot. The same goes for some (but not all) of the other teams that will be wearing white — no full-body pics yet.
Update, 9:25am: The Browns have said that they'll be wearing their normal whites, not a new white design.
Does that mean that they haven't finalized those uniforms yet?
That seems possible. If you look again at that Browns torso photo (and also at the torso shots for the Falcons, Texans, and a few others), it looks like the player is just wearing his regular white jersey — not a newly designed white jersey. (By contrast, the white jerseys being worn by the Saints, Bengals, and a few others are clearly new.) So that, combined with the lack of full-body photos, makes me wonder if the torso photos are essentially just placeholders. Like, "Okay, the new white uni isn't ready yet, so just put a regular white jersey on him and don't show anything below the waist." I don't know for sure that that's the case, but it wouldn't surprise me.
Why aren't the Colts, Lions, and 'Skins wearing the new uniforms?
Because they're playing on Thanksgiving, and the league has decided to go with standard uniforms on that day.
But teams wore the new monochromatic uniforms on Thanksgiving last year, didn't they?
Ӭ
Yes.
So why did they change that this year?
Ӭ
I don't know.
If the Colts, Lions, and 'Skins aren't wearing the new uniforms, why have I seen photos of their new jerseys?
"¨For starters, they're selling them at retail. Also, those designs may be worn next season.
How did the Giants and Broncos get away with having new helmet designs? I thought the NFL had a one-helmet rule.
The NFL's anti-concussion program limits teams to having one helmet shell, which basically means you can't change helmet colors. But you're free to change your striping or side logos or facemask color — several teams do that for their throwback helmets, and that's what the Giants and Broncos have done for these new uniforms.
That rule is so stupid! College teams have, like, 17 helmet designs apiece, so why can't the NFL join the modern world?
The rule is what it is, and we all have to live with it, at least for now. For what it's worth, I'm sure there's nobody who'd love to have the one-shell rule changed more than Nike, because then they'd be free to experiment with all sorts of alternate helmet designs. So while you may not like the rule, at least it shows that the NFL hasn't completely given Nike the keys to the uniform car, so to speak.
What's the deal with these jerseys being rendered in Nike's Vapor Untouchable template?
According to this press release, "Participating teams will take the field wearing a special Color Rush edition of Nike's Vapor Untouchable uniform exclusively on Thursday Night Football in 2016."
I initially took this to mean, "All teams participating in Thursday-night games will wear the VU template." But I'm now starting to realize that it actually means "All teams who wear VU will be wearing VU" — which is kind of lame.
If you look at the promo photos, many of them are clearly in the standard Elite 51 template, complete with the annoying collar, and the Packers photos appear to show the old Reebok tailoring, while others appear to have the VU-style collar.
But then look at the Bengals — some of the promo photos show a white collar with what appears to be the VU template, while others show a black collar: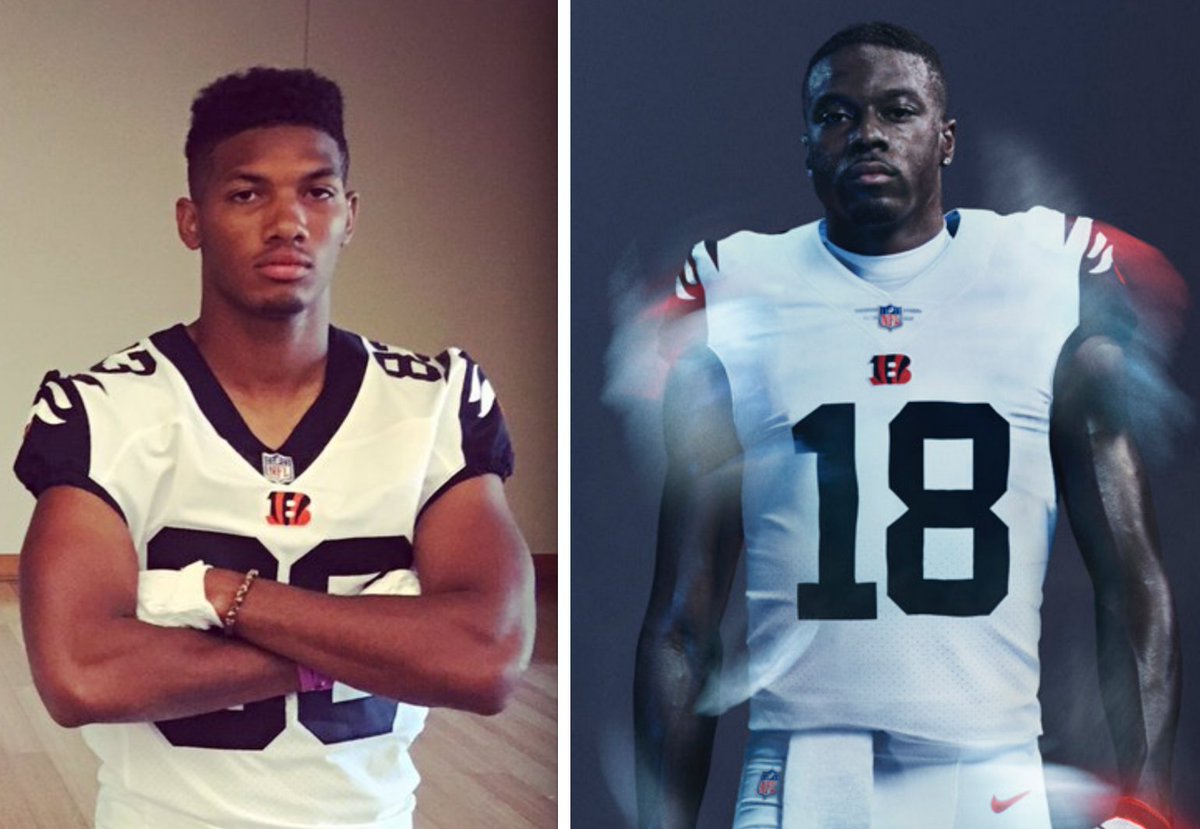 That's pretty messed up right there. I get the feeling that there was a lot of last-minute scrambling on this project.
One detail worth mentioning: The NFL logo on the VU uniforms is apparently an updated Chromaflex chip, while the logo on the Elite 51 uniforms is the same chip they've been using since 2012.
In any case, just having to type corporate nonsense like "Vapor Untouchable" and "Elite 51" makes my head hurt. Let's move on.
What's this about the NFL donating their merch proceeds?
According to that same press release:
One hundred percent of the NFL's proceeds from the sale of Color Rush jerseys will go directly to the NFL Foundation to fund health, safety, and wellness programs for youth around the country. The NFL Foundation is the league's non-profit organization, representing all 32 clubs, and funds grants to support athletes, youth football, and the communities that support the game. The first $500,000 raised from this initiative will be earmarked to replace youth and high school football equipment and fields lost in last month's devastating floods in Louisiana.
Is Nike also donating its proceeds?
Not that I'm aware of. It's worth noting, of course, that Majestic and New Era don't donate anything (or at least they haven't said they do) from the sale of Memorial Day or Independence Day merch, even though MLB does. In general, it seems like the leagues tend to undertake these charitable initiatives, not the manufacturers or retailers.
What about all those leaks from the guy on Reddit, and from the @NFL_Leaks guy. Did they turn out to be accurate?ӬӬ
No idea, and I don't have the energy to go back and see how good their info turned out to be. If you'd like to do that, be my guest.
Some of the opinions in your ESPN piece were surprising. Do you really like the Ravens' purple uniform?
"¨"¨Surprisingly enough, I do! Or at least I think I do — as always, it's tough to tell until we see everything on the field. But I really like the gold numerals with the white outlining. (On the other hand, I really dislike the Vikings' design, even though it's fairly similar. Yes, I realize that may seem contradictory.)
And do you really like the Seahawks' green design?
I wouldn't go so far as to say I like it, but it seems like the purest expression of what this uniform program is supposed to be, and I'm curious to see how it'll look on the field.
Anything else to add?
Yeah, here are a few late-breaking thoughts and some additional details I picked up from Phil's Twitter feed: The Giants' helmet has a new back number font. … Seems odd that the Giants would go with "ny" on the chest and while using the old "Giants" wordmark on the helmet. Maybe the jersey was already in production when they decided to swap out the helmet logo. … The Jets' helmet will have a white facemask, instead of their usual green. … The NFL consulted with colorblindness experts to avoid any repetition of last year's problems. … A Seattle Mariners blog, of all places, has come with the most entertaining response to yesterday's unveiling. … Spotter's nightmare: Hadn't initially noticed that the Pats' new uni doesn't have TV numbers. That runs counter to current NFL jersey regulations, so they must have received some sort of waiver.
Why haven't you used the official name of this uniform program "" or even the bastardized version of the name that you often use "" anywhere in this blog entry?
Because I'm sick to death of both of those terms and decided I didn't want them appearing in today's entry. Simple as that.
———
And there we are. If you want still more, I'll be discussing these uniforms today at 12:15pm Eastern, when I'll be appearing on this Albany radio station. Feel free to tune in and see if I can keep avoiding saying you-know-what.
•  •  •  •  •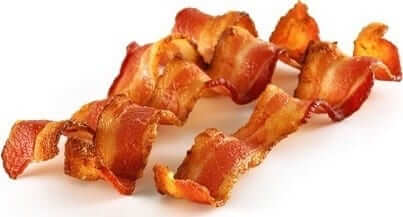 Bacon reminder: In case you missed it yesterday, I've written a new article for Businessweek about the standard package design format for bacon. It was really fun to work on, and I think you'll have fun reading it. Check it out here.
Incidentally, in yesterday's blog post I said I'd be discussing the bacon article on yesterday evening's installment of the radio show Marketplace. If you tuned in and didn't hear me, sorry about that — we taped the interview, but it got bumped by something "more important" (as if there could something more important than bacon packaging!). They tell me it'll be running today.
•  •  •  •  •
The Ticker
By Paul
Before we get to the Ticker, a quick caveat: A lot of Ticker contributions these days come from people who tweet things at me. But I didn't look at my Twitter mentions yesterday, because I got literally over 1,000 tweets about you-know-what, and it was just too much to keep up with, so I decided to not even look at my mentions (although I did look at Phil's feed — always a good source of info). If you tweeted a good Ticker item at me yesterday and don't see it listed below, that's why. Apologies in advance. "" PL

Baseball News: Really interesting collar here. That's a player from an old Studebaker factory team. The photo is in the archives of the Studebaker National Museum in Indiana, and originally appeared in the Studebaker-themed magazine Turning Wheels (big thanks to Andrew Beckman). … Still more new caps for Youngstown State (from Robert Hayes). … The Majestic logo on Nats 1B Ryan Zimmerman's jersey was yellow-ish last night. It's usually red (from @NikeMetsPlus, via Phil).

NFL News: Good article on how the growing NFL protests regarding the national anthem are part of a larger trend of today's brand-conscious athletes weighing in on divisive social issues. … New form of DIY-ing: A Broncos fan wanted to burn a Brandon Marshall jersey — a response to Marshall kneeling during the national anthem last Thursday — but apparently didn't want to spend the money on the real thing, so he bought an orange T-shirt, inscribed Marshall's number on it, and buned that instead — which Marshall himself found quite amusing (thanks, Mike). … Bills coach Rex Ryan gained 30 pounds after having his lap band removed. He had the band removed as a show of support for his brother Rob, whose band almost killed him (thanks, Phil). … My Friday Flashback last week was about the various uses of the NFL logo on team uniforms. But Earl Blow points out an instance that I overlooked: From 1965 through 1969, the league logo was prominently featured on helmets in the Pro Bowl. … The NFL has announced a new $100 million anti-concussion initiative.

College Football News: It appears that Miami will be unveiling new uniforms next Monday (from Jackson Copeland). … Very nice uni combo this week for Arizona State (thanks, Mike). … Clemson coach Dabo Swinney says he won't discipline his players if they want to protest during the national anthem, although he thinks it's a divisive gesture. … Here are this weekend uni combos for Vanderbilt, Texas State, and Tulane. … New tunnel graphics for UNC (thanks, Phil). … Also from Phil: New chrome helmet for Louisville.

Hockey News: NHL goalies will have to wear narrower pants this season (thanks, Mike). … Blackhawks G Scott Darling has a Wayne's World-themed mask (from Ken Traisman). … KHL refs wore black armbands for a fallen colleague last night (thanks, Phil). … New pads for Devils goalie Keith Kincaid (from @HawksPacMan). … New uniforms for the Springfield Thunderbirds (from Joe Condon).

Basketball News: With the 2017 NBA All-Star Game having been relocated from Charlotte to New Orleans due to North Carolina's anti-LGBT law, the Pelicans have added an All-Star Game patch. … This is pretty awesome: A bunch of old high school basketball uniforms, some dating back to the 1940s, were found in an old North Carolina school that was slated for demolition (big thanks to Gerry Dincher).

Grab Bag: New away soccer kit for Adelaide United (from @BluesBrother95). … Pro golfer Jason Day is switching from Adidas to Nike (thanks, Brinke). … I have to admit that for sheer weirdness value, I kinda like these caps that feature logo mashups across different sports and cities (from Andy Pohlman).