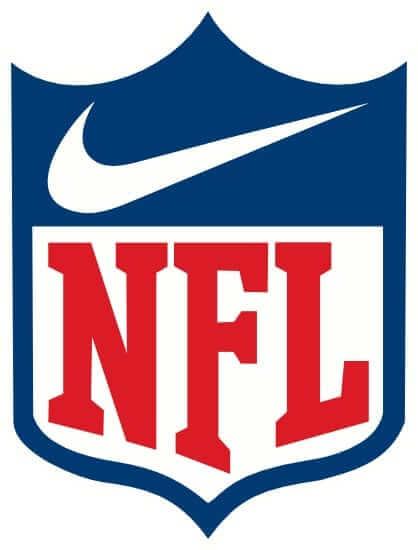 Update, 4:55pm: My take on the new NFL uniforms can be found here.
We've been wondering for months now when the NFL would finally reveal this season's solid-color uniforms for Thursday-night games. There are strong indications that today is the day. The Patriots' design will apparently be revealed at 9am Eastern, we've known for several days that the Bengals' design will also be released today, and assorted retailers and other sources are all indicating that the moment has finally arrived.
Watch this space as the morning unfolds — I'll have basic coverage here on the blog and will have more to say over on ESPN.
(And yes, I'm aware that a lot of leaked images were floating around yesterday. I have no idea how legitimate they are — maybe they're the real deal, maybe not. Either way, we'll know soon enough. We've all waited this long, so a few more minutes or hours shouldn't hurt.)
Update, 8:53am: And so it begins.
FIRST LOOK: Nike Color Rush Jerseys For Giants, Bills & Dolphins pic.twitter.com/VjELb19Bfv

— Darren Rovell (@darrenrovell) September 13, 2016
NEW Color Rush uniform for Steelers, to be worn on Christmas Day vs. Ravens. pic.twitter.com/HBglMnAHkA

— Paul Lukas (@UniWatch) September 13, 2016
Color Rush uni group shot. pic.twitter.com/CvcwoxOEgb

— Paul Lukas (@UniWatch) September 13, 2016
This week's Color Rush match-up: Jets (white) at Bills (red), which avoids last year's colorblindness problem. pic.twitter.com/EBOP9ghuHM

— Paul Lukas (@UniWatch) September 13, 2016
Promo pics for Texans/Pats Color Rush game 9/22 show both teams in blue – can't be right. Changes presumably coming. pic.twitter.com/xNQrms8Ed3

— Paul Lukas (@UniWatch) September 13, 2016
Color Rush 9/29 game features Bengals (white) at Dolphins (orange). pic.twitter.com/29M3tRw9Z3

— Paul Lukas (@UniWatch) September 13, 2016
UPDATE: Texans will wear white (not navy) in Color Rush game vs. Pats on 9/22. No photo of white uni yet available. pic.twitter.com/drXX1a3XYs

— Paul Lukas (@UniWatch) September 13, 2016
UPDATE: Photo of Texans' white Color Rush uniform, to be worn 9/22 vs. Pats, now available. pic.twitter.com/iLJnq6GIhb

— Paul Lukas (@UniWatch) September 13, 2016
Oct. 6 Color Rush game features Cardinals (white) at 49ers (black). pic.twitter.com/H9r7UnkbOI

— Paul Lukas (@UniWatch) September 13, 2016
Color Rush game for 10/13: Broncos (orange, with new helmet tape/decals) at Chargers (blue). pic.twitter.com/tYYBcJMPeE

— Paul Lukas (@UniWatch) September 13, 2016
Color Rush Oct. 20: Bears (dark navy) at Packers (white). pic.twitter.com/JnjnUef3zj

— Paul Lukas (@UniWatch) September 13, 2016
Color Rush 10/27: Jaguars (gold) at Titans (blue). Same unis they wore against each other last year. pic.twitter.com/320e0lCZsJ

— Paul Lukas (@UniWatch) September 13, 2016
Color Rush Nov. 3: Falcons (white) at Bucs (red). pic.twitter.com/93e3J7V73P

— Paul Lukas (@UniWatch) September 13, 2016
Color Rush Nov. 10: Browns (white) at Ravens (purple). pic.twitter.com/7rocss9XhT

— Paul Lukas (@UniWatch) September 13, 2016
Color Rush Nov. 17: Saints (white) at Panthers (blue). pic.twitter.com/0TaYWBxrE3

— Paul Lukas (@UniWatch) September 13, 2016
Color Rush Dec. 1: Cowboys (white) at Vikings (purple). pic.twitter.com/wl0wwWkXAL

— Paul Lukas (@UniWatch) September 13, 2016
Color Rush Dec. 8: Raiders (white) at Chiefs (red). pic.twitter.com/oIjcHwIJAa

— Paul Lukas (@UniWatch) September 13, 2016
Color Rush Dec. 15: Rams (white) at Seahawks (green). pic.twitter.com/k8hgm8MZIZ

— Paul Lukas (@UniWatch) September 13, 2016
Color Rush Dec. 22: Giants (white, with throwback helmet logo) at Eagles (black). pic.twitter.com/EMSj1QlnLG

— Paul Lukas (@UniWatch) September 13, 2016
Steelers to wear black Color Rush uniform on Christmas Day vs. Ravens (who are expected to wear white, no pic yet). pic.twitter.com/laPMegfP7q

— Paul Lukas (@UniWatch) September 13, 2016
And that's it, at least for now. I'll have some thoughts about each game's uniform pairing later today on ESPN.
•  •  •  •  •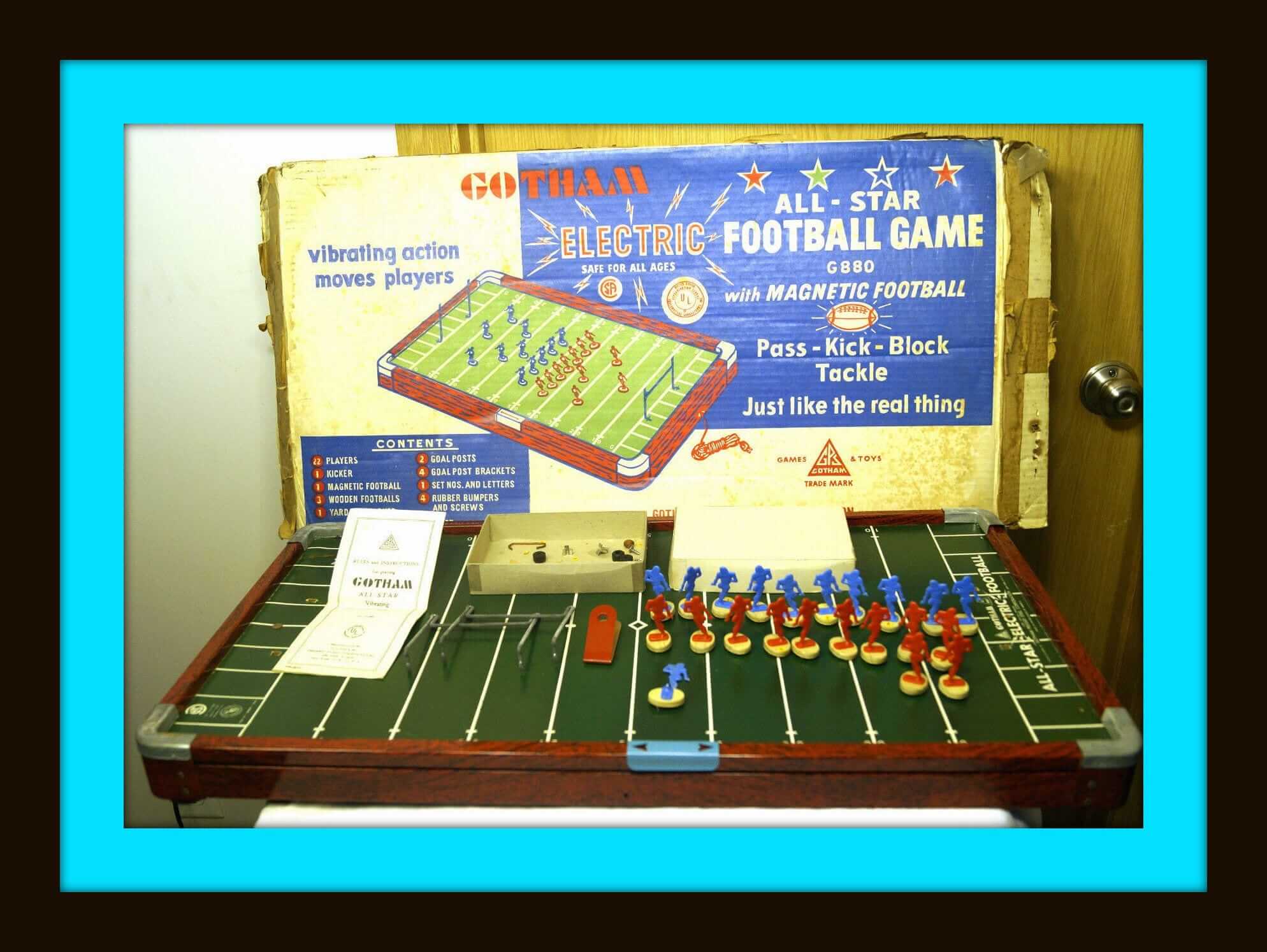 Collector's Corner
By Brinke Guthrie
Been reading a fascinating book on my Kindle: The Unforgettable Buzz: The History of Electric Football and Tudor. (I'll have a review on it once I'm done- it's a lengthy read!) So far, the battle in the book — besides the one on the vibrating field — is between the rival companies Tudor and Gotham, who really went at it. Here's one of Gotham's efforts from 1954: the Gotham All Star Electric Football Game, model G-880. And in the interests of equal time, here's a Tudor NFL Team Set, which I never even knew existed. And check out this Falcons set—do you remember those stick-on numbers? Man, I sure do.
Now to the rest of this week's picks:
•  Bart Starr stars in this print ad for the Goodyear Tire & Rubber Company. Own a set of Official N.F.L. Team Emblems! Complete set of 15, just a buck. Must be stickers, and they sure look like Chiquita NFL Stickers to me!
•  Never seen these before: a predecessor to the famous NFL 1972 Sunoco album and stamps, it would seem. These are American Standard Oil Amoco NFL All-Pro Football Stamps (whew) from 1966, and boy howdy will ya look at the artwork. I'm guessing the players didn't have final say on how they looked.
•  Look at the 1966 helmet art for this embroidered Colts patch, sponsored by National Beer.
•  Also from the Colts: this 1960s button says "Our Colts are best and so is Baltimore."
•  Had one of these! This is a Cowboys throwback jersey, I assume for Duane Thomas. These were well made — very heavy-duty jersey knit, with embroidered numbers. Fine work by Champion.
•  Another classic ring-pull zip-front sweater from Sears, this time for the Denver Broncos.
•  Here's the 1969 Official Touch Football Play & Rule Book from our friends at NFL Properties. Wish we had this when we played touch on the Terrace Park soccer field back in the day.
•  Love the clean simplicity of this 1960s Packers coffee mug from Chase Sanborn coffee.
•  See this supposedly 1970s Vikings tee? Can't say that I've seen this type of facemask art used on a shirt before.
•  September 3rd, 1967. That's the date on this game program between the 49ers and the Ray-duhz. Check out that cover art!
•  And from reader Will Scheibler, check out this Pittsburgh Pirates warm-up jacket from … wait for it … 1905!
•  •  •  •  •
Classically inconspicuous: I've long been intrigued by the standard package design for supermarket bacon, which shows the bacon slices fanned out to create the illusion of leanness, and then on the back there's the little window showing the "representative slice," which of course is much fattier, because bacon is, you know, naturally fatty: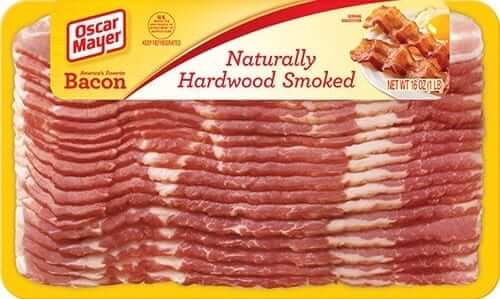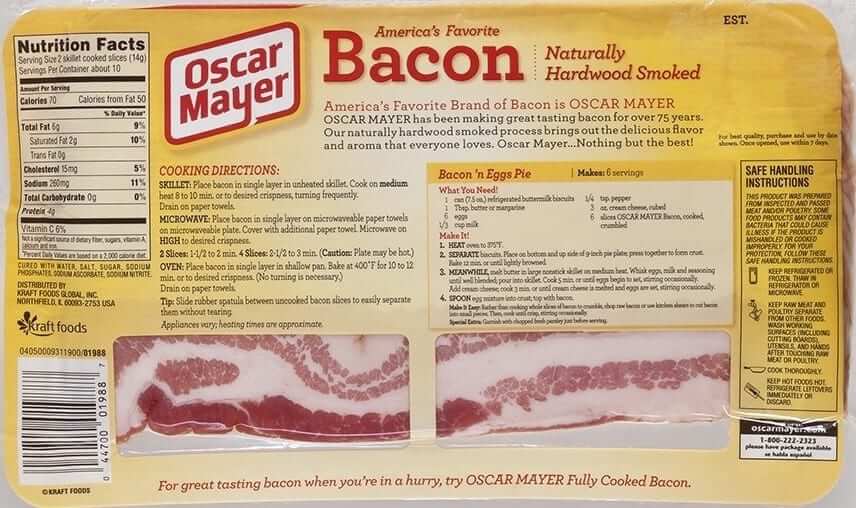 It's an ingenious packaging format. Who came up with it? What's it called? Are they legally required to show the slice on the back?
I've written an article that answers all of those questions, and more. It's up today on the Bloomberg Businessweek website. I'm pretty happy about this one, people, so I hope you'll check it out. Also, I'll be talking about the story on this evening's segment of the radio show Marketplace, so tune in for that as well. Thanks.
•  •  •  •  •
And speaking of inconspicuous details…: While walking on various beaches this summer, I've noticed that when a wave inches its way up the sand and then recedes, it often leaves a herringbone/zigzag pattern in the sand. I've probably seen this for years, or even decades, but I never really noticed it until this year (for all of these pics, you can click to enlarge):
I'm intrigued by how the water creates such a geometric pattern. How does that happen? Anyone..?
Even weirder: The other day I noticed that almost the exact same pattern appears on the bottom of Lorna Doones!
Obviously, that pattern is imparted by the conveyor belt that carries the cookies, or maybe by the mold that forms them. Anyone know more about that?
At first I thought I'd also seen this same pattern on the bottom of a Snickers bar, so I rushed off to buy a Snickers, only to find that its bottom pattern actually has a slightly different kind of zigzag pattern, more like an EKG readout:
Soooooo fascinating. If anyone knows more about any of this — the ocean/sand thing or the bottom-of-junk-food thing — I'm all ears. Thanks.
•  •  •  •  •
The Ticker
By Mike Chamernik

Baseball News: The Pirates wore grey last night, making it seven different jerseys in a week. Working backwards, they wore 1979 yellow throwbacks, black alts, Homestead Grays throwbacks, camo tops, 1971 white throwbacks, and their standard home whites (from @redbuppy). … A's rookie Joey Wendle bats barehanded. … Mariners call-up Daniel Vogelbach will wear No. 20. … The Red Sox are giving away this Big Papi shirt-jersey tonight. It features his trademark gold chain. … A Blue Jays fan with a comically oversized glove snagged a foul ball on Sunday. … Rays rookies dressed up in patriotic wrestling singlets. … As of yesterday morning, all the division leaders had roughly the same color scheme, although the Dodgers' touch of red is a stretch. … New hats for Youngstown State. That's from Robert Hayes, who also notes that the team wore stirrups and zip-front vests in the 1960s. … An Astros fan wore a misspelled jersey last night (from Bart McKay, via Phil).

NFL News: 49ers teammates Colin Kaepernick and Eric Reid took a knee during the national anthem last night. On the opposite sideline, Rams teammates Robert Quinn and Kenny Britt raised their fists. Meanwhile, Broncos LB Brandon Marshall lost another endorsement deal yesterday, this one with CenturyLink, due to his anthem protest last Thursday. … The NFL will allow personal messages on cleats during Week 13 this season. The messages must promote a charitable cause and will have to be approved in advance by the league (from Phil). … The underside stripes on Antonio Brown's sleeves look pretty weird (from John Dankosky). … Several Chiefs and Chargers swapped jerseys after Sunday's game. … I dig the cartoon logo on this "Riverboat" Ron Rivera T-shirt. … The Rams' Fearsome Foursome wasn't always so intimidating (from Ronnie Poore). … The NY Daily News ranked the 32 NFL logos. Nothing of substance in that piece, though. It's click bait-iness is particularly evident when compared to Zach Lowe's NBA logo rankings from last summer, which featured thoughtful design critique and input from actual designers (from David Smolowitz). … Little-known fact: An arena team called the Albany WarBirds was set to unveil its name and logo on September 12, 2001. The team was eventually named the Conquest (from Mitch Goldich). … Recently retired Lions WR Calvin Johnson is participating on Dancing With the Stars, and last night he and his partner Lindsay Arnold wore Lions-themed outfits, complete with Johnson's familiar No. 81. … Super Bowl 50 was played at the the 49ers' stadium, which presumably explains why a member of the chain gang at last night's Rams/Niners game was wearing a vest with the Super Bowl 50 logo.

College Football News: Ohio State will wear Woody Hayes-era white throwbacks on Saturday (from Phil). … LSU will wear gold throwbacks on Saturday. Here's another view and a detailed look at the uniform (from Brian Rees). … Several letters in Wisconsin's new end zone are upside-down (from Nate Neumann). … Central Michigan players wore a mix of glossy and matte helmets on Saturday (from Kurt Witten). … The colors from Michigan's official style guide don't match the new Nike colors (from Phil). … An Iowa fan has some aggressive Hawkeye tattoos.

Hockey News: The Canadiens presented a No. 71 jersey to Peter Thomson, the Representative of Fiji to the United Nations and the incoming 71st U.N. General Assembly President. … Devils rookie defenseman Yohann Auvitu will wear No. 33.

NBA News: Chinese media outlets are reporting that the Rockets will retire Yao Ming's No. 11. He was inducted into the hall of fame last weekend. … The Hawks are letting fans swipe left and right (like or dislike) every logo in team history. The logos come from Chris Creamer's SportsLogos site. … James Harden will wear a "Ghost Pepper" colorway of his Adidas Crazylight shoe for a few games this season. His signature shoe doesn't launch until next year. … In case we didn't already know, the Raptors revealed when they will wear their Huskies throwbacks and Chinese New Year unis.

Soccer News: New York City FC's Andrea Pirlo has new burgundy cleats that represent his love of red wine (from Mikey Traynor). … New kits for Newell's Old Boys, an Argentine club.

Grab Bag: The NCAA has pulled seven championship events out of North Carolina, including the first two rounds of next spring's March Madness, in response to the state's anti-LGBT law. … The Joint Program Executive Office for Chemical and Biological Defense is holding a competition to design a suit that protects against chemical and biological attacks (from James Gilbert). … New logo for Snapdeal. … The English post-punk band Public Image Limited sells a cycling jersey (from Eriq Jaffe).