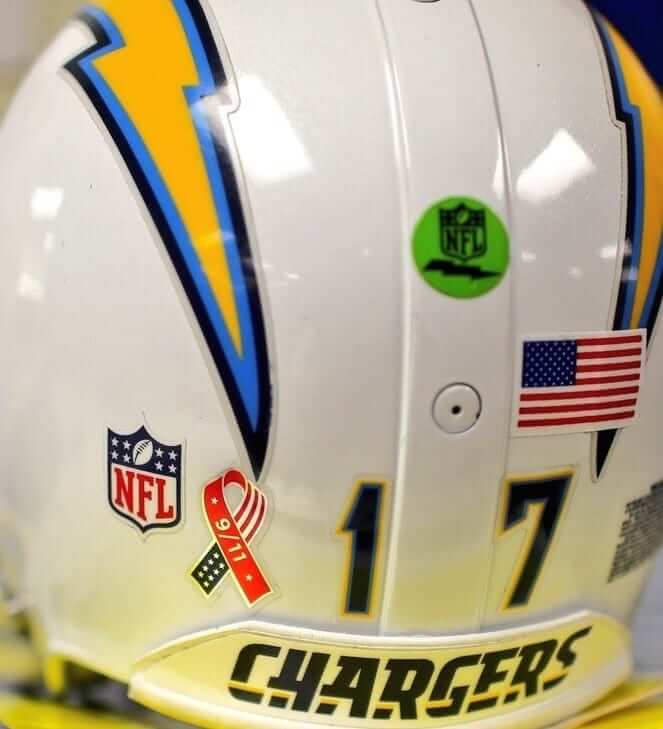 Welcome to the first Monday Morning Uni Watch of the 2016 NFL season. As you can see in the photo shown at right (which, like most of today's photos, you can click to enlarge), all teams wore a commemorative helmet decal to mark the 15th anniversary of the terrorist attacks of Sept. 11, 2001. Other 9/11-related NFL news included the following:
•  Coaches wore 9/11 pins, which ended up in various places, including chests, lapels, and caps. But Raiders coach Jack Del Rio's pin was upside-down, Cowboys coach Jason Garrett's was crooked, and Eagles coach Doug Pederson's was also crooked.
•  Lots of players wore stars-and-stripes cleats and accessories — sometimes just for pregame warm-ups and sometimes for the game. Titans linebacker Avery Williamson was apparently told not to wear his star-spangled cleats in the game but wore them anyway. Colts punter Pat McAfee invited a fine as well.
•  At the Meadowlands, Jets coach Todd Bowles wore a first responder cap, and so did opposing coach Marvin Lewis of the Bengals. Bengals tight end Tyler Eifert, who was inactive due to injury, did likewise during pregame warm-ups.
As for uni-related developments that did not involve 9/11:
•  We got our first in-game look at the Saints' 50th-season patch, which had previously been announced but was not worn during the preseason:
•  We've seen lots of teams going with raised, 3-D graphics on their nose bumpers in recent years, but the Patriots are the NFL first team I'm aware of to use raised lettering on their neck bumpers: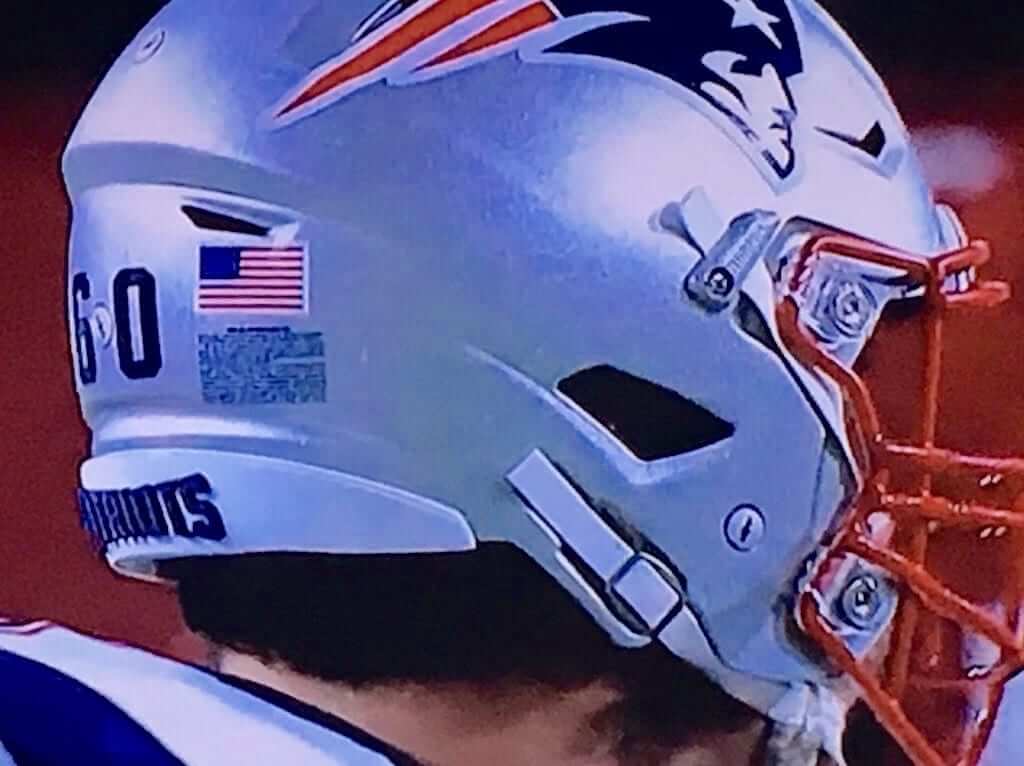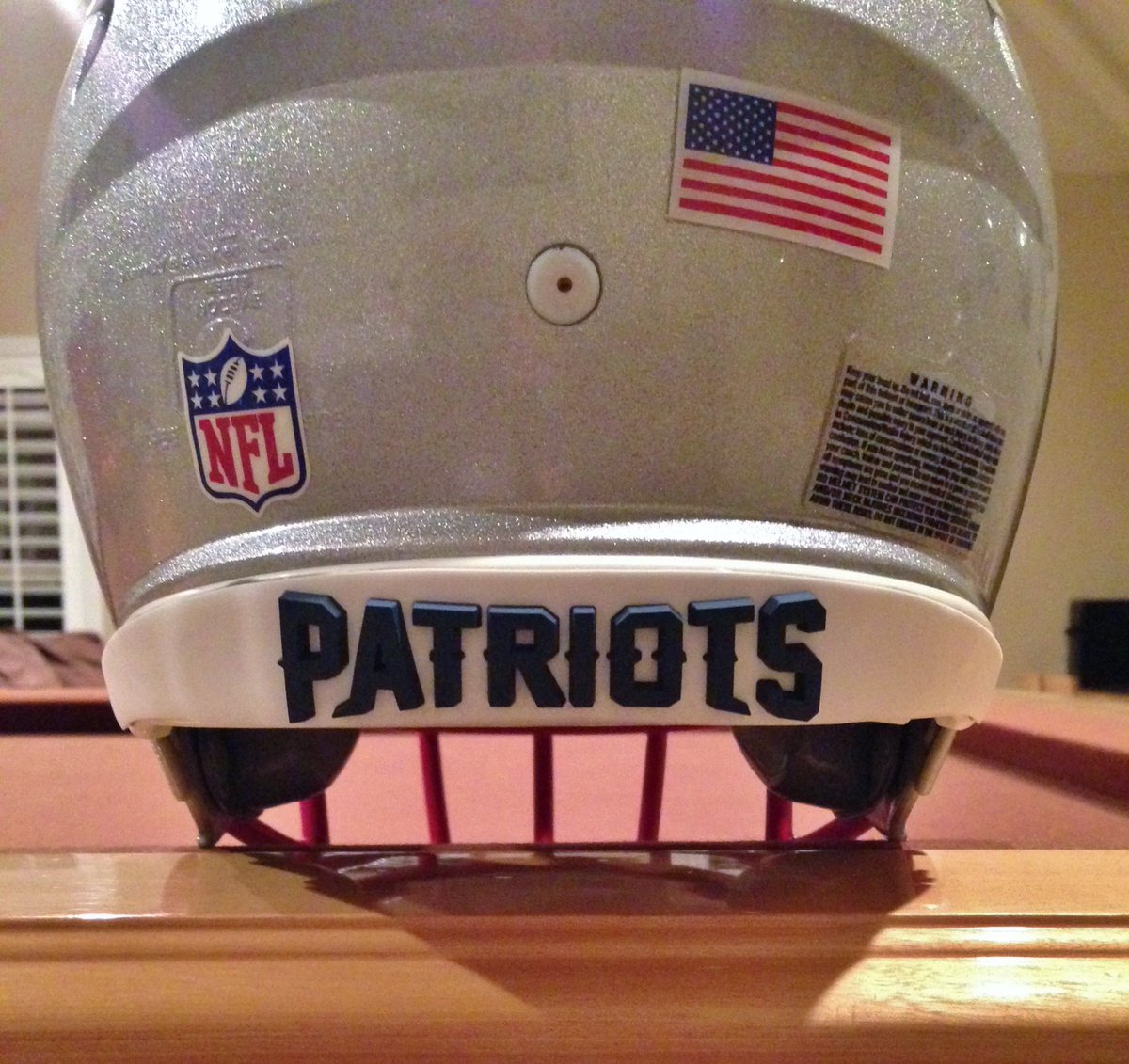 At least one college team has had 3-D neck bumper lettering — Maryland — but I'm pretty sure the Pats are the first pro team to go this route. Interestingly, they appear to have had flat lettering in the preseason, so the 3-D effect was something the equipment staff must have been saving for the regular season. (And yes, they also have raised lettering on their nose bumpers, but that's not new — they had it last season.)
•  The Cardinals now appear to be using their helmet logo on their visor tabs: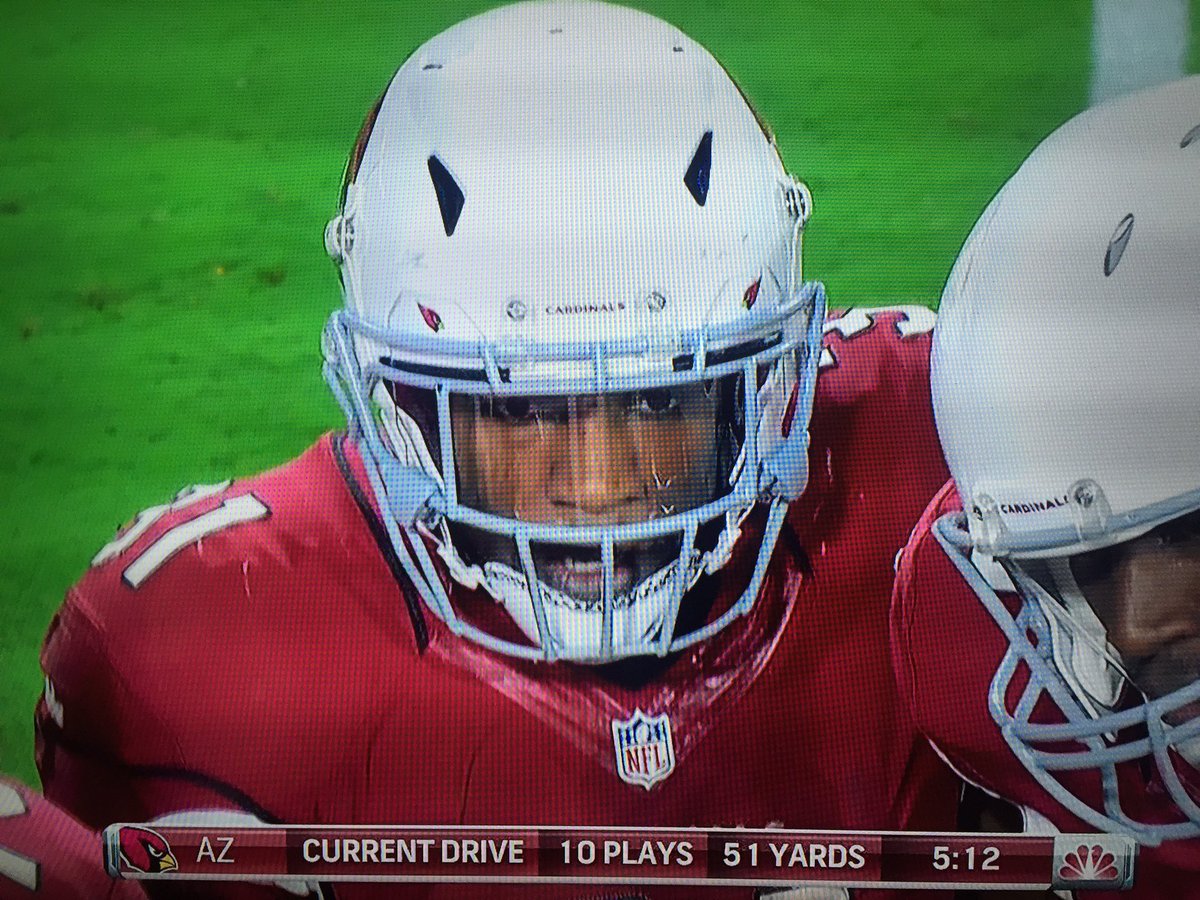 I'm pretty sure that's new. In the past they've gone with blank tabs.
•  See those unusual cleats being worn by Texans wide receive Deandre Hopkins? Those are Yeezys, given to him by Kanye West.
•  Four seasons in, and I still don't like the Dolphins' blue-topped socks, which they wear to create contrast with their aqua pants. Just wear white socks with stripes, guys!
•  Packers safety Ha Ha Clinton-Dix and Jaguars cornerback Jalen Ramsey exchanged jerseys after their game. Ditto for Giants defensive lineman Jason Pierre-Paul and Cowboys tackle Tyron Smith and Vikings running back Adrian Peterson and Titans safety Da'Norris Searcy. (I realize jersey exchanges are now fairly common and may not seem like news, but I'm going to keep listing them when I'm aware of them.)
•  The Colts' sideline mascot, Blue, has a 10th-anniversary patch this season.
•  Six teams wore white at home: the Jaguars, Jets, Saints, Texans, Titans, and of course the Cowboys.
•  The latest developments regarding the national anthem included the following: While Chiefs players linked arms during the anthem, cornerback Marcus Peters raised his fist; Dolphins players Arian Foster, Kenny Stills, Michael Thomas, and Jelani Jenkins all kneeled; and Patriots players Martellus Bennett and Devin McCourty raised their fists after the anthem's completion (further info here).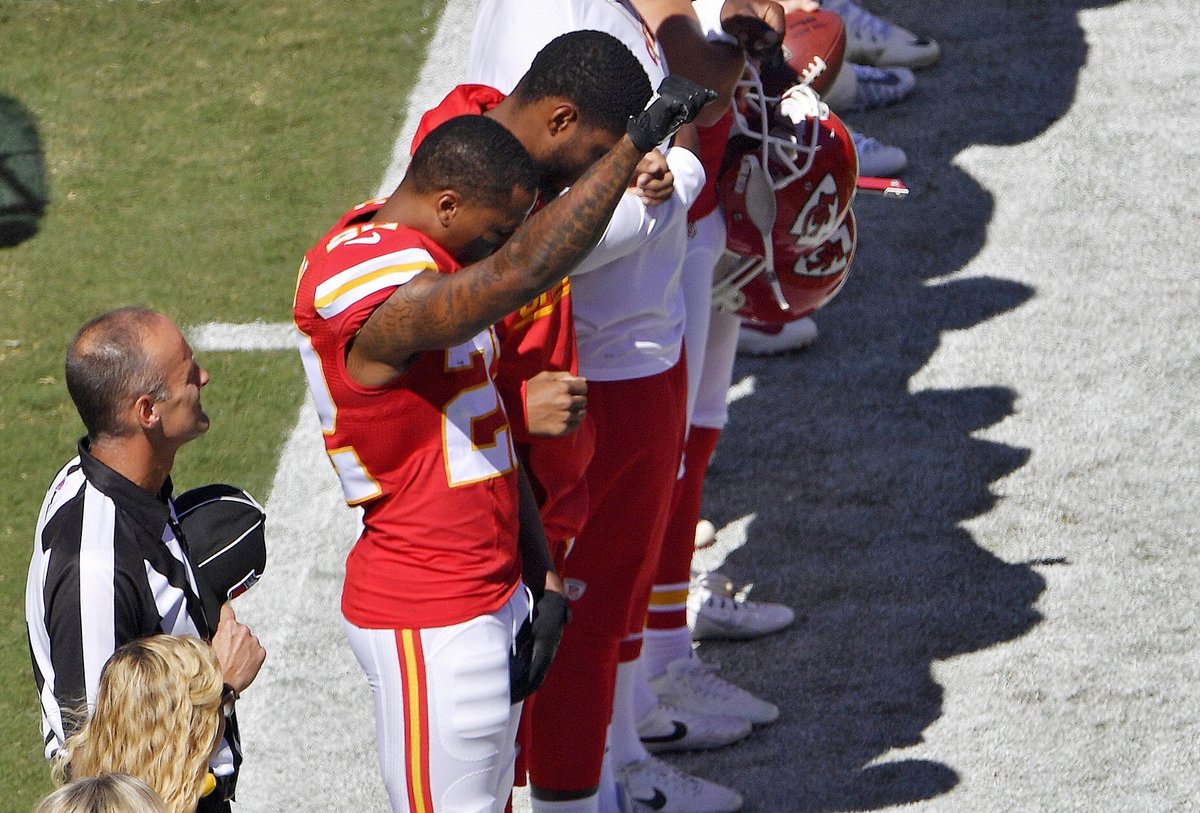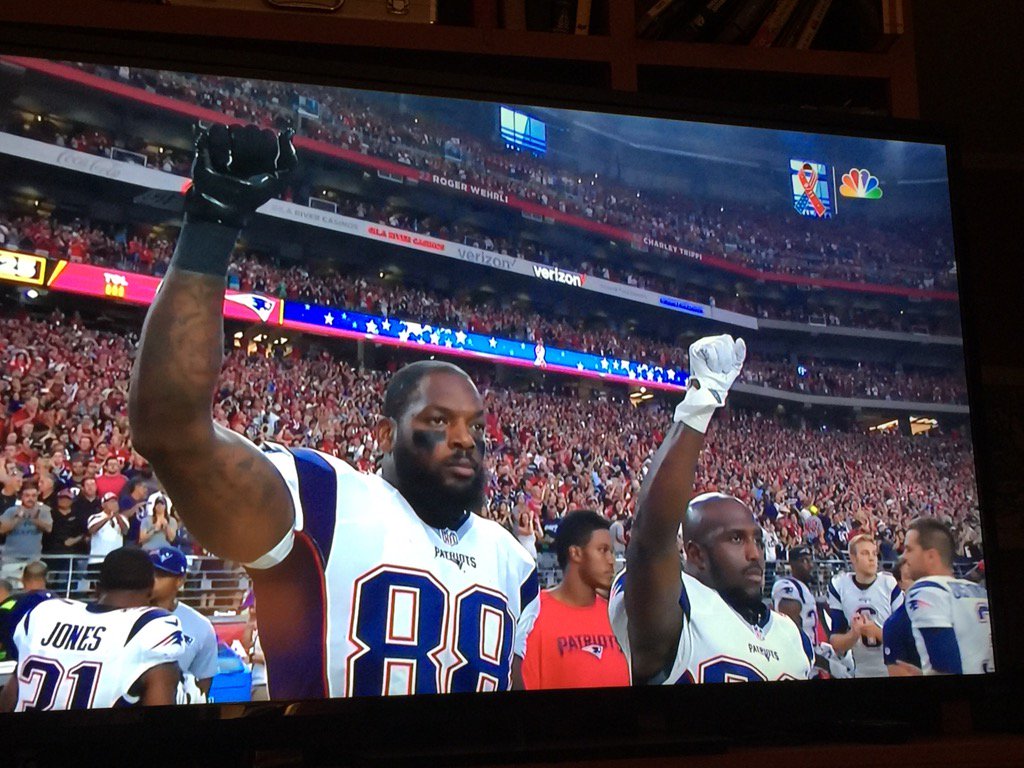 (My thanks to all contributors, including Mike Chamernik, Frank McGuigan, Kevin Mericle, @NA_Colosimo, Jerry Wolper, and, especially, our own Alex Hider.)
•  •  •  •  •
The Ticker
By Alex Hider

Baseball News: All MLB uniformed personnel wore American flag cap patches yesterday, to mark the 15th anniversary of the Sept. 11 terrorist attacks. Cubs C David Ross wore the patch on his mask. In addition, the Mets wore first responder caps during BP. … The Pirates have worn six different jerseys in their last six days: home whites on Tuesday, white throwbacks for Roberto Clemente day on Wednesday, camouflage on Thursday, Homestead Grays throwbacks on Friday, black alts on Saturday, and gold throwbacks yesterday. If they wear their road greys tonight in Philadelphia, it'll mark the seventh jersey they've worn in seven days (from Jerry Wolper, who got the info from Pirates reporter Matt Gajtka). … The Dodgers made their new rookie teammates wear cheerleading outfits "" and recent call-up Yasiel Puig wasn't spared (from Mike). … The Red Sox traveled to Toronto in their "favorite jerseys" last week.

College and High School Football News: Looks like U of Miami has added hurricane-shaped merit decals to their helmets. … North Carolina's M.J. Stewart, Jr. has a JrOB that includes a comma (from CJ Michael). … Looks like LSU has made some slight changes to their midfield logo (from Alex Liggett). … This SMU player is giving Frank Gore a run for his money with these biker shorts (from Brian Wulff). … Arkansas RB T.J. Hammonds had "Arkansas" misspelled on his jersey the other day (from Patrick Thomas). … Todd Beamer High School in Federal Way, Washington, is named after one of the passengers who helped foil the Flight 93 terror plot on Sept. 11, 2001. This past weekend, the school wore "93" on their helmets and Beamer's famous "Let's roll" quote on their pant legs to commemorate their namesake (from Todd Keister).

Hockey News: The Nashville Predators updated their Facebook and Twitter avatars with a stars-and stripes motif for September 11th. … Check out this hockey team with tequila sunrise-themed jerseys (from Ricky Cardenas).

NBA News: A suburban Denver pizza place honored pizza, the Nuggets, and 9/11 with these jerseys (from Mike Chamernik) … .Here's a look at the evolution of Kobe Bryant's personal logo.

Grab Bag: Soccer team Windsor FC of England's Combined Countries League has some wild Union Jack jerseys (from Jefferson Lake). … Here's a good video showing how much work it takes for funny car drivers to put on their gloves (from David Firestone).