So Thursday has come and gone, and still no Color Rash teaser. Yet another reminder that any info sourced from "someone on Reddit" is highly suspect at best.
Meanwhile, some notes from last night's NFL season opener:
•  The Broncos did not wear a Super Bowl Champions patch. So the only teams to have done that for the season-opening game are still the Patriots (three times) and Saints. Am I the only one who finds it surprising that the league doesn't have a consistent protocol for this? In an era where the default tendency is to have a patch (or at least a helmet decal) for just about anything, it seems like a minor miracle that they haven't made the patch a standard thing.
•  Broncos LB Brandon Marshall, who'd previously expressed support for former teammate Colin Kaepernick's national anthem protest, took a knee during the anthem prior to the game.
•  The Broncos have new championship banners (click to enlarge; photo courtesy of Ed Kendrick):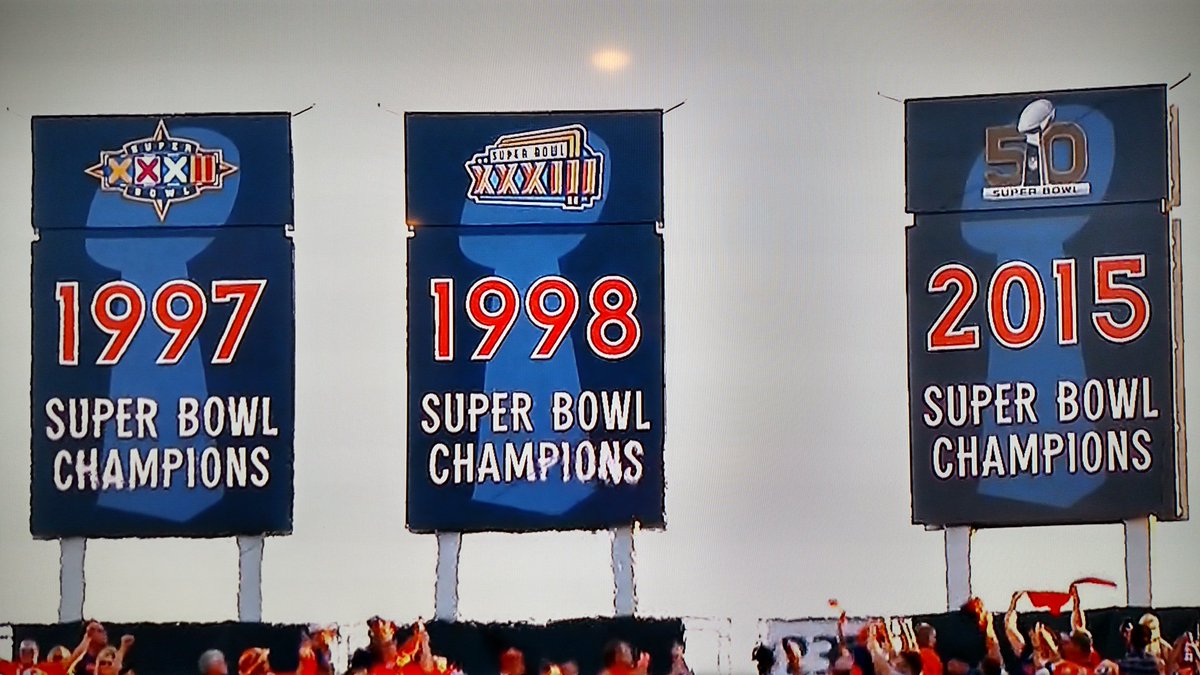 • • • • •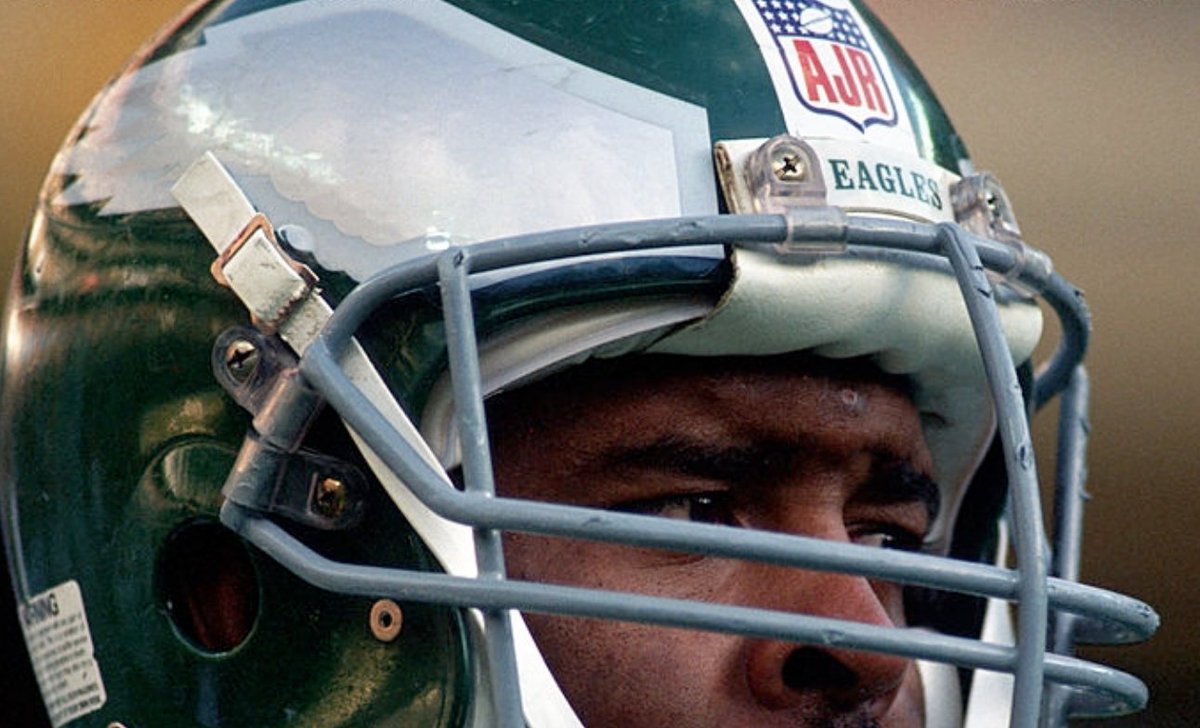 Click to enlarge
Friday Flashback: In light of the recent storyline regarding Tom Brady possibly removing the NFL logo decal from his helmet, my latest Friday Flashback piece on ESPN takes a look at the history of the NFL shield, and its assorted permutations, on players' uniforms (including the Art Rooney memorial decal that the Eagles wore on the front of their helmets when playing the Steelers in 1988, as shown above). Check it out here.
•  •  •  •  •
T-Shirt Club reminder: In case you missed it last week, we've launched our latest Uni Watch T-Shirt Club design.
My creative partner on the T-Shirt Club project, Bryan Molloy, no longer works at Teespring, so we're doing this shirt with his new employer, Represent, which operates almost exactly like Teespring does. From your standpoint, the customer experience should be virtually identical.
Now then: Our latest shirt is devoted to soccer. Here's the design (for all of these images, you can click to enlarge):
We're offering this design in four different shirt colors — maroon, black, dark green, and heather grey:
The shirt is available here. My thanks, as always, for your consideration.
• • • • •
The Ticker
By Paul

'Skins Watch: A baseball team in Canada has announced that it will no longer be called the Indians (from Kevin Machin). … It was great to see several Uni Watch readers yesterday at Baruch College in Manhattan, where I was part of a panel discussion on the use of Native American images in sports. The other four panelists, who were evenly split on both sides of the issue, included two attorneys (one of whom is also a professor) and two activists — in short, well-practiced oral communicators. They were all much more polished and charismatic than I was (seriously, it was a pleasure listening to them, even when I disagreed with some of them), but I think I had a few good moments of my own. The audience was attentive and engaged, and we even got about 85% of the way through the event before anyone invoked the term "politically correct," which feels like a near-victory right there.

Baseball News: When the Pirates and Rangers played each other in the 1973 Hall of Fame Game (an annual exhibition game that took place in Cooperstown from 1940 through 2008), at least two of the Rangers wore Pirates batting helmets. Also, the player on the right, is actually Rangers first base coach Jackie Moore, who was permitted to play in the game (great find by Michael Clary). … Are the Dodgers going to wear "Los Doyers" jerseys? Could be (thanks, Phil). … A new soul food restaurant in Omaha has a Negro Leagues theme (from Chris Bisbee). … The Twins and Indians will both wear a memorial patch tonight for Jacob Wetterling, the Twin Cities kidnapping/murder victim whose body was found last week (from Mark Wilkes). … Best Blue Jays shirt ever (from Kevin Pedigo). … MLB will mark the 15th anniversary of Sept. 11 with, among other things, this commemorative cap patch. Further details here. … The Padres gave Big Papi a giant surfboard the other night (from Andy Huebner). … Colorado Congressional candidate Morgan Carroll's campaign logo is very Rockies-inspired. … Reds C Ramón Cabrera's bat knob decal features a caricature of himself (from Steven Crooker). … Fans are being invited to cast their votes for the Staten Island Yankees' new team name. … Marlins P Andrew Cashner, who's set to become a free agent, says he won't re-sign with the team unless skipper Don Mattingly rescinds his ban on beards (thanks, Mike).

NFL News: KFC's new ad campaign features a fictitious football team called the Kentucky Buckets, who, among other uni-notable aspects, wear vertically striped socks, Ã  la the early Broncos. Additional info and video here (from @Needles56). … A new State Farm commercial shows an NFL locker room scene featuring players with three different forms of base-layer logo creep (from Cory Hoad). … Lots of last-minute uni number changes for the Ravens (from Andrew Cosentino). … I was name-checked in an odd way. For details, check out the next-to-last line on this Rams item (from Charlie Franz and Tommy Forrester).

College and High School Football News: Here's a very short video on how South Carolina chooses what to wear (from Beau Franklin). … Ewww: A California teen contracted flesh-eating bacteria from a football helmet. … Stars/stripes helmets this Saturday for Sacred Heart. … Here are this weekend's uniform combos for Louisville, Utah, FAU, Arizona State, Troy, Missouri, and UNC. … … Virginia Tech's latest special teamer to wear No. 25 will be Sean Huelskamp (from Andrew Cosentino). … Minnesota's sideline mascot, Goldy Gopher, will wear No. 11 this Saturday, instead of his customary No. 0, as part of the team's salute to murder victim Jacob Wetterling. … Here's a look at Yale football uniforms through the years (from @fauxrealism).

Hockey News:
New uniforms for the Bakersfield Condors (from @sethbakescake). … The Anaheim Ducks have released their third jersey schedule (from Kenny Saidah). … The Sharks have a new TV commercial that shows the team's new and old jerseys side by side. … Speaking of the Sharks, they have a new red ale, called Chum (thanks, Mike). … Mike Fisher will be the latest Predator to wear the captain's C. … New 25th-anniversary alternate jersey for the Mississippi RiverKings. … Great look at the 1976 Canada Cup program (from Chris Mizzoni).

Pro and College Basketball News: With the 2017 NBA All-Star Game having been moved from Charlotte to New Orleans due to North Carolina's anti-LGBT law, the game now has a new logo. … The Wizards have a new stars/stripes military tribute uniform. Additional details, including the dates when the uni will be worn, here. … New court for Mississippi State (from James Carpenter).

Soccer News: "An Italian club has signed a new player who will wear No. 1 despite being an outfielder, which is rare," says Denis Hurley. "On my blog, I've charted other notable examples of this."

Grab Bag: While looking for something else, I came across this Wikipedia page that shows and describes two dozen different screw head designs, most of which I'd never seen before. So cool! I especially like the torq-set design, which looks like it'd be very satisfying to use. … This is pretty funny: Nobody agrees on the proper shade of Columbia blue (from Brian Cheung). … The big problem with urban bike share programs is that most participants don't have helmets. So a college student has invented a recyclable, foldable helmet that could be sold in vending machines. … A recent NYC fashion show featured clothing made from garbagemen's uniforms (from Tommy Turner).