[Editor's Note: Paul is on his annual August break from site. Deputy editor Phil Hecken is in charge from now through the end of the month, although Paul is still on the clock over at ESPN and may be popping up here occasionally.]
By Phil Hecken, with Mike Laughlin
Follow @PhilHecken

We continue today with our look at the unis of the various sports (and some histories and backstories too) of the Rio Games of 2016. Today, I'm joined by Mike Laughlin, who will take a look at the Triathlon.
So without further ado, here's Mike.
+ + + + + + + + + +
Olympic Triathlon
By Mike Laughlin
By now we have all seen the Ironman Triathlon on TV, that endurance test consisting of a 2.4 mile swim, 112 mile bike ride and 26.2 mile marathon run. It was even the subject of 1985 Valentine's Day ABC made for TV movie called Challenge of Lifetime starring Penny Marshall. I would actually try one except I only know the back stroke, have to ride an adult tricycle for health reasons and haven't ran since before the 1980 New Hampshire primary.
The triathlon is unique in terms of the clothing and equipment must work together to achieve victory. The governing body of the sport-the International Triathlon Union (ITU) has a fairly complex rulebook on the subject. Even so there is still wide latitude on what competitors will use during the event.
An Olympic triathlon consists of five stages-a 1.5 K swim (.93 mile), a transition from swim to bike, a 40 K swim (25 miles) a transition from bike to run and a 10k run (6.2 miles). The transitions are where the races are run and lost.
This year's races will be held at the Praia de Copacabana in Rio:

The men's event will be on Aug 18th and the Aug 20th will be the women's race. Both will start at 11:00 AM local time and there will be 55 athletes in each.
So let's go thru what an athlete will go thru on race day.
It will be late winter in Rio, last year was sunny with a real feel temp of 96.7 and a slight east wind and here's where the first equipment decision has to be made. It is illegal to completely strip in a transition area and change to a new outfit. Therefore, what you wear here you will wear for the race. Most will opt for a "trisuit" a one piece outfit such as below:
Or they could opt for the traditional speedo:

The athletes have the option of wearing a wetsuit that is no more than 5 millimeters thick. provided the water temperature is at or below 71.6 degrees. This will be determined two hours before race time. The competitors will make their clothing decisions at that time. They will also be required to wear a swim cap which will probably the same type the swimmers use. They are allowed to wear facemasks and goggles if they wish. Artificial aids such as paddles, gloves, fins, snorkels or footwear of any types are prohibited. I should also point out that you may like to train why wearing headphones-they are not allowed here. They will have to have their soundtrack in their head. Finally is the temporary arm tattoos showing the athletes number.
The race begins with a running start into the sea and the swim, this will be an out and back type of swim with the swimmers running out of the water at the end and into the first transition area, even as they are approaching the area they are removing equipment to save time and you try not to stop. The first thing they will put on is their bike helmet.
There is one important rule at this point, the racer must have the helmet on and securely fastened before they pull the bike out of the rack and cannot unfasten and remove the helmet until after the bike is placed in the rack at the end of the bike stage. Failure to comply will mean immediate disqualification. Since bare torsos are also not allowed , bare chested men will have to put on a singlet as well. Gloves and sunglasses are permitted.
Once the competitors go the bike rack they will pull their bike out.

Riders have custom bikes designed for them and must meet prescribed standards. I won't go until too much detail as that would require an article on its own. Unlike Tour de France support vehicles are not permitted so if something goes wrong the rider must attempt to solve it by themselves.
To save transition time the shoes are already are in the toe clips before leaving.

Socks are not worn to save time and most competitors will start riding barefoot and once up to speed then put their feet in the shoes. The race will be eight laps with several climbs along the way. They will have water bottles and there will be other aid stops along the way. If a bike breaks down the rider can walk or run the course as long as they are alongside the bike and are not interfering with other riders. Drafting is not allowed.
When the bike portion is completed the racers will enter the transition area. Before entering they already have their feet out of the shoes. They cannot dismount until they are in the transition area:

Once they reach their rack the bike must be racked first:

Remember the racer cannot unfasten and remove the helmet until the bike is racked.
Then the racer will change to running shoes:

There are models that have socks for comfort.
They may add a cap or visor and they are off:

The run will be for four laps around the course. Aid Stations will be along the way. When the runners are finished they may require IV's for hydration and will have to submit to drug testing.
Since all this is based on race day conditions-we really don't know what the athletes will wear yet, I will be back after the races to go thru that.
Also at the Paralympics the sport of Para triathlon will debut as well.
+ + + + + + + + + +
Thanks, Mike! OK readers, what say you?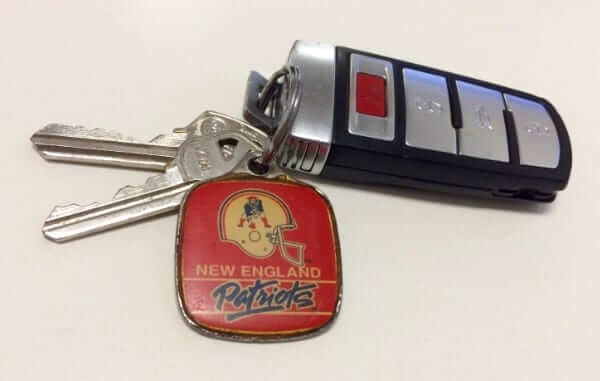 And now a few words from Paul: Hi, folks. Just back from a great vacation in northern California and southern Oregon (more on that when I return to the blog next month). While I was away, two new installments of Key Ring Chronicles were posted. The first one, which I think will be of particular interest to Uni Watch readers, involves a Pat Patriot key tag, as shown above. You can check that out here.
In addition, Uni Watch reader Justin Cliburn submitted an excellent entry about his military ID tag and his blood donor tag, which you can see here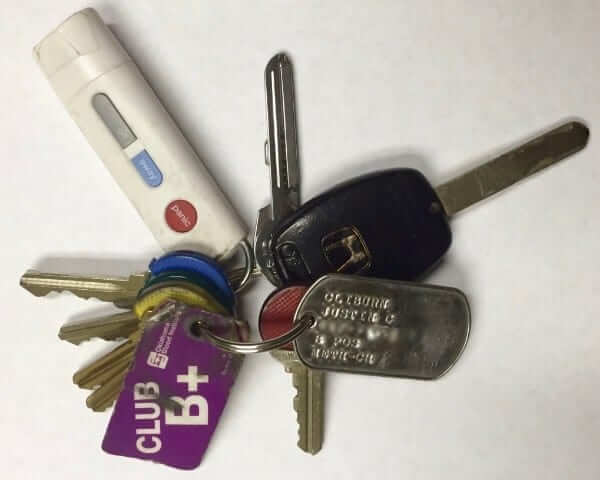 You can check out Justin's entry here.
That's it for me. Big thanks to Phil and the rest of the crew for keeping the site running in my absence!
Jimmy Corcoran and his NFL 50th Anniversary Patch
In last Friday's ticker, reader David Firestone sent in an E-bay listing for a Vikings game-worn 50th Anniversary Patch. That led my buddy Jimmy Corcoran (son of "King Corcoran, the WFL and NFL quarterback) to regale me with a little story of his own … and his own NFL 50th Anniversary patch.
Here's Jimmy (you can click on any photos below to enlarge).
__________
How are you Phil? You're doing a great job filling in for Paul. I see you had a piece on a 1969 Vikings NFL 50 patch, I still have one too. My father was cut twice by the Eagles, in 1969 and 1971. For some reason after he was cut in 69 he ripped off the patches on his jerseys? He gave them to me when I was a kid.

My father was not a big collector of equipment he wore (it was just important for him to look good in his uniform) so I have no idea why he took the patches?. These pictures were taken of me in 1972, I dressed as an Eagle for Halloween and to make my uniform look more authentic I had my father's NFL patch on my jersey.
I sold one a couple of years ago for seventy dollars and still have one. Until I saw your piece today I forgot all about these.
I made my nephew an official Olympics cereal box, no he does not do the pole vault just plays football.

Take care,

Jimmy Corcoran
__________
Thanks Jimmy! Great little story and cool pics.
The Ticker
By Alex Hider

Baseball News:  The Giants gave away Abbey Road-inspired T-shirts  this weekend to commemorate the the anniversary of the Beatles' final show, which took place in San Francisco (from Steve Dodell). … Here's something you don't see every day: A Dodger in striped socks. That's Enrique Hernandez (from Fadeaway). …  The Yankees honored the 1996 World Series champs at The Stadium on Saturday with a patch. Joe Girardi, the catcher on that team, wore his old No. 25 during the pregame ceremony. He usually wears No. 28 in the dugout (from Jamie Burditt). … The Atlanta Braves will be  giving away caps in honor of EMS professionals on Sunday (from Eric Shaver). … These apparently are the spikes A-Rod was slated to wear when he hit his 700th homer. Close, but no cigar (from J. Walker). …  The folks over at Mets Police  took down a Geico commercial and its poor attention to detail.  …  A Maryland delivery service has  poached the Angels' "Winged A" logo from the 90s (from  Zach Gibson). … The Springfield Cardinals wore Route 66-themed jerseys yesterday (from Steve Doyel). …  The Richmond Flying Squirrels have a machine called a "Baseball Renewer" which polishes out buffs and lets the team re-use BP ball (from  Tommy).

NFL News:  The Eagles wore military-themed unis for an open practice yesterday (from Thom D.). …  Colin Kaepernick has asked the NFL for permission to wear a tinted visor this season (from  Phil). … Anyone know what that logo is on the 49ers' 25-yard-line? (From  David). … Speaking of the Niners, here's the first in-game look of their 70th anniversary patch (from Brinke). …  It looks like the Bears will be wearing navy undershirts this year to match their jerseys. They wore white under their pads last year with their blue jerseys (from  Thomas Juettner).

College Football News:  Air Force unveiled these slick new helmets yesterday inspired by the WWII-era P-40 fighter planes (from  Phil). … The directional arrows on the field at Florida State's Doak Campbell Stadium are now spears. Get it? (From  Ian Gerig). …  New helmets for DII Adams State in Colorado (from  Michael Skinner). … Some SMU players have been wearing guardian caps at practice (from  Timmy Westside). … Yet another new helmet for Tulane. How many does that make for them? At least five? (From  Tulane Sports Guy). … Here's what Texas State will be wearing this fall (from  Keff Ciardello).
Olympics News:  The Washington Post ran an in-depth look at the evolution of the gymnastics leotard the other day (from  Andrew Hoenig). … Along those same lines, here's the evolution of women's tennis gear (from  Graham Clayton). … Here's what the golf bags looked like for all 16 countries (from  Patrick O'Neill). …  Harvey Lee  points out that while this year's track and field bibs are bigger than they've ever been, the font seems to be shrinking.

Soccer News: Apparently, England is supposed to have rules in place to keep teams from changing their kits all the time. They're definitely not working. …  Dele Alli of Tottenham will wear his first name on his jersey because he feels "no connection" to his surname (from  Joe Hollomon). … Wolverhampton will have a new  program cover for every home match this season. Here's week one's (from  Chris Corbaz). … Liverpool's Premier League patches were crooked during their match this weekend (from  Gregor Smith).

Grab Bag:    North Carolina State's new basketball floor is taking shape (from James Gilbert). …  The Jacksonville Sharks had some serious chrome paint problems in their AFL game yesterday (from  Cody Bryant).
And that's it for today. Thanks to Mike for the Triathlon piece, and Alex for the Ticker — and Paul for checking back in with Key Ring Chronicles.
I'm still trying to figure out the best way to present (and allow for voting on) the Griffins Redesign Contest. As I mentioned last Friday, there are about 85 submissions, which is far too many to present at one time. I may break it into two (or even) four sets, and run those over the next several days. The first batch could be revealed as early as tomorrow, so be sure to check back then.
ATTENTION: Johnny Okray, Harrison Hamm and Lexi Dever! Please check your e-mails and reply to me ASAP. Thanks.
Until tomorrow…
Follow me on Twitter @PhilHecken.
Peace.
.. … ..
"Man you guys are going to be in t r o u b l e when the teacher gets back when he hears everything you said about the sub!!! HAHA"
— Tony Kellogg