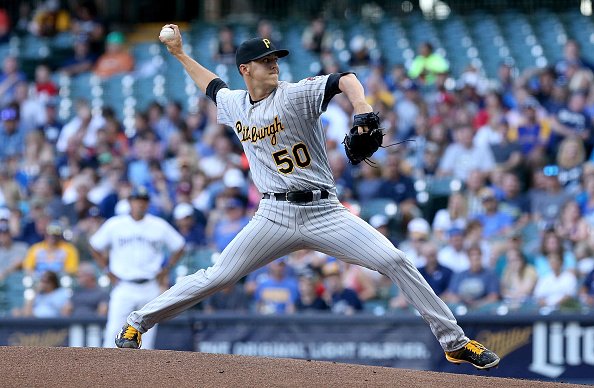 Paul here, still pinch-hitting for Phil this weekend.
The Brewers and Pirates wore late-1990s throwbacks last night in Milwaukee. The Brew Crew's unis were designed back in the day by longtime Uni Watch pal/ally Todd Radom, who I'm sure enjoyed seeing his creation back on the diamond.
Most of the players went low-cuffed, which makes sense, since we're talking about a late-'90s look here. A few went high-cuffed, and Pirates second baseman Josh Harrison wore period-inappropriate striped socks:
You can see lots of additional photos here.
•  •  •  •  •
"You sunk my battleship!": What's the dealio with these 1940 Louisville Colonels players wearing alpha-numeric uni designations? Turns out it was based on their positions and their status on the depth chart. The starting second baseman would wear 4-A, the primary backup would wear 4-B, and so on. It was supposed to make things easier for fans but ended up being more trouble than it was worth.
This all came to light thanks to some home movie footage that was recently discovered. Further info here and here, and you can see the home movie footage below.
•  •  •  •  •
Click to enlarge
Bearly there: Yesterday some friends and I went to the New Museum, where we saw an exhibit about collections and the collectors who collect them. The show-stopper was a room filled with 3,000 old photos of people posing with teddy bears, all collected over many years by one person. There were musicians with bears, people with guns and bears, families with bears, children with bears, grown-ups with bears, naked people with bears — pretty much every teddy bear-inclusive situation you can imagine.
Including sports teams with bears. The great thing about the photo shown above is that the bear, who's in the center of the photo, in front of the keeper, is wearing the same striped jersey as the soccer players!
There was also a baseball team with a bear, a basketball team with a bear, a soccer or rugby team with a bear (note that the bear's stripes are horizontal while the players' stripes are vertical), and more. I have no idea why posing with a bear became a thing, but it definitely appears to have been a thing. Weirdly endearing.
For more on the bear photos and the woman who collected them, look here.
•  •  •  •  •
The Ticker
By Paul

Baseball News: The Mets retired Mike Piazza's No. 31 last night. Players wore Piazza patches on their sleeves and caps. … The Indianapolis Indians wore Negro Leagues throwbacks on Friday night. Here's some video footage. … Charleston RiverDogs president emeritus Mike Veeck, whose family helped create the Chisox leisure suit design, has responded to the Chris Sale incident by issuing an "ex-Veeck-utive order" that all RiverDogs jerseys will have collars for the rest of the season. "Mike was out of town, so it took a few days to make this happen, but better late than never," says team spokesman Nate Kurant. … Mariners closer Steve Cishek had his left stirrup come untucked yet again yesterday. Something like the fourth or fifth time that's happened this season (from Paul Demay). … Red vs. red! That's Lebanon vs. Alton in the New Hampshire American Legion state tourney (from Tris Wykes). … Here's one of those time-lapse GIFs, this one showing the evolution of MLB team logos (from Scott, who didn't give his last name). … Here's Giants P Madison Bumgarner next to a Lego version of himself (from Nathan Reid).

NFL News: Check out this shot from a 1984 game, which appears to show a Chargers player with two Band-Aids on his helmet. "Maybe that's how they treated concussions back then," quips Gene Sanny. … Good article on the electric football championships (from Tommy Turner). … The Cowboys are adding a helmet decal to show solidarity with the Dallas Police Dept. and the local community, but only during practice (from Chris Mycoskie).

College Football News: This is supposedly Michigan's new number font. We'll find out for sure on Tuesday afternoon, when the unveiling is scheduled to take place (from Seth Gladstein). … I think we've already seen this, but just in case: New uniforms for Appalachian State (from Chris Daniels).
•  •  •  •  •
Over and out: Tomorrow I start my annual August break from the site. Phil will be running the show here, and webmaster John Ekdahl will be handling the weekends. I'll probably be making cameo appearances now and then, and I'll still be on the clock over at ESPN (we'll have the Timberwolves-redesign contest results soon — maybe on Wednesday), but for the most part I'll be avoiding the blog. See you in September!