Paul here, pinch-hitting for Phil this weekend.
On Wednesday afternoon I posted this tweet about the logo for the Lake Erie Warriors, a new junior hockey team slated to begin play this fall:
Quite a logo for the Lake Erie Warriors, new team in the National College Prospects Hockey League. pic.twitter.com/2NMzQHi9oT

— Paul Lukas (@UniWatch) July 27, 2016
I didn't say anything except "Quite a logo," because I figured it spoke for itself.
On Thursday I followed up with this post. I wrote, "I don't have much to say about this one, because the whole thing pretty well speaks for itself."
Lots of other media outlets jumped on the story. Most expressed outrage; many called the logo "racist." The smartest take came from Deadspin, which posted a short article with a headline that read, "Hey, Come Look At This Hockey Team's Logo Before They Apologize And Change It." The article consisted of two sentences: "The National College Prospects Hockey League, a pretty low-level junior league, begins play this year, and below you'll find the logo for the Lake Erie Warriors. [Embedded tweet showing logo.] We wish the Warriors luck with the design and unveiling of their next logo before they take the ice this fall."
Sure enough, the Lake Erie Warriors no longer exist, at least not under that name. Yesterday they were unceremoniously renamed the Lake Erie Gulls, and an amusingly Soviet-style scrubbing of the team's very short history took place. The Warriors' promotional video — the one that said, without apparent irony, "You're only as good as your values" — no longer exists. And some photos from the old Warriors site were Photoshopped, with the Warriors logo removed and a new Gulls logo clumsily swapped in:


As of this morning, the team has been renamed again. They're now the Lake Erie Eagles. The photos with the Photoshopped Gulls logos have been replaced with photos like this one: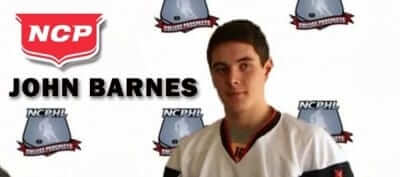 As you can see, now they've just Photoshopped the league logo in place. The funny thing is that the player in that photo is wearing a Warriors jersey. Earlier this week, before the controversy blew up, the entire jersey was visible. Now they've cropped it so you can't see the Warriors chest logo.
As news of the first renaming spread in our comments section yesterday, reader Mike Wissman asked, "Any possibility that this was a really lame attempt to draw attention to the league?" I usually roll my eyes at conspiracy theorizing, but I have to admit that something feels a bit off regarding this entire episode. Consider:
It's hard to fathom how any team could have chosen to go with that Warriors logo in 2016.

The video, with its "You're only as good as your values" slogan, was almost too perfect in its tone-deafness.

Replacing "Warriors" with "Gulls" is, again, almost too perfect. It's like when the band Anthrax responded to the anthrax scare by jokingly saying they'd change their name to Basket Full of Puppies. (Now that they've changed it again to Eagles, it seems a bit more legit.)

The Photoshop jobs on the photos are comically bad. They're like the dictionary definition of "inept Photoshop job."
If The Onion cooked up a gag involving a team with a Native American logo, this is probably what it would look like. I'm not saying the whole thing is a gag, mind you, but it certainly could pass for one.
It would be simple enough to do some very simple diligence by, say, calling the phone number listed on the Gulls Eagles website. Honestly, though, I'm not sure I want to know. As I've said before in other contexts, sometimes the question is more interesting than the answer.
•  •  •  •  •
Click to enlarge
Skippy, Muffy ready for Rio: Yesterday morning brought us the unveiling of the outfits that will be worn at the Rio opening ceremonies by Team USRL (that's United States of Ralph Lauren). You can see my thoughts in this ESPN piece, which was posted yesterday.
One thing I'll never understand: The Lauren folks routinely release some of their fashion sketches for these opening ceremony outfits, and they always show the clothing being worn by the standard anorexic models doing the Barbizon prowl down the catwalk — which would make sense for a regular clothing collection, but not so much for something designed to be worn by athletes at the Olympics:
Of course, maybe they do it that way because they're more concerned about selling this stuff at retail than about the actual Olympic Games. But I'd never make such a churlish suggestion myself.
Lots of additional info, plus a slideshow of previous opening ceremony outfits, here, and still more info on how the Ralph Lauren people put this together here.
• • • • •
Friday Flashback reminder: In case you missed it yesterday, my latest Friday Flashback column over on ESPN is about the White Sox's infamous shorts, plus lots of other shorts that have been worn by minor league teams.
Even if you read the Flashback yesterday morning, here's an update you might not have seen: I originally said there's no footage of a Sox player sliding in this shorts, but that turns out to be untrue! Longtime reader Kurt Rozek just directed my attention to a video that actually shows two shorts-clad slides. We added it to the Flashback later in the day. If you missed it, skip ahead to the 1:51 mark:
Never seen that before! Big thanks to Kurt for pointing it out. In addition, Jerry Wolper found this shot of Pat Kelly sliding in shorts:
• • • • •
Raffle results: The winner of the Indians cap is longtime reader/commenter R. Scott Rogers. Congrats to him and thanks to all who entered.
That brings our July cap raffle series to a close. It was really fun to give away all this stuff. If you didn't win, don't worry — we'll have more raffles soon.
• • • • •
The Ticker
By Paul

Baseball News: The Brewers will be wearing these Todd Radom-designed 1990s throwbacks tonight. And in a nice touch, their opponents, the Pirates, will also be retro-attired. … The Mets will retire Mike Piazza's No. 31 tonight and will also wear Piazza patches on their sleeve and caps. … One of the high schools in the Iowa State Baseball Tournament is wearing a tequila sunrise jersey that looks a lot like one of last year's Uni Watch T-Shirt Club designs (from Blain Kupka). … Cardinals SS Aldemys Diaz is the latest player to add a faceguard to his batting helmet. … Mets 1B James Loney's bat identifies him as a member of the Rays (from Chris DellaMedaglia). … Phillies 1B Ryan Howard wore teammate Cody Asche's batting helmet last night (from Glen Macklin). … Great view of the Pirates' original spring training Clemente memorial. If you're not familiar with the story behind that, look here (from Jeff Wilk). … Have I mentioned lately that we'd all be better off if jerseys had never been made available for retail sale? (Photo courtesy of Mikey Brethauer.)

NFL/CFL News: WR Anquan Boldin, now with the Lions, has worn No. 81 throughout his NFL career. That was Calvin Johnson's number, so Boldin will wear No. 80 (from Jerry Nitzh). … Bills CB Nickell Robey has legally changed his name to Nickell Robey-Coleman, so he now has a hyphenated NOB (from Joseph Pitirri). … Reprinted from yesterday's comments: Here's one person's picks for the best T-shirts for each NFL team. … Lake Erie College is now sponsoring advertising on the Browns' practice jerseys (from Daniel McDonald). … In a related item, the drop shadows on the Browns' game jerseys and practice jerseys face opposite directions. … Some practice uni number fun for the Steelers (from Jerry Wolper). … The Montreal Alouettes added an "86" patch for Ben Cahoon's number retirement.

College Football News: Michigan's new uniforms may have leaked, although the legitimacy of that shot has not been confirmed. We'll all find out early next week, when the unveiling is scheduled to take place (from Stallion Maverick). … Ranking the Mountain West's helmets? Sure, why not (from Damon Hirschensohn). … New logo for the UNC-Charlotte marching band (from Jon Spencer).
Olympics News: Here's the story behind the Team USA golf outfits (from @cupojoe61). … Good article about how female Muslim athletes will be competing while wearing hijabs (from Tommy Turner). … Lululemon, a company best known for yoga attire, is making Team Canada's Olympic beach volleyball uniforms (thanks, Phil). … In a related item, here's a really interesting article about how Lululemon is blowing its chance to make inroads with men because of logo creep (from Chris Johnson). … Looks like the Venezuelan basketball team had some cheapo jerseys for last night's game against Team USA (thanks, Phil).

Hockey News: MLB slugger Jose Bautista's bat-flip celebration has somehow made it into an NHL video game (thanks, Mike). … Whoa, check out the stitching on Ted Lindsay's captaincy patch (from Russ Levine). … The Rangers are sending 90th-anniversary gifts to team alums (from @GKG_77). … Adam Rickert's NHL-redesign project has moved on to the Central Division.

Grab Bag: A new cricket team in India will be called the Chepauk Super Gillies. … If you've always wanted to buy a Ryder Cup hockey jersey, this year you'll have your chance (from J. Walker). … Costa, which is basically the Starbucks of the UK, has agreed to remove the recycling logo from its cups after it turned out that the cups aren't actually recyclable.