Click to enlarge
Each year reader Jesse Gavin covers the Iowa State Baseball Tournament, which is currently taking place in Des Moines, and spots all sorts of uni-notable items. "If this week is any indication, the future is bright for baseball players' hosiery stylings," he says. "Lots of striped stirrups." What's particularly interesting about the player shown above (who's from Don Bosco, a Catholic school in Gilbertville) is that he appears to have his pants tucked into his stirrups!
If that player's lack of blousing troubles you (as it does me), you'll feel better after seeing this player from Hinton Community School, who did a nice blousing job to reveal his hoop-striped socks:
And there's a lot more, including digi-camo with star-spangled catching gear; purple jerseys with word clouds on the shoulders; an odd way to place "St." on the front of a jersey; the return of pullovers; uni numbers that might be just a bit too large; White Sox-inspired beach blanket unis; tequila sunrise tops; a conference sleeve patch; and a ballpark with a really scenic backdrop.
You can see loads of additional photos here — definitely worth checking out. Big thanks, as always, to Jesse for his detailed report on the tournament.
(My thanks to Mike Chamernik for his assistance with this entry.)
• • • • •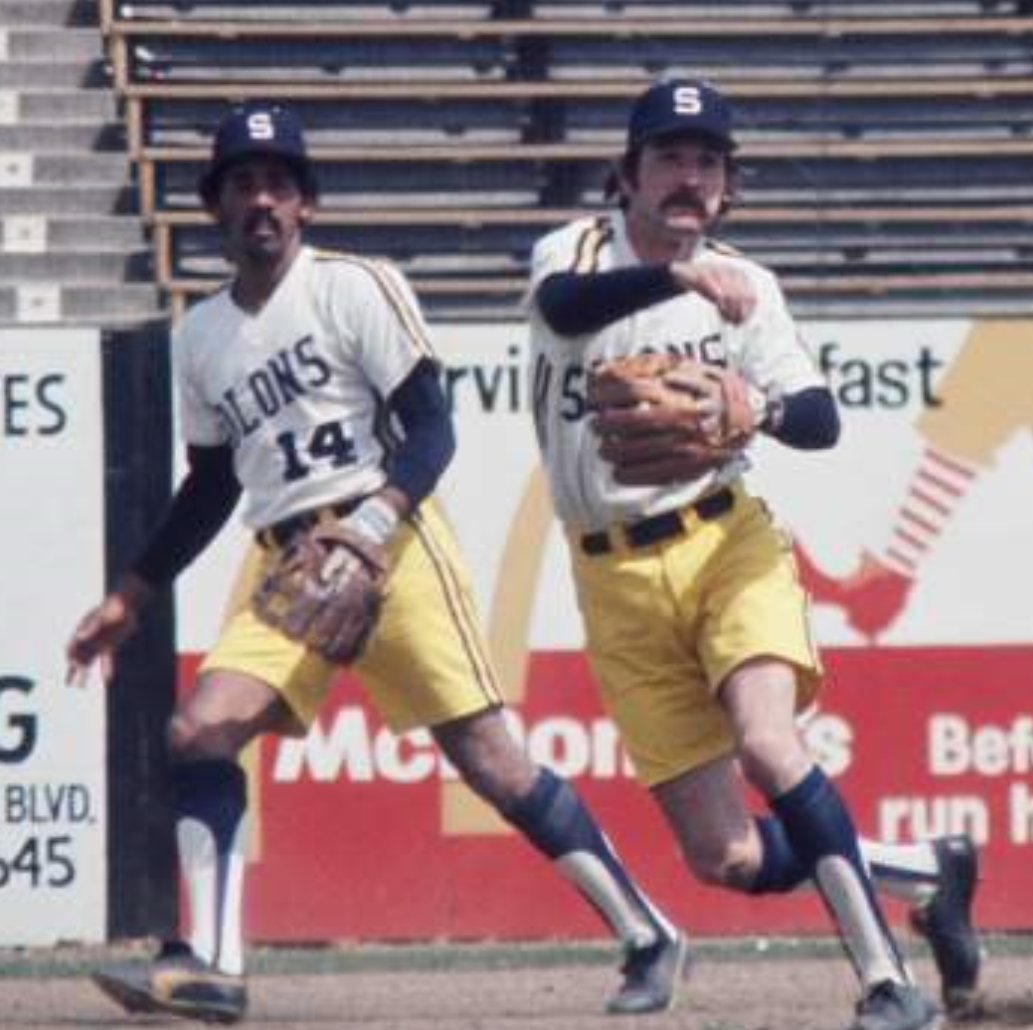 Click to enlarge
Friday Flashback: Imagine how Chris Sale would have reacted if the White Sox had broken out the shorts, instead just the leisure suits! By coincidence, the 40th anniversary of the White Sox's shorts is fast approaching, so my latest Friday Flashback column for ESPN takes a look at that chapter in MLB history, and also examines some other pro ballclubs that have worn shorts (including the 1975 Sacramento Solons, shown above). Check it out here.
• • • • •
Raffle results, and today's new raffle: The winner of the Tigers cap is Sammy Barbour. Congrats to him, and thanks to all who entered.
Our next and final '47 cap up for raffle is this Indians cap, which has a cloth adjusta-strap in the back (note that this cap is different than the Cleveland snapback we raffled off earlier in the month):
Here's a closer look at the logo on the side (against a different background). There's a '47 maker's mark on the other side.
To enter, send an email with your name and shipping address to this address (not to the usual Uni Watch email address, please) by 8pm Eastern TODAY. One entry per person. If you've already won one of this month's raffles, please refrain from entering this one and let other people have a chance.
That brings our July cap raffle project to a conclusion. I've really enjoyed bringing a little happiness into someone's life each day — fun stuff. Big thanks to our friends at '47 for providing the caps, and doubleplusthanks to an unnamed reader (he knows who he is) who very generously provided a batch of custom-sized shipping boxes for me to use, which was incredibly helpful.
• • • • •
The Ticker
By Mike Chamernik

Baseball News: New Cub Aroldis Chapman wore catcher Miguel Montero's helmet while in the on-deck circle last night. Chapman wears No. 54 (from @joesamp15). … Also, Anthony Rizzo yanked Dioner Navarro's batting gloves out of his back pocket last night. The two were teammates on the Cubs in 2013. … The slump-busting Chris Davis batted bare-handed again last night. "Of course, he had a hit in the 4th inning," says Andrew Cosentino. "It's working!"… Jim Harbaugh wore his trademark khakis and borrowed Cubs OF Matt Szczur's spikes to throw out the first pitch at Wrigley on Wednesday. … The Hillsboro Hops wore Portland Beavers throwbacks last night. Here's another look. The Beavers were a Triple-A club that played in Portland from 1903 to 2010, when they moved to Tucson (from Phil). … The Angels' Jefry Marte wore a patterned gray sleeve last night (from @RNs_Funhouse). … Mike Trout wore an oversize gold chain and sunglasses when giving David Ortiz his retirement gift before yesterday's game (from Phil).

NFL News: Antonio Brown customized his Rolls-Royce with a flashy Steelers motif (from Arthur J. Savokinas). … A Bears helmet with an orange facemask popped up at training camp yesterday. John Koziol assumes that it's probably just a fan's replica helmet (that's GM Ryan Pace signing autographs in the photo). … The Bears made posters out of a few of their old programs and display them in the United Club at Soldier Field. Here are a few close-up shots (from Jonathan Safron).

College Football News: A South Carolina O-lineman revealed a new matte black helmet for the Gamecocks (from Andy Shain). … The Big Ten is holding a conference at Purdue, and the conference put a big 3D logo sign outside the building. Note that the "TM" has its own block! (From Aaron Parrish.) … IndyCar driver Graham Rahal will wear an Ohio State-themed helmet for the Honda 200 race this weekend. Rahal is from Columbus, and the race is being held in Lexington, Ohio, a town roughly halfway between Columbus and Cleveland (from Luke Rosnick). … The NCAA is backing away from playing semifinal games on New Year's Eve. But NYE was so awesome, I loved watching college football through confetti!

NBA News: Nuggets G Emmanuel Mudiay has a new personal logo. As many have pointed out, it's pretty much a combination of two of the most loathsome logos in history. … Here's a gallery of every outfit that fashion icon Russell Westbrook wore to playoff games this year. … Rimas Kurtinaitis, a Lithuanian shooting guard who played for the Soviet Union in the 1988 Olympics, participated in the three-point contest during All-Star Weekend in 1989. He wore a blank No. 12 jersey for the occasion. Here he is in action (from Mike Wissman). … Kevin Garnett loved that a guy in the Price Is Right audience wore a KG Celtics jersey-shirt. And, as you can see by that link, SI.com got a much-needed redesign (from Brinke).

College Hoops News: New silver alternates for Furman. Here's the reverse. Maybe it's the lighting, but it looks like the jersey and shorts' shades don't match (from Ben Wallace).

Soccer News: West Ham United opened Europa League play on road and wore its home kit with NNOB and no ad on front (from Robby Aces). … New third kits for Chelsea, Liverpool, and Manchester United. … Here's an article on the high-tech training gear used by EPL clubs (from Tim Cross).

Grab Bag: Star Trek's innovative typography has been a fixture in pop culture for half a century (from Adam Herbst). … The U.S. Olympic rowing team introduced a new uniform that will better protect them from Rio's sewage water (from Phil).
• • • • •
Looking ahead: Phil has this weekend off, so I'll be handling the site's content tomorrow and Sunday. And then on Monday I begin my annual August break from the site — Phil will be in charge on weekdays and webmaster John Ekdahl will run the show on weekends. I may make cameo appearances here on the blog now and then, and I'll still be on the clock over at ESPN (except from Aug. 4-11, when I'll be on vacation), so we'll still provide links to my ESPN work (including the Timberwolves-redesign contest results, which might run next week, or maybe the week after). And I expect we'll unveil another Uni Watch T-Shirt Club offering in August, so I'll be showing up here to promote that.
But I'm getting ahead of myself — it's still July. For all you weekend readers, I'll see you back here tomorrow.